Top 6 Brand Yoga Software To Use In 2021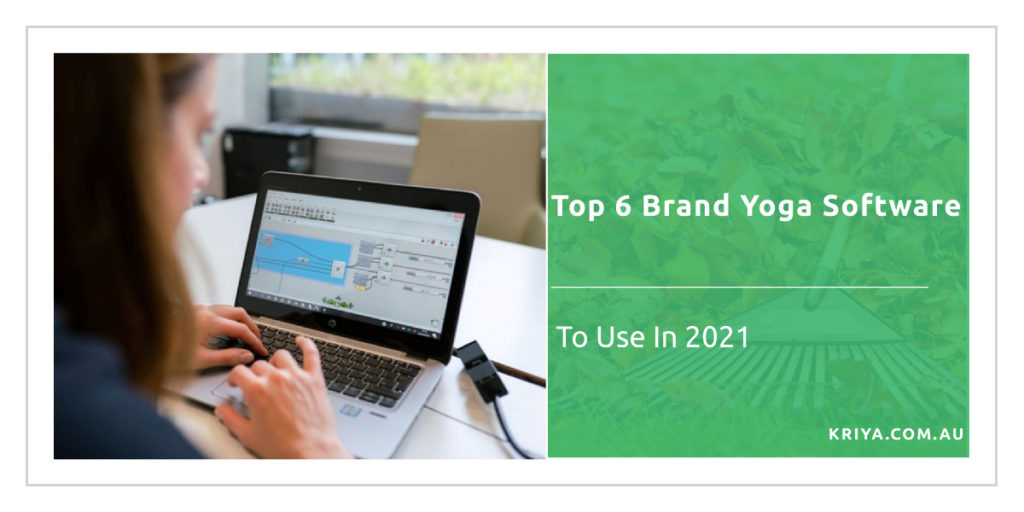 All the yoga studios are fully prepared to welcome 2021 and to manage their studios more efficiently. New yoga teachers are also looking for new jobs in this field, be it administrative work or simply teaching yoga classes. Managing your yoga class or studio is very daunting job for many specially who are a small start up in this business. Thankfully with latest technology most of the things are possible with simple click or tap on your PC or tablet or mobile handset.
This means there are so many brand yoga software available in the market that will help you constantly scheduling classes, booking instructors, tracking attendance, taking payments, renewing memberships and keeping your community up to date all while trying to promote your business and attract new clients.
These brand yoga softwares are called yoga studio management software or yoga online booking software. These provide you a simple user interface and even a layman can go through their software as you don't have to do anything. It's an all-in-one platform that can help with all aspects of running your yoga studio or managing your client relationships on your finger tips.
Features of Brand Yoga Software
There are many wonderful features of yoga software. Some of them are mentioned below:
Yoga software will allow you to create a database of clients, maintain their contact information, schedule classes, track who attends which class, and process payments.
They allow you to build your own website and integrate with their software to promote your business
Also, you can use your client data to send them personalized communications via email or mobile.
Your yoga students can easily sign up to join your studio.
Create your own timetable as you desire
Also can stream online classes from home
You have to way to create and manage membership plans and automate contracts and renewals
Top 6 Brand Yoga Software to use in 2021
Now that you know the wonderful features of yoga software, here are the top 6 brand yoga software to use in 2021. Why call them brand because they have made a reputation in the yoga market, clients prefer them and moreover they are now popular ones for many yoga studios.
1. Glofox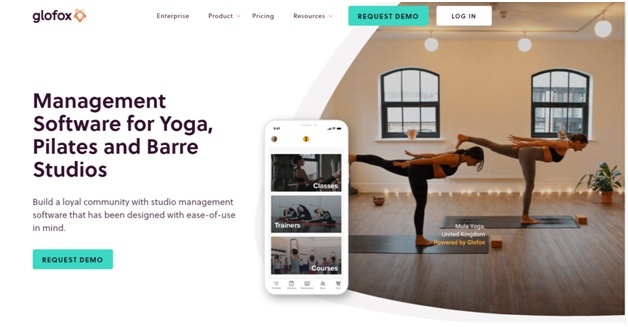 Glofox operates in four locations across the globe. US, Australia, UK and Ireland. Glofox is best suited for Yoga studios, Boxing and Martial Arts, Fitness Studios and Gyms. This yoga software offers solutions to both small and large yoga studios. Even they offer their clients to provide online on-demand fitness content to their members. You can communicate with members via SMS and push notifications and even integrate with social media platforms to generate leads
You can use this software first on trial and then you can take up the membership. They offer a 20% discount on annual billing. At Glofox payment processing is currently available in 100+ countries.
2. Mindbody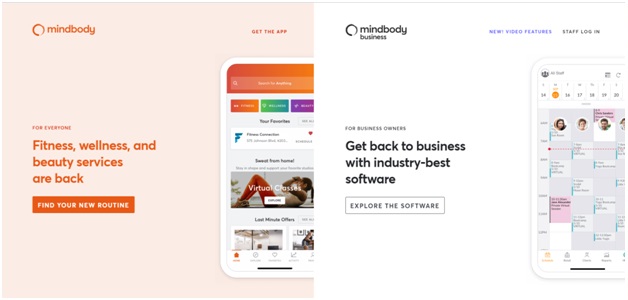 Mindbody is well known yoga software providing a complete business management solution designed for Yoga Studios, fitness studios, Salons, Spas and other small businesses. Recently it has added another feature to take virtual classes online. This a easy-to-use on demand video and live streaming feature where you can deliver your classes online that help retain your clients directly from your software.
Their emails and texts send automatically to engage and retain clients. Fully editable email templates ensure every message is on-brand. This yoga software has about 35 million consumers located in over 130 countries and territories.
From time to time Mindbody offer promotions and attract new clients through the Mindbody app. After free demo of this software you can get their monthly subscription at $129 per month.
3. Studio Bookings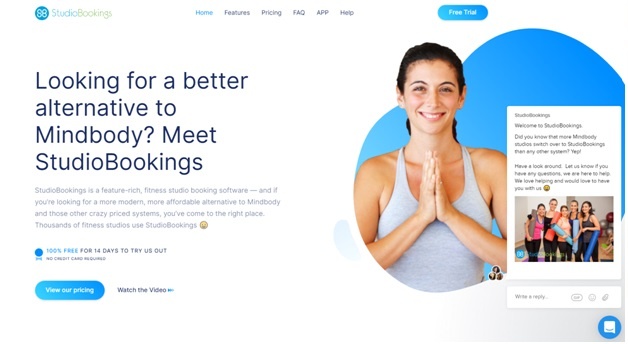 StudioBookings is another brand yoga software that boosts a feature-rich, fitness and yoga studio booking software. You can access and manage your studio and members online. The system also allows members to directly manage their personal class subscriptions and profiles online. This means you can easily manage your staff and their payroll as well as run member and attendance report. After 14 day free trial their plan starts at $25 per month and include all features in every plan.
4. KRIYA Software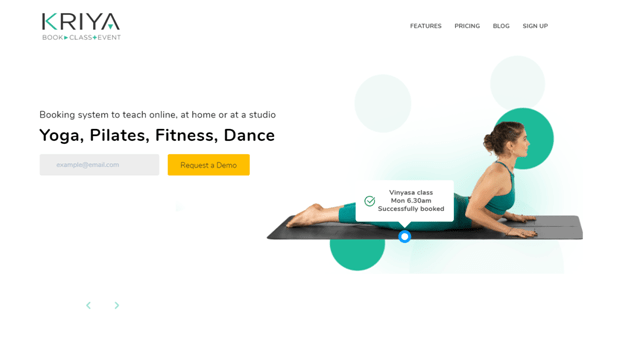 KRIYA software is well known yoga software for its awesome features and budgetable pricing. Moreover it caters to local studios and is best for start ups who cannot afford to pay more.
You can teach online or at your studio that's your choice as KRIYA is optimized with such features to help the studio owners feel comfortable the way they want.
Like other yoga softwares it also efficiently manage schedules, take recurring payments and check-ins. This software also improve your cash-flow by recurring and upfront payments.
You can even design your own custom passes such as monthly intro passes for new students or other special offers even with their mobile app.
The best thing about KRIYA is free to nonprofits organizations and communities. For other studio owners after your free trial you only have to pay $19AUD monthly which is quite cheaper than other software offering the same features with their plans.
5. Wellness Living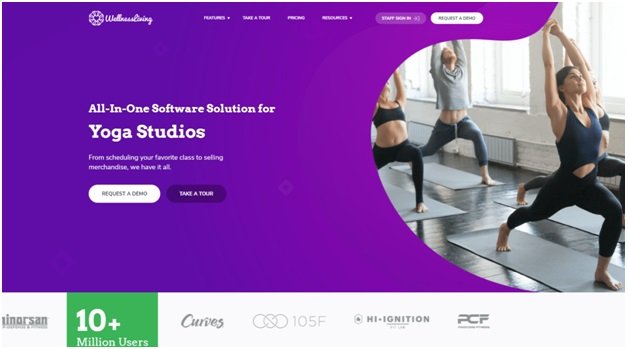 Wellness Living is also a brand yoga software to use. Be it a small yoga studio or a multi-location gym, dance studio, music or any fitness centre their goal to make it easier to start, run, and grow your business.
From making sales, scheduling staff, to building a loyal clientele with email marketing, they provide you with all-in-one solution. They even allow you to book your classes directly from Google search results. You can even offer virtual class or rent out your yoga equipment. After your free demo their plan starts at $59 per month.
6. Zen Planner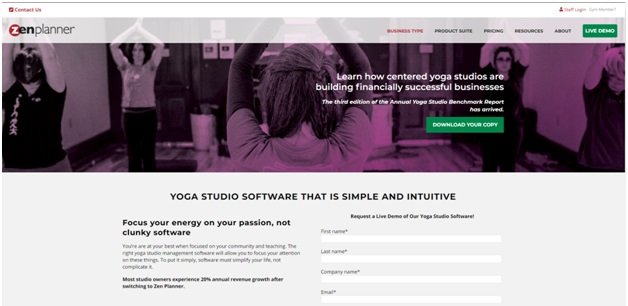 Zen Planner is a well-known yoga software catering to yoga and fitness studios. Its focus is on growing the community and making business management as streamlined as possible. With the rest of the features quite similar to other yoga software like booking classes, payments and marketing they also help in retails. So if your yoga studio is selling yoga pants, water bottles or gift cards they easily make you sell and track your merchandise. After a free trial, their plan starts at $117 per month
These are some of the best options when it comes to choosing a yoga studio management software. These yoga softwares have their own apps and you can use them on the go as well. Also these accepts multiple currencies.
The right solution for your studio ultimately depends on your goals and needs. If you are new studio owner or struggling to get more clients or focus on making it easy to manage contacts, or to have robust marketing tools, and help in building relationships with your clients then KRIYA seems best to get the most out of their plans. Ultimately the choice is yours to select yoga software that you feel the best one for you.

Click here to find which is the best yoga software in Australia