Yoga Pilates
Fitness Dance
Australian based booking system to teach online,
 at home or at a studio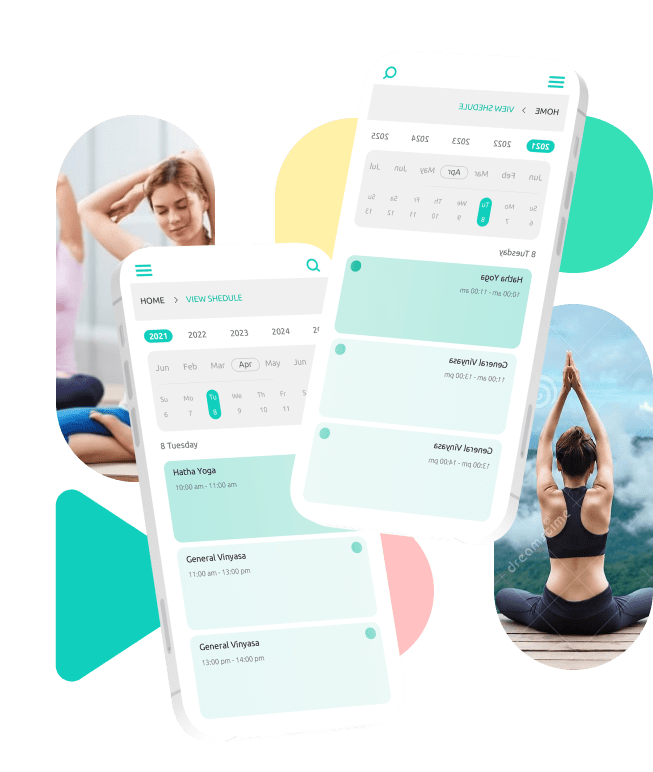 Save Money
Why use expensive booking systems when you can invest the difference back into your business?
Save Time and Energy
Are those spreadsheets and handwritten lists getting out of hand? Start accepting online upfront payments and bookings in minutes.
Personal Local Attention
We are an Australian boutique company with a small portfolio of clients and therefore we provide personal attention and close relationships with anyone who works with us.
Your Data is Stored in Australia
We stored your data safely locally in Australia.
Get your free scheduling app now
Take a step forward. Manage all your bookings
with your phone and laptop. Seamless automation allows your business to work like clockwork.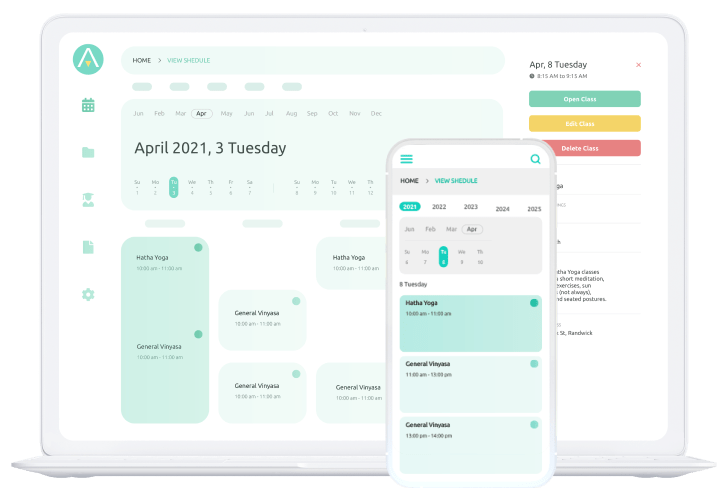 Unlimited classes, courses, terms, workshops and retreats
Add special terms, courses, or workshops such as Yoga training, a 10 weeks term or weekend retreats to your events calendar.

New Mobile App
Your clients can make payments and manage their bookings easily using the KRIYA mobile app.
Your own custom passes
Add intro passes, class passes term passes, and memberships.

Unlimited Clients and Staff
Easily manage clients and staff profiles.

Keep on the top of your finances
Easily manage all orders and payments and get instant online transactions and reports including unpaid visits, revenue, and attendance reports.

Automated customized emails
Confirmation emails are automatically sent for orders, bookings, and cancellations.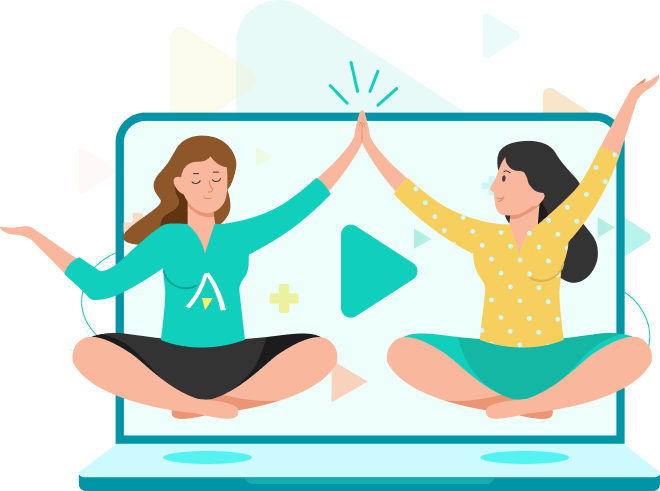 Create and Setup your Schedule
We can go through this together. Here you create your different pricing passes and rooms or locations. This usually takes less than an hour to complete.
Connect to our payments gateway
This allows you to process credit cards and receive payments. It takes less than a minute.
Embed the timetable widget or set up your own KRIYA mini-website
Choose to use your website or customize your landing mini-website in the system.
Start accepting online payments and bookings
You are ready and integrated on the same day. Teach online or at a studio.
Worried about migrating from other software?
Relax. We do this often.
Like you, 90% of our customers come from other software.
We'll work with you to make the transition quick, easy and painless.
KRIYA is an affordable booking and management system made for small and medium businesses.
How can KRIYA save you time and money? We want you to try it first and make sure the system can benefit you.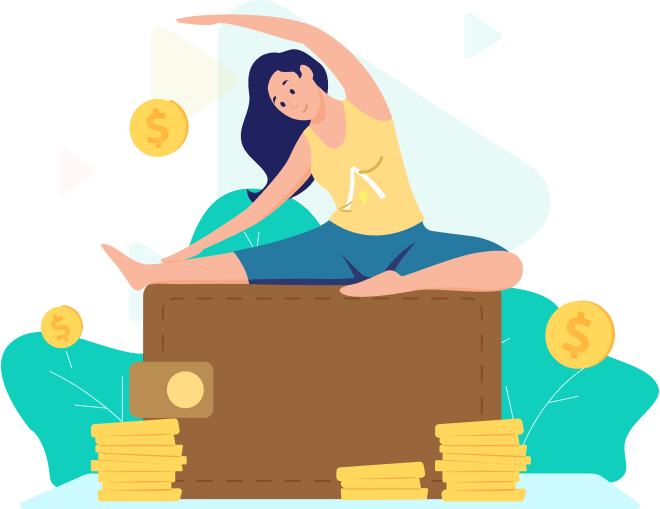 Made in Sydney, Australia
We are proud to be part of WeWork Labs business incubator program based in Pyrmont, Sydney.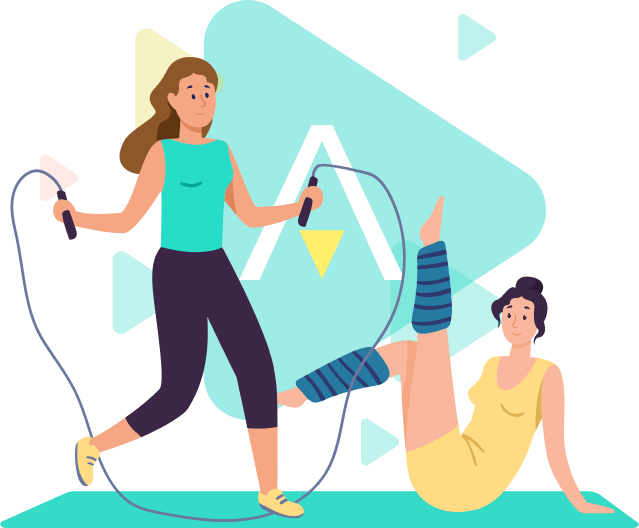 Any small to medium business that runs group classes. KRIYA is of special benefit to yoga, pilates, and dancing studios, fitness and boot campers, and personal trainers.
We support any businesses in the world (any currency and any timezone).
"Going into lockdown and unable to work, I was really grateful to have an online booking system already set up on my website. Being a small yoga studio the client relationship is very personal, so hardly anyone was booking online, with the exception of new clients."
"I found Kriya to be incredibly easy to set up as well as use, as a booking system, especially being a new yoga teacher and setting up classes. It is simple for the person booking in, and it takes the stress and awkwardness away from handling money in person, as well as keeping track of bookings manually. I would highly recommend using Kriya as your booking system for classes and events."
"Kriya is a real hidden gem within the online booking system world. Their platform is very easy to run and affordable. The staff is extremely reliable and the big plus for me is that they are based in Australia so the communication is clear and direct. They have supported me through these rough times, thus they have gained a client for life."
"Thank you Kriya for your consistency of Support, Inspiration and guidance... we are proud to be apart of your wonderful system. User and owner friendly and Aussie grown ❤️🙏 If your considering a booking system, look no further."
"Kriya is a simple and affordable way to take class bookings, receive payment and keep track of your relationship with your students. As a first time teacher I found the setup to be intuitive and quick, the features checked all the boxes. The Kriya team is so friendly and always available in case I need help, plus they're based in Sydney! I think they're doing a fantastic job at offering a cheaper alternative to the existing (overpriced) options while catering specifically to the needs of independent studios and teachers. Keep up the good work!"
"I am really impressed by the quality of the functionalities for such a reasonable price ! To manage bookings for a local business like mine, Kriya is a no-brainer. It was important to me to work with a business with a soul, and I'm happy to have found one finally."
"I have been using KRIYA Australia for some time and it has actually helped me maintain a great relationship with my clients. I was confused about managing my yoga class students' schedules and timings as it was growing! But with KRIYA it becomes so easy and stress-free. Excellent tool for small businesses."
"I liked that Kriya software is Australian owned and the pricing was suitable for my business. I received lots of support from Kriya when transitioning to online classes during Covid19. They added new booking features that are easy to use with Zoom. I've been using Kriya for a while now and would recommend it to other studios."
"Simple and affordable and does its job well! I receive good feedback from participants about it, too. I'm really happy with the product and also the support - the Kriya team is very quick and helpful when I have questions or when there is troubleshooting."
"Just wanted to reach out and say thank you for your help and excellent service, and to let you know I'm very happy with the user friendly functionality and features of the Kriya software, and glad I made the choice to go with you!"
"I also love that Kriya is an Australian business. Many booking systems are from overseas, and I believe it is important to support local businesses! Keep up the awesome work, Kriya."
"My sister and I started using KRIYA right at the beginning. It was great for us as keeping our overheads low was a priority. Frank is always helpful he is local which is useful. I recommend kriya to anyone starting out and even all small / medium studios."