Martial Arts Studio Software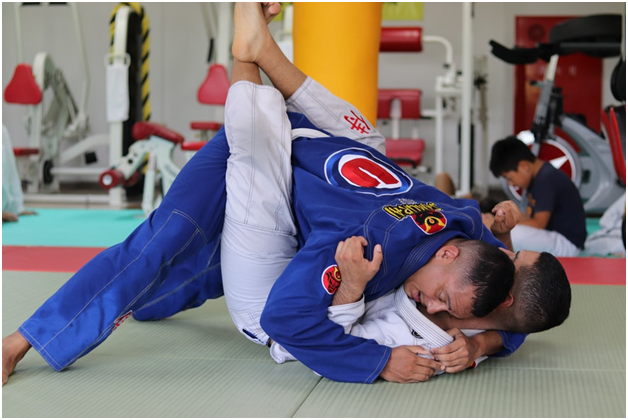 Martial arts studios offer traditional form of art classes which are like combat practiced for a number of reasons such as self-defense or military applications. Such Marital arts help you strengthen not only your physical body but helps in mental and spiritual development. Generally the term martial art has become associated with the fighting arts of East Asia or martial arts of Shaolin that is Chinese or Hongkong.
Types of Martial Arts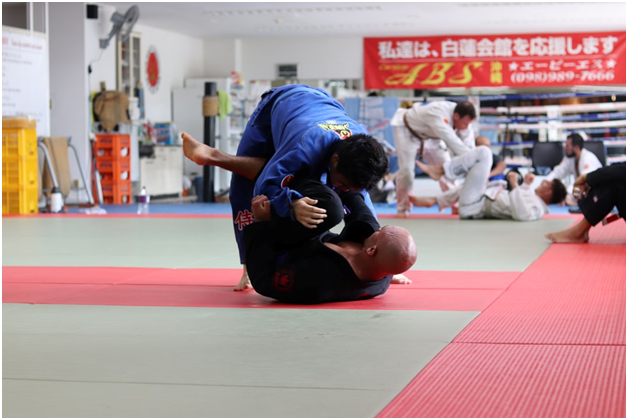 Many Martial Arts Studios offer various forms of this art like traditional art of contemporary styles to modern hybrid form of martial arts.
Many of these exercises or techniques taught can be using some kind of arm like a sword or stick or simply be with your hands and legs like grappling, striking, stand-up fighting or ground fighting like Boxing, Judo, Karate, Wrestling, Pinning etc.
By application or intent it can also be an art of self-defense, combat sport, choreography or demonstration of forms, physical fitness, meditation, etc.
Many martial arts, especially those from Asia, also teach side disciplines which pertain to medicinal practices. This is particularly prevalent in traditional Asian martial arts which may teach bone-setting, herbalism, and other aspects of traditional medicine.
Martial arts can also be linked with religion and spirituality. Numerous systems are reputed to have been founded, disseminated, or practiced by monks or nuns. Throughout the Asian arts, meditation may be incorporated as part of training. In those arts influenced by Hindu-Buddhist philosophy, the practice itself may be used as an aid to attaining enlightenment.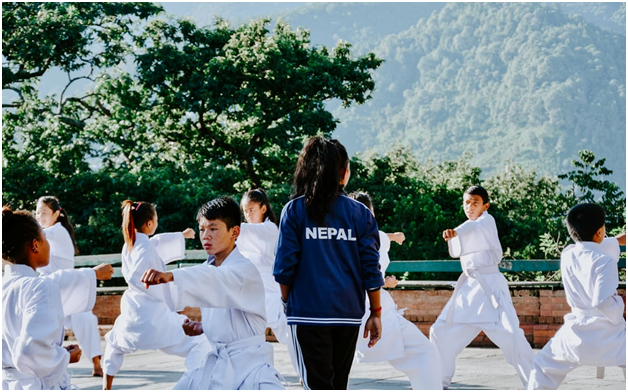 Some martial arts in various cultures can be performed in dance-like settings for various reasons, such as for evoking ferocity in preparation for battle or showing off skill in a more stylized manner, with capoeira being the most prominent example. Many such martial arts incorporate music, especially strong percussive rhythms.
In addition to the physical practice of self-defense, such classes will help you emphasize discipline and help in character building. Students practice cooperation, communication, and respect for others through frequent partner work at these classes.
The Martial Arts teachers train you in a slow, controlled manner within a non-competitive environment. Students are challenged to achieve excellence in their training and throughout their lives, such Martial Arts help one build a great personality.
Challenges for Martial Arts Studios
Marketing
Which Martial Arts to choose
Getting new students
Bookings and Payments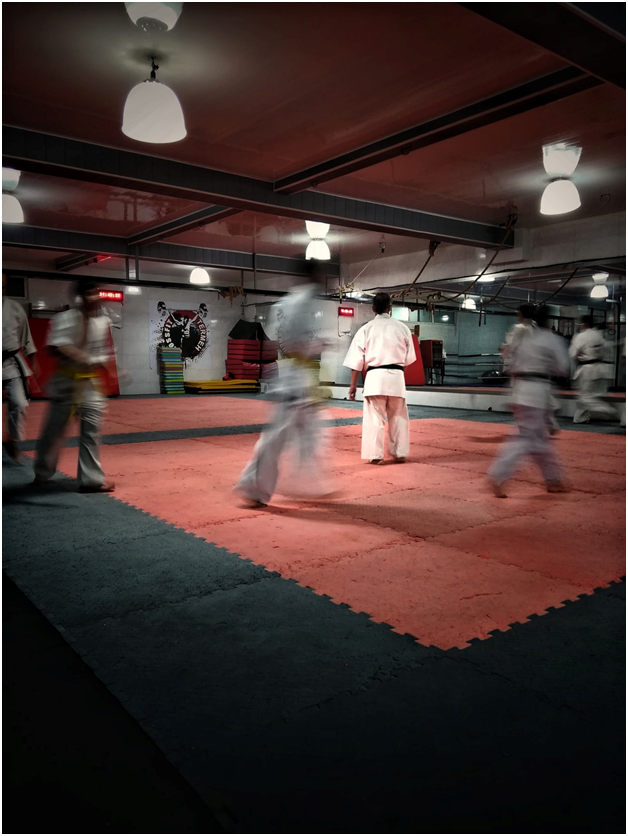 Marketing
Without marketing or letting other people know that you teach Martial Arts how can your studio business grow. This is the biggest challenge that studio owners face
What you need
You need to begin with brainstorming martial arts advertising ideas and according to your budget target your audience through various marketing channels and social media sites. You can even hire a public relation executive for this purpose who can help you in marketing and promotions. Although there is a cost connected with those services, the resulting new students will offset the money that is spent. In this way students will come to know about your studio.
Which Marital Arts to choose
This challenge applies for both students and teachers or studio owners. Why because there are thousands of martial arts types and which one will attract more crowd to your studio you have to take a wise decision.
What you need
You have to think and learn from other studios to find the martial art that is more popular and liked by clients. If your target audience are kids then choose the style best suited to them. Each kind of martial arts has a different origin, style and technique. For example, karate has a strong focus on striking, whether with punches, kicks or knee strikes; certain styles of tae kwon do have an emphasis on kicking; while jiu-jitsu and aikido are grappling sports. To complicate matters, many modern studios incorporate more than one martial art into their classes.
Your studio should be a place where kids are happy, learn to love themselves and feel like they can come at any situation and not be fearful. A studio that encompasses a few different martial arts, like karate, kick-boxing and grappling; the lessons are taught in a more positive style, focusing on self-development and confidence rather than strictly learning to be a fighter is the most popular one.
Getting new students
Getting new students is another major challenge faced by Martial Arts studios.
What you need
What you need to do is face the first challenge that is marketing and advertising.
What better way to attract more martial arts students than by offering a text message marketing promotion, having social media pages or by pasting stickers on advertising hoardings. Even you can do it manually by printing phamplets and distributing at schools and colleges.
According to boost fitness marketing blog,you can also start an after school youth program or give free demo at schools.
If you want adult students then even you can create your own online free trial class to get them attracted or post a youtube video and create a Facebook page of your studio for others to follow. Even you can have a Martial Arts booking system to help you out in getting new students.
Bookings and payments
Bookings and payments is another daily challenge for a Martial Arts Studio
What you need
The best way is to use an online booking system as they are committed to provide you all the help you need for the growth of your martial art studio. Right from marketing to getting new students and receiving payment with instant bookings your time of botheration will reduce. Online booking software or system incorporates the most advanced marketing tools into intuitive, these systems are easy to use and their software manages your bookings from one place, making you worthy and wealthy and at the same time making your life easier.
Why KRIYA?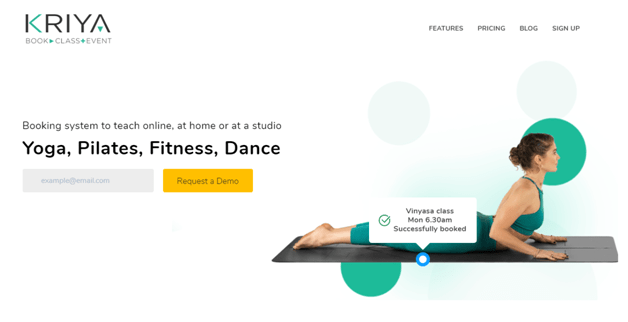 As a owner of Martial Arts Studios, online booking and management software like KRIYA helps you reach out to your people to join your classes thereby increasing your financial status. Such online booking and management systems are fully optimized for Marital Studio instructors and students making it beneficial as a business and as a service.
KRIYA is a simple booking system which can be customized to your needs by adding custom features of your choice. This means simplicity is achieved while keeping maximum flexibility. It can help you better manage your members, class timetables, online registrations, track credits, receive payments and manage students.
It helps students also to find a safe and registered studio like yours. Students can easily book your Martial Arts Class according to Kids, Juniors or Adults.
Features from KRIYA to manage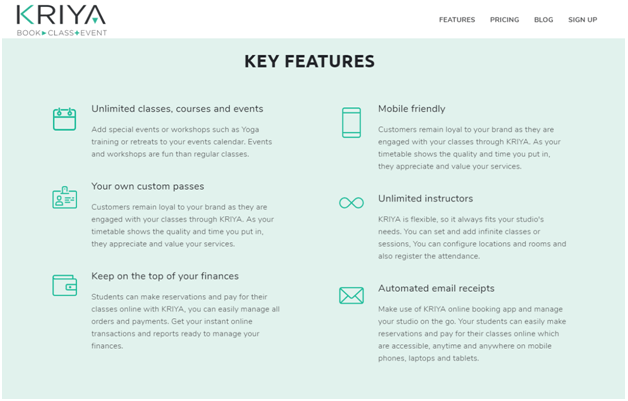 Some of the KRIYA online booking and management software features include:
Easily schedule kids, junior or senior Martial Arts classes at set times or recurring intervals
Set up your availability so students and schedule private lessons as well.
Add special events or workshops such as teacher training or retreats to your events calendar
Add any number of instructors, class types or locations and manage their attendance
You can charge via credit card at the time of booking or through a wide range of payment gateways like Stripe and others.
See all your bookings in a monthly, weekly or daily calendar at a glance
Martial Art students can manage their own bookings including canceling if you want.
Get feedback from students to improve your classes and sessions
The customize features in-class timetables help you create membership options separately like before noon and afternoon sessions for Taekwondo and Kickboxing or others for kids or teens or adults.
Take online classes and embed your website.
Besides these KRIYA online booking and management softwares helps you increase your enrollment with multichannel online registration from web, mobile and social widgets. Strengthen your brand with powerful marketing tools that are integrated within.
Simply eliminate unnecessary paperwork for communication, invoicing or manual payments, and perform better in managing your studio with efficiency to do more with less effort and work as a pro.
Click here to join KRIYA online booking and management software for your Martial Arts Studio now.