Martial Arts and Boxing Classes Management Software
KRIYA martial arts and boxing gym software is your all-in-one local Australian system to keep your business organized and efficient. Manage clients, attendance numbers, timetables, online bookings and payment solutions, automated emails and more.
Class Bookings and Payments
Managing bookings and payments is daily challenge for a Martial Arts studios and gyms.
Online booking system like KRIYA provide you an all-in-one solution that help you manage and grow your martial art business. Right from marketing to getting new students and receiving payment with instant bookings your time of botheration will reduce.
Online booking softwares or system incorporates the most advanced marketing tools into intuitive, these systems are easy to use and their software manages your bookings from one place, making you worthy and wealthy and at the same time making your life easier.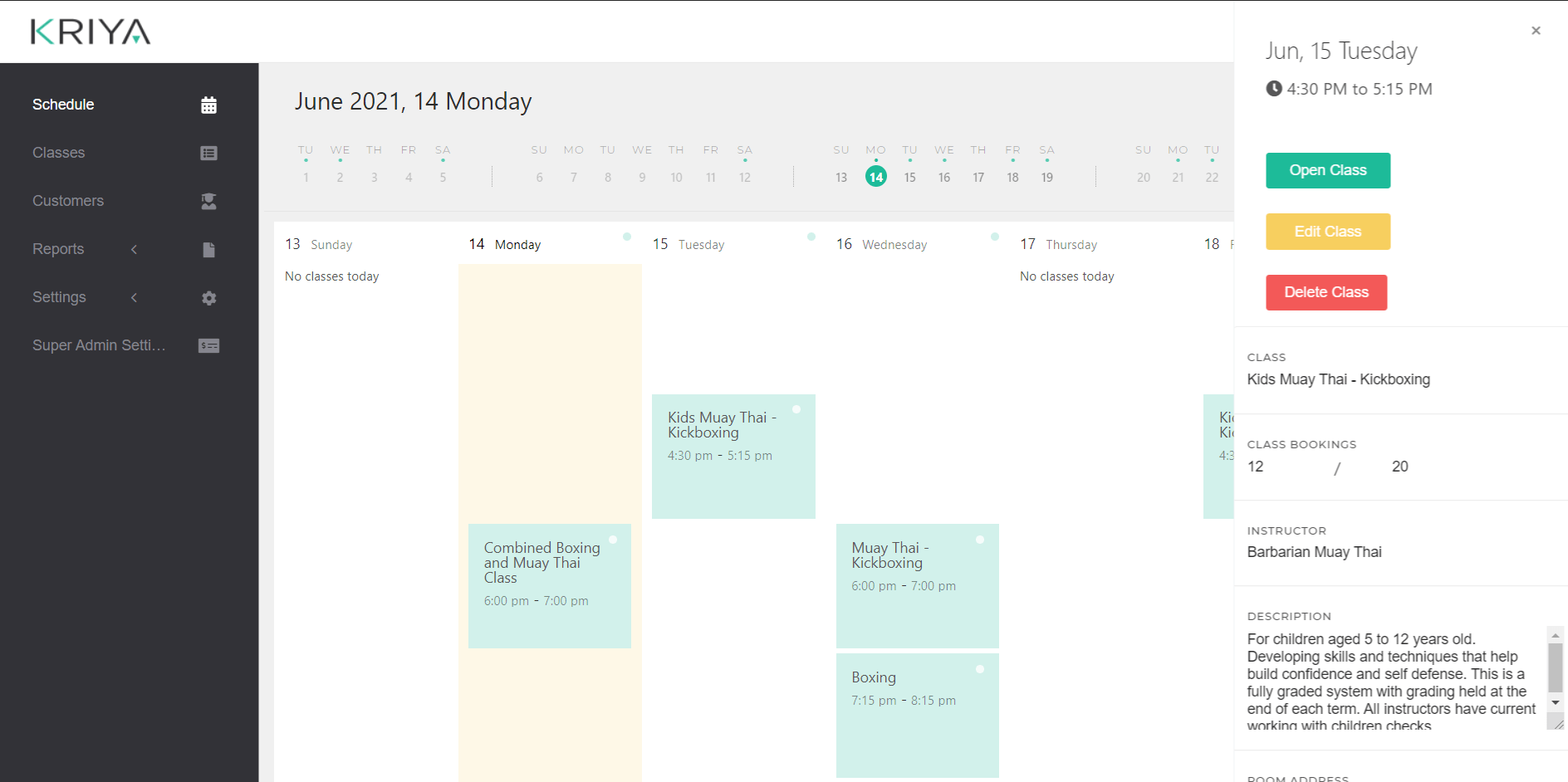 Features from KRIYA to manage your Boxing and Martial Art Classes
Some of the KRIYA  online booking and management software features include:
Easily schedule kids, junior or senior Martial Arts classes at set times or recurring intervals
Set up your availability so students and schedule private lessons as well.
Add special events or workshops such as teacher training or retreats to your events calendar
Add any number of instructors, class types or locations and manage their attendance
You can charge via credit card at the time of booking or through a wide range of payment gateways like Stripe and others.
See all your bookings in a monthly, weekly or daily calendar at a glance
Martial Art students can manage their own bookings including canceling if you want.
Get feedback from students to improve your classes and sessions
The customize features in-class timetables help you create membership options separately like before noon and afternoon sessions for Taekwondo and Kickboxing or others for kids or teens or adults.
Take online classes and embed your website.
Besides these KRIYA online booking and management softwires helps you increase your enrolment with multichannel online registration from web, mobile app and social platforms. Strengthen your brand with powerful marketing tools that are integrated within.
Click here to join KRIYA online booking and management software for your Martial Arts Studio now.
Accept Cash and Credit Cards
Stop chasing payments and choose upfront online payments. Create your own pricing passes including recurring payments.
Your clients can choose from single sessions or courses (bundled sessions)
Give your clients the option to book 1 class or a course of 8 or 10 classes.
Martial Arts Gym Software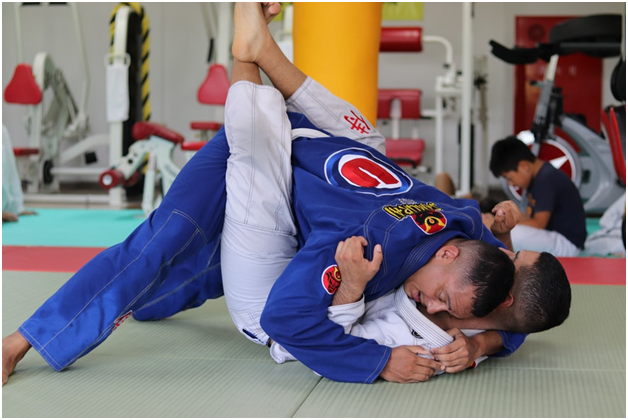 Martial arts help you strengthen not only your physical body but helps in mental and spiritual development. The term martial art has become associated with the fighting arts of East Asia or martial arts of Shaolin that is Chinese or Hong Kong.
Types of Martial Arts
.Martial Arts Studios, including boxing, Muay Thai and Jiu Jitsu, offer various forms of this art like traditional art of contemporary styles to modern hybrid form of martial
arts.
These exercises or techniques taught can be using some kind of arm like a sword or stick or simply be with your hands and legs like grappling, striking,  stand-up fighting or ground fighting like Boxing, Muay Thai, Jiu Jitsu. Judo, Karate, Wrestling and Pinning.
By application or intent it can also be an art of self-defense, combat sport, choreography or demonstration of forms, physical fitness and meditation.
Martial arts teach self discipline which pertain to medicinal practices. This is
particularly prevalent in traditional Asian martial arts which may teach bone-setting, herbalism, and other aspects of traditional medicine.
Martial arts can also be linked with religion and spirituality. Numerous systems are reputed to have been founded, disseminated, or practiced by monks or nuns.
Throughout the Asian arts, meditation may be incorporated as part of training. In those arts influenced by Hindu-Buddhist philosophy, the practice itself may be used as an aid to attaining enlightenment.
Some martial arts in various cultures can be performed in dance-like settings for various reasons, such as for evoking ferocity in preparation for battle or showing off skill in a more stylized manner, with capoeira being the most prominent example. Many such martial arts incorporate music, especially strong percussive rhythms.
In addition to the physical practice of self-defense, such classes will help you emphasize discipline and help in character building. Students practice cooperation, communication, and respect for others through frequent partner work at these classes.
The Martial Arts teachers train you in a slow, controlled manner within a non-competitive environment. Students are challenged to achieve excellence in their training and throughout their lives, such Martial Arts help one build a great personality.
Challenges for Martial Arts Studios
Marketing
Which Martial Arts to choose
Getting new students
Bookings and Payments
Marketing
Without marketing or letting other people know that you teach Martial Arts how can your studio business grow. This is the biggest challenge that studio owners face
What you need
You need to begin with brainstorming martial arts advertising ideas and according to your budget target your audience through various marketing channels and social media sites.
You can even hire a public relation executive for this purpose who can help you in marketing and promotions. Although there is a cost connected with those services, the resulting new students will offset the money that is spent. In this way students will come to know about your studio.
Getting new students
Getting new students is another major challenge faced by Martial Arts studios.
What you need
What you need to do is face the first challenge that is marketing and advertising.
What better way to attract more martial arts students than by offering a text message marketing promotion, having social media pages or by pasting stickers on advertising hoardings. Even you can do it manually by printing pamphlets and distributing at schools and colleges.
According to boost fitness marketing blog, you can also start an after school youth program or give free demo at schools.
If you want adult students then even you can create your own online free trial class to get them attracted or post a youtube video and create a Facebook page of your studio for others to follow. Even you can have a Martial Arts booking system to help you out in getting new students.
Why KRIYA?
KRIYA is a simple and easy to use booking system and classes management software which can be customized to your needs by adding custom features of your choice.
This means simplicity is achieved while keeping maximum flexibility. It can help you better manage your students, class timetables, online registrations, track credits, receive payments and track financials.
It helps students also to find a safe and registered studio like yours and make payments and bookings online.
FAQs
Q1. Would KRIYA allow my clients to book and cancel sessions
online?
Yes KRIYA allows you to book your clients for your online sessions. If you want
to cancel your sessions or reschedule them for a later date you can easily do it
using  KRIYA.
Q2. Can I continue to use Square or get cash for my sessions if
I use KRIYA.
Yes, you can continue to use the Square payment gateway and even choose to opt for
cash payments for your sessions when you use KRIYA booking for your clients.
KRIYA offers powerful payment and point-of-sale platforms to make every
type of transaction simple for you.
Q3. Can I automatically charge clients for a membership?
Yes, you can automatically charge clients for membership. Your clients can go online and reserve their spot or seat in class or purchase a pass anytime they want. Flexible membership configurations are what KRIYA provides for you to run your sessions the way you want.
Q4. Can I set up my free website with KRIYA?
Yes, you can do so if you want. At KRIYA you don't need a website to start accepting bookings or payments for your classes.  You can though build a website by going to settings and setting up your free website.
Q5. Can I sync my timetable with Google Calendar?
No at present you cannot sync your timetable with Google Calendar.
Q6. Can my clients make bookings?
Yes, your clients can make bookings but not more than 4 weeks/month in advance. You can also create courses where your clients prepay the whole course and are automatically booked into every class in advance.
Q7. Can I have more than 1 location on the system?
Yes, you can have more than one location on the system. There is no region or area-specific limitations at KRIYA.
Q8. Can I send SMSs to my clients?
Yes, we are adding this feature soon. You can then send automated reminders for your boot camps or workshops and promote your business using push notifications through SMS so that your clients know about your classes and offers.
Q9: Can KRIYA be used for managing and booking ring or mat time at my martial arts gym?
Yes, KRIYA is designed with robust scheduling features that you can customize to your needs, including managing and booking specific resources like rings or mats in your gym.
Q10: Is there a feature within KRIYA that enables communication between trainers and students for feedback or training advice exchange?
Absolutely, KRIYA fosters communication between trainers and students, providing a platform for sharing valuable feedback and advice that can help improve training quality and student satisfaction.
Q11: Can students utilize KRIYA for online training sessions and continue their training at home?
Definitely. KRIYA supports the creation and management of online classes, allowing your students to continue their training from the comfort of their own homes.
Q12: Does KRIYA offer features that assist in tracking and managing licensing and certification requirements for trainers or fighters?
While KRIYA may not have a specific built-in feature for tracking licensing or certifications, its flexible client and trainer management features can be leveraged to record and track these important details.
Q13: Using KRIYA, can I manage multiple trainers' schedules and their compensation?
Yes, KRIYA has extensive capabilities for managing trainers, including their schedules. It can also help you keep track of compensation details, streamlining your management tasks.
Q14: Does KRIYA provide reporting features or analytics to understand the performance of my gym over time?
Indeed, KRIYA provides insightful analytics and reporting features. These tools offer valuable insights into various aspects of your gym's performance, such as member attendance, popular classes, revenue, and more.
Q15: Is there an integrated billing system within KRIYA that handles different payment methods, including direct debit for membership fees?
Absolutely, KRIYA includes an integrated billing system that supports various payment methods. This makes it easier for your members to pay their fees and for you to manage your gym's finances.
Q16: How can KRIYA be leveraged to attract new members to my martial arts or boxing gym?
KRIYA provides useful tools to help you attract new members, such as integrated emails and reports. Its lead management features make it easier to manage potential new members, helping you to attract and convert them effectively.