Dance Classes Software and Booking System
KRIYA Yoga studio and booking system is your all-in-one local Australian system to keep your Yoga studio business organized and efficient. Manage students, attendance, passes, timetable, online bookings and payment solutions, automated emails and more.
How Can Dance Studios Utilize KRIYA Online Booking and Management Software?
If you operate a Dance Studio or teach dance classes, KRIYA Online Booking and Management Software can significantly streamline the management of your studio or classes. This software enhances your capability to manage members, class timetables, online registrations, track credits, process payments, and oversee student management.
Schedule dance classes for various group sizes, from small to large, at fixed times or on a recurring basis.
Configure your availability to enable students to book private dance lessons at convenient times.
Add and manage special dance events or workshops.
Include any number of dance instructors, class types, or locations, and efficiently manage attendance.
Facilitate easy online payments via credit cards at the time of booking, with support for multiple payment gateways like Stripe.
Keep track of all bookings with an easy-to-navigate monthly, weekly, or daily calendar.
Empower students to manage their bookings, including the option to cancel.
Collect valuable feedback from students to enhance your dance classes and sessions.
Customize your class timetable to cater to different dance styles and groups, from kids to adults and corporate sessions.
With KRIYA, Dance teachers can effortlessly reach out to their target student groups and facilitate instant bookings. This not only aids in effectively marketing your Dance Classes but also helps in building a strong brand for your Dance Business.
As a Dance Studio owner, KRIYA's booking software is invaluable in building your brand, reaching out to a wide audience, and streamlining your business operations.
Interested in using KRIYA for your Dance Studio? Click here for a free demo and discover how KRIYA can transform your dance studio management.
Why You Need KRIYA Booking Software for Your Dance Studio
KRIYA provides a low-cost, affordable solution for your dance studio, designed to keep your business well-organized and cost-effective. It's ideal for small to medium dance spaces, allowing you to accept bookings and manage studio operations with integrated payment solutions.
KRIYA brings automated marketing and features that enhance your online presence, making studio management more efficient, even on smartphones or through your own free website.
Key Features of KRIYA
1. Automated Marketing
Overcome the challenge of marketing and promoting your dance studio with KRIYA's automated marketing tools. Dance, unlike yoga or pilates, often requires more focused marketing efforts.
KRIYA's online tools support your marketing campaigns, automating tasks so you can concentrate on running your studio. Schedule targeted emails for new students, special promotions, and easily manage online bookings and instant payments.
2. Quick Payment Solutions
Effortlessly handle class bookings and receive instant payments with KRIYA, addressing one of the biggest challenges dance studios face. KRIYA simplifies these processes, allowing you to focus on other important aspects of business growth.
3. Customizable Studio Management
Manage and control your dance studio as you desire with KRIYA. It helps you build your brand and manage your studio efficiently, offering an all-in-one solution for managing memberships, class packages, bookings, and payments.
Create a customized timetable, categorizing classes like Aerobic, Sport, Low-impact, and High-impact dance classes. Schedule classes according to different levels and set class durations, making it easy for students to find the right class.
Facilitate easy bookings for individual or group sessions, enhancing the student's ability to connect with the right instructors quickly.
KRIYA's user-friendly interface, quick installation, and time-saving features streamline your booking and class management processes. Its versatility in handling unlimited classes, multiple locations, and instructors, along with compatibility with various live streaming platforms, makes it an ideal choice for both in-person and online classes.
As a dance studio owner, KRIYA is a valuable tool to build your brand, market your services, and expand your reach to potential customers.
Click here for a free demo of KRIYA and explore how it can transform your dance studio management.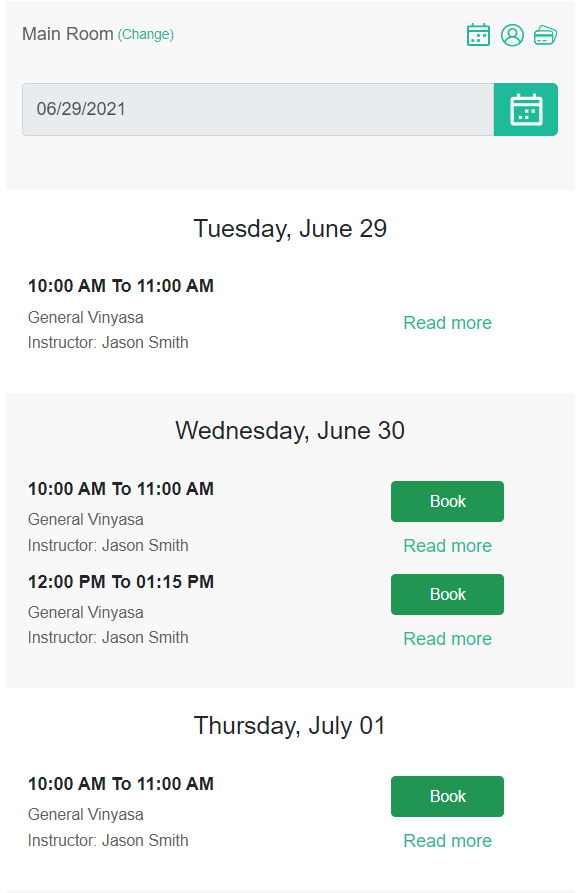 FAQs
Q1. Would KRIYA allow my clients to book and cancel sessions
online?
Yes KRIYA allows you to book your clients for your online sessions. If you want
to cancel your sessions or reschedule it to a later date you can easily do it
using  KRIYA.
Q2. Can I continue to use Square or get cash for my sessions if
I use KRIYA?
Yes, you can continue to use Square payment gateway and even choose to opt for
cash payments for your sessions when you use KRIYA booking for your clients.
KRIYA offers powerful payment and point of sale platforms to make every
type of transaction simple for you.
Q3. Can I automatically charge clients for a membership?
Yes, you can automatically charge clients for membership. Your clients can go online and reserve their spot or seat in class or purchase a pass anytime they want. Flexible membership configurations are what KRIYA provides for you to run your sessions the way you want.
Q4. Can I set up my free website with KRIYA?
Yes, you can do so if you want. At KRIYA you don't need a website to start accepting bookings or payments for your classes.  You can though build a website by going to settings and set up your free website.
Q5. Can I sync my timetable with Google calendar?
No at present you cannot sync your timetable with Google Calendar.
Q6. Can my clients make advance bookings?
Yes, your clients can make advance bookings but not more than 4 weeks/month in advance. You can also create courses where your clients prepay the whole course and are automatically booked into every class in advance.
Q7. Can I have more than 1 location on the system?
Yes, you can have more than one location on the system. There is no region or area-specific limitations at KRIYA.
Q8. Can I send SMSs to my clients?
Yes, we are adding this feature soon. You can then send automated reminders for your boot camps or workshops and promote your business using push notifications through SMS so that your clients know about your classes and offers.