Your clients or parents would love the convenience of paying and booking classes online via our mobile app
Give your clients the opportunity to secure a spot and pay for their next sessions online or via a mobile app.
Why Should I Use KRIYA Online Dance Studio Booking Software?
Easy to set up and use for both business and clients
Create your own Passes and Memberships
Clients must agree to your T&C and Waiver when signing up
Keep clients engaged and updated with automatic confirmation emails.
Students can book and cancel classes, manage their profile and update credit card and billing information,
The KRIYA Mobile App allow clients to check the schedule, pay and reserve spots.
Schedule classes and terms and start getting payments instantly.
Have full ownership of your data and metrics, integrate them with your favourite tools to measure your performance.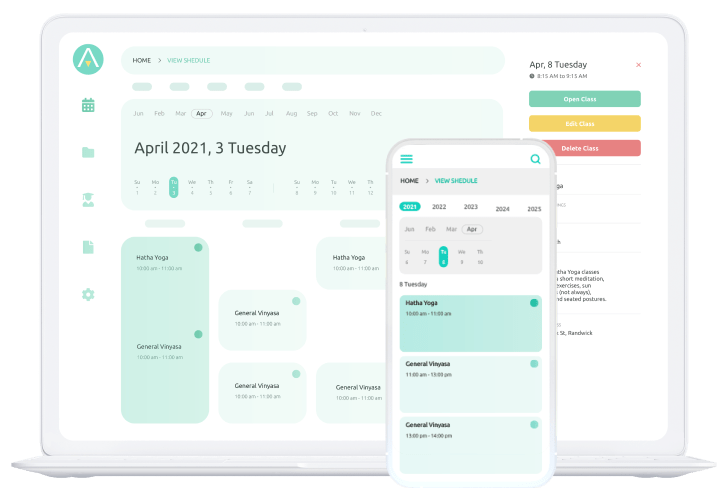 Booking a Dance Class Couldn't be Easier
KRIYA Mobile App allow clients to check, pay, book and cancel classes easily.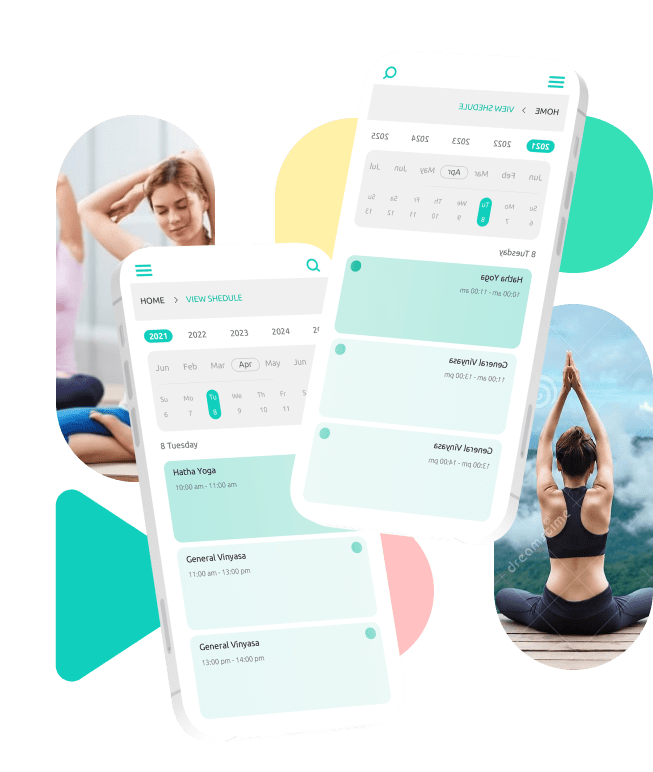 Your clients can choose from single sessions, a term or courses (bundled sessions)
Give your clients the option to book 1 class or a course of 8 or 10 classes.
FAQs
Q1. Would KRIYA allow my clients to book and cancel classes
online?
Yes KRIYA allows you to book your clients for your online sessions. If you want
to cancel your sessions or reschedule it to a later date you can easily do it
using  KRIYA.
Q2. Can I continue to use Square or get cash for my sessions if
I use KRIYA management software?
Yes, you can continue to use Square payment gateway and even choose to opt for
cash payments for your sessions when you use KRIYA booking for your clients.
KRIYA offers powerful payment and point of sale platforms to make every
type of transaction simple for you.
Q3. Can I automatically charge clients for a membership?
Yes, you can automatically charge clients for membership. Your clients can go online and reserve their spot or seat in class or purchase a pass anytime they want. Flexible membership configurations are what KRIYA provides for you to run your sessions the way you want.
Q4. Can I set up my free website with KRIYA?
Yes, you can do so if you want. At KRIYA you don't need a website to start accepting bookings or payments for your classes.  You can though build a website by going to settings and set up your free website.
Q5. Can I sync my timetable with Google calendar?
No at present you cannot sync your timetable with Google Calendar.
Q6. Can my clients make advance bookings?
Yes, your clients can make advance bookings but not more than 4 weeks/month in advance. You can also create courses where your clients prepay the whole course and are automatically booked into every class in advance.
Q7. Can I have more than 1 location on the system?
Yes, you can have more than one location on the system. There is no region or area-specific limitations at KRIYA.
Q8. Can I send SMSs to my clients?
Yes, we are adding this feature soon. You can then send automated reminders for your boot camps or workshops and promote your business using push notifications through SMS so that your clients know about your classes and offers.