Fitness studio software is a technology that you can use to grow your fitness business. Fitness studio software can be in the form of an app or web-based SaaS fitness software solution that cater to businesses of different types and sizes, offering various features.
Features of fitness studio scheduling software
Fitness studio scheduling software helps you organize your fitness studio with client booking tools, scheduling, financial tracking, and community tools.
With scheduling software, you can easily schedule your classes or private sessions. Configure capacity, waitlists and, reservation and cancellation policies and more.
In your fitness calendar, you can choose from list, team or calendar views with a unified and informative calendar that displays all classes, appointments, and workshops. You can easily create, repeat, re-schedule, edit or cancel classes or sessions from your calendar.
With such booking software you have full control adding clients or groups to appointments, classes or workshops. You can even book a client into multiple sessions for a period of time.
One of the unique features of such online booking software is that you as a studio owner can get automatic payments from your students and also reconciliation enables you to visually identify if clients have not paid for sessions. Even auto-deduct tools allow you to deduct session credits from student memberships or packages when adding to an appointment, class or workshop.
Fitness studio scheduling software helps you keep track of attendance to reduce no-shows and late cancels. You can keep your clients engaged with automated push notifications if they are not attending the class for a specified period.
Also by using the best online booking and scheduling software you get highly customizable reports of your business that will keep you informed about your members and attendance, marketing efforts, financial performance and studio staff.
Types of fitness studio scheduling software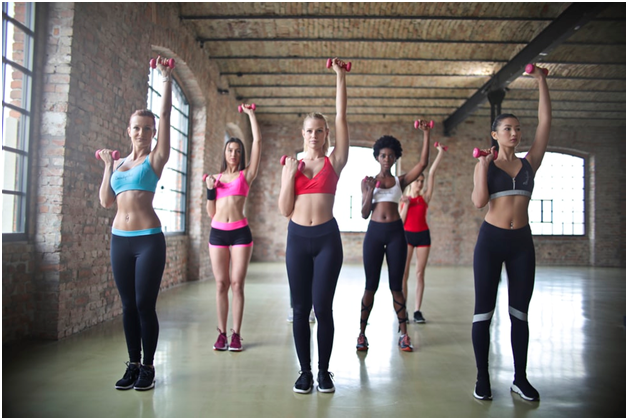 There are so many types of fitness studio scheduling software out there in the market. Also, hundreds of fitness studio businesses use appointment scheduling software and different companies have developed to serve niche groups. Like the most well-known software is MindBody, which operates much like other large SaaS companies, offering niche features for different types of businesses within a large customizable product. There are also industry-specific software products, which tend to be less expensive and built-with specific users in mind like niche gym software like WOD Hopper, which was built for CrossFit gyms, and Jackrabbit Class, which is ideal for dance and gymnastics studios.
Fitness studio scheduling software cost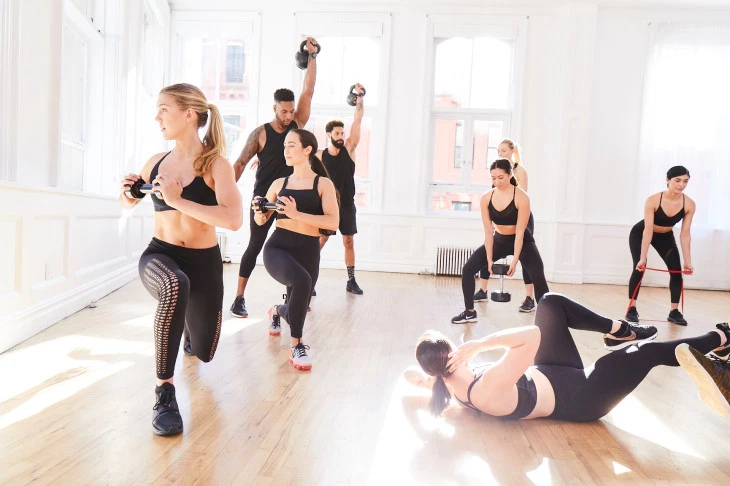 Fitness studio scheduling software like other SaaS solutions is available at a wide variety of price points. Some fitness software is offered at a flat rate for an unlimited number of users and members, and other software charges based on users like students, instructors or studio owners. To find the fitness studio scheduling software pricing you need to visit the specific studio website and find the pricing or submit a request to find the price.
Larger companies like MindBody cost higher than others and offer an essential package that starts at $125 a month. The SaaS provider's highest tier begins at $395 a month. Some niche products, like WOD Hopper, offer flat monthly rates $130 a month, while others like Vagaro start at $25 a month for one user, $35 a month for two users, and continues to scale upward. Similarly new and more innovative fitness studio scheduling software like KRIYA is offered at a reasonable rate and caters to local fitness studios as well.
Why use fitness studio scheduling software?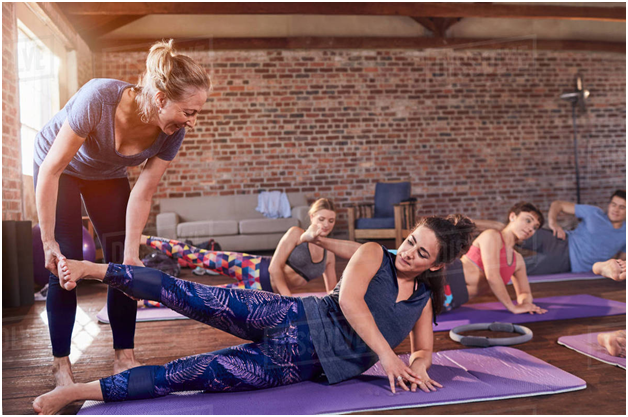 There is a reason to use fitness studio software and the most important is it saves your time, is simple to use, increases your revenue and you can access anywhere anytime with the software app on the go.
Saves your precious time
Managing your schedule can sometimes take more time than even running boot camp classes. But with fitness studio scheduling software you can create and book sessions and classes, easily add client or groups of clients to a session, create session templates to automate future sessions, track attendance and payments, create a class schedule allowing clients to book direct and sync your calendar with your preferred calendar for the class.
Is simple to use
As all of the fitness software is in the app form you can easily manage and navigate the application. The simpler web format also helps you add value to your clients at all times as you can access client files to view all client information and track assessments, programs, goals. You can easily upload progress photos, files, notes, and other information. Or manage new leads and easily convert them to clients. Also, collect feedback to help improve your business operations and communicate with clients via in-built messaging systems or send custom emails directly to your students.
Increases revenue
Your business needs revenue and that comes from business growth. With fitness software, you needn't need to chase payments for your sessions as there is inbuilt automated invoicing, recurring payments or direct debiting options and sell session or membership packages and track credits. You can get in-depth reporting and analytics to know the revenue progress.
Easy Accessibility
The software also provides growth tools for your fitness studio business. You can create a public listing webpage, advertise classes and sessions or embed booking pages to your personal website all in one location for easy accessibility for teachers and students.
The best fitness studio scheduling software
As there are hundreds of fitness studio scheduling software, the following is the list of fitness studio software that one can use for Fitness business or as a student.
Acuity Scheduling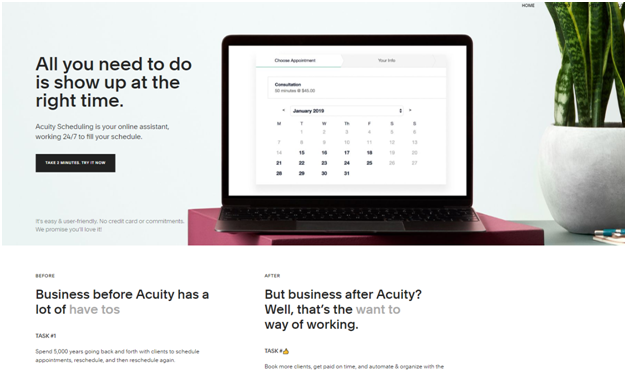 Acuity Scheduling is popular booking appointments software and students can pay in advance via Stripe, Paypal or Authorize.net, and even cancel or reschedule all on their own with simple steps. Click here to visit now
FitSW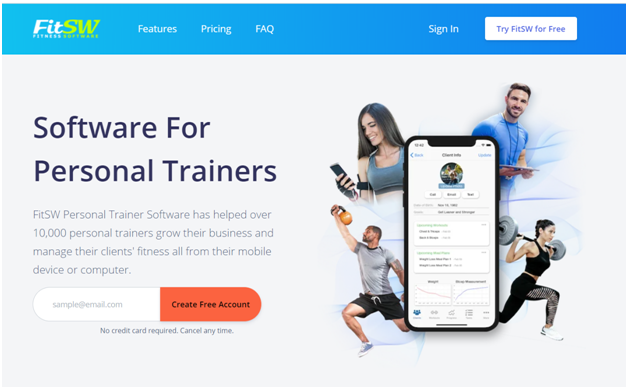 FitSW personal training software helps trainers easily build workouts, plan diets, track client progress, manage schedules, and create comprehensive health and fitness plans
You can monitor workout, nutrition and goal success as well as manage and save important client information. You can manage your schedules and allow client bookings as well as track client progress through assessments and pictures. Also build your brand with custom web pages and apps and engage with clients through In-App messaging. Click here to visit now
ZingFit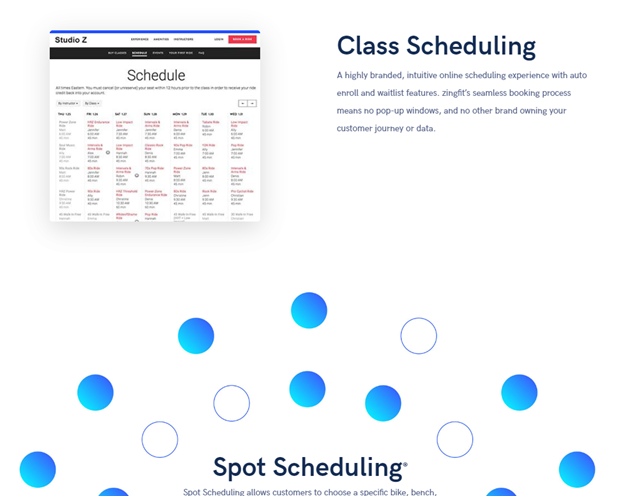 Power your boutique studio with a robust platform that makes management look easy, and your brand look elegant. From payroll, to reporting, to Spot Scheduling, Zingfit helps all aspects of your studio flow together effortlessly. The software custom-branded app puts your brand front and center, putting you in control of your customer's booking experience. Click here to visit now
Wodup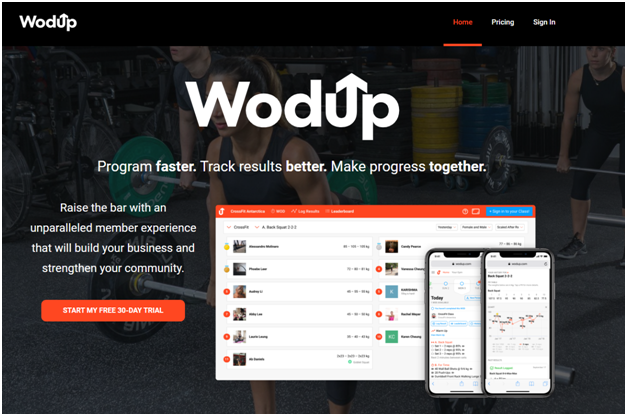 Wodup is flexible with a user-friendly interface that enables coaches to correctly enter any type of workout. From custom to advanced strength training requirements, they have got you covered. As a studio owner show your commitment to your members' progress with an accurate performance tracking technology that helps them meet and beat their fitness goals. When your clients get results, they'll be more committed to your training program, meaning improved member retention. Click here to visit now.
Mindbody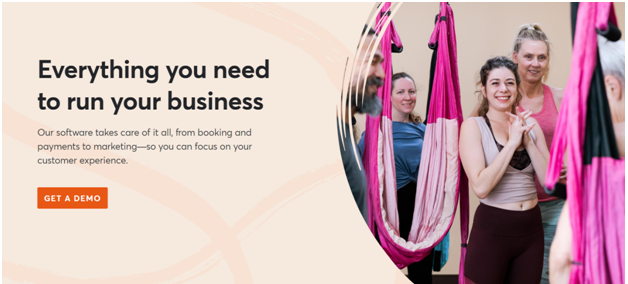 Mindbody is well-known fitness studio scheduling software. Their Marketing Suite built into your software gives new clients all the reasons to come in and keep coming back. Smart contact lists let you send automated, personalized emails and texts to just the right clients. Their fully editable email templates fit your brand and your promotions.
Easily put your schedule on your website and make sure it matches your branding, so clients can book with you from any device. You can manage when your students schedule their next fitness training session—and the software updates your calendar. Click here to visit now.
KRIYA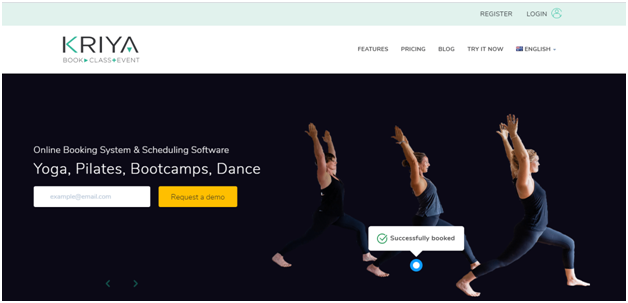 KRIYA booking system is the best low-cost fitness studio software considered useful for local and medium businesses. It offers the most advanced marketing tools at the lowest cost. Software and bookings are easy to navigate saving your time. Best to add class timetable, special events, retreats, and workshops and customize the way you want with full freedom. You can use a wide range of payment gateways like Stripe. Click here to visit now
Click here to find which is best studio management software in Australia
Besides these, there is various other fitness studio software to use like Simplybookme; Luckyfit; Legitfit; Sportsoft; Classfit; Vint, Wodhopper and many others.
Remember that the best class booking software is the one that is cost-effective, in your budget and one that allows you to save time on paperwork. Such software will help your fitness business grow and minimize your worries on tracking your business progress, helping your students get the best way to select your fitness class and pay you instantly without any hassles. Now you select the fitness studio software according to your studio needs, budget, and use.