Gymnastics and dance studio booking software
Gymnastics and dance studio booking software work almost the same way as the yoga booking software or Fitness and Gym management scheduling software.
The only difference is that gymnastics and dance studio booking software is specific for dance classes and gymnastic sessions. Be for children or adults the gymnastics and dance studio booking software caters to all class timetable bookings and easy payments.
This means such studio software is an ultimate solution that assists dance studio owners in automating administrative workflows, such as attendance management, student enrollment, and billing and invoicing.
Features of gymnastics and dance studio booking software
Gymnastics and dance studio booking software helps you in marketing your studio business and attracts new customers to your dance studio and retains them. With automated, personalized marketing built into your dance studio software, you'll connect with your dancers at the right time to keep them engaged.
Students can manage their own contact, credit card and billing information, and studio memberships. You can access their profiles and make updates to ensure they're getting the experiences they want.
Offers brand identity for your business and puts your brand in your client's hands. With your own custom mobile app, they can view your studio schedule, book and buy dance and gymnastics classes, and reserve spots, from wherever is most convenient.
It makes it easy for your students to schedule your classes and make payments, and simple for you to manage your studio's calendar.
Gymnastics and dance studio booking software puts your dance studio in front of a built-in community of fitness customers, all looking for dance and gymnastic services like yours. Also using the best gymnastics and dance studio booking software makes you more visible to new clients and makes it easy for them to book with you.
Also using the booking software you get each and every detail into the data and make important business decisions. Have full ownership of your data and metrics and you can also integrate them with your favorite tools to measure your studio performance.
Free Dance Studio App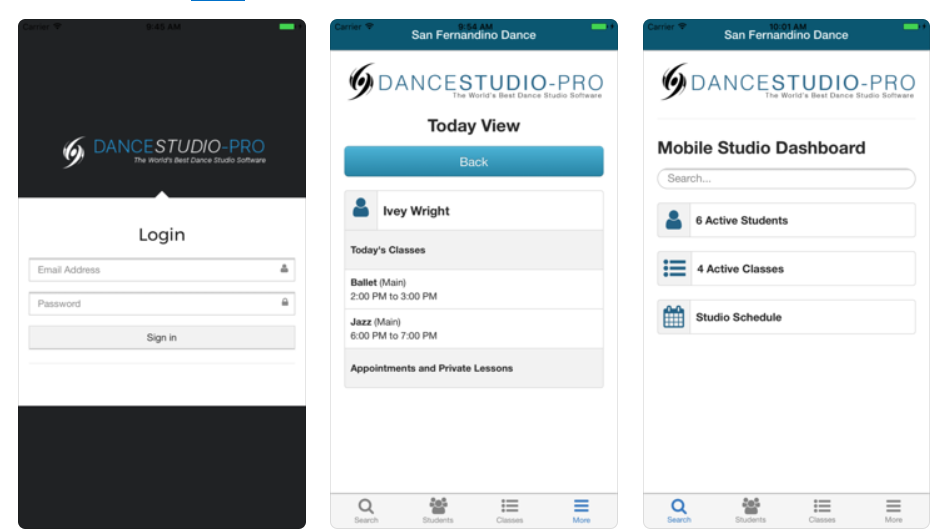 There are many free dance studio apps to download on your smartphone and use them when you need to book your classes, post your events or receive your payments with one touch of your hand.
These apps offer features for dance studio teachers and instructors as well as offer a customized client app.
With customized dance studio apps for dance studios, helps owners and teachers check staff schedules, manage communication with clients, and collect payments.
Free dance studio apps help them, schedule classes, buy merchandise or chat with a customer service representative. They can also update their profiles and keep up with their rewards program. This can boost your client engagement. They can also write reviews of your dance studio after visiting and even can book their next class or make a purchase from anywhere.
Not only free dance studio apps increase sales, but they will also increase brand awareness. An app is a perfect way to publicize your business as they provide a platform for you and your clients to communicate.
Free Dance studio apps can be used to send push notifications to your students to inform them of an upcoming event or promotion. This can go a long way to keeping your clients engaged as it shows there's always something new happening at your business! Push notifications can also be sent to remind students of upcoming payments and new loyalty points earned. Finally, it helps business grow as you can get access to your dance studio progress with the app and help your business grow.
Kids dance school software Australia
As kids and children love to join dance schools there are many kids dance school software Australia that specifically work for Australians. The following are the few of the best kids dance school software Australia for children.
1. Class Manager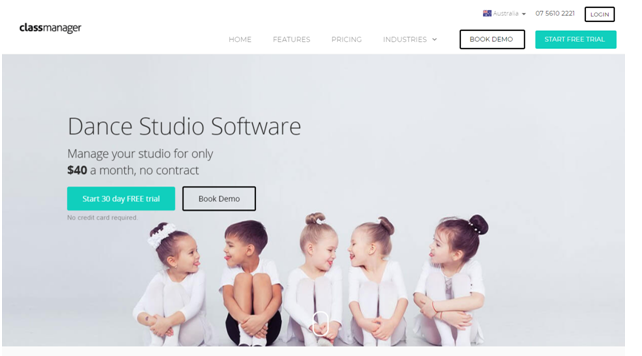 Class Manager is a dance school software solution created with you in mind to help you reduce your dance admin. Get started today with a free 1-to-1 demo and free software trial with their premium support. Class Manager is cloud-based software, so you can access it anywhere and works great with any internet-enabled device. Class Manager works great on Windows PC, Apple Mac, iPad, iPhone, and Android phones and tablets. Click here to know more.
2. KRIYA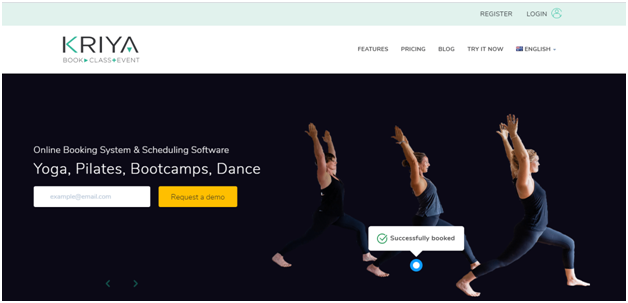 KRIYA is the best kids dance school software Australia for children. It is a low-cost booking and management software that caters to locals and startups as well as for Aussie kids. You can customize your timetable and class as you want, receive timely payments; integrates features for dance classes and retention such as automated email/SMS marketing, get your biz reports and more. Click here to know more.
3. Jackrabbit dance studio software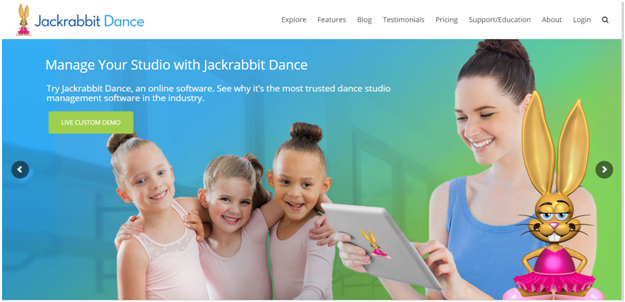 Jackrabbit Dance Studio Software will transform the way you grow your business. See how other owners and directors have reduced frustration, saved time and increased revenue with our industry-leading features. Enroll faster with online registration, & payments, recurring billing point of sale, top-rated customer service and more. Join over 12,000 studios and schools worldwide who have taken charge of their business by using Jackrabbits leading features. Click here to know more.
4. Wellness Living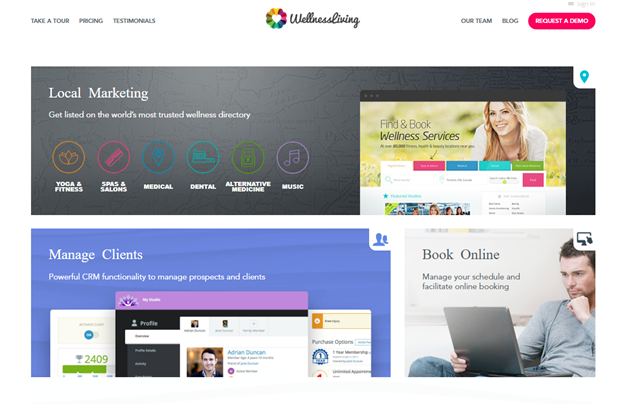 WellnessLiving is an all-in-one solution for your Dance Studio! It features apps for session creation and easy check-in and a custom class widget for online booking. In addition, it integrates features for business development and retention such as automated email/SMS marketing, reputation management, reporting, and rewards. WellnessLiving also includes simple billing and payroll functions and low-cost merchant processing. Click here to know more
5. Dance Studio Pro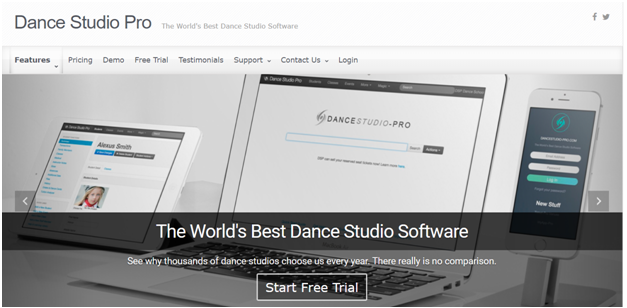 With a 30-day free trial dance studio pro is another best kids dance school software Australia. DanceStudio-Pro has all the features you would expect from a dance studio management software. Student, Class, Teacher, Event, Recital and Costume management and leads and prospect management just to name a few.
6. Studio Director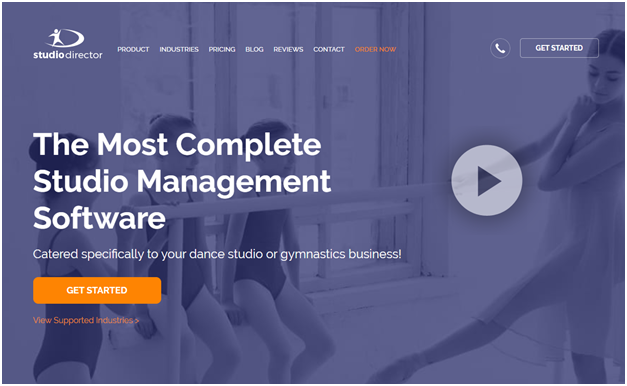 Studio Director dance studio software offers streamlining class registration and customer relationship management within one seamless platform, The Studio Director is a complete, dynamic studio management solution. Preferred by dance studios nationwide, customers of The Studio Director benefit from subscription pricing, in-product tutorials, unlimited customer support and key features like payment acceptance, mobile access, text messaging, emails and recurring billing. Click here to know more
7. Dance Biz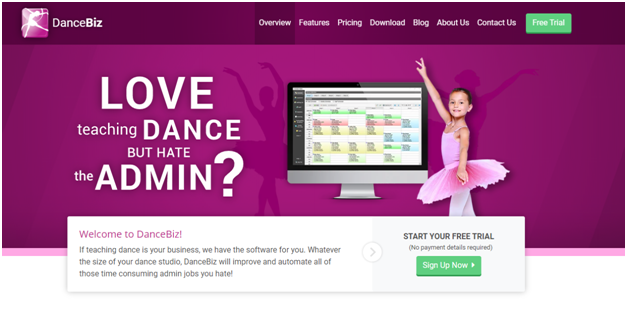 DanceBiz also is known as Thinksmart software is now trusted by over 2,000 businesses across the globe. It allows dance studios of all sizes to manage their administration in one easy to use software package. Automate everything from your timetabling and online registrations through to generating invoices and managing online payments. Click here to know more.