INDOOR CYCLING AND SPIN CLASSES SCHEDULING SOFTWARE AND BOOKING SYSTEM
KRIYA indoor spin classes scheduling software is your all-in-one local Australian system to keep your business organized and efficient. Manage clients, attendance numbers, send invoices automatically, class terms, timetable, online bookings and payment solutions, automated emails and more.
Indoor Cycling Studio Software
Indoor cycling studio software like all other online bookings and management software helps you with online bookings, class timetables and payments.
Indoor cycling, often also called spinning, is a form of exercise with classes focusing on endurance, strength, intervals, high intensity (race days) and recovery, and involves using a special stationary exercise bicycle with a weighted flywheel in a classroom setting.
Indoor cycling classes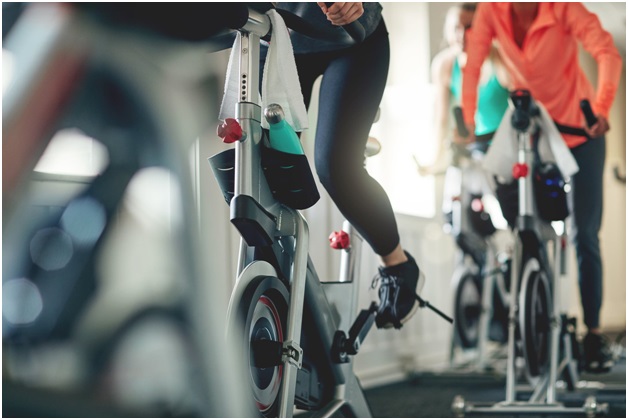 Indoor cycling classes generally use specialized stationary bicycles. Features include a mechanical device to modify the difficulty of pedaling, specially shaped handlebars, and multiple adjustment points to fit the bicycle to a range of riders. Many have a weighted flywheel, which simulates the effects of inertia and momentum when riding a real bicycle.
The pedals are equipped with toe clips as on sports bicycles to allow one foot to pull up when the other is pushing down. They may alternatively have clipless receptacles for use with cleated cycling shoes. Padded shorts aid comfort and avoid the chafing caused by the sewn seams in underwear.
To avoid injury and aid comfort it is important to make sure the bio-mechanical position of the rider is correct.
A typical class involves a single instructor at the front of the class who leads the participants through routines that are designed to simulate terrain and situations similar to riding a bike outdoors. Some of the movements and positions include hill climbs, sprints, and interval training.
A well-trained instructor uses music, motivation, visualization, and enthusiastic coaching to lead students through a ride that best suits their fitness level and goals. Most instructors will lead what is called an interval ride, where students will sprint, run, climb, and jump all in the same ride, but there will not be a definable pattern to the exercises. Terrain-based classes are designed to improve a rider's outdoor skill set and increase endurance while providing an intense cardio-based workout.
One of the major advantages of indoor cycling is that each participant can exactly control his/her level of intensity to suitability or fitness level but still remain as a group together.
The classes can, therefore, be heterogeneous. As an alternative, participants can judge their level of exertion relative to a perceived exertion scale. 
The instructor should advise a recommended exertion scale from 1 (no exertion at all) to 10 (maximum exertion). Each rider is permitted to dictate how hard he/she chooses to work with the instructor providing active and dynamic encouragement together with technical and practical advice throughout the class.
Benefits of Indoor Cycling classes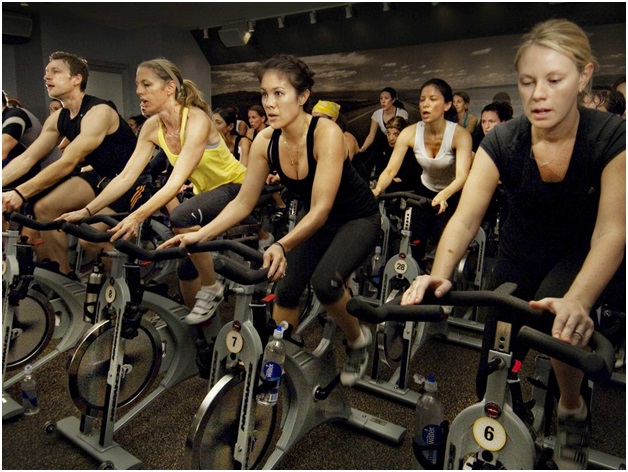 Besides burning (on average) between 300-500 kcal in 60 minutes, indoor cycling also strengthens the muscles of the lower body. It tones the quadriceps and hamstrings, along with working the back and hips. It can be difficult to stay at a moderate level in a class that is geared towards more intensity. The difficulty of the workout is modulated in two ways:
By varying the resistance on a flywheel attached to the pedals. The resistance is controlled by a knob, wheel or lever that the rider operates, causing the flywheel brake (a common bicycle brake, a friction wheel, a magnetic eddy-current brake, a viscoelastic fluid brake, or a strap running around the flywheel) to tighten. 
On most bikes the brake can be adjusted from completely loose, providing no resistance to pedaling beyond the inertia of the flywheel, to so tight that the rider can not move the pedals. Usually, riders who can't pedal at the resistance called out by the instructor are encouraged to ride at a level at which they feel comfortable yet challenged.
Pedaling at a higher rate expends more energy than pedaling at a lower rate with the same resistance. Correct cadence is between the range of 80 to 110 RPM for seated flat, standing flat (running) and jumping and 60 to 80 RPM for the seated climb, standing climb, running with resistance and jumps on a hill. Sprints are taken underhill resistance building cadence up to no more than 110 RPM.
Best spin studio software
Here are a few of the best spin studio software that you can use for bookings and payments. Remember there are five core movements in the Spinning program:
Seated flat, with hands at the center part of the handlebars. This is hand position one. This position should be used only when seated, for flat road simulations and during the warm-up and cool down. Cadence between 80 and 110 RPM.
Standing flat (also known as running), with hands wide on the back 12-14" part of the handlebars that crosses the rider's body. This is hand position two.
Proper form for standing while running requires the body to be more upright and the back of the legs touching or enveloping the point of the saddle, with the center of gravity directly over the crank. The pressure of body weight should never rest excessively on the handlebars. Cadence is between 80 and 110 RPM
Jumps, (also known as lifts), a combination of seated and standing with riders hands at position two for durations of between two and eight seconds. Cadence between 80 and 110 RPM.
Seated climb with hands at position two, increased resistance and lower cadence of 60-80 RPM.
Standing climb with hands wide and forward so the thumb tips are touching the far end of the handlebars (hand position three). The rider is canted slightly forward so that maximum force can be exerted onto the pedals with heavy resistance and a cadence of 60-80 RPM.
These five movements each work a different part of the body and focus on different leg muscle groups. The rider should always maintain control of the flywheel by having resistance applied and remaining below a cadence of 110 RPM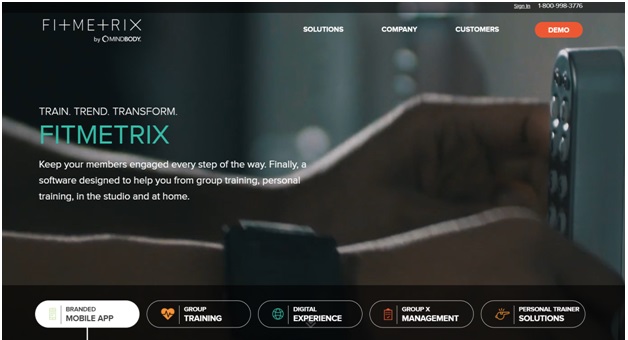 Though there are many best Indoor cycling studio software or Spin Studio Software to use here a few of the very best to try
With indoor cycling studio software you can easily schedule your indoor cycling classes, enable spot booking, configure capacity, waitlists, reservation and cancellation policies and more.
Also easily create, repeat, re-schedule edit or cancel classes or sessions from your calendar.
Get complete control adding clients or groups to appointments, classes or workshops.
You can even book a client into multiple sessions for a period of time.
Create ride packs or recurring billing memberships and handle all invoices and sync with your favourite online accounting packages.
Generate robust and highly customizable reports that will keep you informed about your members and attendance, marketing efforts, financial performance, and staff.
Also, you can integrate with the indoor cycling studio software  to automatically pull ride statistics into the member app.
You can create session templates to automate future sessions and track attendance and payments as well.
Indoor cycling app
There are hundreds of Indoor cycling apps available at app stores be it Google Play or iTunes that you can download free on your smartphones be it Android or iOS.
The development of these apps with integrated power meters and Bluetooth/ANT+ control has led to a whole swathe of training apps and riding indoors is now much more realistic and compelling than ever before. You can do everything from riding with your mates, virtual or real, take part in racing leagues, follow structured training programs or ride famous roads and climbs from the world's biggest races.
There are now many apps available to suit all needs, whether you're simply training, want to get into racing or just need a suitable alternative to dark, cold and wet weather.
Many apps offer full premium features for which you need a subscription after your free trial ends.
Zwift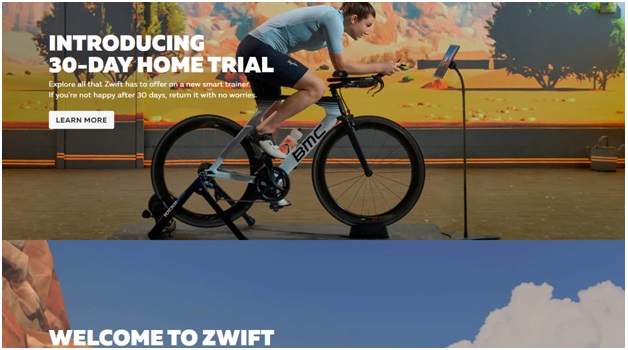 Zwift all gives you the ability to ride in a virtual world against or alongside other people from across the world. It makes indoor
cycling a game and the result is that it makes turbo training fun and engaging.
If you use Zwift with a smart trainer, the level of resistance adjusts to match
the terrain so when you're going up a climb, it really does feel like it.
There are many organized events, from training rides to races, so you can ride with people of similar fitness and get a really good workout. The races are particularly realistic and can push you really hard, because it's always motivating to chase someone, even in the virtual world.
If you want more structured training, Zwift also offers a wide range of workout modes and there's everything from sprint intervals to sweet spot sessions. You can conduct an FTP test and follow one of the 12-week plans if you want to enjoy the benefits of a virtual coach to get you fit for a big sportive or race. You can also customize the workouts and make your own, too. Click here to download the Zwift app now.
Trainer Road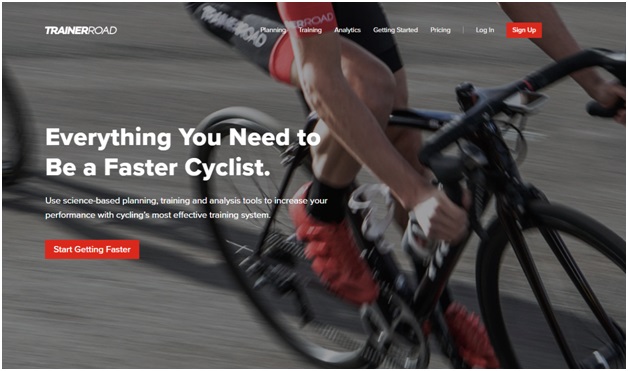 TrainerRoad uses a simple and clean graphical interface that provides all the metrics you need to track your efforts, from speed, any connected sensors like heart rate, cadence and power. A workout is displayed as a simple graph representing your intervals and a line moves across this graph identifying your progress. Motivational and instructional text is provided on-screen to help you stay focused and provide useful tips. Immersive it's not, but structured and detailed it certainly is.
It also provides a staggering 1,000+ workouts so you can also follow a training plan (there are 100+) with plans for every type of
cyclist, covering early season based work to race preparation. Click here to download Trainerroad app now.
Sufferfest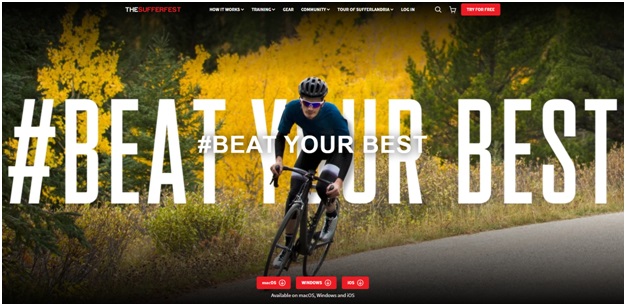 With sufferfest app not only you get interval training, or just pedaling around in circles, so you maximize the time you spend on the trainer. There are more than 50 structured interval workouts to choose from, designed by world-class coaches, and tailored to help you meet whatever goals you're working towards. The company has also developed what it calls Four-Dimensional Power, or 4DP for short, which it reckons goes beyond FTP in using four metrics to help personalize the workouts to your exact needs.
Also, besides actual training, Sufferest is branching out by offering yoga, mental toughness and strength training programs aimed at the needs of cyclists. Click here to download Suffersest app now
Rouvy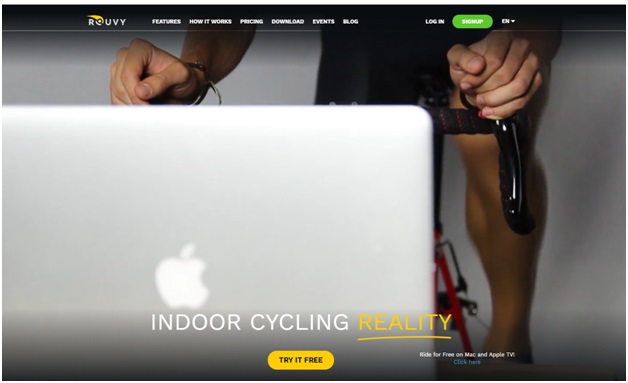 Rouvy focuses on reality, providing a staggering 125,000
miles of video routes from around the world. Also it's USP is augmented
reality, with 3D avatars appearing over the real video footage. It's currently
still in public beta phase, they plan to roll out 2,000 real-life geo-synced video routes with augmented reality, but it's an exciting development and if you want realism this could be the app for you. There's a lot more on offer too, including structured workouts, training diary, pedalling technique
analysis, fun challenges, races and leaderboards so you can see how you compare to friends. Click here to download Rouvy app now
Road Grand Tours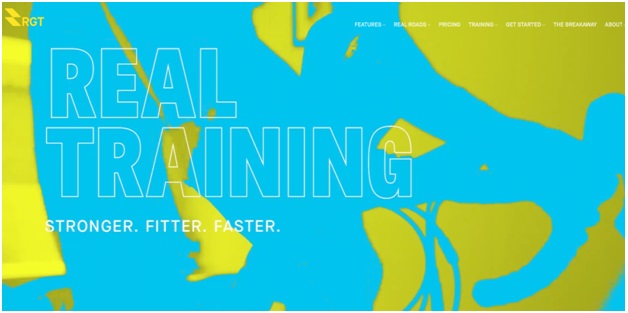 Road Grand Tours is another online training platform that provides a 3D simulation of the real-world to cycle around. It provides amazingly detailed, with crisp, clear graphics that add to the realism, and you can tailor every aspect of your avatar and bike. Road Grand Tours is intended to be a social platform providing multiplayer races and rides, allowing you to interact with other users via the mobile app. Racing is intended to be accurate, the simulator also takes drafting and peloton dynamics into consideration, so when you hit the front of the peloton you'll need to put out considerably more power than if you were in the pack. Click here to download RGT app now
Paincave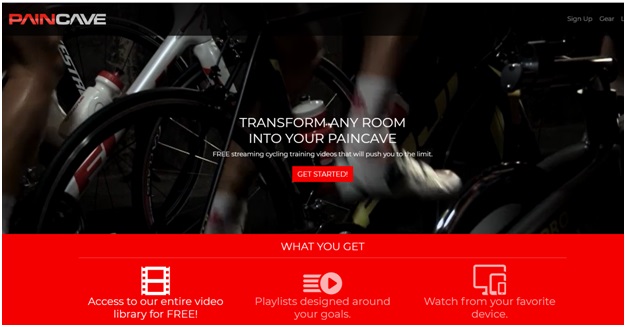 Paincave app functionally is very similar to The Sufferfest, and you can as riders participate in virtual rides that include actual race footage from some of the world's most prestigious events. This footage is supplemented with coaching by some of the best trainers and cyclists in the world, helping to guide you through each workout. Click here to download Paincave app now
Cyclecast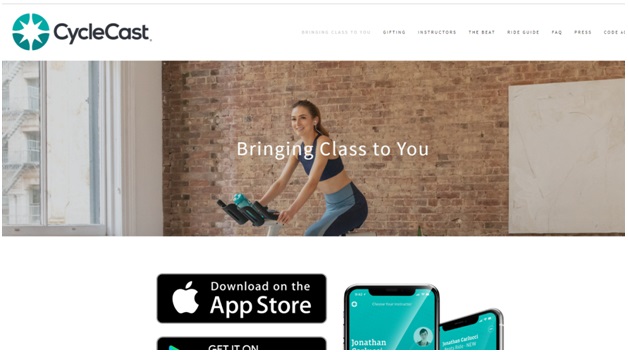 CycleCast app is pretty much your plug-and-play solution for
home-based workouts. As long as you have an iPhone and the CycleCast
subscription, all you need is access to a group cycling bike to get started. Riders are guided through each workout based on rate of perceived exertion, percentage of max heart rate, or rotations per minute, so even if you don't have a bike computer, cadence meter, or heart-rate monitor, you can still enjoy the ride. Simply select your instructor and ride time and get to work. Click here to download Cyclecast app now
Peloton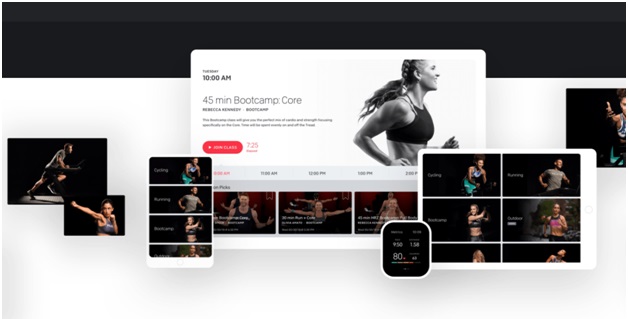 Peloton app has an immersive indoor cycling workout i
designed to bring the group cycling studio straight to your home.
Every single day you can tune into live-streaming workouts coached by instructors in the Peloton New York City-based studio.
These instructors interact with the virtual
participants and you can, likewise, compete and compare your performance to your classmates who are tuning in from around the country. Plus, whenever you can't join a live class, you still have access to thousands of streaming workouts you can start at any time. Click here to download Peloton app now
Studio sweat on demand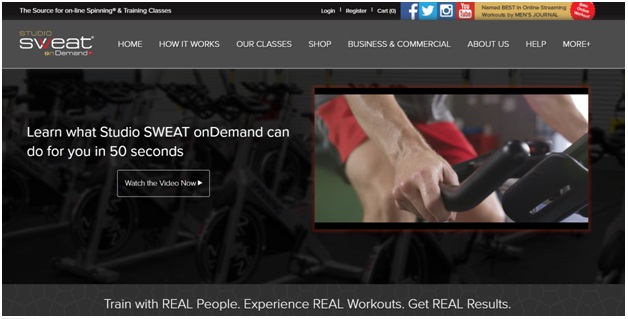 Studio Sweat app offers a ton of streaming indoor cycling workouts along with treadmill, TRX, boot camp, and even jump rope workouts, with new routines added every week. You have the option to sign up for an all-access pass that allows you to stream all of their workouts, or you can pick and choose specific routines, then download them to your computer for online and offline use. Click here to download Studio sweat on demand app now.
Besides there are many other best indoor cycling apps. Click here to find more
such apps here.
Your clients can choose from single sessions or courses (bundled sessions)
Give your clients the option to book 1 class or a course of 8 or 10 classes.
FAQs
Q1. Would KRIYA allow my clients to book and cancel sessions
online?
Yes KRIYA allows to book and cancel sessions online. If you want
to cancel your sessions or reschedule it to a later date you can easily do it
using  KRIYA.
Q2. Can I continue to use Square or get cash for my sessions if
I use KRIYA?
Yes, you can continue to use Square payment gateway and even choose to opt for
cash payments for your sessions when you use KRIYA booking for your clients.
KRIYA offers powerful payment and point of sale platforms to make every
type of transaction simple for you.
Q3. Can I automatically charge clients for a membership?
Yes, you can automatically charge clients for membership. Your clients can go online and reserve their spot or seat in class or purchase a pass anytime they want. Flexible membership configurations are what KRIYA provides for you to run your sessions the way you want.
Q4. Can I set up my free website with KRIYA?
Yes, you can do so if you want. At KRIYA you don't need a website to start accepting bookings or payments for your classes.  You can though build a website by going to settings and set up your free website.
Q5. Can I sync my timetable with Google calendar?
No at present you cannot sync your timetable with Google Calendar.
Q6. Can my clients make advance bookings?
Yes, your clients can make advance bookings but not more than 4 weeks/month in advance. You can also create courses where your clients prepay the whole course and are automatically booked into every class in advance.
Q7. Can I have more than 1 location on the system?
Yes, you can have more than one location on the system. There is no region or area-specific limitations at KRIYA.
Q8. Can I send SMSs to my clients?
Yes, we are adding this feature soon. You can then send automated reminders for your boot camps or workshops and promote your business using push notifications through SMS so that your clients know about your classes and offers.