Yoga Studio Management Software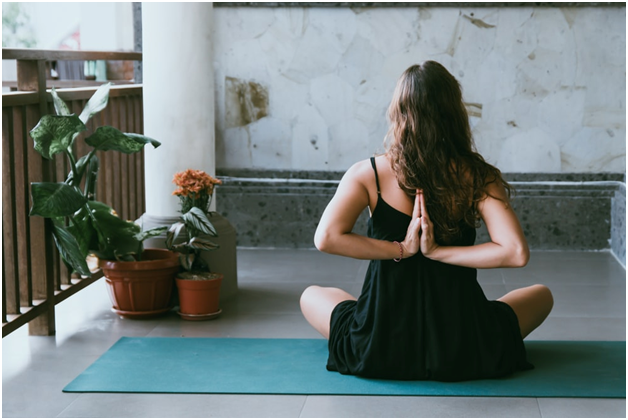 Yoga Studios or Yoga Studio is a room, space or a venue in a building or house where yoga teachers take their yoga classes. Yoga studios can be from a simple single room to a large hall with single or multiple classrooms to teach various kinds of yoga like Kundalini Yoga, Kriya Yoga, Hatha Yoga, Bikram yoga, Iyengar yoga with built-in props and heated humidified rooms for even Hot yoga.
The most successful yoga studios focus on a particular style of yoga and related practices, although larger studios are able to accommodate a variety of classes and styles to meet a range of student needs.
But starting a yoga studio requires great time and money to run it all smooth. There were days when you were dependent of print media to market and advertise for your business. In the digital world things are much easy and you save lots of your precious time and energy as well as money to make your yoga studio business grow bigger and better.
Challenges for Yoga Studios
Competition
Getting students & Retaining them
Management
Bookings and Payments
Online classes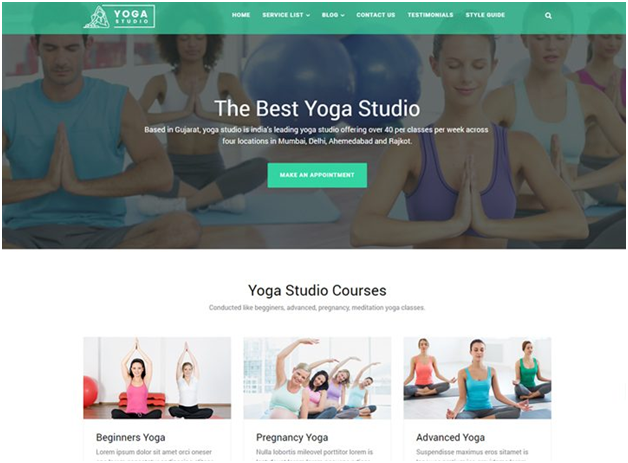 Competition
Every business faces competion and this is the biggest challenge for any Yoga studio.
What you need:
To face this tough competion you need to make your yoga studio stand out. For this you need to plan a a strategy. This strategy should include:
Marketing and promotions
Advertising
Online presence
Your accreditations
Your own personality
Marketing and promotions include well planned structure to cater the demand and supply of Yoga in your area. You can hire a marketing professional or a PRO executive to help you out. Right from flyers, banners, offers all need a good planning to move forward to attract your prospective client.
Advertising forms a part of marketing and can be done both online and offline, Make full use of social media sites, print media and your local radio to advertise your studio. Even a simple text message in your local area can do wonders if you list the phone numbers from the directory.
Online presence is another way to boost your studio and advertise. Create a Facebook, Twitter, Instagram page of your yoga studio and add like minded followers.
Your accreditations are in one way a great way to beat the competition. Your qualifications, certifications and license is important factor in beating the odds in the market. Students prefer more experienced and qualified yogat instructor than a teacher with only few years of experience.
Similarly your own personality helps a lot in the competition. No individual behavior is same. It depends how you treat your students and how you deal with them. Being helpful, kind and listener is what makes your personality more strong. If you listen patiently to your students needs and help them out your studio will be in good reputation.
Getting Students & Retaining them
The next and important challenge the studio owners face is getting new students and retaining them. Where to get your clients and how to convince them to join your studio is the toughest challenge for any yoga studio.
What you need
One way to get new students for yoga class is obviously through marketing and advertising. Also if you offer something unique in your class, that too will attract more students. Teach that kind of yoga which other studios may not be offering Or offer value added services to your yoga class. This can be in the Again retaining old and new students is a big challenge. If they are not retained your business will be at lost and shut soon.
You can offer old students discounts, offer them weekly events or free fun activities to motivate them where the student is happy and is entertained.
Management
Management is another internal challenge of a Yoga studio. This includes help desk, customer calls, maintaining register and records of students and teachers, bookings and so on.
What you need
To cater to all of your Management needs right from the receptionist work to bookings and payments you need a online management software. You can put up your timetable and the sessions of classes. Students will use the management software and you can take Attendance in just one click. Taking class attendance should be easy and quick saving you so much of time which otherwise you would manually spend. Easily communicate with your students, maintain their records and take bookings is what such online management software are all about.
Bookings and Payments
Bookings and payments is another worrisome challenge for yoga studios
What you need
Now no need to worry for your bookings and payments. All this can be done quick and fast with online booking system like KRIYA. Create your class time table and book classes instantly even on the go and receive payment right at your bank at once.
Also, if you have a relatively small yoga studio, you may want to take reservations online. Selling passes online enables you to free up time at the beginning of each class and also encourages your students to pay upfront for multiple classes as opposed to dropping in once in a while. You can even keep a track record of all the transactions done. Such booking software helps you see the cashflow of yur studio and you get an estimate of its growth.
Online Classes
Recent times have changed the scenario. As a yoga studio owner you have to have your online classes as well whether from your yoga studio or from your work at home atmosphere,
What you need
You need a good website, Facebook page, and other social media presence to stream your live classes.
Click here to find how can you build your website in Square space
Click here to find how you can build your website in Wix
This way you can work from home any time you want.
Additionally, virtual studio hours via live streaming provides a global reach, allowing both local and international students to take advantage of these hours. By using a live stream as a yoga studio, students can learn from each other's questions in real-time. The teacher can address any common misconceptions about asanas or fitness sessions.
Why KRIYA?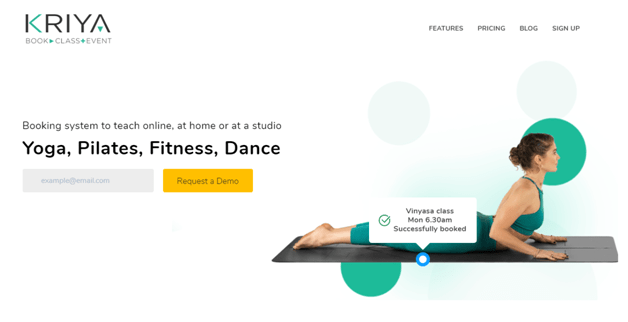 KRIYA is one such Yoga Studio Management Software that is simple to use as well is low in cost. With awesome features it makes a superb yoga studio tool for your class timetable, class packs, membership management, and appointment or booking scheduling, customer management, selling through website portal and mobile applications and more which help you get the most out of your studio.
For Yoga Studios KRIYA is therefore a cost effective Booking and management software that helps you promote your Yoga Studio and thereby increase revenue to your business. KRIYA helps your promote your Yoga Studio or classes easily.
Another interesting aspect of KRIYA is when you start using for your studio you can also create your own website in less than ten minutes and get started easily to showcase your studio services to the digital world. Your business will be improved with such online marketing and will be able to sell your classes to a wide audience.
Easy integration with Google Analytics Ecommerce tracking, Adwords conversion tracking, and the social media links will get your Yoga studio website in the top ranking in various search engines and if you also create your own marketing campaigns then it would be just wonderful tool for the growth of your yoga studio.
So along with your yoga website, KRIYA software is where you can rely upon for your yoga studio bookings, advertisements, marketing and branding.
Features from KRIYA to manage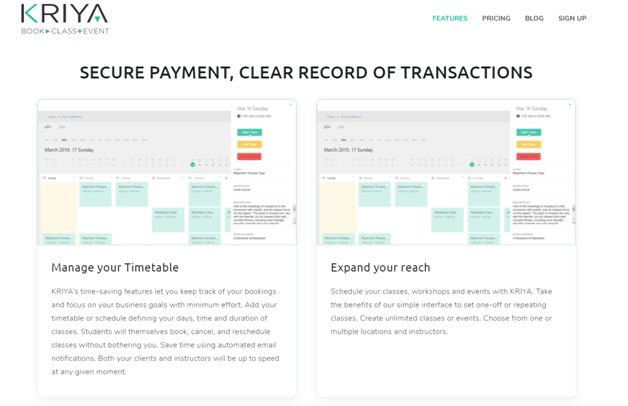 Easily schedule small, medium or large group yoga classes at set times or recurring intervals
Set up your availability so students and schedule private yoga or pilates lessons at your own convenient time
Add special events or workshops such as teacher training or retreats to your events calendar
Add any number of instructors, class types or locations and manage their attendance
Charge via credit card at time of booking through a wide range of payment gateways like Stripe (all major ones supported)
See all your bookings in a monthly, weekly or daily calendar at a glance
Students can manage their own bookings including cancelling if you want.
Get feedback from students to improve your classes and sessions
Customize the way you want with full freedom
With customize features as well as built-in system integration for various needs like email marketing system to send the right message to the right student or the option to add email addresses to build your mailing list quickly to keep your potential customers informed and entertained and to improve your search rankings to acquire new customers.
You can also add your social media links and follow buttons as well as promote your services or posts in your Social Media channels with one click for viral marketing as well as other data integration to increase sales for your yoga studio services.
For those yoga studios who already are using a booking software to manage their studios face few issues such as high cost. Some charge you per transactions, whilst others charge a flat monthly fee, so you'll always know how much you're paying. Custom made online booking platforms will charge you a hefty lump sum up front, as well as recurring costs for bug fixes and support.
Even most of the online booking software do not cater to local yoga studios and do not allow local currency which adds more cost to you. Also some lack the 24/7 customer support and other features to boost and manage your business efficiently. Thus KRIYA has awesome features to manage and customize the way you want within a fixed low cost budget.
KRIYA features are best for small and medium yoga studios as well.
Interested in KRIYA for your yoga studios, then click here to join now or have a free demo.