Best 10 Yoga Bolsters Now At Online Stores To Buy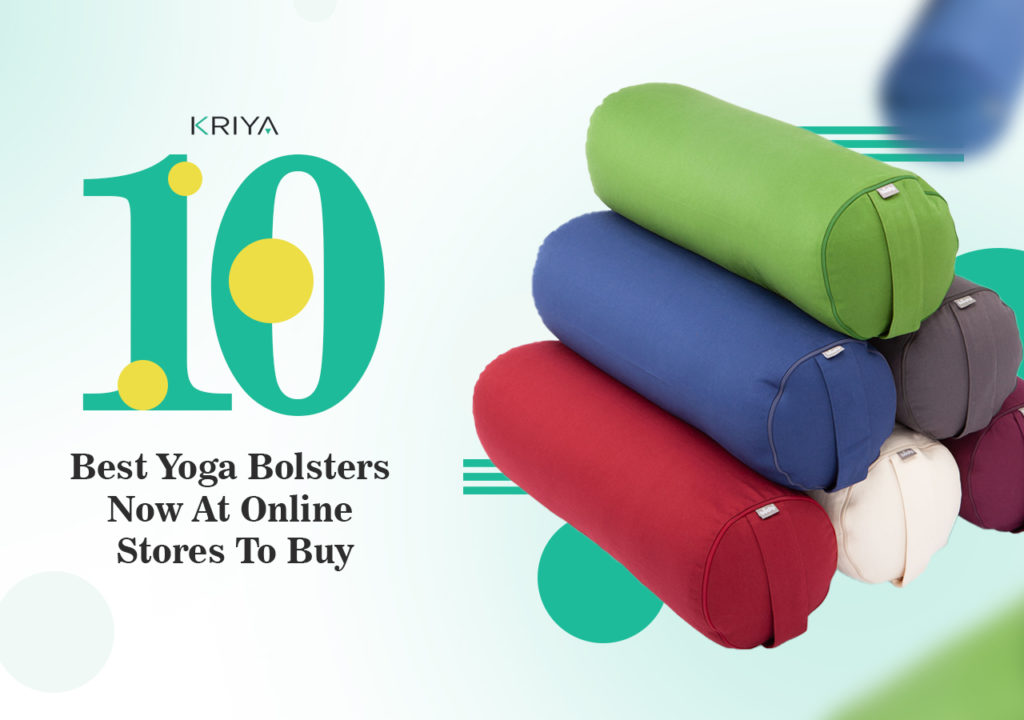 Performing yoga at studios or at home need certain things for support and comfort. Like many of the yoga mats one of the popular props in yoga is yoga bolster. Though each one of us have used bolsters and still use at homes when we rest in bed, couch or any other furniture when we want to support our head, neck, arm or back.
Bolster therefore is a long narrow pillow or cushion filled with cotton, foam or some type of fiber. These pillows or bolsters are usually firm to give full support to your body.
Why you need a bolster when doing yoga?
Obviously, the answer is you need a bolster to support your body when doing certain yoga asanas. A yoga bolster supports your spine and promotes lung expansion when you do pranayam. When you are in a seated or reclined position it helps you relieve the stress. Here are the popular yoga asanas where bolsters help a lot doing yoga.
Savasana or in corpse position the bolster placed under the knees help you in lower back strain
When doing balasana or child pose the bolster is placed between the legs as when you fold your body forward it rests on the bolster.
Doing viparita karani or legs-up-the-wall pose in yoga, the bolster is placed under the hips, making the pose more restful.
In Uttrasana or camel pose bolster is placed against the wall or underneath your knees to rest on.
Also when doing prenatal, restorative, and Iyengar yoga you need a bolster for support.
Best 10 Yoga Bolsters Now At Online Stores To Buy
Interested in buying yoga bolsters, here are the best 10 Yoga Bolsters now at online stores to buy:
Supportive Rectangular Cotton Yoga Bolster
Hugger Mugger Standard Yoga Bolster
Lotuscrafts Yoga Bolster
ForPro Full Round Yoga Bolster
Pranayama Cotton Yoga Bolster
Gaiam Sol Round Yoga Bolster
Ajna Yoga Bolster Pillow
Bean Products Yoga Bolsters
Earthlite Bolster Pillow Jumbo
Zabuton Yoga Bolster
1. Supportive Rectangular Cotton Yoga Bolster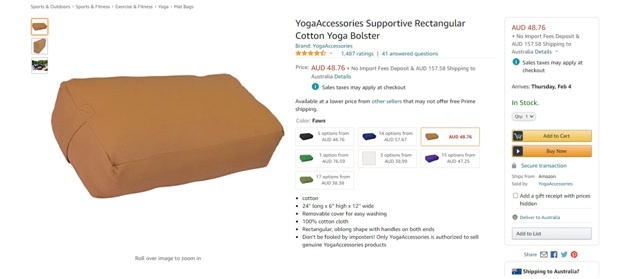 Supportive Rectangular Cotton Yoga Bolster is brought to you by YogaAccessories. This bolster provides a firm and supportive blend and the filling is 100% cotton which makes it lightweight and soft. You can find it at online stores in 13 different colors and designs. The size of this bolster is 24" long x 6" high x 12" wide. The cover that comes along with this bolster is machine washable with a cold cycle and mild detergent. Price: AUD 48.76
Buy at :
2. Hugger Mugger Standard Yoga Bolster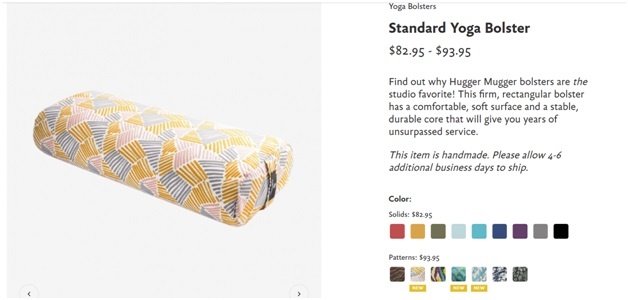 Hugger Mugger Standard Yoga Bolster is like a tablet filled with dense foam and upholstery-grade fabrics. The flat top and bottom create immense stability and firmness. The bolster also comes with a cotton cover. This cover is advised not to be taken off for washing as the foam core it makes it difficult to change. Only you can spot clean or dry clean it. The size of this bolster is 25″ x 11″ x 5″ / Weight: 5.0 lb You can find this in 15 different colors and patterns. Price: AUD 109.34
Buy at :
3. Lotuscrafts Yoga Bolster

Lotuscrafts Yoga Bolster for Yin Yoga yoga and restorative yoga comes from Lotus crafts. Also suitable for Pilates and as a neck roll cushion and is filled with Kapok. The square yoga cushion is multi-purpose and supports exercises such as backward bends or can be used as leg support to relieve back strain when lying down. The organic cotton cover can be simply removed and machine-washed.
The Yin Yoga bolster cover is made of organic cotton dyed with environmentally-friendly colouring and is produced under fair working conditions. Size of this bolster is 28″ x 12″ x 8″ (Large) / 28″ x 8″ x 6″ (Small) | Weight: 3.5 lbs (Large) / 2 lbs (Small). The price of this bolster is A$79.02 – $92.20
Buy at:
4. ForPro Full Round Yoga Bolster

From For Pro this is full round yoga bolster made from high-density foam and vinyl. This round bolster pillow conforms to body's natural curves and provides support for vertebrae and back relieving strains from the lower back during massage therapy, in addition to restorative practices. Moreover, this bolster is stain resistant which means it can handle any stains even oil and is thus easy to use. The size of this bolster is 6" R x 26" L and you can get it in two prime colors, crème and black. Price of this bolster is AU$31.62
Buy at:
5. Pranayama Cotton Yoga Bolster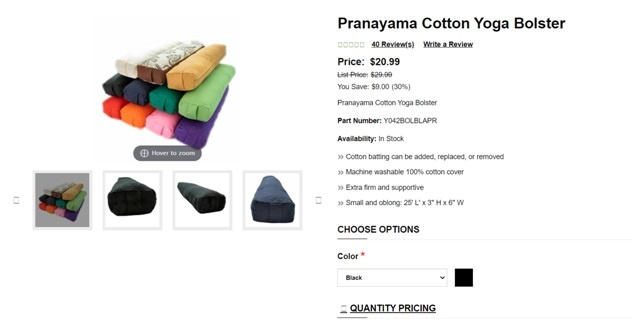 Pranayam Cotton Yoga bolster comes from yoga accessories and is good support for all kinds of restorative breathing exercises. This bolster is handy in keeping it under the spine. Like all other bolsters, it offers firm support and the unique thing is you can remove the inner cotton batting to reach your desired fill level and hit every pose without worrying about unwanted bending or sagging. This bolster is filled with cotton and also comes with a cotton cover to wash and clean. Measure 25″ long x 6″ wide x 3″ high, significantly smaller than standard rectangular bolsters. Priced at $20.99 it comes in various colors.
Buy at:
6. Gaiam Sol Round Yoga Bolster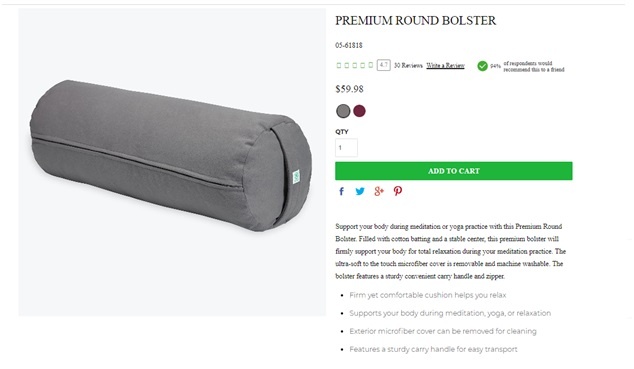 Gaiam Sol Round Yoga Bolster from Gaiam store provides a firm, yet comfortable cushion during yoga postures and stretches – also great around the house, even helping as a sleep aid. This premium yoga cushion is filled with cotton batting and a stable center that will support your body during meditation, yoga, Pilates, or relaxation Yoga pillow provides full-body support needed and promotes a healthy posture and alignment helping you to relax your body and mind. Has a microfiber cover that is removable and machine washable for easy cleaning – Also features a sturdy carrying handle for easy transport Size is 25.5″L x 9″ Diameter / Weight 5 lbs and is priced at AU77.91.
Buy at:
7. Ajna Yoga Bolster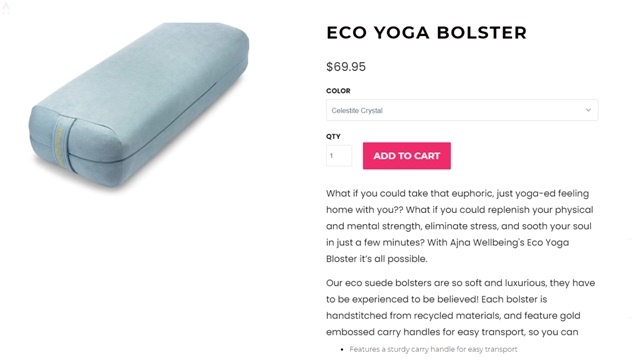 Ajna Yoga Bolster from Ajna store is another top yoga bolster to buy online. The bolster pillow provides optimal support to help alleviate pressure on joints, provide lumbar relief, deepen stretches, and grant total relaxation. Great support allow for perfect relaxation whilst focusing on yoga or meditation. It has a dual-layer technology that ensures that your bolster pillow won't lose its shape or firmness with use.
Made and produced out of 100 percent vegan materials and without the use of harmful chemicals or toxic solvents comes with a soft outer cover that can be easily removed for cleaning, and features gold embossed carry handles. Price at AU$92.25 at Amazon.
Buy at:
Amazon
8. Bean Products Yoga Bolsters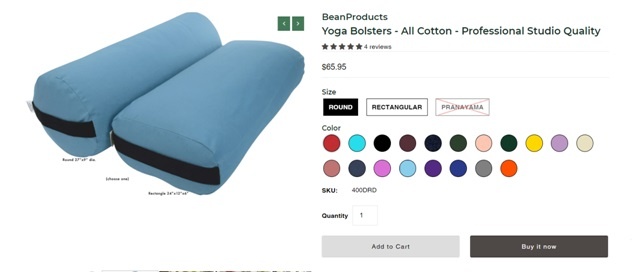 Made by Bean products this yoga bolster provides premium Organic Cotton Yoga Bolsters in Rectangular, Round and Pranayama Shapes. Best quality bolster with removable fabrics, durable foam core, tight cotton batting wrap, cotton muslin inner case. Designed for a variety of active and restorative yoga positions – safely deepens and enhances flexibility, alignment, stability, and breath while you practice.
It comes in three different sizes and a rainbow of colors. You will have no problem finding the size or style to meet your yoga needs. Plus, Bean Products offers a complimentary one-year warranty on its bolster. Size varies: Rectangular is 25″ Long x 6″ High x 12″ Wide – Round is 27" Long with a 9" Diameter – Pranayama Breathing Bolster is 28 x 7 x 6. Priced at AU$118.56
Buy at:
Amazon
9. Earthlite Bolster Pillow Jumbo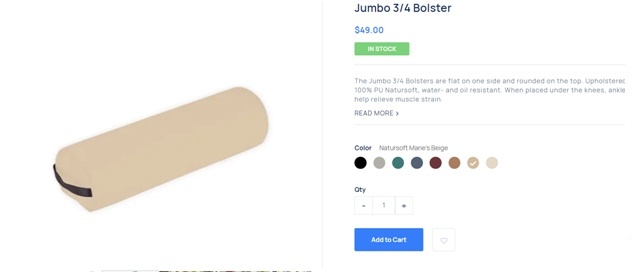 This bolster comes from Earthlite store and is comfortable to relieve stress on the lower back even during massage. This bolster is made from from quality eco-friendly foam and naturesoft 100% PU rayon backed upholstery. Available in five different styles, 8 different colors available, and has a 1-year Warranty from earthlite. This bolster is priced at AU$49.86.
Buy at:
10. Zabuton Yoga Bolster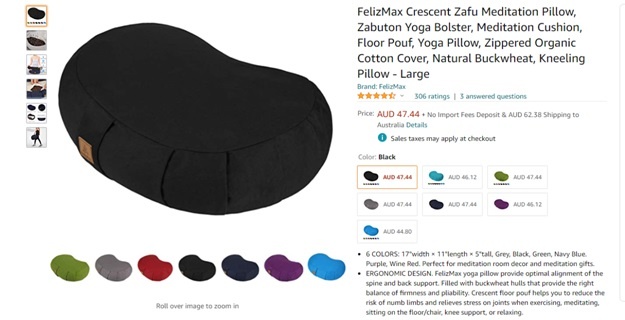 Zabuton Yoga Bolster from Fleizmax comes in six colors and is perfect for meditation and yoga. Provides optimal alignment of the spine and back support. Filled with buckwheat hulls that provide the right balance of firmness and pliability. Crescent floor pouf helps you to reduce the risk of numb limbs and relieves stress on joints when exercising, meditating, sitting on the floor/chair, knee support, or relaxing. Enough buckwheat hulls filling can be added or removed from zipper access to find the optimal level for your body. Organic cotton cover of Yoga bolster can be machine washed with cold water to reduce the risk of shrink or fade. Comes with a one-year warranty. Size 17″width × 11″length × 5″tall and is priced at AU$47.44.
Remember that prices quoted here are Australian prices and you can check from the online store for the price currency in which you wish to buy. Also, the availability of the stock depends on demand and supply.
Buy at:
Choosing the right yoga bolster
Now that you have found where to buy a nice yoga bolster you need to understand how to the choose the right one for you.
Bolsters come in a variety of shapes and sizes so ask your yoga teacher which one you need. This generally depends on the yoga you are learning or practicing. If you have an injury or are working with a particular condition then also better to ask your instructor for the right bolster that will suit your needs.
Yoga bolsters generally come in three basic shapes: cylindrical, rectangular, and lean so decide which is best for your particular needs.
Check the size dimensions before making a choice.
Also, find the weight and what they are filled in so that you can easily carry it.
Find the filling inside the bolster because each filling acts in a different way and needs to be cared for in a different way. The bolsters can be 100% cotton filled or recron or buckwheat or a fiber-fill made from 30% recycled polyester fiber. Research and find which is the best in use.
For women who want to look trendy in style while doing yoga, the choice of colors and patterns also matters while choosing the right bolster for you.
Click here to find which are the best yoga mats to buy now
The important thing is to always buy that bolster which is necessarily required for your yoga asana. If you are doing mediation then better keep a flat and cotton filled bolster, if you are using for restorative purpose then you need a firm and solid bolster. Choice depends on what purpose you need a bolster for.
Interested in making your own yoga bolster at home instead of buying from an online store, then watch this video below
Happy Bolstering!