15 Yoga Props and Products That I Use to Practice Yoga and Pilates from Home
I have been doing yoga since my teens. It helps me a lot to keep stress at bay as well as keep me mentally and physically fit. In recent days, due to COVID 19 lockdown, yoga practice was a must for me. I didn't wanted to get into bad shape. Hearing my friends teasing me, "she looks a like a sugar in a plum" and then plump plump PLUMP.
This time I was more afraid of getting coronavirus and wanted to boost my immunity and health. But it is not only physical fitness that was required. Mental fitness was the need of the hour to cope with daily blast of pandemic news. TV news channels were like hell, reporting whole day the number of people dying across the world.
I remember, when first time media reported about Coronavirus in February 2020, I was a bit afraid as how I will cope with it. One of my uncles who lives in Auckland NZ, on whats app texted, "If you believe that things will go wrong with you and you will have corona, then you will. But if you believe that there is nothing to worry but only to practice hygiene and keep yourself fit then it's nothing. It's all in your mind. What you think so will you become". (my uncle is 70 and hale and hearty)
This was a relief to me, and I began to carry on my life as it is with some healthy precautions to be on the safer side.
Though I knew in the lockdown, how can I visit the studio. But still, I couldn't resist to ask my yoga teacher, whether I can come to studio for Yoga practice. She had to follow the government rules and therefore advised me to practice yoga at home.
Practicing yoga at home without yoga props? How can I manage that? I didn't had the right space for it at home, neither I had the suitable environment with my pets roaming around and jumping on me. Also the tile and marble flooring of the house, was it right to do yoga poses on it? I wanted to encourage and focus on the yoga postures – not on a funky, nasty-smelling, cold, or really hard floor.
Without props at hand, I switched to yoga apps at first and started practicing yoga on an old rug gluing my eyes on how the teacher taught yoga. But that was a bit not so appealing to me. Then I thought to join live streaming of yoga either on Zoom or on Facebook. This did worked as the classes were on time, a fixed schedule which I cannot miss out as I had to also tune in live at the same time as the live class session.
It only takes a spark to get a fire going – and soon all those around can warm up in its glowing.
Soon I gained momentum and was back to my yoga track. I lacked few products that I wanted at once to continue with live streaming of yoga classes at home. But thanks to Amazon and its prime deals, I browsed the offers on yoga props, and I managed to order online and got it delivered in few days of time.
Waking up early in morning and waiting for the live stream is a healthy routine now. Even my pet cat who was earlier lazy to wake up, seeing me rolling my yoga mat on my living room floor, with its furry tail up, rubbed himself against my legs and seem to say, "Yoga eh..how about this one, the trapeze stand"- and jumped on my back all of a sudden giving me more energy for push ups and warm up exercise before yoga class.
Starting the day with Sun Salutation, where a series of poses are performed in a sequence to create flow of movement was more exciting. The first rays of the sun peeping through my window was refreshing and there I was standing in front of the Sun and doing Sun Salutation. With proper breath control to inhale and exhale my body is all set to practice yoga at home.
I also do Yoga in the evening for half an hour. It's so hilarious you won't believe. It's not yoga if my yoga teacher sees it, but is not even Pilates I think, its just play and fun stretching yourself after the day's toil. Simply moving out to your balcony if you live in an apartment or move out to the lawn or garden, and have fun with your kids around. Get a skipping or jumping rope, either do pulls and pushs, play tug of war or jump to the laughter of joy of doing yoga at home with your love ones around.
What helped me to practice yoga more comfortably and give me the feel and look of my yoga studio were the props and products that I bought. If you too are interested in doing yoga from home then here are the 15 Yoga Props and Products that I use to practice Yoga and Pilates from home. Remember these are my own choice and you can add more or buy few according to your need and make yoga from home a memorable one.
1. Heathyoga Yoga Block (2 Pack) and Yoga Strap Set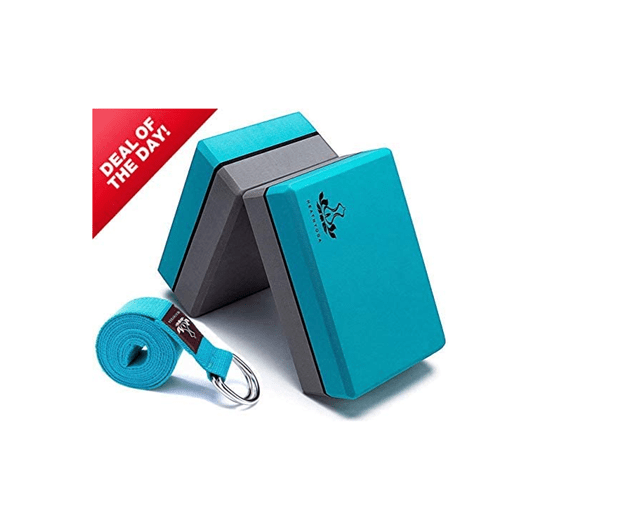 Blocks help me to get support to my knees and elbows doing yoga poses or Pilates fitness stretching exercises. I came across this prop at Amazon which seem to me in my budget. It is made of supportive foam and is slip resistant and gives you a firm grip.
It also comes with a D ring stretching strap to increase your range of motion. Perfect for all types of yoga and other workout exercise, great for overall balance and flexibility and also is moisture proof if you sweat too much.
2. El Paso Designs Mexican Yoga Mat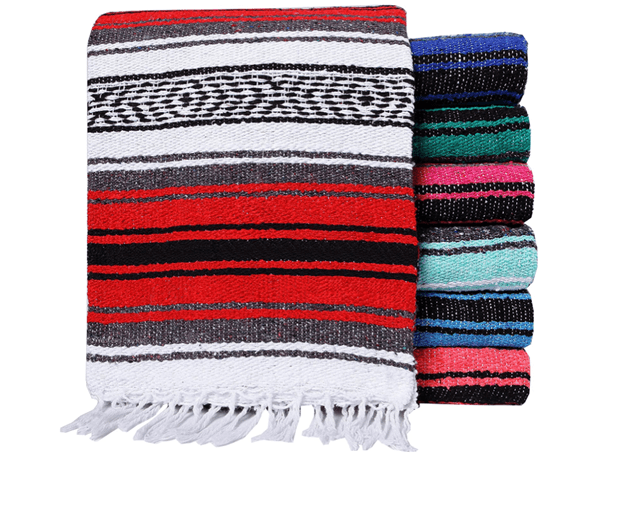 Yoga mat is must for me as my home has all tile flooring. I prefer handmade products as they are beautiful designed and moreover many of the products sales go to charity if they are made by some of the local NGOs.
This is Colorful 51in x 74in Studio Mexican Falsa Blanket Ideal for Yoga, and is imported from Mexico. Also is woven from a blend of soft environmentally friendly recycled fibers. You can choose the colors according to your choice.
3. Heathyoga Yoga Knee Pad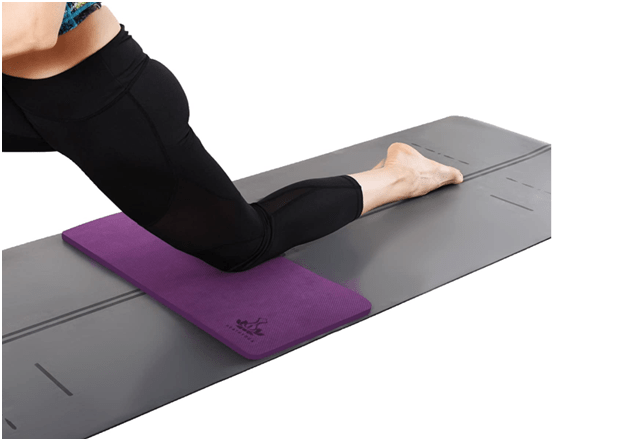 Some yoga asanas and fitness poses do need kneeling. I require knee pads even for my elbows while doing floor exercises. Many a times the rough flooring gives me a tingling sensation on my elbows.
This prop is made from eco-friendly TPE material, PVC and latex-free, and will not absorb sweat or liquids, and it can be easily clean with a damp cloth after your practice.
4. Brentwood Home Crystal Cove Yoga Pillow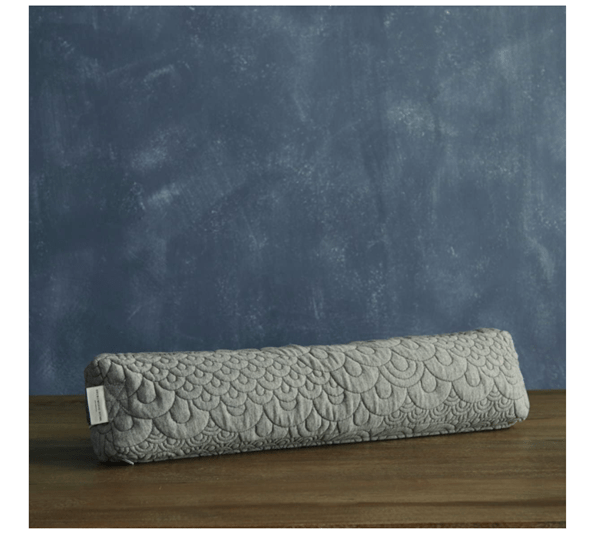 This yoga prop is useful for Pranayams. This yoga pillow suits for Iyenagar yoga as well and serves as a cushion. It has a removable cover which you can wash and use it again.
Made from organic cotton inner liner holds the buckwheat pillow fill, making it easy to remove and replace to customize the firmness and height for a fresh resting place.
5. Thundesk Yoga Inversion Bench Headstand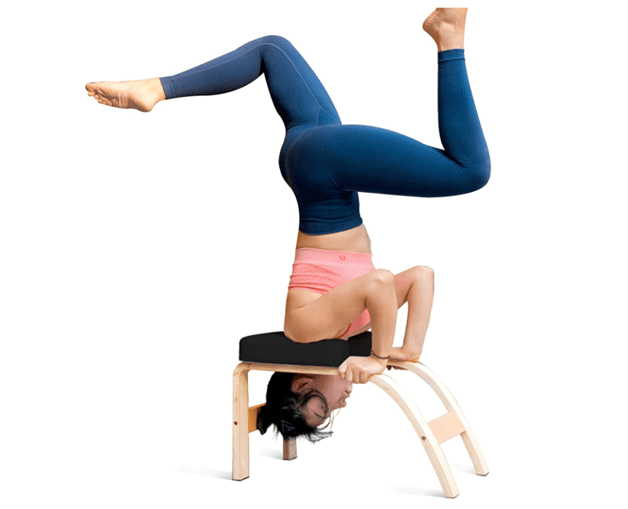 This is an upside Down Chair for Feet Up and balance training core strength building Backbends Yoga Asana Practice Chair.
You can balance well and there is no worry to slip also there is no pressure on uour neck and spine. Best for Pilate fitness class and exercises to improve circulation in the body.
6. Yoga dice for workouts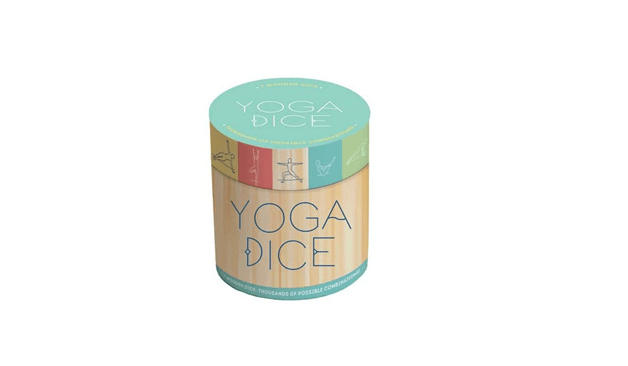 This yoga product is my favourite as it is a7 wooden dice offering you thousands of possible combinations to workout.
With seated, standing, balancing, twists, and more, you're sure to find a new pose or stretch to challenge your endurance. Even you can sit and meditate if you want.
7. Tumaz Stretch Strap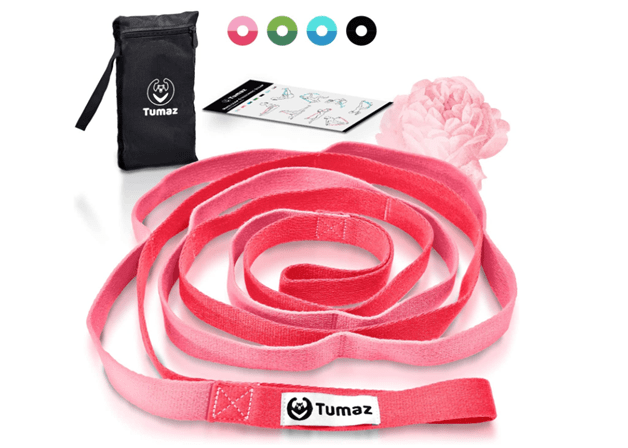 I use this yoga prop in many different ways. Like as extensions of the limbs or to provide a supportive framework to explore asana.
When after work from home gives me a neck pain I use it and grip it very tightly which can invite tension into the neck and shoulders.
8. 4 Pack Women Headband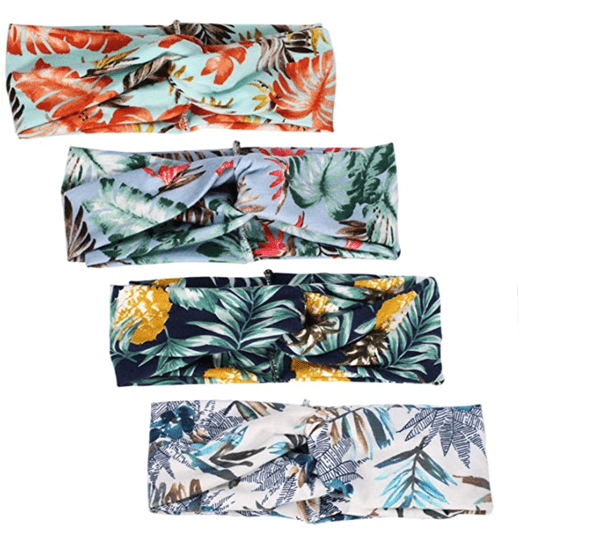 This prop is must for me as I have long hair and while doing yoga I want my hair to be all wrapped or either tucked as a bun or pony.
I loved this product Boho Floal Style Criss Cross Head Wrap Hair Band as they are really soft and stretchy. It looks so elegant and charming keeping the hair intact.
9. 2000lbs Static Strength Exercise Stability Ball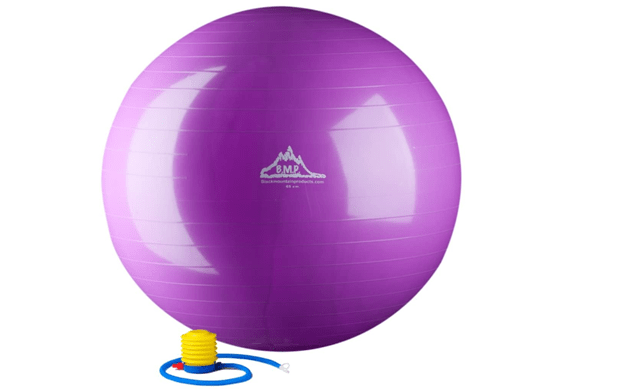 This Pilate product from Black Mountain is best for exercise and stretching balance ball for all ages.
It is a strong holding balancing ball that holds up to a ton of weight. You get a ball pump and a starter brochure to help first time users and manufactures warranty to ensure safety. There are four sizes of the ball to choose from.
10. U-pick 4 Packs Cooling Towel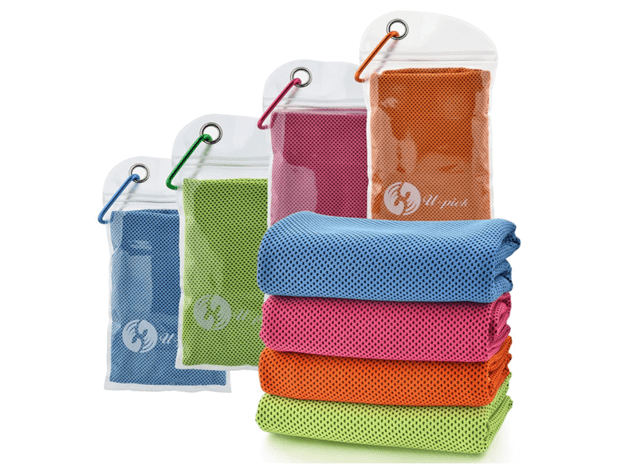 Towel is a important product that I use to Practice Yoga and Pilates from Home, This a cooling towel and no chemicals are used in the making of the cooling towels. The towel stays chilled for up to 3 hours (depending on conditions).
The super absorbent fiber weave technology of the mesh towel regulates the water inside and ensures water retention. This is best for Pilates and fitness excercises. It is so lightweight and yet abosorbs water and sweat and keeps you dry after high intensity of exercise.
11. InnoGear Essential Oil Diffuser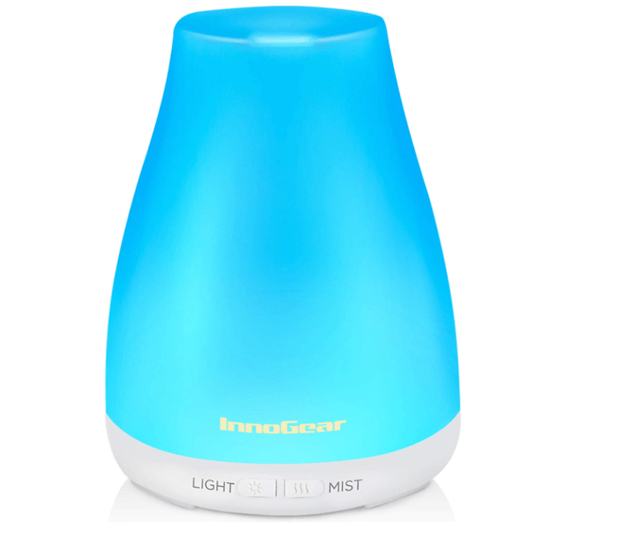 To get the perfect yoga studio atmosphere at home, I love this oil diffuser. I use lemon and rose oil. This upgraded diffuser comes with 8 colors lights. It doesn't occupy much space so place it wherever you like
There are two misting modes and you can set it to intermittent mist (6-8 hrs working time) that diffuser mists and pauses every 30s, or set it to continuous mist (3-4 hrs working time) that keep misting until water runs out, it creates an instant fragrance in your room.
12. Pilates Ring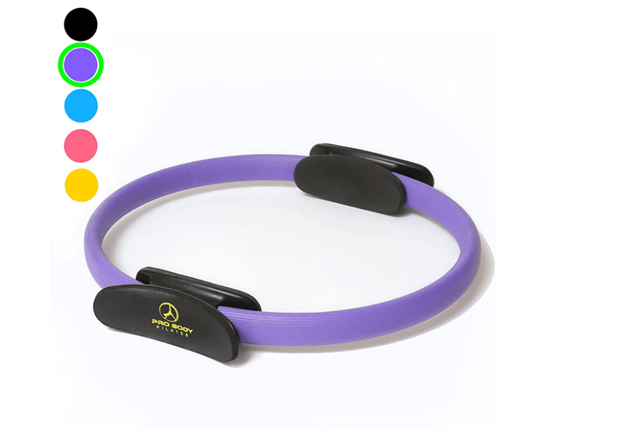 This Pilates product is great add on for toning thighs, abs and legs. As Pilates improves your muscle tone and fitness when you practice regularly even at home, this light weight Pilates ring is great prop.
Moreover this product is given free for trial for 90 days and if you are satisfied then you buy it.
13. Vapor Fresh Natural Cleaning and Deodorizing Spray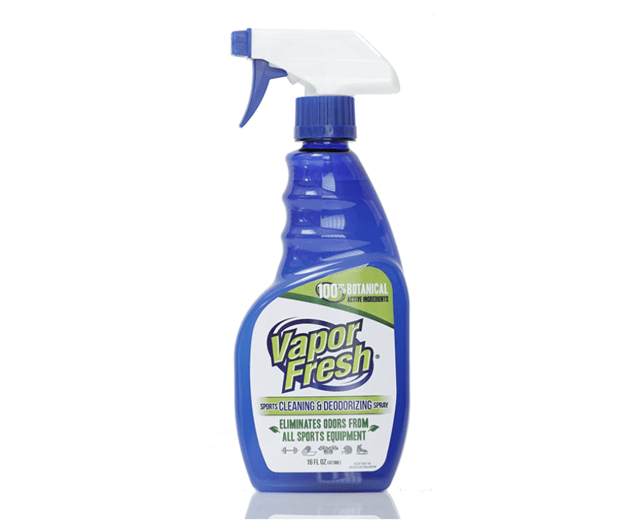 Now that you are using various props and products at home for yoga and pilates, you need to clean them daily.
Vapor fresh natural cleaning and deodorizing spray is what I am using. You can clean your Yoga mat or any of your gym or Pilates equipments.
14. The Incense Match Original Scented Matches Mini Incense Stick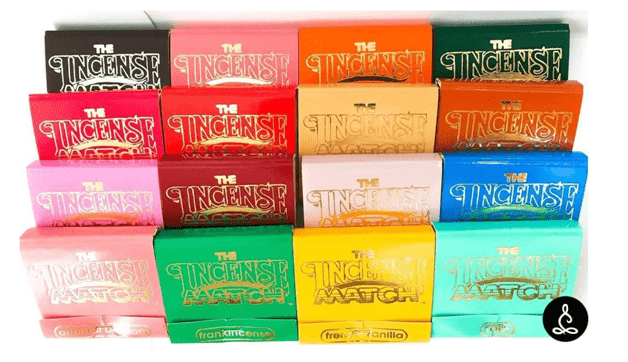 Incense match sticks are just superb and fill the atmosphere in the room with beautiful and soothing aroma.
If you don't want to use the diffuser then use this. Currently this product is going out of stock so book it now. There are 16 different fragrances in the pack.
15. Hydro Flask Standard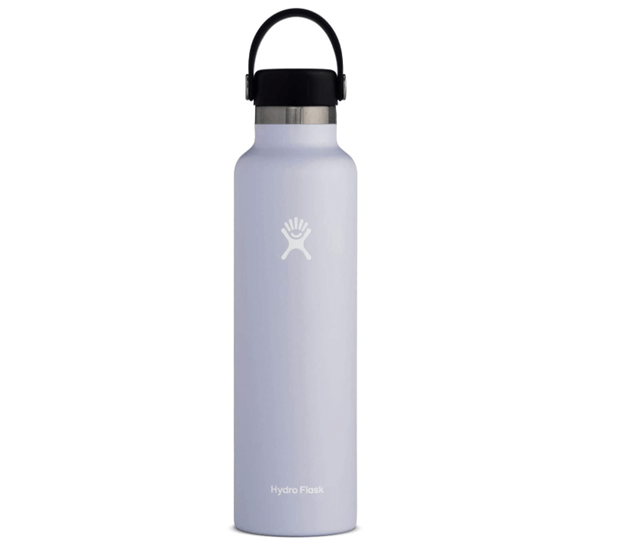 Finally to quench your thirst this product is required if you don't have a hydro flask at home. I had but I bought it again for separate use in my yoga class. Water is a must to balance the body heat.
The powder coat on this flask works with the premium tempshield insulation, which prevents condensation from forming on the outside of the bottle, to give you exactly what you want in an everyday refreshment delivery system.
$27- $100 at Amazon (according to the size)
As yoga Props can be used for a multitude of reasons in your yoga practice. They have the capacity to transform poses and to add endless interest to a regular practice.
Note that the availability of these props and products at Amazon depends on the seller and demand. Also the price may vary between the product cost and shipping charges if any.
There are various other yoga and Pilates products at various online stores even at Australian local yoga stores like Lululemon and others.
Remember to make your own choice when buying the yoga products to do workout at home. Because you know better what you need and what is required for your yoga and fitness class at home. Also you have to consider your budget while buying the props. So make wise choices to buy at prime deal offer or some discount.
If I missed my yoga community at yoga studio, but doing yoga at home is more peaceful and entertaining and humorous with my cat Mishtu.
Doing yoga at home is really fun, more relaxing, and entertaining as well. (laughing aloud is also a yoga, isnt't it!)