Best Yoga Studio App 2022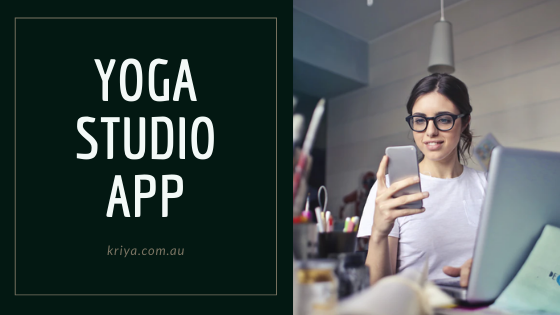 Many yoga studios prefer to close on Sundays and most of them prefer to open on holidays as well. The reason is the yoga studio owners who are new to business or have small setups give time even on holidays and run their business 24.7 to grow fast, earn more and retain their clientele. Yesterday I had this experience as I was looking desperately for a PT (Physiotherapy) Studio near me and because it was Sunday only two or three PT Studios were open.
Surprisingly when I went to one of the studios near me, I found that the studio was open, but there was no receptionist or anyone to attend me. The doors of the studio were all open but no staff. Then I saw a handwritten message on their board which read, "For Sunday appointments use studio app"
Followed this was another message that read, " Appointments booked with studio app should mention home service or studio service. Payments accepted in advance". Well, I realize I had neither booked my appointment with the studio app nor paid in advance. So I thought better to leave and visit on Monday.
But to my good luck, one of the PT studio staff came in and because he knew me because of my earlier visits to the studio came to my rescue. He knew that I have severe pain in my wrist so he took this as an emergency booking and agreed to take my PT class. While the paraffin wax was being heated fo my treatment he told me how useful studio apps were.
With nothing to worry or fumble on bookings and appointments, only I had to download a studio app on my mobile, create my account, subscribe for the service, book my appointments and pay accordingly for the class timetable or service I want.
Yoga Studio App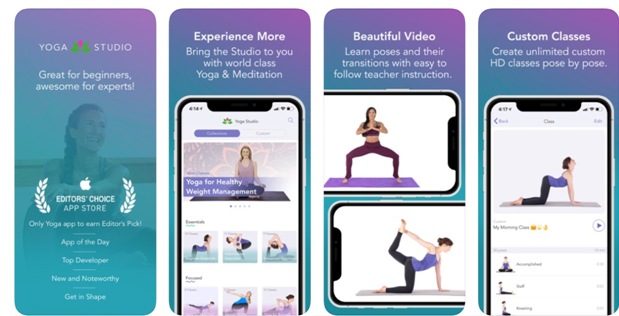 There are many yoga studio apps out there at app stores. Today after undergoing my PT class I thought to take a look at one of the most popular yoga studio app that was even featured by Apple in "App of the Day", "Best of", "New and Noteworthy", "What's Hot", "Get in Shape" Essential App Collections.
It also is so popular that it is recommended by Huffington Post, Mac|Life, 148Apps, PopSugar, Gizmodo, The Guardian, Elite Daily and many more.
What this yoga studio app is useful for is the beautifully instructed beginner, intermediate and advanced HD video yoga classes as well as guided audio meditations and free pose reference guides.
Click here to download Yoga studio app for android mobile.
Click here to download Yoga studio app for iPhone.
Yoga Studio App Cost
Yoga Studio offers a 7-Day FREE trial with the selection of a subscription option – Monthly or Annual plans. When selecting an option, you won't be charged during the free trial period. If you do not cancel the subscription 24-hours before the free trial is up, the option you chose will auto-renew and you will be charged.
Yoga studio app cost according to the service and price model that you select to use and can range from $0.99 and higher.
Yoga Studio App Review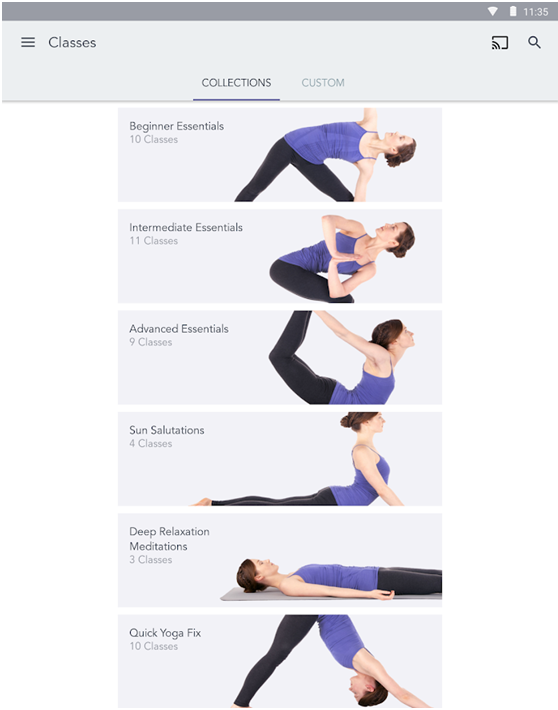 Yoga studio app review showed that it offered over 170+ ready-made yoga videos & meditations with frequent class updates. There were ready-made yoga classes as well where 150+ unique yoga classes displayed in beautiful HD video and each class range from 5 to 60 minutes in length which were quite suitable for all abilities: beginner, intermediate and advanced. With options, you can quickly search to find classes based on duration, focus, ability or level of intensity.
You can also customize or create your own unique HD video classes pose by pose and stay on track with class scheduling.
You can find a library of 280 poses with detailed advice and instructions. Their featured collections include Yoga for Healthy Weight Management, Yoga for Mental Health, Yoga for Back Pain, Earth Meditations, Yoga for Runners, 10 Minute Yoga, Prenatal Yoga, Hip Hop Yoga, basics of Pranayam, Fertility yoga and more.
Yoga studio app review also showed some of its very best customization options where you can quickly and easily create full, flowing HD video classes with their video stitch technology.
With their unique smart-link feature as a yoga teacher, you can help your class flow smoothly from one pose to the next or add short sequences to your classes with one tap or conveniently add poses to the beginning, middle or end of your class.
Yoga studio owners can schedule their classes which automatically sync with your calendar schedule a single class or repeat your favorites every month, fortnight, week or day and even track your class history and easily find your most recent and most played classes.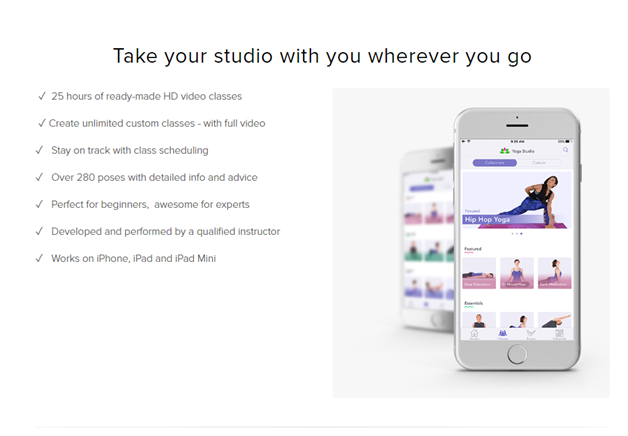 Also, choose from several background music and ambient sound options, or create playlists from your personal music library creating a better atmosphere for your class. Pick your level of instruction: full teacher commentary just pose names or a simple chime to indicate the next pose and swipe-to-skip feature lets you easily navigate by pose during classes. With this app, you can thus learn Hatha, Ashtanga, Yin, and more.
Besides this, there are over 15 meditations and relaxation practices for two hours that help center your mind, body, and soul. Learn each pose's benefits, instructions, modifications, variations and cautions as well as search for poses by name in English and Sanskrit.
Yoga Studio App Subscription Options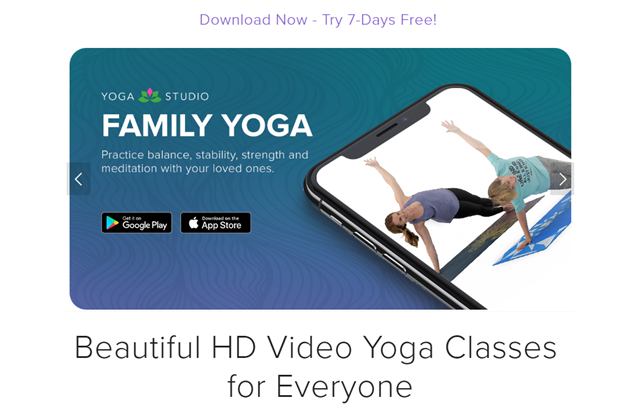 As said above the yoga studio app offers 7 or 14 days free trial according to the price model and service you choose.
After free trial yoga studio app offers a subscription option where plans may include Monthly, Quarterly, Annual or other duration. When selecting an option, you won't be charged during the trial period of the plan selected. If you do not cancel the subscription 24 hours before the trial ends, the option you chose will auto-renew and you will be charged. Note that Payments are nonrefundable and there are no refunds or credits for partially used periods.
By using their service you agree to any new terms that may result in an increase for its subscription services effective the first day of a billing renewal. Prior to any subscription increase app will notify you and if you do not cancel your subscription, you will be deemed to have accepted the new fees.
In case you need to know more about their yoga studio app subscription options you can contact here or write to support@yogastudioapp.com.
Yoga Studio App Subscription Cost
Yoga studio app subscription cost depends on what service and plan you choose. To get the yoga studio app subscription you need to a login/join page at Yoga Studio App and create your profile (click Join Now) or click Log In, then tap the Back button in the top corner. You may encounter this screen until a profile is created. Also if you see the subscription screen in the process you can utilize restore (top corner) to validate any purchases. Yoga studio app subscription costs $19.99 per year.
If you want to cancel a subscription on iPhone then Open the App Store, click your Profile/Account, then open Manage Subscriptions. Or Within iOS Settings, Launch the Settings app. Tap the iTunes & App Store. Tap on your Apple ID. Tap View Apple ID when the pop-up window appears. Enter your Apple ID password or fingerprint ID when prompted. Tap Subscriptions. Tap the Subscription you want to cancel.
If you want to cancel a subscription on Android: On your Android phone or tablet, open the Google Play Store. Check if you're signed in to the correct Google Account. Tap Menu -> Subscriptions. Select the subscription you want to cancel. Tap Cancel subscription and follow the instructions.
Remember the yoga studio app works on iPhone, iPad and Apple TV (Gen 4) and you can play classes anytime, anywhere and you don't need internet or WiFi connection after downloading classes.
Yoga Studio App Alternative
There are many other best apps that serve as a yoga studio app alternative. You can try the following yoga studio apps which are subscription-based:
Find What Feels Good Price: $9.99 per month
Asana rebel Price $39.99 for 3 months
Daily yoga Price $9.99 per month
Down dog Price $7.99 per month
Click here to find the best yoga studio apps for teachers
Yoga Studio Management App
Here are a few of the best yoga studio management app that offers awesome features to manage your bookings and class timetable.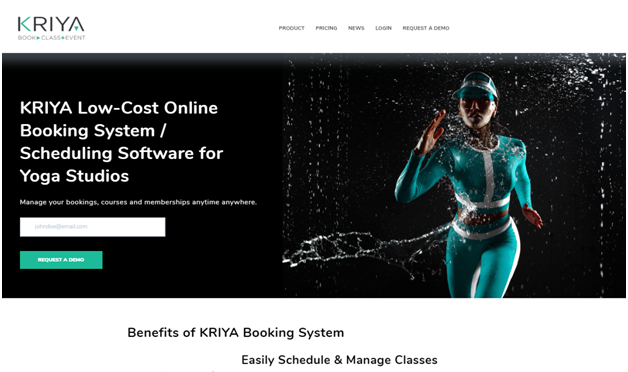 KRIYA: KRIYA helps small and medium yoga, pilates and dance studios by saving them time on the day to day business tasks. Try KRIYA for 30 days absolutely free all plans include 24/7 local customer support in Australia. Cancel or change your plan anytime.
Acuity Scheduling: Acuity works 24/7 behind the scenes to fill your calendar, taking heaps of work off your plate while adding clients to your yoga mat. From the moment they book with you, Acuitys there to automatically send customized booking confirmations, deliver text reminders, let em reschedule on their own, and process payments.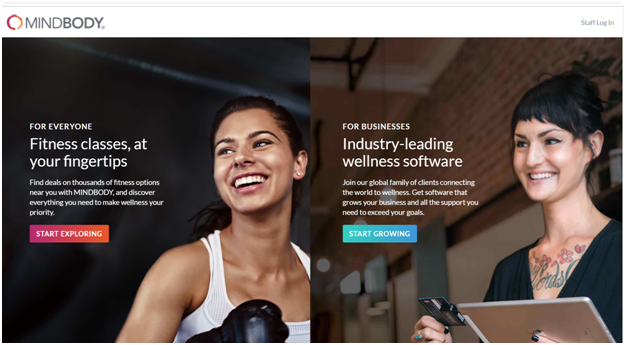 Mind Body: MINDBODY serves and supports small-, medium-, and large-sized yoga studios globally.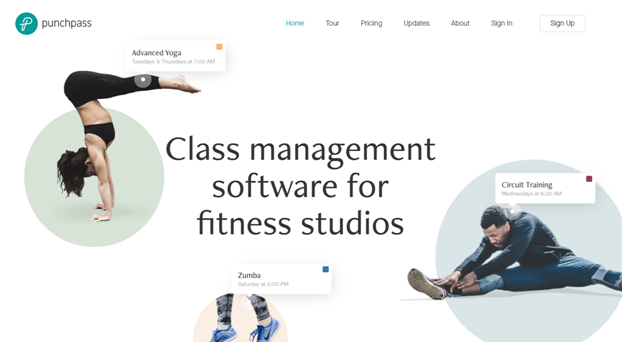 Punchpass: Beautiful, simple software for fitness, dance and yoga studios.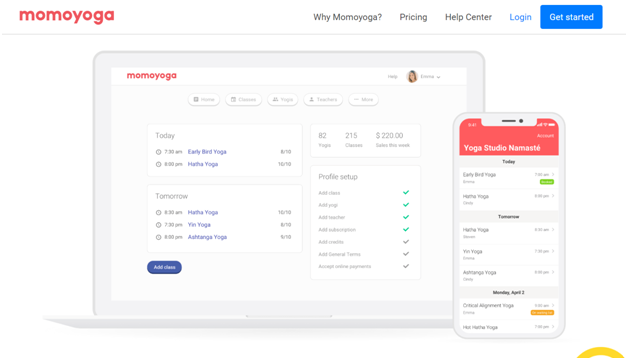 Momoyoga: Easy-to-use software, custom-made for yoga teachers and yoga studios.
Click here to find the best yoga studio management software
What Happened to Yoga Studio Apps?
Yoga studio app was considered the number one app in the world that attracted new customers now and then because of its awesome review and variety of fitness classes it offered to its customers. But since 2017 one of the best apps in the world is no more as Yoga Studio released a rare update for its app for iPad and iPhone. With one fell swoop, Yoga Studio toppled itself from the pedestal of the most highly rated paid-for app on iTunes to an average rating of 1, in what must be the most precipitous fall from grace in the history of formerly happy customers.
In 2017 Yoga studio app had given a statement regarding their new subscription model. Their customer ratings have gone down as With their new model, they just lost all their loyal followers. As they just took away a product that people paid for!
Many users have commented on twitter for their breach of the App Store rules for existing customers
So Yoga Studio issued its last update the app automatically transitioned the user to a new business model where users who made a one-time payment could no longer access their content; instead, they had a grace period in which to consider which monthly subscription scheme to again pay for. This means users who want to keep the app they paid for and have been using for years have no choice and if they want to use Yoga Studio they have to buy the app again and pay for it every month. If you choose not to update, you lose the app, and all the content, including customizations, you paid for.
Click here to know in detail as what happened to yoga studio app?
In the end, I can only say that money is not all that makes the business run, but more important is the loyalty of your customers. Be it any yoga studio app, yoga studio management app, booking app or be it a simple relationship with our business staff and team, the formula to success is hidden in the Sanskrit phrase Atithi Devo Bhava ( "The guest is God"). In running business caring for your guests or customers is like caring for your god and providing them with the best of services according to the value for their money they pay or work they do and offering them full support is what makes the studio app rate high.
For yoga teachers, studio owners or yoga students should go for the free trial offered by studio apps, get feedback from other users and find the best one that offers flexibility, customization, wonderful features, simple payment processes, budgetable subscription offers, and great help support.