Best Yoga Playlists on Spotify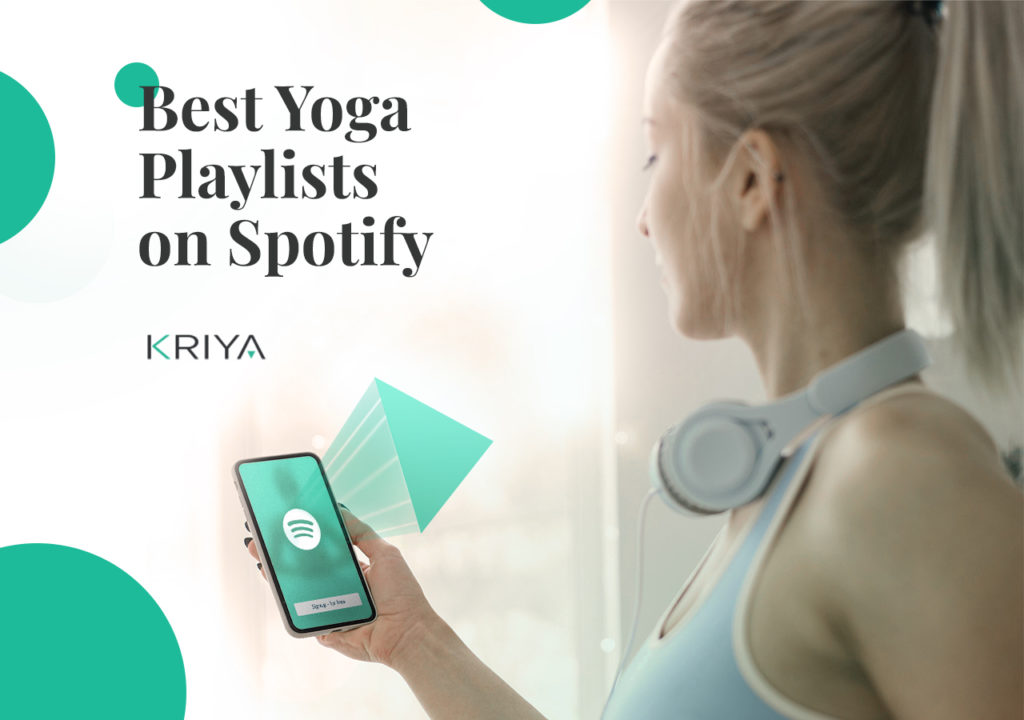 "Yoga is like music: the rhythm of the body, the melody of the mind, and the harmony of the soul create the symphony of life."― B.K.S. Iyengar
I love music, not loud music, or Jazz and Blues, but classical music as well as music that calms the mind. There are different genres of music with different themes. One such of a kind is Yoga music that is designed to facilitate your experience of a yoga practice. Such music either played solely by yoga instructor himself/herself or played in the background of a yoga class helps to provide support to the physical, emotional, and spiritual upliftment to the yoga practitioner as well as creates a soothing atmosphere.
The first time I had heard this kind of music was at a Kundalini yoga camp I attended about 12 years back organized by yogi bhajan's followers. That time my favorite artist was 'Snatam Kaur'. She has a melodious voice and I loved the chanting and mantra music that go along with certain Kriyas or meditations. Similarly for Hatha yogis, the sounds of Krishna Das or Jai Uttal was the best mood for asana practice.
These days I love the music sung by 'Jahnavi Harrison', she has a wonderful voice that relaxes my mind. Her mantra music album "Like a River" is my best.
"The well I drank from has run dry; The river bed has moved over years, Now cell phones ring instead of bells; The sacred hill has almost disappeared. Prayers and ashes at the river's edge, drifting side by side; Sun rises over new hotels; sages close their eyes. My heart, flows like a river to the sea, May it always be, may it always be. A river of grace flows through me, May it always be, may it always be"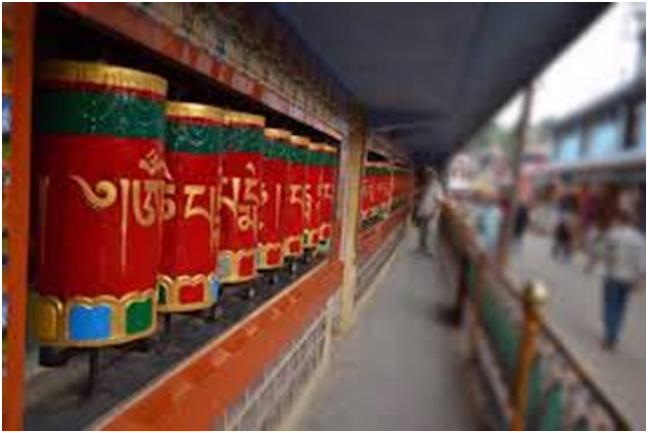 I also love to listen to instrumental Yoga music, like the gong or crystal singing bowls, whose vibrations penetrate the physical bodies and go to work on hidden parts of us.
Like any other music, yoga music too uses various instruments like guitars, drums, harmonicas, and many other instruments. What really sets yoga music apart from other types of music is that it often makes use of mantras from the Sanskrit and Indian Hindu or Sikh traditions, with fewer lyrics in English languages than other musical styles. Some of these mantras are thought to be hundreds, if not thousands of years old.
These mantras have been used by generations through the ages and are a powerful way to connect ourselves from within and realize our true self. Particularly if you enjoy a particular set or Kriya, certain yoga music is more conducive for active or meditative Kriyas. Well, with the technology moving fast and so many music streaming apps on your mobile, you don't have to run to buy music albums or DVDs. One such app is Spotify which you can use to get the best yoga playlists for your yoga class.
Best Yoga Playlists on Spotify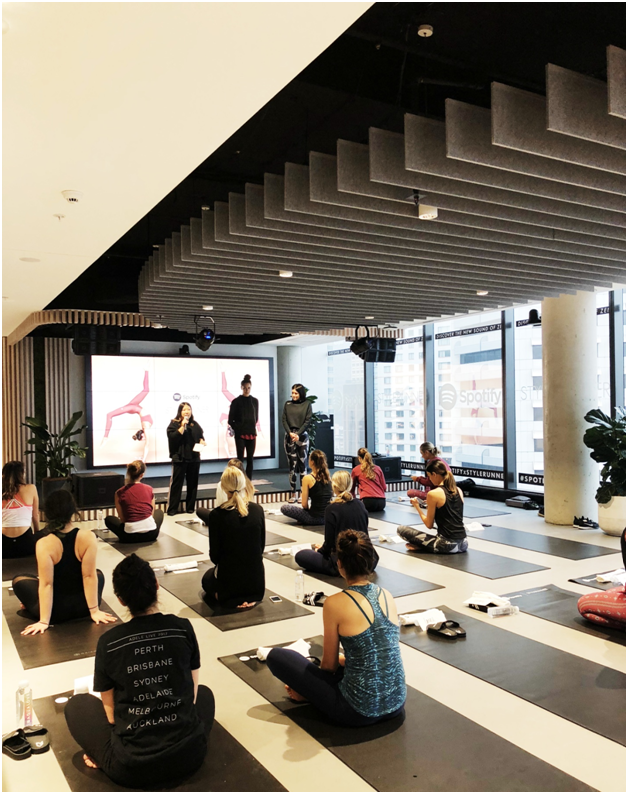 Spotify music streaming giant has an awesome collection of yoga playlists. Here are the popular and best ones streamed on yoga playlists around the world.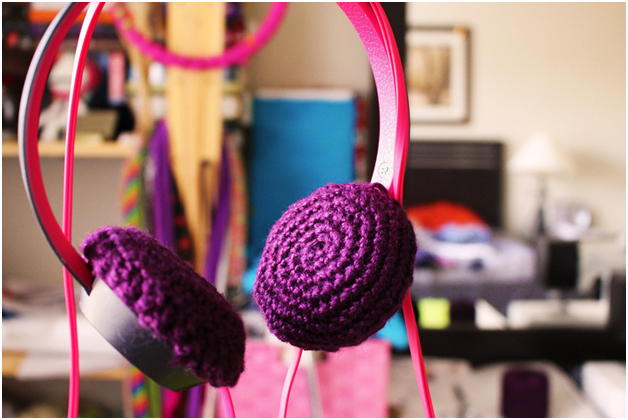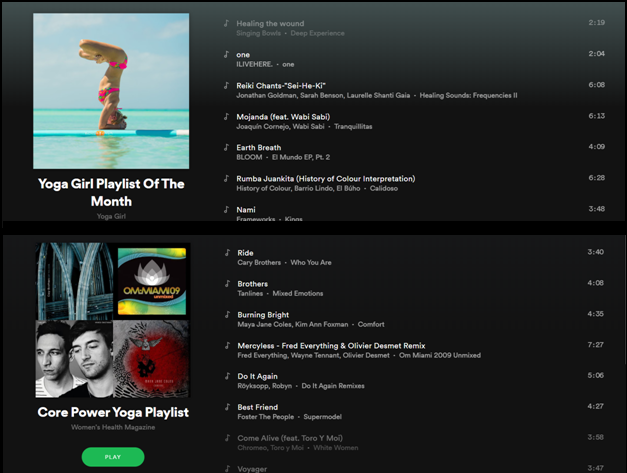 According to the Triple White website, Spotify data in 2018 showed an 11 percent increase in yoga playlist – many of which are coming from over 2.4 million user-generated, yoga-inspired playlists​ to stream while in a downward dog.
Though still, people love to hear the traditional tunes accompanying a yoga practice, but many modern yoga teachers and practitioners have begun to think outside the box, with "hip-hop yoga" and yoga flows build around music on the rise.
According to Dr. Amanda Krause, a psychologist and Research Fellow at The University of Melbourne, Australia, who specializes in the social and applied psychology of music, "There is a growing interest globally on the impact certain music has on performance," "We refer to it in the industry as 'musical fit,' where the type of music you feel 'fits' an activity creates an impact on the way you physically react."
"A person's judgment of musical fit relates to their listening preferences, environment, and goal for certain practices. For example, with yoga, the variety of music is chosen with regard to how it helps timing, focus, and motivation, which in turn enhances your overall performance."
Click here to find Instrumental yoga music at Spotify
Click here to find Core power yoga playlist at Spotify
Click here to find Yoga Class Playlist from various artists
Best Yoga Playlist for Vinyasa yoga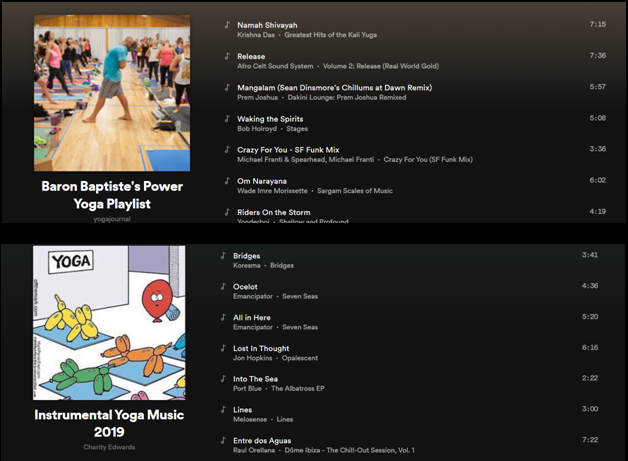 According to certified yoga instructor Karen Kassover yoga music is helping people get out of their own heads. She has created her popular "Rockin' Vinyasa" class at Reebok Sports Club/NY with artists like Jay-Z, Fun., and Florence & The Machines serenading you through your downward dogs and warrior poses, Kassover's class puts a seriously modern spin on the ancient practice.
She knows that doing a workout you truly enjoy that fits into your life will bring you back again and again, which is why her classes are always exciting, with new music that reflects the changing seasons. In the winter, she'll mix a holiday playlist, and the music is themed around love when Valentine's Day is near.
To help you get started on your own Rockin' Vinyasa series, Kassover designed the following playlist to go along with yoga flow.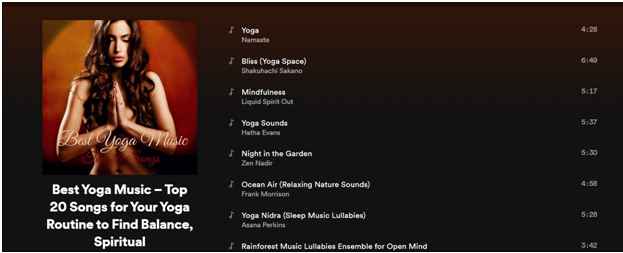 Here is the best playlist from yoga nomads for a Vinyasa yoga session
Yoga journal lists 60-minute morning yoga playlist
Find here Leslielehman yoga playlist
Top 20 songs for your yoga routine to find balance
Best Yoga Playlist for Yin Yoga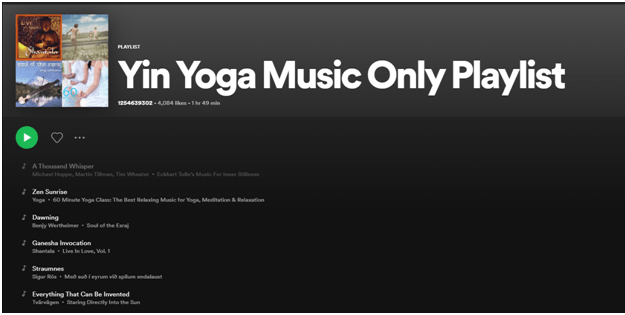 Yin yoga can have such a positive impact on your physical and emotional health. The key benefits include calming the mind and relive stress and anxiety. Also increases blood circulation improving body flexibility. Moreover balances the internal organs and improves the flow of chi or prana. Spotify has a great list of awesome music for Yin yoga. Here are to name a few of the best albums:
And many more.
Click here to find what Yogis discuss about Yin Yoga music
Best Yoga Playlist for Meditation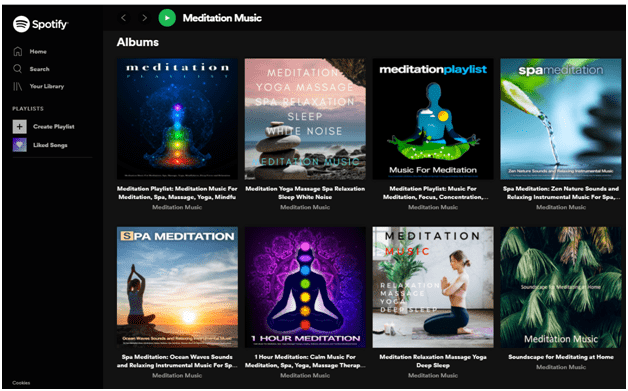 Meditation is a practice where an individual uses a technique – such as mindfulness, or focusing the mind on a particular object, thought, or activity – to train attention and awareness and achieve a mentally clear and emotionally calm and stable state. Meditation is a beautiful concept in Yoga where the whole body relaxes as well as you are brought to that spiritual and awareness state to know yourself better.
There are different ways to Meditate and many love to hear music while meditating. Gentle music creates a calmer environment which makes the process of mediation more effective. There are many wonderful albums and music list available at Spotify to use for meditation.
And many more
Note that if you are using music for your yoga class at your studio no matter how small the class is, you need to have permission from the music creators.  In Australia, yoga practitioners can obtain one license from one source: OneMusic Australia.  The new OneMusic license scheme is a simple, low-cost plan that allows you to teach to licensed music from as little as $5 per day.
Know more from Yoga Journal post on New Music License Laws
About Spotify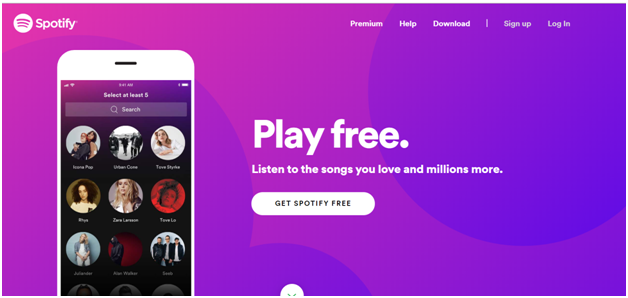 Spotify is a music app developed by Spotify Technology S.A. which is an international media services provider of Swedish origin and is headquartered in Stockholm, Sweden. Founded in 2006, it provides an audio streaming platform, the "Spotify" platform, that provides DRM protected music, videos, and podcasts from record labels and media companies. As a freemium service, basic features are free with advertisements or automatic music videos, while additional features, such as improved streaming quality and commercial-free listening, are offered via paid subscriptions.
This Spotify platform provides access to over 50 million tracks and you can browse by parameters such as artist, album, or genre, and can create, edit, and share playlists. Spotify is available in most of Europe and the Americas, Australia, New Zealand, and parts of Africa and Asia, and on most modern devices, including Windows, macOS, and Linux computers, and iOS, and Android smartphones and tablets. As of Spotify had 248 million monthly active users, including 113 million paying subscribers.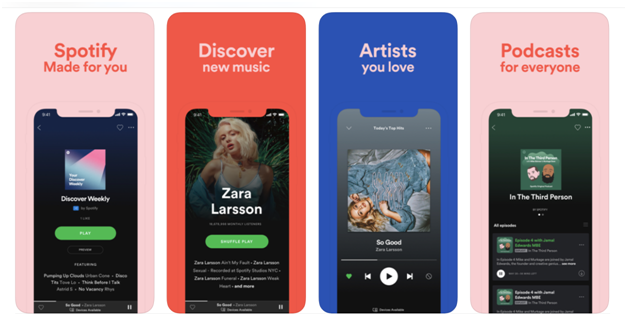 Click here to download the Spotify app for your iPhone
Click here to download the Spotify app for your Android
Using Yoga Playlists on Spotify: Tips for Yoga teachers
If you are one of the yoga teachers who want to use music at the background of your yoga sequence and yoga class then you must use the following tips when using Yoga Playlists on Spotify:
You can build playlists and title them so that they are easy to access for whichever class you are leading. Also, you have the option to import music from your own personal library to your playlists on Spotify.
If you have created too many playlists, then Spotify allows you to organize your playlists into folders. To do so, select File > New Playlist Folder, and type in the name of your choice. You can add playlists to folders by single-clicking on their names, and then dragging those playlists to the appropriate folders.
This way you can create folders for each class you teach. This adds to your Spotify account any music saved to your desktop or mobile device, and you will then be free to add it to new playlists. Be aware that if you're making a public playlist with local files, tracks not available on Spotify will remain unavailable to your playlist followers.
If you are using SoundHound and Shazam apps, It will use your phone's speaker to analyze a song, find its title, artist, and album. When connected to an existing Spotify account, both apps will automatically save the songs you've found to a playlist. To add them to a class playlist, simply copy or click-and-drag them to your preferred playlist.
Spotify's Developer Showcase has a number of useful independently created tools that can enhance your listening experience. For example, Sort My Music is a plug-in that analyzes your playlists for acoustic qualities like tempo, beats per minute, and energy level, while Spotify Dedup removes duplicate tracks from your playlists. You can also take advantage of Spotify's community of experts.
You can involve your yoga students to suggest songs for class by making a collaborative playlist and sharing its link with your students. Those with the playlist link will be able to add or remove songs from the list. This feature is also handy when team-teaching a class.
Click here to sign up for Spotify now. Pick your premium plans after free trial.
One thing I would like to add in the end is that it's good that you use yoga playlist while doing a yoga session but yoga music is not limited to a yoga class only. You can listen and enjoy any type of yoga playlist, be it a mantra or chanting songs; or any other instrumental music anytime you feel like to be at peace, relax and enlighten your day.