Which Are The Best Yoga Mats To Buy Now?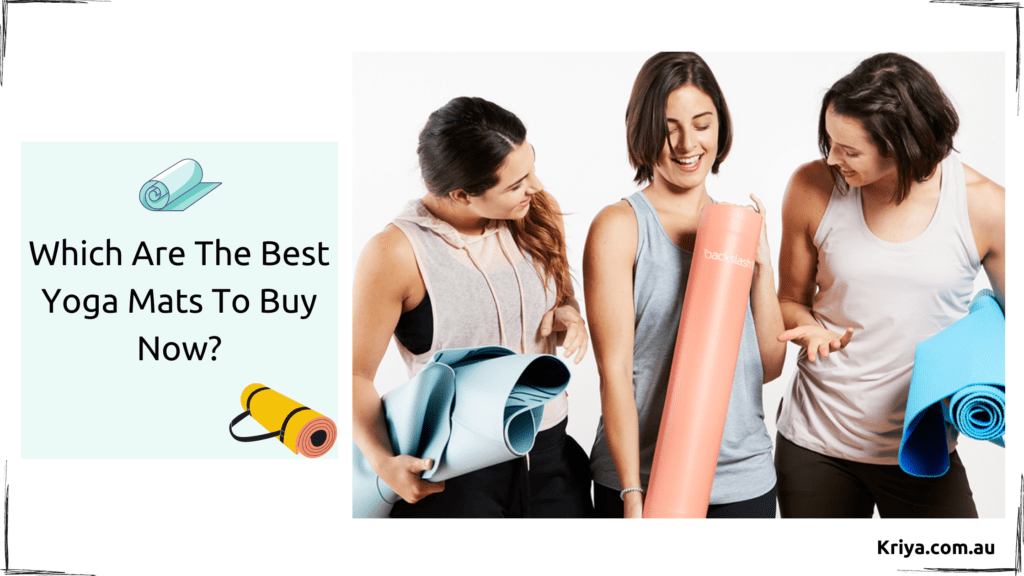 Many of my yoga friends have been asking this question as to which is the best yoga mats to use. At the time of COVID 19 you have to think twice about using mats Why so? The simple answer is germs, viruses and bacteria who like to sit on the mat. Yoga mats are highly susceptible to bacteria and germs present in the yoga studio.
The bacteria love to stay linger for long even after your yoga class had ended. Also it can survive on the surface of the mat from hours to days, while viruses can survive even longer than this.
You won't even know how you got a skin infection or any germ or fungus or even any virus infection. Many experts believe to use self-cleaning yoga mats that have the silver technology, which protects you from viruses and germs and lingering odours. Though you can minimize your exposure to these germs and keep your practice clean and hygienic on yoga mats, you need to think which yoga mat is best for you at the time of COVID19. All the best yoga mats are available online at Amazon and other specific mat stores.
1. Lululemon Reversible Mat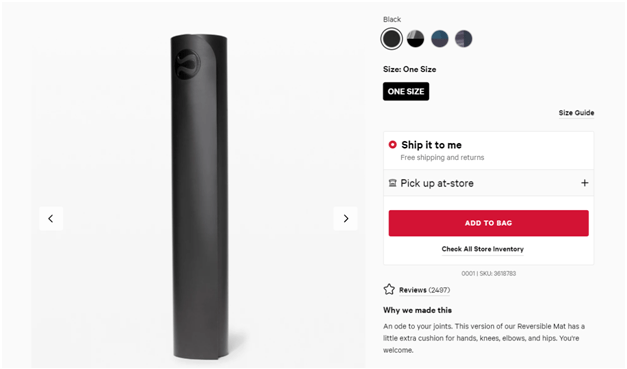 This best yoga mat is Reversible Mat from apparel brand lululemon offers impressive grip even in low-sweat classes courtesy of its natural rubber base, alongside an anti-microbial surface which reduces mat mildew.
At 5mm thick, it offers a good balance of stability and padding, meaning those who favour floor poses or worry about joint pressure can rest assured that their knees, wrists and elbows are adequately protected. It's also a generously wide mat, measuring 66cm x 180cm. The mat is available in a variety of colours.
Price: $68USD (installments available)
Unroll the mat and keep it outside for a few days before you use it. It has a bit of a strong smell of the rubber for few days but that goes away in time. Also stash your mat, make sure to wipe it off and let it dry after each use.
2. Gurus Sprout Travel Cork Yoga Mat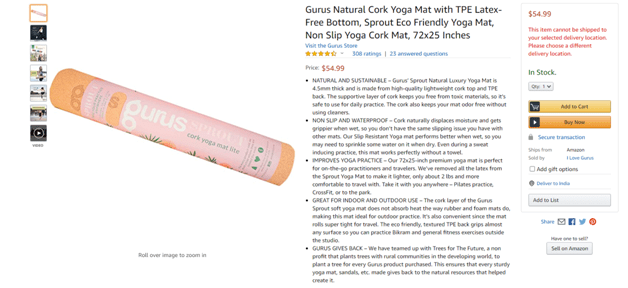 Gurus travel mat is made of sustainable cork. Unlike foam mats, the cork material reacts to the sweat on your body by giving you a firm grip, extra traction. Also because cork is naturally antimicrobial, you won't have to clean it as much.
The cork layer of the Gurus Sprout soft yoga mat does not absorb heat the way rubber and foam mats do, making this mat ideal for outdoor practice. It's also convenient since this best yoga mats roll super tight for travel. The eco friendly, textured TPE back grips almost any surface so you can practice Bikram and general fitness exercises outside the studio.
Price: $54.99USD
72×25-inch premium yoga mat is perfect for on-the-go practitioners and travelers. It has removed all the latex from the Sprout Yoga Mat to make it lighter, only about 2 lbs and more comfortable to travel with. Take it with you anywhere – Pilates practice, CrossFit, or to the park.
3. Eco Friendly Yoga Mat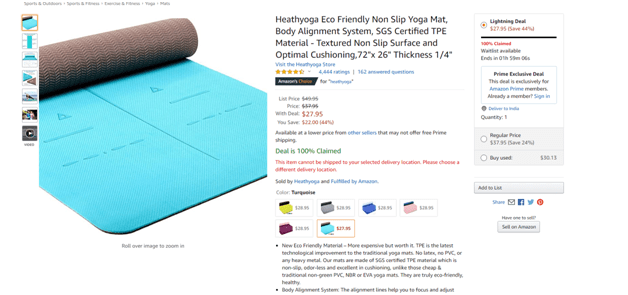 Eco friendly yoga mat is also among the best yoga mats to buy now. It comes from Healthy Yoga Store. This mat has alignment lines on the top layer to help you make proper adjustments with your hands and feet as you're moving through poses. The double layer also provides grip so you don't slip and are able to maintain balance. Comes with a velcro strap so you can carry it with you wherever you go. Without Latex or PVC or any heavy metal this yoga mat is  made of SGS certified TPE material which is non-slip, odor-less and excellent in cushioning,
Price: $27.95 (with deal)
Double layer structure of the best yoga mats design provides optimal grip, excellent cushioning and double-sided non-slip texture, best suitable to practice many forms of Yoga.
4. Manduka PRO Yoga Mat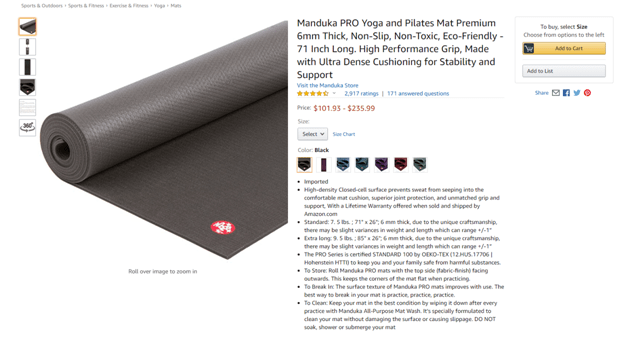 Though a bit costly this mat is certified and safe mat to use. Manduka PRO mats with the top side (fabric-finish) facing outwards. This keeps the corners of the mat flat when practicing.
Keep your mat in the best condition by wiping it down after every practice with Manduka All-Purpose Mat Wash. It's specially formulated to clean your mat without damaging the surface or causing slippage.
Price range : $101.93- $235.99 USD
No need to soak, shower or submerge your mat. Available in a variety of colours, the mat also has a closed-cell surface which keeps bacteria and mould at bay
5. Backslash Fit Smart Yoga Mat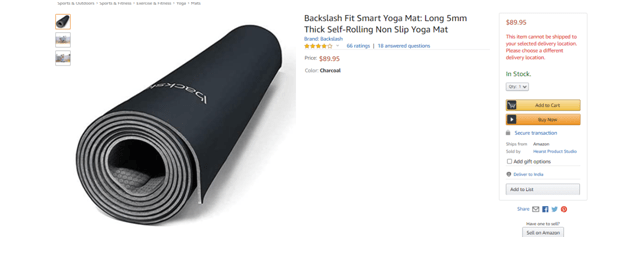 Backslash Fit Smart Yoga Mat is a self-rolling best yoga mats and is a game-changer in your yoga practice. Its smooth top layer provides a great grip for tricky poses and sweaty hot yoga sessions while the thick fabric supports knees and elbows for those with sensitive joints. The best part is this best yoga mats also pairs with the Women's Health Amazon Alexa app, which walks you through the yoga flow of the day.
Smooth top layer improves your grip as you sweat and the non-slip bottom keeps it in place. Unique self-rolling feature allows the mat to stand up on its own. Many of the yogis love these best yoga mats and use them frequently.
Price: $89.99
just grab your mat, fire up your Amazon Alexa, and let Women's Health talk you through the flow of the day. The Amazon Alexa command is included with your mat.
6. Yogi Bare Wild Paws Mat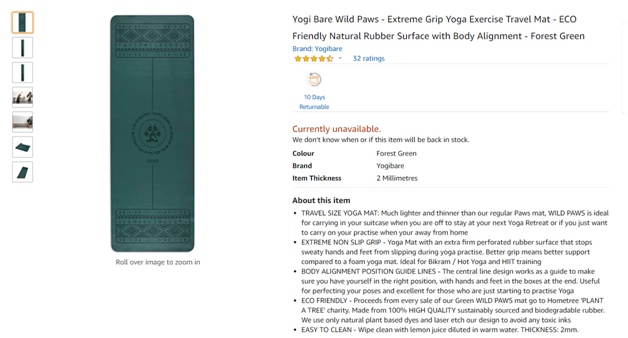 The best yoga mats are much lighter and thinner. This is another one Paws mat. This Yoga Mat with an extra firm perforated rubber surface that stops sweaty hands and feet from slipping during yoga practice. Better grip means better support compared to a foam yoga mat. Ideal for Bikram / Hot Yoga and HIIT training.
The central line design works as a guide to make sure you have yourself in the right position, with hands and feet in the boxes at the end. Useful for perfecting your poses and excellent for those who are just starting to practice Yoga.
Price:$89 USD
Wipe clean with lemon juice diluted in warm water.
Besides these best yoga mats to buy now you can find many other awesome wonderful and eco-friendly Yoga mats at various online stores. Note that the price of these best yoga mats are subject to change so always check with the buyer before you place into your cart for buying.
Points to note
Finally most important point is that you need to clean your mats daily after use. You can use wipes, spray, or any non-toxic cleaner after each class to help minimize the chances of infection. Also, do not forget to disinfect the mat after every use because even if you bring your mat, you don't know how clean the floor is on which you are putting it.