How Can You Stream Live Zoom Yoga and Pilates Classes on a Smart TV?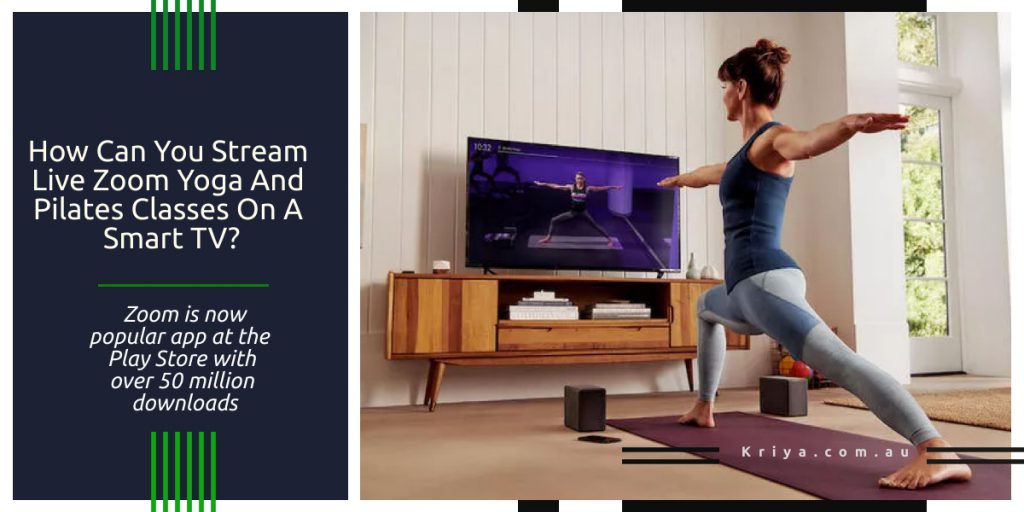 The value of technology is now felt by thousands of people across the globe. Though we are confined to our homes, and most of us are working from home due to the global outbreak of Covid 19, Yoga and Pilates studios too have turned to stream live classes.
Not only yoga and Pilates studio owners, but also many of the educational institutions are using various tech apps to stream their live classes.
From Zoom to Google Meet, studio owners are using different online methods for remote classes during the COVID-19 outbreak.
Fitness and yoga students are trying to learn from their yoga teachers online.
Though the transition is not easy, most of the studio owners have switched to live streaming of their class or video- streaming allowing them to stay in touch with their students and even invite new students.
As your mobile device or smartphone is too small to live stream the class, many yoga studio instructors use their laptop or prefer smart TV to stream their training sessions. In fact, smart TV is the ideal device to live stream your classes.
Can I live stream Zoom Yoga Classes on my Samsung TV?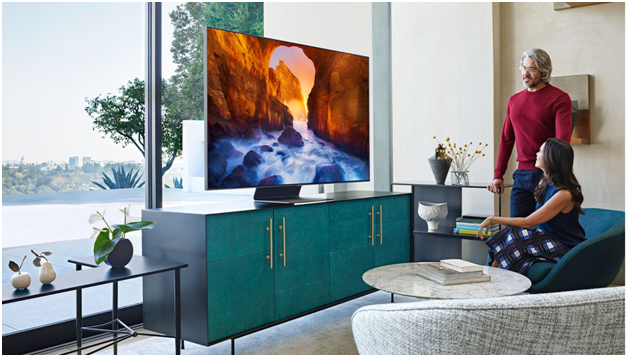 Yes, you can live stream Zom Yoga classes on your Samsung TV. First of all, you should know what is a smart TV, and whether only Samsung TV will work or not. The answer is simple. smart TVs, much like smartphones and smart home devices, offer internet connectivity and support for a range of apps. This means you get to stream videos or play games or check your social media apps and even control your house with new tech gadgets like Google Home.
Most smart TVs will work with the smart speaker you already own, and a few will offer some or all of that same functionality built right into the TV.
There are many types of smart TVs in the market that includes big brands like Hisense, LG, Panasonic, Philips, Samsung, Sharp, Sony, TCL, Toshiba, and Vizio. You can buy a smart TV according to your budget. Note that there is no standard operating system or interface for smart TVs. Nearly every smart-TV maker uses different software and a different graphical presentation. Some companies use a variety of operating systems and interfaces depending on the model. The arrangement of the apps also varies. Some smart TVs use a single scrolling row of icons to display options; others use full-screen menus with rows of options to chose from.
Also, smart TV makers regularly update their software with new features.
If you have Samsung smart TV then click here to find as how to live stream your videos.
Do I need an Apple TV?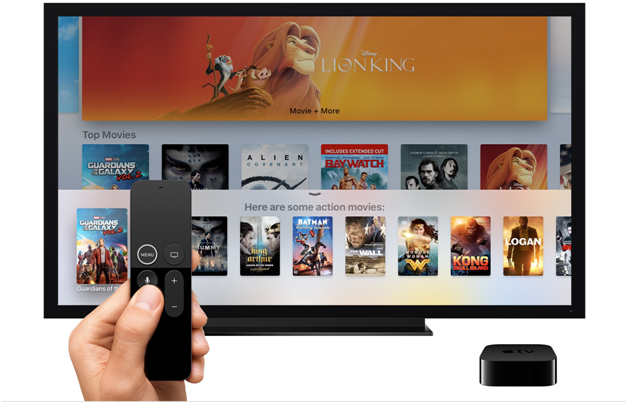 No not necessarily. As said above any smart Tv will do. Also 2020 Apple TV is soon to be launched and this new model will feature a much faster processor that's years ahead of the one in the current Apple TV 4K.
If you own an Apple TV then click here to find as how to live stream your videos.
Basically smart TV uses your home network to provide streaming video and services on your TV, and smart TVs use wired Ethernet and built-in Wi-Fi to stay connected. Most current TVs support 802.11ac Wi-Fi but watch for older models, which may still use the older 802.11n standard.
Also if your smart TV isn't getting a strong enough wireless signal, you can get a good Wi-Fi router that supports 802.11ac or use Wi-Fi range extenders such as Netgear.
Most smart TVs let you go online, and will include a web browser among the preinstalled apps that come with the TV. These browsers may not be exactly like the desktop web browsers but they are both compatible with all the HTML standards that websites use and able to convert and display those sites properly on a big screen.
But browsing the web on your TV you can add on a wireless keyboard or use your remote control buttons or voice-interaction to navigate to websites.
Streaming devices you might need
To stream live Zoom yoga and pilates classes on a smart TV, you might also need certain streaming devices.
Roku Streaming Stick+ is the best streaming device in 2020. If you're looking for something more budgetable then go for the Google Chromecast. Also, you can use Nvidia Shield TV, Amazon Fire TV Cube, Roku Ultra, Dish AirTV Player, Apple TV 4K, Xbox One S and Xfinity Flex.
Remember that the best streaming device is that it can play video well, has straightforward navigation, robust search features and a wide variety of content to suit all tastes. Also set up is quick and simple, the user interface has awesome features and also gives good quality of audio and video.
How can you stream live Zoom yoga and Pilates classes on a smart TV?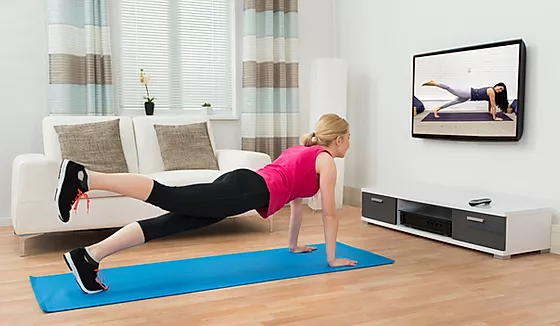 As smart Tvs accept a video conferencing app like Zoom, you can easily stream live Zoom Yoga and Pilates classes on a smart TV.
The best thing is Zoom experts host free and interactive live training webinars daily to make things more understandable. You select the time zone that fits best for you when registering for one of their live training webinars.
Zoom helps you learn how to schedule your class or meeting, inviting others, host controls, and finally wrap things up with live Q&A.
Once you have completed with Zoom Meetings session, Zoom expert will guide you through a 60-minute tour of Zoom Meetings, taking you beyond the basics. This session also includes a live Q&A.
You will spend 45 minutes discovering the power of virtual teaching and learning in the Zoom classroom. You will learn the steps and best practices from two points of view: student (downloading the app then joining and participating in the class), and teacher (scheduling, joining, hosting, and in-meeting tools) before again wrapping up with live Q&A.
This training session focuses on using the Zoom Meetings platform as your classroom setting. Zoom Webinar training is also available where you learn branding, customization, and registration for your future webinar.
Once you learn in Zoom training sessions you are ready to stream live Zoom yoga and pilates classes on a smart TV.
You should be able to navigate in your web browser to Video Conferencing Web Conferencing, Webinars, Screen Sharing and click on either the Host A Meeting link or the Join A Meeting link. You will need a camera & microphone and a USB port to support them. Clearly it would be the Host A Meeting link if hosting and Join if not. If hosting there will be a link you can send to other attendees, if joining you'll either need the hosts to link or their ZOOM ID.
This is the free version that is limited to point to point and approximately 40–50 minutes unless you join a paid hosting account and as of March 2020 it just points to point its unlimited time and with a third connection the free license times out at 40 minutes.
One of the easiest ways is to use your smart phone's regular video conferencing capabilities, many Smart TV's support screen mirroring for Android and/or Apple devices.
Here is how to get started using the Zoom Cloud Meetings app on Android where you can join meetings, chat with contacts, and view a directory of contacts.
If you don't have a smart TV with the capability, you can use an affordable add on device or streaming devices as mentioned above, like the Amazon Fire Stick. There is an App available that supports screen mirroring from both Android, Apple and Google Cast.
If you use your phone, you can use a stand to hold your phone near your TV. As mentioned, if your TV or App supports Google cast, you can cast your PC screen to the TV. Just use your PC's video conferencing software.
Click here to find as how to Live Streaming Meetings or Webinars Using a Custom Service in Zoom
Click here to find as how to use the Zoom Cloud Meetings app on iOS
According to Zoom, Zoom Video Webinar allows you to broadcast a Zoom meeting to up to 10000 view-only attendees, depending on the size of your webinar license. Webinar licenses start at a capacity of 100 participants and scale up to 10,000 participants. As the host or a panelist, you can share your screen, video and audio in a webinar and attendees can use the chat or question and answer options to interact with the host and panelists.
Webinars can require preregistration, with the option for the host to add custom registration questions, or registration can be turned off for attendees to join by simply clicking a link at the time of the webinar. Webinars can be held once, can reoccur in a series, or can be the same session held multiple times.
Zoom Rooms can display all upcoming meeting on your TV, monitor or projector display.
According to Zoom the prerequisites are
Configuring all Zoom Rooms to Display Meeting List on TV
Sign in to the Zoom web portal.
Click Room Management > Zoom Rooms.
Now go to Account Settings.
Tap the Meeting tab.
Navigate to the Display meeting list on TV option and verify that the setting is enabled.

If the setting is disabled, click the Status toggle to enable it. If a verification dialog displays, choose Turn On to verify the change.
Configuring a Set of Zoom Rooms to Display Meeting List on TV
Sign in to the Zoom web portal.
Click Room Management > Zoom Rooms.
Click the level in the hierarchy that you want to enable for automatically starting and stopping meetings. For example, to enable all rooms in a specific building, click the name of the building.
Go to Meeting Settings and enable the option Display meeting list on TV.
Click Save Changes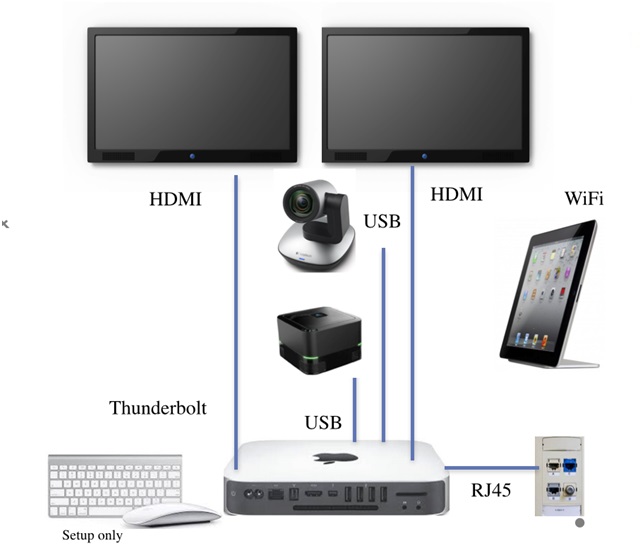 Click here to find as how to get started with Zoom Rooms
Findhere how to set up your zoom rooms hardware
Other features in Zoom
Note that Simulcasting is the name for live streaming to multiple destinations—your website, social platforms, mobile apps, smart TV apps—simultaneously. Also, multi-destination streaming a great way for Yoga studios to grow their students. If you aren't sending your broadcast to various platforms, you're missing out on viewership.
Also, ensure you maintain a good network for your live stream. Whether you're using WIFI or a cabled connection, find the minimum bandwidth requirements and the factors that affect them. The other important thing is to save your video when the stream is complete or consider where your recorded broadcasts will be hosted for on-demand playback, how to edit them, who has control of them, and how long they will be available to you. Also later on you can send some of your students a specific link to watch the live video.
1. Save your videos
When you record, you must choose whether to use the local or cloud option. Local means you store the video file yourself, whether locally on your computer or in another storage space that you provide. With Cloud, which is for paying members only, Zoom stores the video for you in its cloud storage (different account types come with different amounts of storage). One convenience of the cloud option is that people can stream the video in a web browser once it's ready.
When creating a video from a conference call, it makes a big difference in the final quality to optimize a few settings in advance. For example, some calls might be broadcast-style, where only the host appears on screen. In that case, set Zoom to only record the audio and video of the host. Other calls might be in the style of a collaborative meeting, in which case you want to record everyone. Be sure to explore Zoom's settings at least a few minutes before recording a call.
2. Create a waiting room
Also, Zoom allows your attendees to get into a video call with or without the host being present. Small groups sometimes like this option because they can have a few minutes to chit-chat before the meeting officially kicks off. You can create a virtual waiting room, where attendees remain on hold until you let them in all at the same time or one by one.
But how you enable a waiting room depends on the type of account you have. When you set one up, however, you can customize what the attendees see while they await your grand entrance.
3. Find who attended your session
You probably want to know who attended your classes. You can get that information from a report once the Zoom meeting is finished.
The attendee list for all meetings lives in the Zoom Meetings tab in the Reports section. You'll see a list of both previous and upcoming meetings, which you can filter by time range or meeting ID. When you find the meeting or meetings you want, click Generate and then select Registration.
To generate an attendee list, you need to be the host of the meeting, in a role with Usage Reports enabled, or an account administrator or owner. You also need a Pro, API Partner, Business, or Education plan.
4. Let your sub teacher schedule your meeting
Zoom gives scheduling privileges to someone else is you want. Whoever manages your calendar can now schedule Zoom calls for you.
To set up the scheduling assistant privilege, log into Zoom, open Meeting Settings, and look under Other. You'll see a plus sign next to Assign Scheduling Privilege. Add your scheduling assistants by typing their email addresses and finish by clicking Assign.
After you add your scheduling assistants, they must log out of Zoom and log back in for the feature to take effect. From this point on, assistants can create meetings for others by using the Schedule tool. Look for Advanced Options or Meeting Options (depending on which version of Zoom you use), and follow the prompts to create a new meeting.
The primary Zoom account holder and everyone who receives scheduling privileges must all have Pro or Corp licenses. Also for webinars, both account holder and scheduler must have webinar licenses.
Finally, click here to contact Zoom and know the plans and pricing and select the plan you wish for your live streaming yoga and pilates classes on a smart TV.
The touch of a live stream creates the community feel for your students as well as you, especially when most of your students are inside their homes and would love to spend time with your streaming of classes and stay fit.
See also 5 Ways to Offer More Professional Online Classes as a Yoga Teacher