Yin Yang Studios in Australia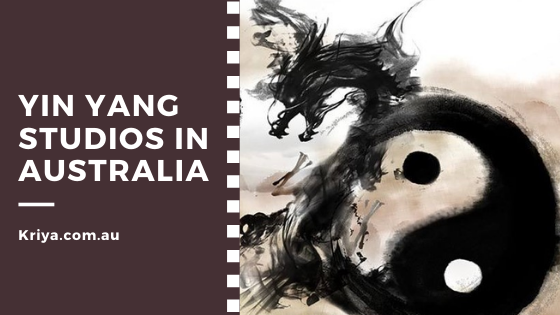 The Yin & the Yang are opposite forces. Yet, they exist together in the harmony of a perfect orb.- R.A. Wise
KRIYA is ready to facilitate an outdoor yoga class dedicated to the courageous firefighters, and all your donations will be given to the Salvation Army. Salvation Army offers a range of services and assistance measures to help people who have been impacted by recent bushfires including financial assistance, emotional well being, and support services.
It was also a joy for firefighters jumping for joy when there was a downpour of rain that drenched NSW bushfire zone. The Leongatha Fire Brigade shared the touching video of their volunteer crew laughing and dancing gleefully with locals in Rolland Plains, around 40 kilometers from Port Macquarie, as they huddled for shelter.
All these bushfire fighters are doing their best to control the situation and are supportive to the community-saving lives of both humans and animals. This is also a type of yoga or sadhana of being dedicated to their services. It is the biggest kind of yoga above all classes and studio lessons which shows the power of giving to one and all, raising donations for firefighters or those who are affected by the calamity.
As Yin Yang Yoga blends two styles of yoga, by bringing together benefits of passively holding yoga poses with more dynamic sequences and standing positions. This type of yoga based on the Chinese Taoist concept thus describes two relative qualities present in everything. Yin being your internal and Yang being external strength to your mind body and soul which I believe is much powerful in these firefighters.
Yin Yang Yoga Class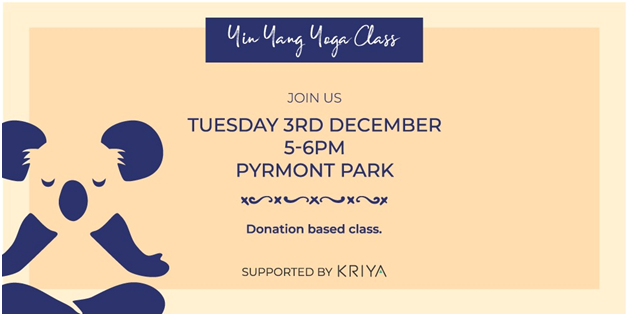 As KRIYA presents yoga by the harbor; a donation-based yin yang yoga class, for the attendees or newbies, remember that this type of yoga works on two principles: the yin and the yang. This means that according to the Chinese dualistic cosmology yin and yang together produce everything that comes into existence. Also, the interaction of yin and yang maintains the harmony of the universe.
Yin: The dark negative feminine principle in Chinese dualistic cosmology

Yang: The bright positive masculine principle in Chinese dualistic cosmology
In Yin Yang yoga class Yin yoga is a slower practice where yoga asanas or poses are passively held for the longer duration working deeply on the connective tissues and joints in the body. Whereas the yang is a more active yoga class that works on your muscles and blood flow to strengthen your stamina and giving you flexibility. Also, yang yoga poses are rhythmic and are repeated as in the Vinyasa yoga class.
As both Yin and Yang are necessary to maintain balance in our body thus any yoga teacher will try to include one or two yon yoga pose along with yang yoga session in its sequence or class.
Yin Yang yoga class benefits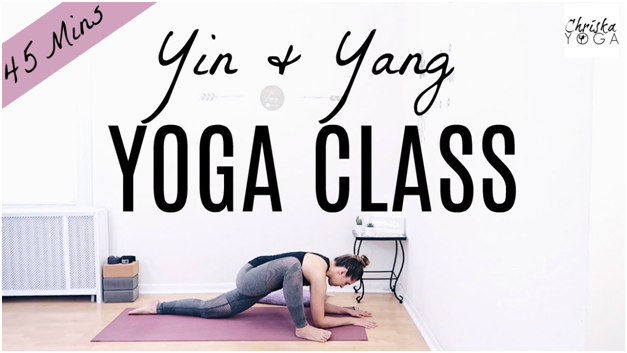 As both yin and yang elements are needed for balance in body mind and soul, the yin yoga stimulates the energy channels or chakras bringing balance to the organs in the body, thereby improving flexibility in joints. Also, yin yoga poses calms the mind relieving you of stress and anxiety. Yang yoga on the hand will increase your stamina as it tones the body because of improved circulation of blood flow in the body it also calms your mind.
In a Yin Yang yoga class, you will find that a yoga teacher might start with Yin yoga to calm the mind and work on the joints before the muscles are warm or the class may start with Yang and end with longer held poses to relax and calm the nervous system. The sequencing of the class can have a powerful effect on your energy levels and how you feel after class.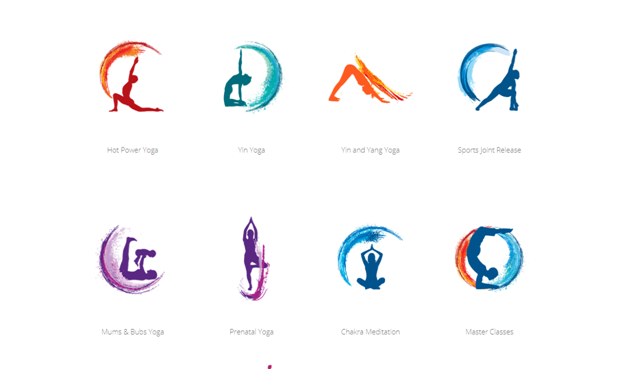 A Yin Yang class can be of 30-minute or more depending on yoga teacher or yoga studio. The yang practice consists primarily of a flowing sequence of standing postures, much like an extended Sun Salutation, though it includes graceful movements adapted from Taoist Yoga. The hour-long yin sequence is performed almost entirely reclining or sitting, for the most part, draped over a bolster.
Generally, Yang yoga is what many think of as Hatha and Ashtanga yoga asanas and Vinyasas that warm the body and stretch and strengthen the muscles. Yin/Yang yoga typically includes the yang portion of practice in the second half of class.
Yin Yang yoga studios in Australia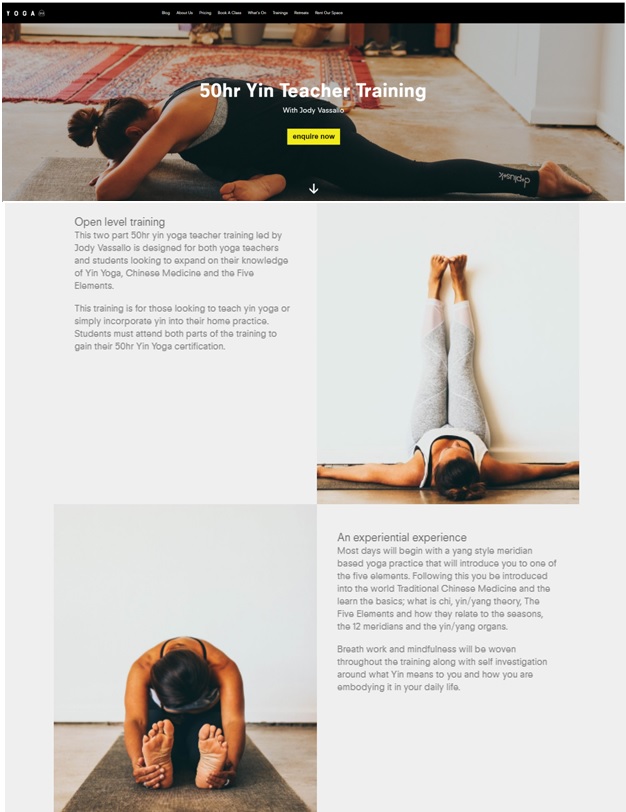 There are many Yin Yang yoga studios in Australia, where you can learn as well as practice this yoga. Many yoga studios incorporate both either yin-yoga and/or Vinyasa, Ashtanga and Hatha classes into their schedule, making things easier for yoga fans or yoga students.
Inner yoga training in Australia offers 200hr Yin Yang teacher training that is held in Bali offers a fusion of both vinyasa flow and yin yoga. You will learn about the concepts of Traditional Chinese Medicine including meridians (energy channels) and the 5 elements within the body. Find out more about Vinyasa Yin Yoga Teacher Trainings.
YOGA 213 : At Yoga 213, they combine music with vinyasa and yin yoga to create a fresh experience like no other.
Power Living: Power Living is motivated to share and practice modern yoga with their warm, wide and ever-growing community from within their beautifully lit warehouse studios.
Kindered movement: The vision at Kindred Movement is to get people to embrace every inch of who they are; body, mind, and soul.
Fort Green Yoga Studio Here Yin classes consist of a series of long-held and often prop supported floor poses, which work into the hips, pelvis, shoulders, and spine. Their 60 minute Yin classes are a beautiful way to relax the mind and body and embrace stillness.
One hot yoga studio: At One Hot Yoga & Pilates find over 300 classes a week in the Meaningful Movement systems of Yoga and Pilates, including Hot Yoga, Power Yoga, Yin Yoga, Hot Mat Pilates, Group Reformer Pilates, and Prenatal yoga.
Australian yoga academy; Yin classes the pace is slowed right down here and the focus is on doing one pose at a time and holding each pose for a few minutes. This allows you to relax, release tension and move deeply into the poses. At this studio for Yin classes are accessible to everyone, regardless of age or experience.
Radiant Sol Yoga: Radiant Sol Yoga is the Port Melbourne Yoga community who get to know you by name and by heart – they are real, down to earth and care about you and your practice.​
Kula Yoga: Detoxify and energize with hot yoga, tone and sculpt with power flow, strengthen and stretch with basics or relax and mobilize with yin yoga at their beautiful studio in Hawthorn East, Melbourne
Barefoot yoga: At this studio, training will give you the in-depth knowledge to teach yin yoga in a way that is inspiring, safe and effective.
You can find various popular yin yang yoga studios at Classpass
Find yin yang studios in Perth
Find yin yang studios in Sydney
Yin Yang Yoga for beginners and Yin Yang pricing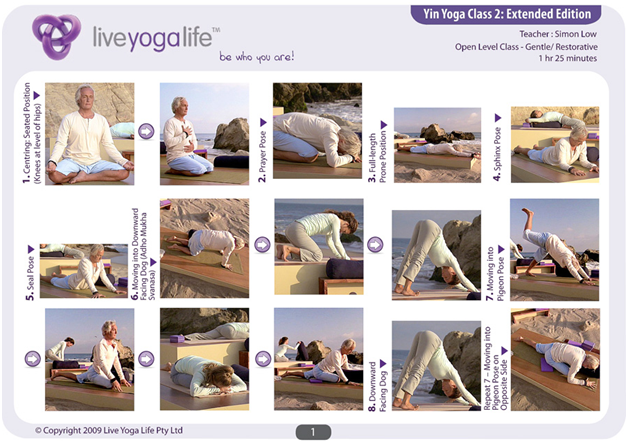 If you are a beginner and are naturally very flexible with your body you will have no problem doing the postures at Yin Yang studio but if you haven't done any yoga before and your body is very inflexible you might struggle with many poses. Many beginners who are naturally very distracted mentally and will find it hard to stay still, but if you concentrate on the mind and did meditation earlier and are very grounded and present will have no problem with the mental requirements of this yoga practice.
Check out here for free meditation classes
This means it depends on your physical and mental outlook as a beginner. Students will have different combinations of these attributes: some will be flexible and grounded and these so-called beginners will have no problem with a Yin Yoga practice, while others will be inflexible and distracted and these students may be highly challenged by Yin Yoga class.
Yin Yang Class prices vary from studio to studio. There are also free Yin Yang classes, community yin yang classes. Often yoga studios offer free trials to new students and then charge according to yin yang sessions you attend. Like yin yang intro class for beginners can cost $30 for a month, or a 3 class pack can cost $50 and 20 class package can cost $100 or more. For membership classes, there are unlimited class offers of $99 or more.
Interested to attend the Yin Yang yoga class by the harbor get your tickets now.
KRIYA pays respect to all the firefighters who have blended Yin and Yang gloriously and show the spirit of courage, strength, and the zeal to serve the Yin and Yang nature of soul and spirit.