How to Grow a Yoga or Pilates Studio?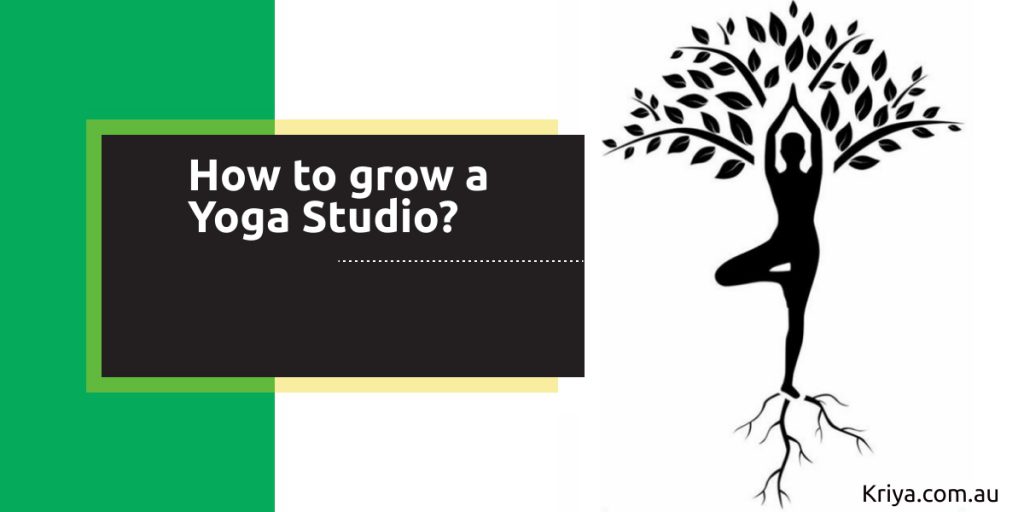 You have to get up and plant the seed and see if it grows, but you can't just wait around, you have to water it and take care of it – Bootsy Collins
To grow a yoga studio, you need to work as a gardener. Simply observe how he works in his garden day and night and grows a beautiful garden. You need to know which seeds to plant, (yoga asanas), where to plant, (location of your studio) when to plant, (which yoga type is in demand), how and when to water them, (grow your studio attendance) and many more of such related techniques. Also, you need to pull out the weeds or unnecessary things out of your garden and then take note of the harvest and the produce. Growing a yoga studio or in fact any business is just like working in a farm or a garden. Here plants are your students and the yield is your profit in business.
Also taking in new ideas to expand the growth is very fruitful. Have you ever wondered why a newly opened yoga studio is growing fast and people love to come here? Why? The name looks attractive, the design of the studio banner represents what it teaches, is in a prime location and offers something with a twist.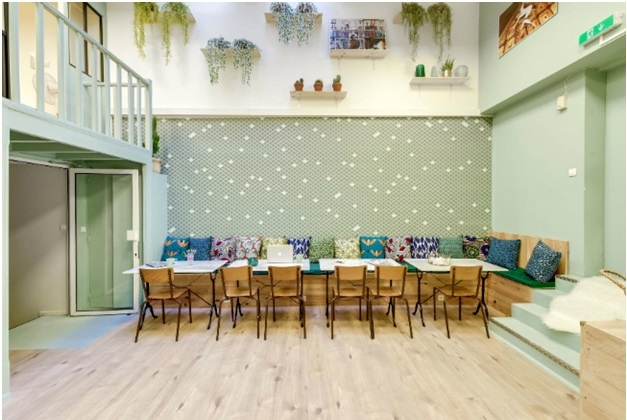 If you are starting from scratch then you need to work hard and expand your yoga studio diligently. You need to increase your marketing efforts, re-evaluate the systems you have put in place and think out of the box to grow your studio.
Here at KRIYA we gathered some of the wonderful tips for you to grow a yoga studio.
Build a yoga community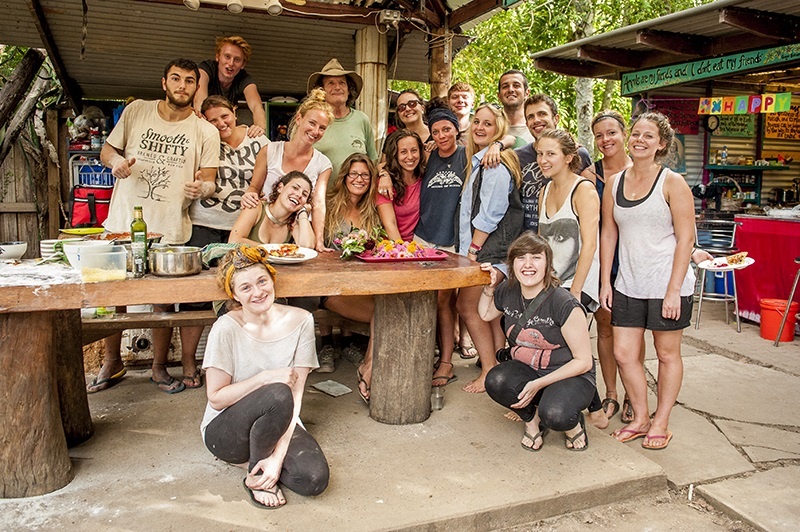 To build a yoga community you need to gather like-minded people. Use social media contacts or offer a free coffee or smoothies at your yoga studio to welcome other yoga enthusiasts. It's not only your yoga space but your yoga teachers who should be warm and compassionate in their behavior to interact with the students who arrive at your studio in a friendly manner. The yoga teacher should be willing to offer an extra helping hand when needed after the class to help students. If you remember the names of your yoga student and greet them with respect, obviously they will want to stay for long and love to learn at your yoga studio
Offer special workshop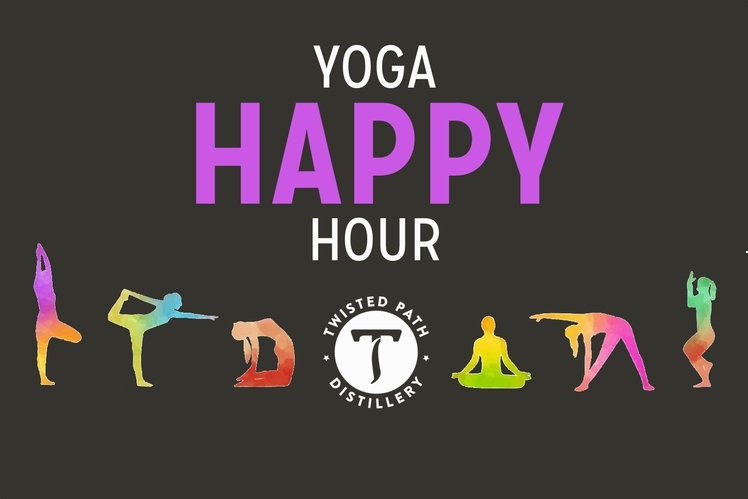 Workshops of 15 or 30 minutes for free go a long way to help grow a yoga studio. Workshops are a brilliant way to complement classes and boost retention. You can offer specialized classes like: 'Handstands and Inversions', 'Breath Control', or even host a week-long retreat in a favorite location. If you cannot afford a completely free workshop then run complimentary sessions either side of lunch. Pre-lunch will be a high-intensity class to fire up the metabolism. Also, students break for a healthy lunch and a mingle, before returning to the studio for Yin relaxation.
You can try hosting weekly socials something like Pilates and Prosecco Thursdays or Yin and Yang Fridays. Advertise these events as happy hours at the end of classes and encourage everyone to join in the fun.
Adopt online booking system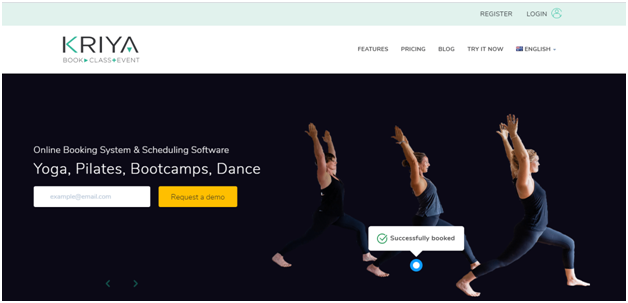 You need to be fast and smart worker. You don't want your students to be standing in queue and filling the registration form to attend classes. These days online booking system help you perform all the manual admin work in seconds with just a single click even on your mobile.
As a new yoga studio owner adopt low cost yet effective online booking system. Online booking systems or yoga management software should be simple and easy to use.
Know about how many features does the system allow you to use in its basic plan. Your yoga business should be offering a tier of membership options as well as drop-in rates and special offers. You need a system that can cater to your personal needs. It is important that the front end of your website looks just as professional the service you offer. With online booking systems your students will be able to book their yoga classes instantly and pay you at once.
Click here to find the best online booking software for your yoga studio.
Make use of social media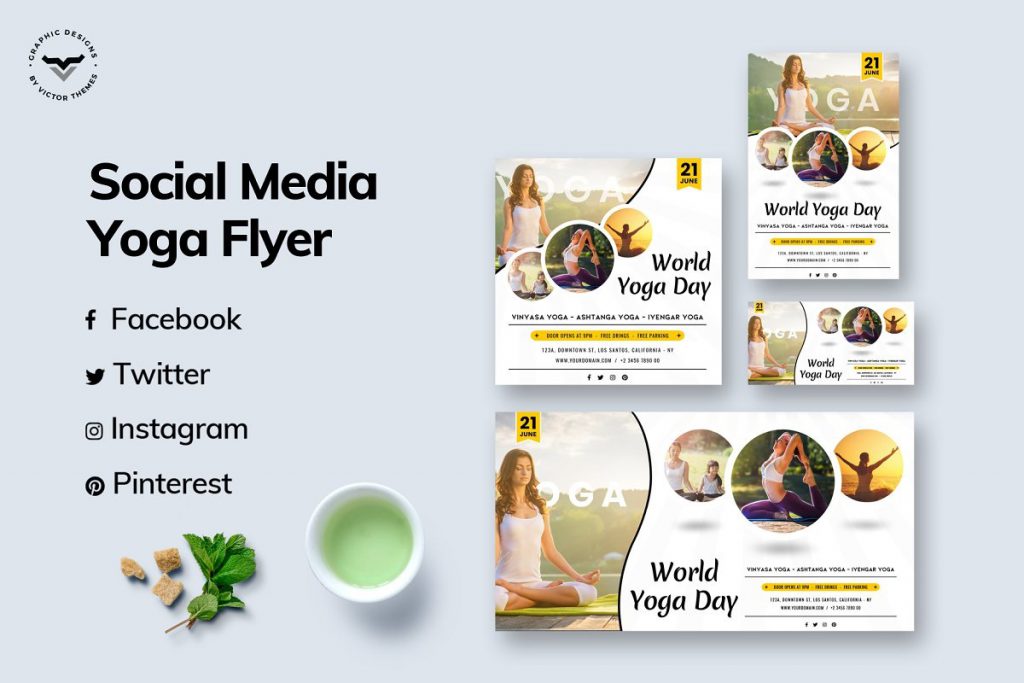 You need to be active on Instagram, Twitter, and Facebook and regularly post your yoga styles. If you are looking to target a young market, then Instagram is for you. 59% of users are under the age of 30, whilst 63% of teenagers are active on the app every day.
To be successful on Instagram and build your following, and post at least once per week. Also upload instructional videos of Vinyasa flow or any other yoga style in social media and be interactive asking your followers what they want to add in their class.
Help a brand promote you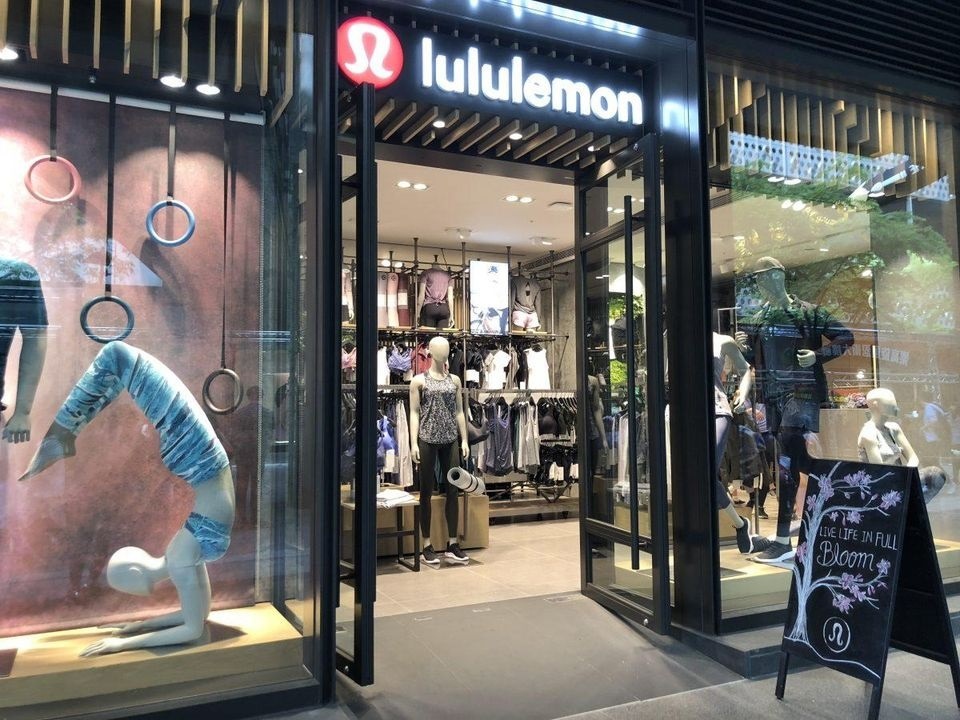 You can talk with one of your local brands and collaborate with them to compliment your yoga studio. Yoga has so many apparel brands like Lululemon. Also, there are new apparel brands that also want to grow business so tie-up with them because as a small business, still in its early growth stage will be more willing to promote your classes on their website and in their store.
Likewise, approach a local sports shop or Ayurvedic shop. You can approach them in person and offer discounts to their customers and vice versa. This sort of collaboration benefits both businesses and, when kept local, promotes a positive image. Additionally, when working with a business at a similar stage of growth to that of your own, you have the opportunity to share knowledge with each other. Learn from each other's mistakes and discuss ideas for growth in the future. This symbiosis will create a valuable partnership.
Offer a referral bonus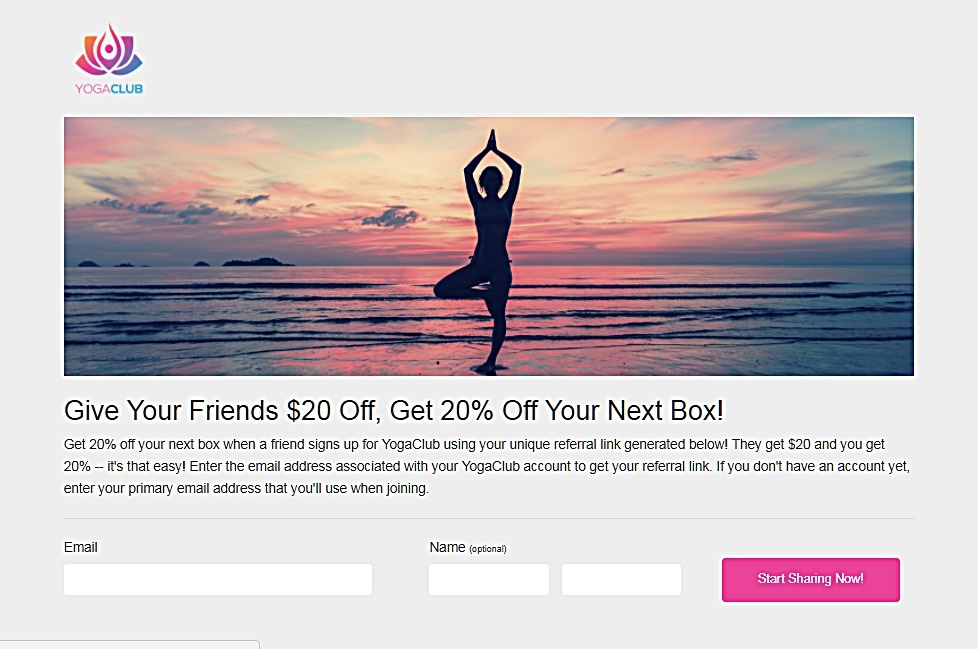 People love bonuses or discounts. Buy one get one free concept can be a handy tool to market your yoga studio. Though word of the mouth helps to get more students and increase class attendance, you need to offer a referral reward scheme. For your referral scheme to be most effective, offer a membership discount to both parties involved – the referer and the referee.
Update yourself
If you are in the business for a long time teaching the basics then move to next level to grow your business. Learn new yoga types and then implement them in your studio. Also, make sure your alignment during your practice is correct, make sure you are feeling comfortable with the asana for at least 5 deep breaths, get familiar with your body's sensations, observe and acknowledge where you feel resistance and ease in your body and mind, just let yourself wonder deep in the asana. This is always a great and fun way to practice and build a solid and even stronger foundation.
Click here to learn as how to Stream Live Zoom Yoga and Pilates Classes on a Smart TV?
Start by recognizing which are the asanas that you feel are intimidating because those are exactly the asanas that you could start adding to your yoga practice now. When learning something new to teach you as a yoga teacher you should practice it each day yourself before taking the class so that you are perfect in teaching. Trying a new style of yoga, for instance, if you are an Ashtanga yogi, then try a Hatha yoga class and you are stepping out of your comfort zone and are exposed to new technics, methods, flows and even asanas. It can be so rewarding because you are not only expanding your knowledge about your practice but also about yoga itself.
Make use of audio and visuals in studio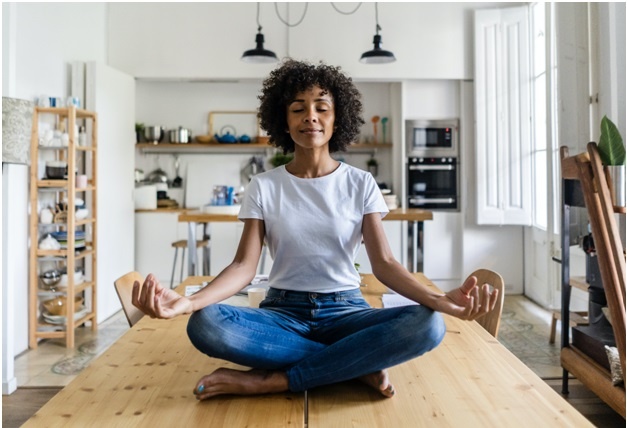 Many yoga studios have a soothing music in the background of their studio, which attracts customers.
Read this interesting article as how music helps to gain profit.
Also use other audio and visual aids like a short film or a YouTube channel of your favorite yoga teachers and look for tutorial videos that explains in detail how to do the asana correctly, especially learning the correct alignment. You can even use a traditional blackboard and draw asanas for students to make them learn easily.
Share your experience and story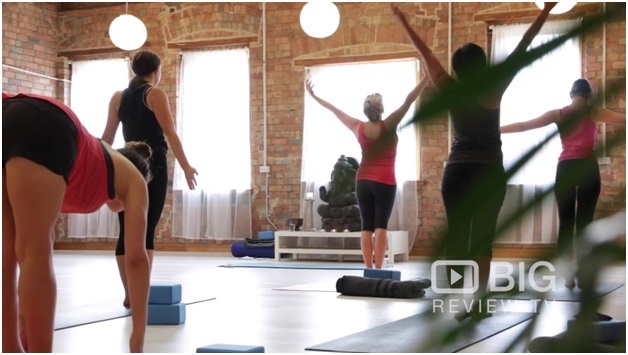 To grow a yoga studio you can share your experience and story. You can do so online or offline. Write a paragraph daily about something new or what you learnt from being a yoga teacher and share it in your website blog. Or each week print a page of your story with a fantastic photo and hand it to your students to read and learn.
People want to learn and get more information on your subject. Also as a human tendency people want to know whats happening in others' life, how you struggled to own or set up your yoga studio, which management software was your best and much such informative news that they would love to read and share further.
You can even start a vlog and invite your others to view it and express their opnions on how to achieve something best in yoga.
Adopt a good marketing plan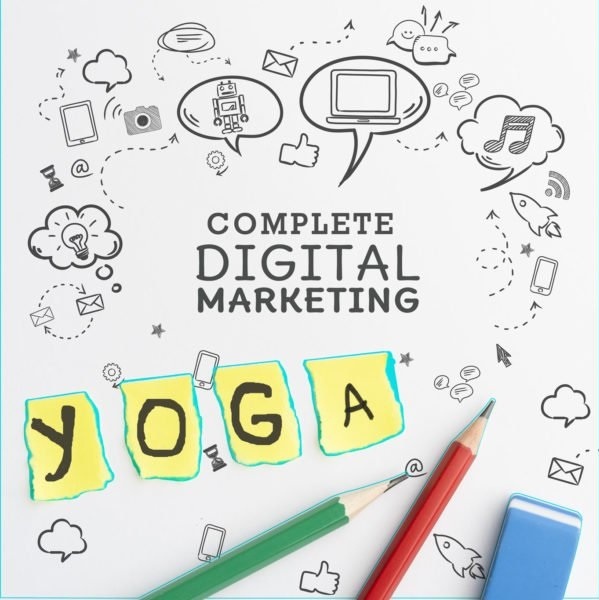 Along with above tips as how to grow a yoga studio you need a good marketing strategy for your business. Use word of mouth strategy as your current student can recommend your yoga class to a friend or acquaintance. In fact, it's the top way people discover yoga experiences, according to a recent survey conducted by Eventbrite and OnePoll of the yoga trends and habits of 2,000 Americans.
As said above create a customized rewards program and differentiate your program by offering an elevated experience for loyal customers, such as a free 15-minute class.
Also, ask for reviews as online reviews help give newcomers a peer-sourced idea of your experience. Simply ask for reviews in your emails and via signage around your venue.
Another best marketing strategy is email marketing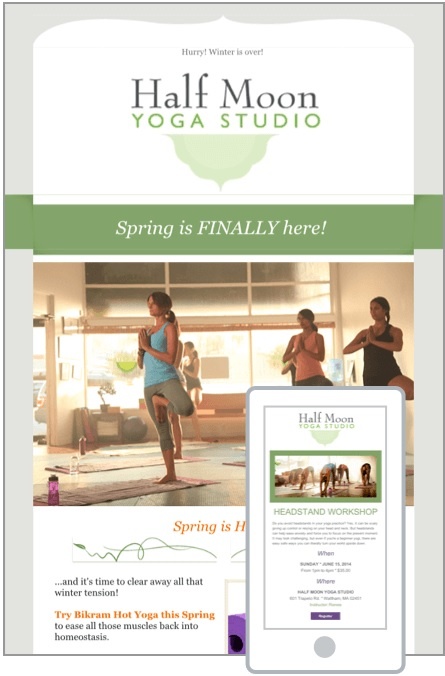 When new yogis attend your event, it's important to collect their email address so you can grow your list with interested subscribers. You can also offer a special discount to new newsletter subscribers to collect more addresses.
You can grow your list quickly by collecting email addresses when they sign up for your classes. Once you've built your list, you can send them the news, special offers, and moreover time. This way you will engage and hook your clients to your yoga studio.
You can even invite yoga influencers to your yoga workshop or class as a guest and promote your business.
Finally, remember that your clients or students want you to teach yoga from the heart not forcibly. If you love to teach then teach to expand your teaching. Be yourself and with due diligence, your yoga studio will grow fantastically.
See also
12 Tips To Start Your Yoga Business
How To Increase Yoga Class Attendance?
How to Make your Yoga Studio Stand Out?