What Yoga App is Everyone Using?
What yoga app is everyone using? This question has been asked by many fitness and yoga enthusiasts several times in the last three months. It's not that stay at home environment due to the recent pandemic has made people put forward this question, but many want to know what's the best and popular yoga apps trending in the market today.
In a digital medicine magazine, there are more than 250,000 fitness and health apps available for download. Out of which half of the apps are related exclusively to yoga and meditation. The boom in the use of these yoga apps is also because many of these apps are free to download.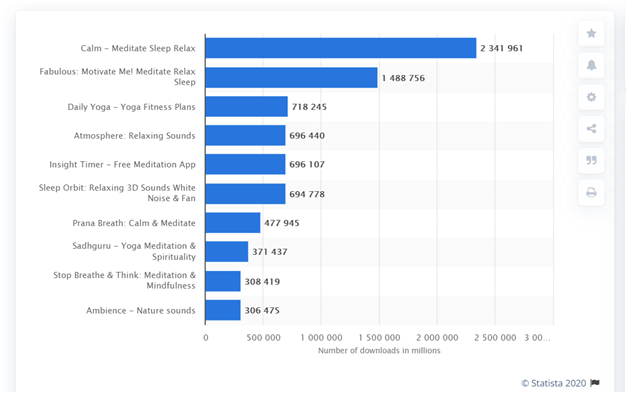 Between Apple's App Store and Google Play, there are so many yoga apps to choose from right now that it can be overwhelming to pick the best yoga app for you. Also it's not just the apps that are trending, yogis are also on the lookout for online shops for yoga items and youtube channels to learn and practice yoga. Here we have put together a few of such beautiful apps for you which are popular right now and are used by most of the people.
7 Most Popular Yoga Apps
1. Down Dog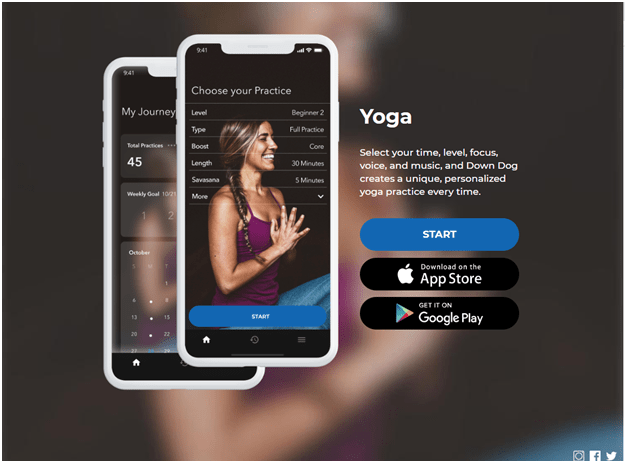 With a rating of 4.9 at app store Down Dog app is used by everyone. This brand app offers 60,000 different configurations. This is considered the best app for beginner yoga where you learn and get 3-day Intro to Yoga series, and begin your journey in Vinyasa, Hatha, and Restorative. Also practice Hatha, Ying, Ashtanga and do Sun Salutation as well.
Some of the best features of this app is that you can choose from six different yoga teachers with beautiful voices in nine different languages English, Chinese, French, German, Italian, Japanese, Korean, Portuguese, Russian, Spanish. You can use this app offline too, simply download and begin to do yoga anytime.
Focus on 20 different practice areas to really sharpen a particular area, or to vary up your routine by rotating through them all.
Sync with most of the device's features is there as well as you can integrate with the Health apps. The app is free to download but to have full premium features there is a membership cost that comes out to be $7.99 per month or $49.99 USD per year.
2. Deep Meditate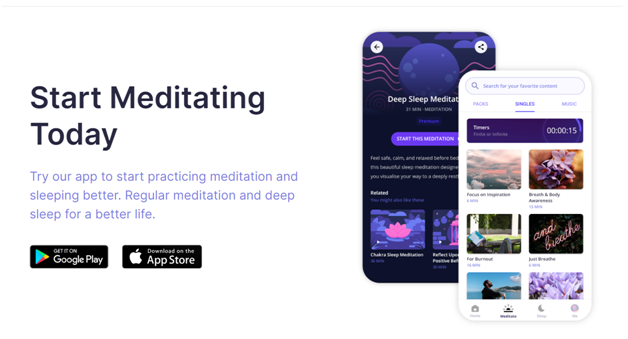 Deep Mediate is another good app used by everyone. This app is soon launched for iPhone devices and right now is available for Andriod users. With the rating of 4.5 at Google Play this app is a wonderful app to manage stress, have good sleep and rest your mind. The meditation sessions start for beginners to pro users and is divided into three parts: meditate, music and sleep
You will learn mindfulness techniques, find ways to become calm, cultivate gratitude, and experience deep relaxation. Simply open the app, select your meditation theme and press play. Simply sit back, relax, and breathe in the tranquility.

With over ten distinct meditation suites in the relaxing melodies calms your mind. You will love the 250 different music compositions that are so soothing to the mind. If you want more you can go sleep time stories to get a good night rest. You can meditate as long as you wish or set your timer, it's all up to your choice.
Though this app is free to download but comes with a subscription feature to get all what you need. The cost of member ship range from $6.49 – $124.99 USD.
3. Yoga Lacuna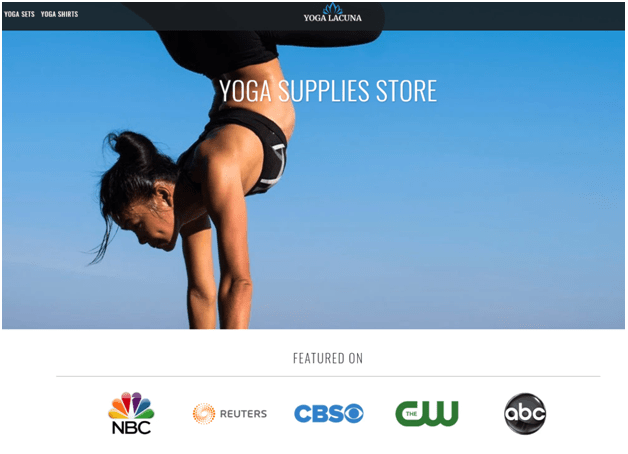 Yoga Lacuna is an awesome yoga supply online store where you can buy different yoga products. At this online yoga shop, you can get various Yoga equipments, leggings, yoga mats, yoga sets and yoga shirts. This store is best for both yoga studios and yoga students as it caters to everyone's needs. You can buy in USD, AUD, CAD, GBP, Euros and other currencies which shows that this online store is there for many countries.
You can use any of the payment options available at their online site to buy products. Be it Amazon pay, Amex Card, Apple Pay, Diners, G Pay, Master card, Visa Card, Shop Pay, Discover and more.
All you need to do is click on the product you want to buy at the online shop, view its full details like cost, brand name and other features. Then either add to cart to browse more or click on buy now. When you click on buy it now, you will be landed in payment gateway. Enter your shipping address, mode of payment and pay to buy the product.
If you are not satisfied and wish to return the product then there is 30 days time for refund.  To return your product, you should mail your product to: Whitehead street, 400, key west FL 33559, United States 

You will be responsible for paying for your own shipping costs for returning your item. Shipping costs are non-refundable. If you receive a refund, the cost of return shipping will be deducted from your refund.  Depending on where you live, the time it may take for your exchanged product to reach you may vary. 
If you are shipping an item over $75, you should consider using a trackable shipping service or purchasing shipping insurance.
4. Yoga with Amit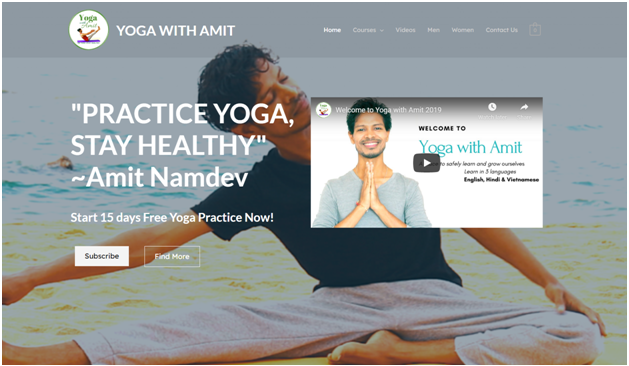 Yoga with Amit is a you tube channel where Amit Namdev an Indian yoga teacher guides you to practice yoga. Amit Namdev is also the founder of Ashta Yoga Valley Formally known as Amit Reiki & Yoga Center, Amit´s School was based in McleodGanj Dharamsala Himalayas from 2004 till 2014 and now has moved to Arambol Goa India.
Ashta Yoga School in Arambol Goa offers Yoga Workshops, Yoga Retreats & Yoga Teacher Training, as well as courses in Reiki 1, 2 & Master & Tantra Courses at both places Goa, India & Hanoi, Vietnam.
He has been teaching yoga for over 15 years giving yoga workshops, yoga retreats and Yoga Teachers Training in India, Dubai and South East Asia. He now has over 15000 hours teaching experience and is registered as designated E-RYT 500 with Yoga Alliance. He also has given over 5000 Reiki Initiations in Level 1, 2 and Master. Amit always has been an intuitive and heart oriented person which lead him to discover about Tantra and exploring its practices and techniques. Diving deep into this ancient wisdom he is now also very passionate on sharing his knowledge and experience with others.
Amit practices Hatha, Sivanada, Ashtanga and Iyengar yoga as well as Chi Gong, Tai Chi, NLP, EFT and Hypnotherapy. By using his experience and in depth knowledge of all these different practices he was able to develop his own format of yoga combining the essences of all these approaches. He named his Style "AMIT YOGA" which means "Infinite Yoga", wanting to express the never ending expansion of true Yoga. In this Style emphasize is put on both alignment and flexibility of the body as well as mental and spiritual aspects combined with knowledge of alternative therapy. His courses are best to learn to become a professional yoga teacher or simply practice yoga.
You can watch his Youtube channel Yoga with Amit which available in English and Hindi language.
Click here to watch his channel now.
5. Daily Yoga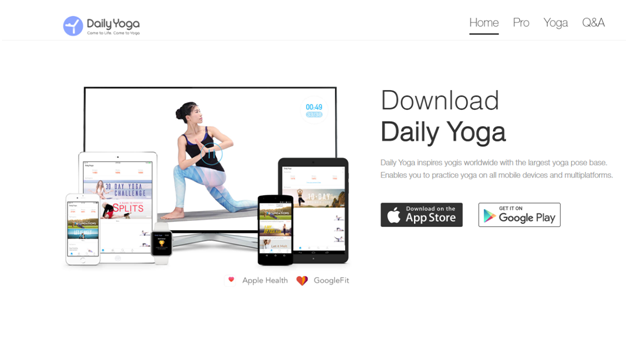 With a rating of 4.7 at app store Daily Yoga is another yoga app used by everyone. This app has been awarded with many rewards. There are above 500+ asanas, 70+ yoga programs, 500+ guided yoga, pilates, meditation sessions plus the largest yoga pose library for man and woman that suit yogis from beginner to advanced. Not only helps you stay with yoga every day, but also provides health benefits for both your mind and body.
With 20 yoga masters, you can learn different yoga styles or fitness tips for weight loss, and find beginner to advanced mediation technique for better sleep & full relaxation techniques.
With awesome features in the app like Smart Coach this lead you to a session every day for the next 30 days. Each session has a duration varied from 5 – 70 minutes to fit your schedule, and app is available in 7 languages English, Japanese, Korean, Spanish, Chinese, German, French.
Though it is a free app, the app offers membership that range from AUD$14.49 to AUD$110.99.
6. Doyouyoga
At Doyouyoga you can join free online yoga classes to learn and practice yoga. This channel offers hundreds of online video classes and programs. You can practice and learn Vinyasa Yoga, Hatha Yoga, Yin Yoga, Prenatal yoga, Pilates, Power Yoga, Meditationa and more.
You can access Doyouyoga on almost every device out there be it Laptop or desktop, or iPhone and iPad Android phone and tablets as an app or on TV (currently only via Chromecast, Apple Airplay, or HDMI cable) Though the app is free to use still to get access to all the premium features you need a membership plan.
Click here to watch their YouTube Channel
Click here to download the app for iPhone
Click here to download the app for Android
7. Yoga for Beginners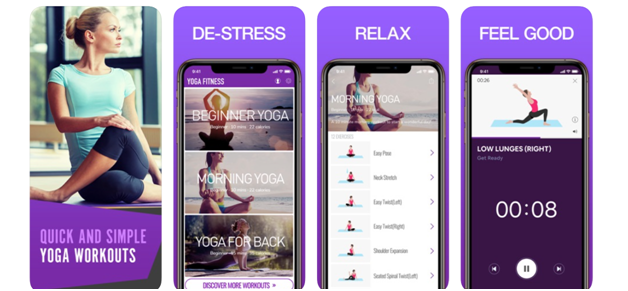 Yoga for beginners is another popular yoga app used by everyone. With the rating of 4.8 at app store this app is all free to use and doesn't have any membership cost. As the name suggests this app is best for first-time yoga students. You will find handcrafted workouts to get you started on your yoga journey. The teachers will teach you in sessions. You can have fun joining any yoga class you want be it morning or evening yoga. There is a feature to track your performance and maintain your workout logbook.
Click here to download for Android
Click here to download for iPhone
There are various other apps as well besides these which you can explore. Remember to use that app that is updated regularly and offers customer support (especially those with membership or subscription offers).
Also update your iOS or Android OS regularly to let the apps work all smooth. If you are a yoga student try to use the apps that offer various online classes or yoga Asanas. Watching Yoga youtube channels is another way to learn yoga and is in much demand these days. Live streaming of yoga classes is also helpful to students. As a yoga studio owner, you can also start your channel or learn more with these apps.