Email Marketing and Newsletters for Yoga Studios
Businesses are steadily returning back after the COVID 19 pandemic. Few of the yoga studios are opened now for classes. Though social distancing is the norm followed with hygienic yoga mats for students. It's good to see smiles on the faces of everyone as the economy is slowly coming back to normal. So yogis it's time for you to start afresh, with more hard work and enthusiasm. You need to start rolling back to your course schedule be it taking up yoga classes or opening up your yoga workshops. Whether you are still hooked to the online yoga studio or now regaining the strength of your yoga venue, you need to do marketing of your business to get back from where you left.
One of the aspects to grow your community is email marketing and newsletters for yoga studios. This marketing strategy is well known and popular among many of the businesses and used as promotions for the yoga business. For those who already know about email marketing and newsletters know how it works and why they are important. But for many who have lately started their yoga studio be it online or offline or who are already into yoga business but have never tried these two marketing strategies, understand about it and start doing it now.
What is Email Marketing?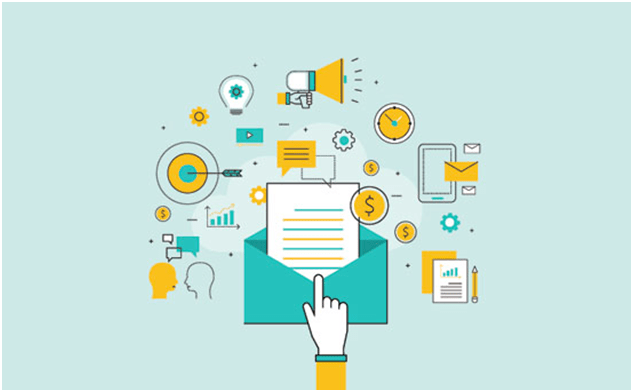 Email Marketing as the word suggests means you need to send an email with a commercial message to a group of people or community. This group of people can be your existing students or future customers. What you need to do is prepare an email to advertise your studio, or ask for recommendations or students or any other stuff to grow your yoga business.
Email marketing strategies commonly seek to achieve one or more of three primary objectives, to build loyalty, trust, or brand awareness. The term usually refers to sending email messages with the purpose of enhancing your relationship with current or previous yoga students, encouraging student loyalty and repeat business, acquiring new students or convincing current students to join your classes or yoga sessions or yoga retreats.
Your email list is important for communicating with your customers, as it's the most direct way to let people know about any changes to your class schedule, any news updates, and any new services you might be offering. You can ask your subscribers for testimonials via email, or ask them to leave a review on your Facebook page. You can also send out special offers and priority booking opportunities to keep your audience engaged and help them feel part of an exclusive community.
Remember that email marketing is also an effective way to reach out to your people like any social media platform. As people check their email often, and email marketing can play a significant roll in increasing your revenue and business growth.
By adding email marketing to your list of digital marketing tactics, you can improve your reach and visibility, allowing you to engage and convert more leads on a consistent basis.
According to Radicati Group, more than half of the world's population uses email as of 2019. And this number is expected to increase up to more than 4.3 billion by 2023. Data from Pew Research also shows that 92% of adults in the United States use email, and 61% of these email users are checking and sending emails on an average day.
What is Newsletter?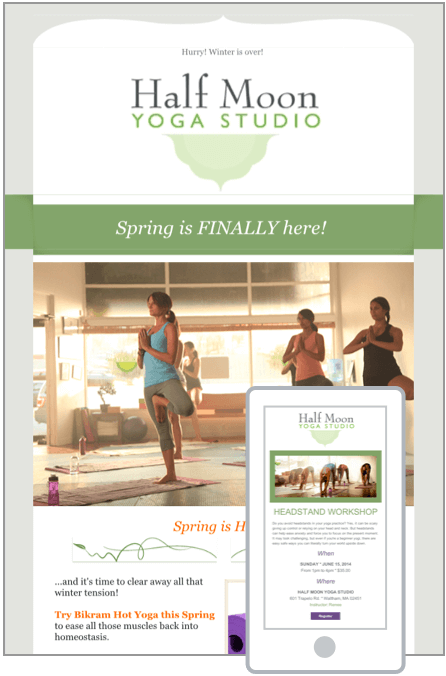 A newsletter is a printed or electronic report containing news concerning of the activities of your yoga business that is sent to your students, members, customers, employees, or other subscribers. Newsletters generally contain one main topic of interest to its recipients. These days E-newsletters are delivered electronically via e-mail and can be viewed as spamming if e-mail marketing is sent unsolicited.
Newsletter marketing is a form of direct-to-consumer advertising and is used by studio owners or companies that want to send information directly to potential and existing customers to inform their members of ongoing developments.
Thus newsletter is a tool used to communicate regularly with your subscribers, delivering the information you want. These messages can contain simple text or a structure composed of images and formatted text.
You can decide as how often you need to send your newsletter to maintain regular contact with your customers.
The newsletters are also a kind of promotion material used by those businesses who have their own websites, blogs, or want to advertise their business, communicate their event, or any other related things.
How to get started with email marketing?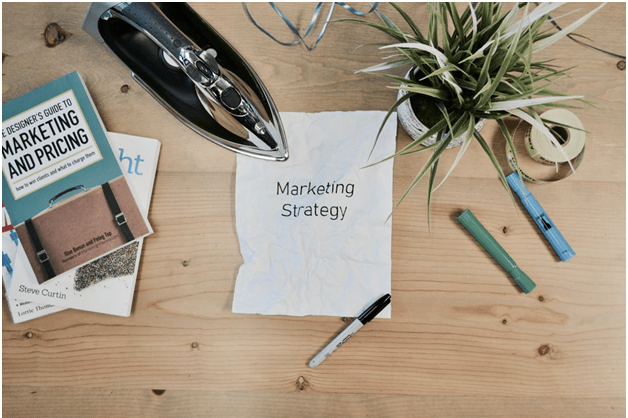 To get started with email marketing, first step is to create an email account with Mail Chimp or Drip or any other such marketing automation platform and an email marketing service.
Now start to build an email mailing list. It's a good start to first include your current members.
Remember you can pick hundreds of emails from any online search tool or directory but you need to only save the email addresses of those people who actually agreed to receive your emails.
Next, send out the right information. You can use email marketing templates or design your own giving information about your yoga studio, what's latest in your studio or yoga class, and what you are offering. Also, why should a student join your class? If all goes well, your list will grow. If your emails fail to impress, people will unsubscribe and your email marketing will not bring you the results you had hoped for.
Following the right approach, your mailing list can be really helpful in promoting your yoga studio. You can build a longstanding and trustworthy relationship with your readers. This will positively influence the image that people have of your yoga studio and will indirectly also help your studio to grow.
Note the following when sending emails for marketing:
Never send emails to people who don't want to be in your mailing list
To grow your mailing list, make sure to have a subscription form on your website. A simple form in which people can fill out their email address, and optionally also their first and last name.
Unsubscribing from your mailing list should be simple. This means that every email (newsletter) that you send out should contain a link to unsubscribe. You can easily do this by using MailChimp. This is an application that you can use to send out emails.
Never share or sell your mailing list to third parties as this will seriously damage your credibility.
Remember that there might be legal requirements to send such emails. In Australia, the Australian Spam Act 2003 is enforced by the Australian Communications and Media Authority, widely known as "ACMA". The act defines the term unsolicited electronic messages, states how to unsubscribe functions must work for commercial messages, and gives other key information. There are fines if you don't adhere to the legal guidelines and fines can range as high as AU$110,000.
Always send relevant information only in your emails.
Also to manage your list and send out your emails in mass you can easily do by using MailChimp or any such software.
According to McKinsey & Co email marketing is still 40 times more effective than Facebook and Twitter when it comes to acquiring new customers.
What to write in your newsletter?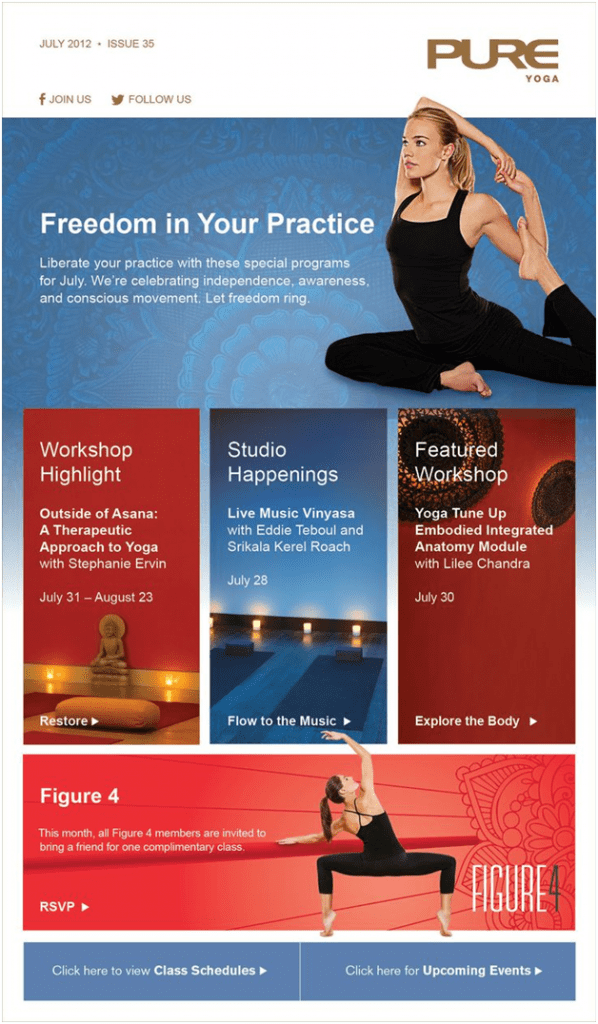 Now that you have set up your mailing list, created a subscription form and added it to your studio website, started email marketing, it's now time to create your newsletter.
Here also you need to put in only relevant information that is in line with the interests of your readers.
You can talk of a specific type of yoga or meditation, which your studio is specialized in. You can use your expertise, things you've learned during your trainings, lectures, articles you've read etc. and quote it in your newsletter. Also stay up-to-date by reading things on the internet or in books that you could share with your readers.
Write some nice articles or blogs that you have written and share them from time to time. You will see that your readers will appreciate it and that your mailing list will grow over time.
You can also create a series of write ups about a specific topic and share one article each week or monthly or daily that's your choice.
You can then create these news letters in the email software like MailChimp and schedule them to be sent out anytime you want, be it in a week, a month or whenever. This way you will be able to sent out to your mailing list automatically in set intervals.
You can share your blog post about yoga
News and events happening on your yoga studio
Any changes or additions you are making in your yoga class schedule
Or if you are offering a discount on any special class like 'Vinyasa yoga' or 'Hatha yoga' class
Any giveaways for the month, like old yoga mats or any donations for a good cause
You can even send information when you are teaching a 'special' class, host an event, have a special sale or promotion.
If you have hired a new teacher or staff, write about them which might interest your readers.
Any fun stuff you want to share, remember people love reading to stories.
Click here to get more ideas and how to create an engaging newsletter
Email marketing and newsletters for yoga studios- How often?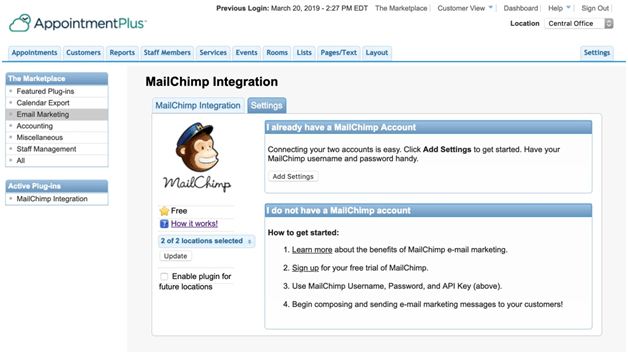 Now that you are ready with your emails for marketing and newsletter the question is how often you need to send such material. Well this depends entirely up to you and what kind of information you send out.
Like daily sending an email is not a good idea but if the information is related to a new class time then you can do so.
In general, scheduling an email every 2 to 4 weeks is perfectly fine.
Gather several short news items in one newsletter or choose to send out an email with one special announcement, like a workshop or a promotion.
Also set your emails to be sent out automatically to new subscribers
In addition to sending out emails to you mailing list manually every 2 to 4 weeks, you can also choose to send out some emails automatically. You can arrange for the series of emails to be sent out automatically in set intervals to new subscribers. Basically the frequency of your emails and newsletters should be consistent but not over burdened.
Use Email Marketing software
You need to use an email marketing software to schedule your newsletters.
This will help you log and manage important subscriber information, like name, email, and preferences. Additionally, email software provides a dashboard that can be used to schedule messages in advance, making it easier to nurture relationships without ever forgetting to deliver your information on time.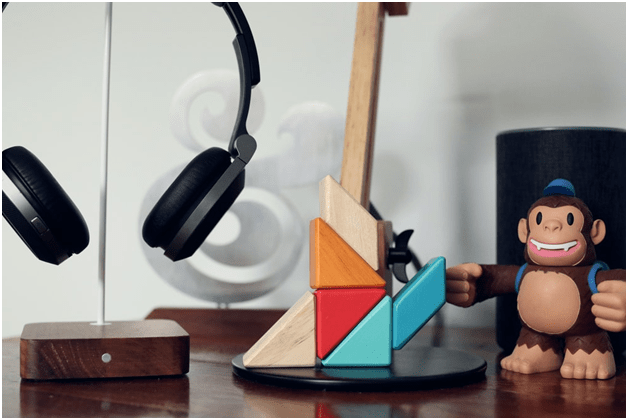 Few of the email marketing software you can use are:
MailChimp: We have talked about this above and is widely used by yoga studios who are just starting out. With MailChimp, you can send up to 12,000 messages per month for free. Packages without message limits start at $20 per month.
CampaignMonitor: This is used by more than 200,000 businesses worldwide, CampaignMonitor offers a variety of tools for automation, tracking, and analytics. With their basic package, you can send up to 2,500 emails to 500 people for only $9.99 monthly.
Emma: This is best for businesses with lots of customer data, Emma is a relatively affordable software that automates email campaigns while also making it easy to send custom emails based on customer behavior. Begin with 10,000 contacts for $89 per month.
Delivra: Most email software companies charge on a "per contract" basis, meaning the price changes as your subscriber base increases. Delivra is unique in that they do not charge for any contacts with invalid email addresses, meaning you will always get the maximum value out of your subscription. Starting at $75 per month for up to 3,000 contacts.
InfusionSoft: At $199 per month, InfusionSoft might seem like an expensive option. However, superior features and customer support make this email marketing software one of the most popular tools among savvy small and medium-sized businesses.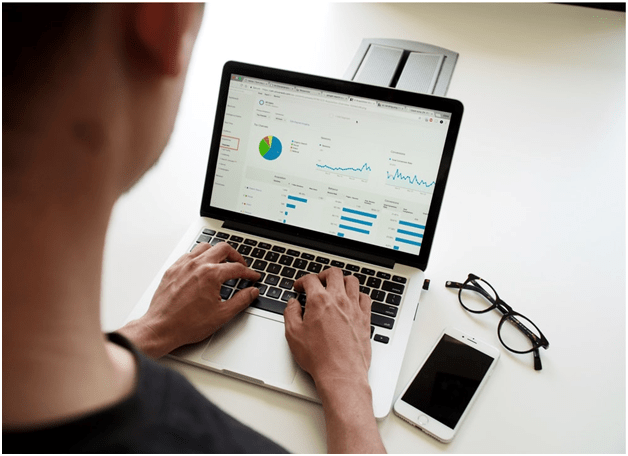 These software even offer you insights on analytics like
Open rate: This metric shows the rate at which messages are opened. Use this metric to compare the effectiveness of different types of headlines, as well as email campaign delivery times (day of week, and time of day).
Click-through rate: Often noted as CTR, this metric shows the rate at which readers who have opened the message click-through to your website. Use this metric to evaluate the effectiveness of your email content, including the structure, copy, and media.
Unsubscribes: This metric tells you how many people opt-out of your newsletter.
Finally remember that you should be creative in drafting your email with an exciting subject line, keep your content short so that the reader is not bored, In your short message convey the most and highlight your studio benefits and how your business will help others.
Make the reader communicative with you so that they write back to you and ask you furthermore about your yoga class. This way you will build that relationship with your prospective client and engage them.
This means your email marketing strategy should always have a call to action. You can track who opens your emails and which links are clicked most often. By sending out special offers or early booking privileges, you can help to build a list of loyal subscribers who are fully engaged with you and your yoga studio.
Important to note is that you need to respect the choices of your readers and don't make them regret their decision. Instead, they should appreciate the benefits that come along with being a member of your yoga studio's email marketing and newsletter list.