How to Make a Yoga Studio Schedule?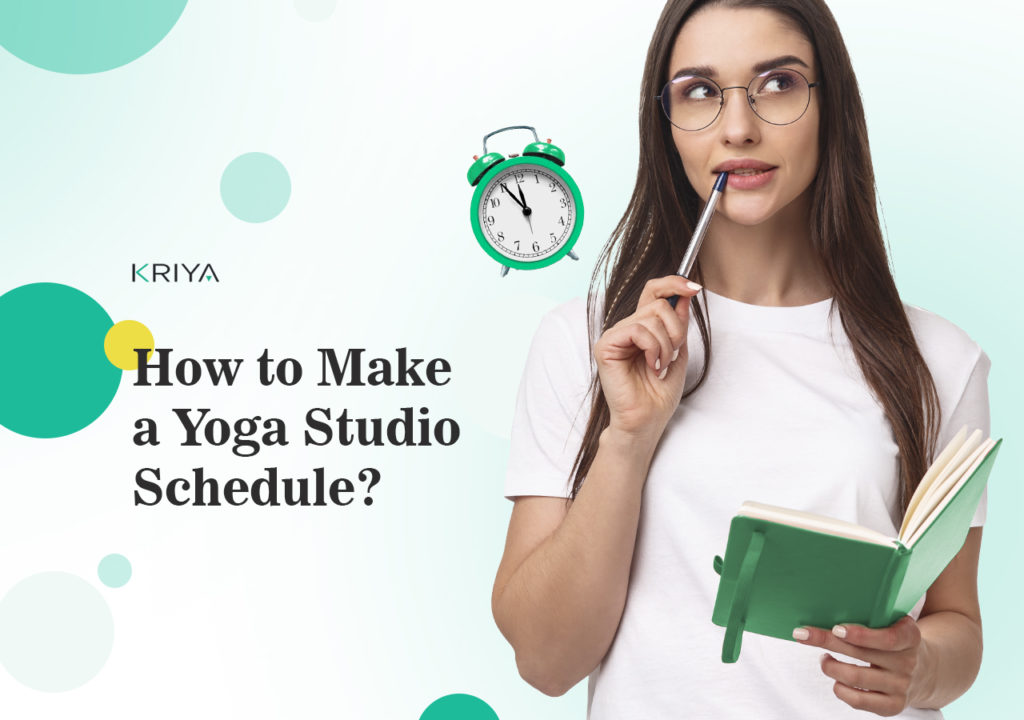 If you are a teacher you should know how to make a yoga studio schedule. It is prepared almost in the similar manner as a class teacher prepares a lesson plan to teach students. Generally, a yoga studio schedule includes the following:
Number of classes taken every week or each day
Type of yoga lesson to teach
Is it, personal class or group class?
What will be the class pricing?
Yoga teachers that will take the class
Does the class schedule needs prior booking
And more of such things.
There are two ways to make a yoga studio schedule. One is offline where you take pain in writing your yoga schedule and handling all the stuff manually, like bookings and payments, attending phone calls and making bookings of teachers and students.
The other easy, effective and popular these days is using online scheduling and management software to make your yoga studio schedule. This can be done with your mobile or PC or tablet and hardly takes minutes of time if you have planned ahead everything and are just ready to customize your schedule the way you want.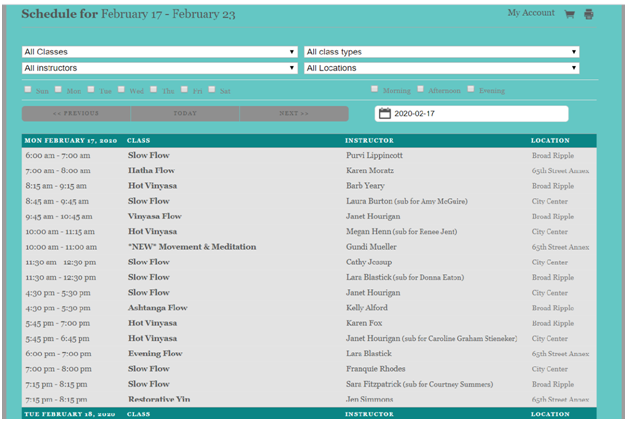 Many online booking and management software offers a yoga class schedule templates for yoga studios which come with elegant design and even better images.
These are fully customizable yoga schedules and is the perfect choice for yoga and other fitness and pilates studios who want to track their progress and stick to their goals. You can use the features in the online format as you want and edit the class schedule according to your needs. Like you can change colors, fonts, layout and any other elements. You can also add relevant icons or tap into the photos of your teachers the way you want to upload.
Even you can add animations if you want of clickable buttons or add more pages or remove them when not needed. Also, you can print it out, share it online or embed it on your website or blog using responsive code.
Moreover online booking systems like KRIYA help you manage clients, classes, teachers, subscriptions, class cards, events and precisely schedule your rooms and teachers and keep track of attendance.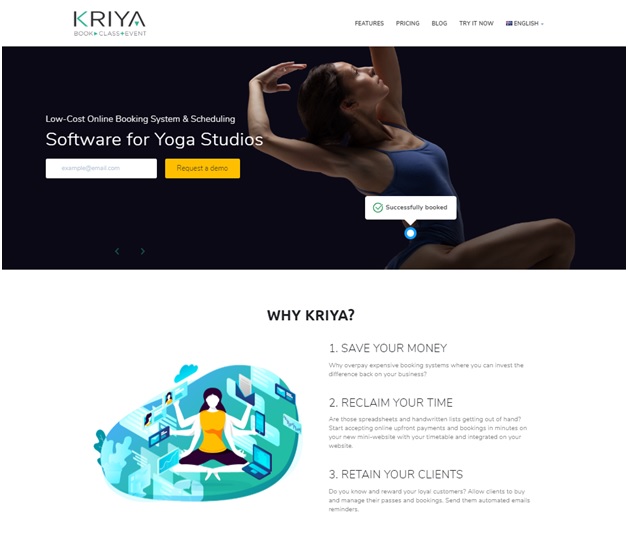 This means to make yoga studio schedule online it makes things easier for yoga studios with convenient interface, where your students see all available instructors in one calendar and then simply choose a time that suits them. You are free to set up the number of students in the class. You are allowed to sending customized notifications, depending on the service, to provide your students with additional instructions, booking or contact info. Also, set automatic reminders before the yoga class, or offer memberships to them. As well as create weekly, monthly and quarterly classes that can be booked at once.
Advantages of using online management software to schedule your classes
As a yoga business owner, you get ample time for other productive work or for your personal life.
You can maximize your yoga schedule strategically with your time and this will increase your revenue and business
You'll be more effective in handling each task thereby increasing your productivity
You'll know week to week what days you're free to pick up classes or schedule a private client
You can manage your finances and bills with more ease and get your financial reports month to month.
How to make a yoga studio schedule?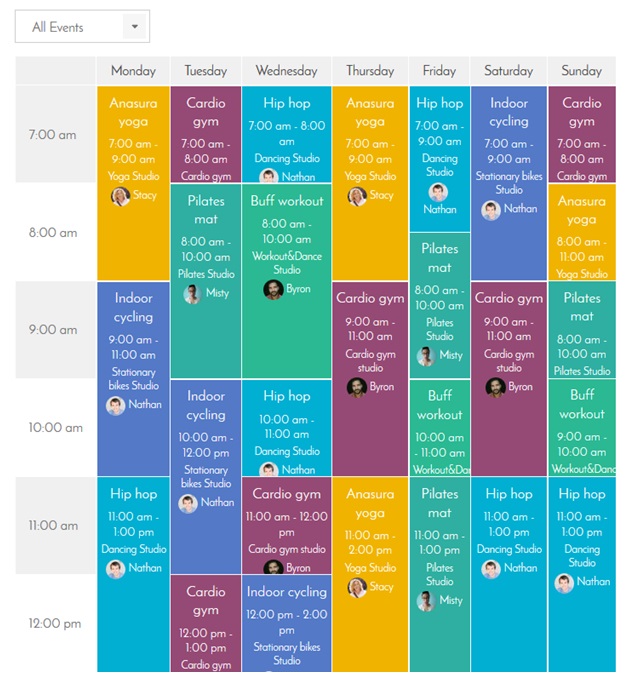 If you are taking a new class for the first time you need to create a yoga schedule as a beginner for students who are new to yoga. You can aim for a class thrice a week or daily if you want with a set duration of time to let your students take easy in learning yoga. The schedule should not make the student take yoga as a difficult subject but learn along taking rest in between and understanding the concept. It is always advised to go slow when teaching yoga.
Then slowly after two months' time, your yoga studio schedule should move ahead to taking more classes weekly, taking at least one day of rest each week so that your client's body feels more energized with a day off.
In the online booking system, you can make a yoga studio schedule either in a grid or list form.
A typical layout or format will have the following information.
Day | Time Class Starts | Time Class End | Name of Class | Name of Yoga Teacher | Sign Up Button
This makes the students look for a schedule or classes on the studio website or app and book their classes.
The schedule might also have the mention if there is a substitute instructor and the specific location if a yoga studio has more than one. Also, your client can click on the name of the teacher to get a bio or the class to get a class description.
You can list this and number them to make things easier in the schedule for your students, for example, Vinyasa Yoga Level 1 Hatha Yoga 1 or Yoga Flow
Also can name specific like Yoga for beginners, Yoga for Newbies, Foundation classes, Basics in meditation so on and so forth.
Many yoga studios go out of their way to welcome new students and even have special rates and sections on their schedule or website for beginners.
Your yoga studio schedule should make your classes clear about everything that a student or client wishes to know before he or she books your class.
Yoga class levels schedules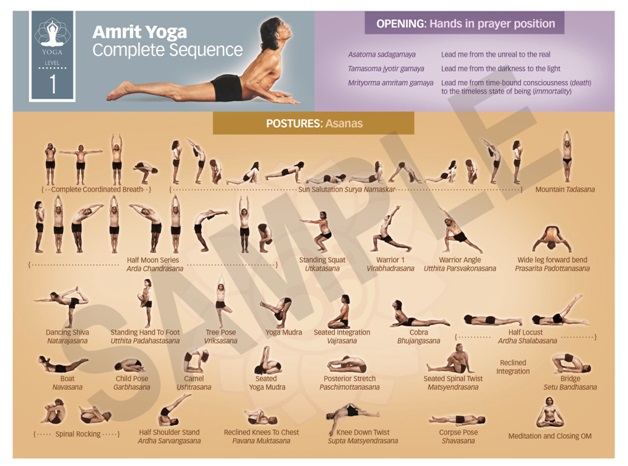 Yoga Classes levels state the experience of the class and are often described as Levels 1, 2 and 3. It's always best to mention the class levels so that your students are not confused and join the right class.
Level 1 schedule: Means beginner, or yoga for newbies or the foundation classes for yoga practice which should go slow but progress effectively. You'll also find students of all skill levels and experience in Level 1 classes because they may prefer that particular time, pace or temperature.
If you cater to all Levels in your schedule then your students should be familiar with some basic form of yoga
If you make a schedule for Vinyasa yoga, then students must know Surya Namaskara or, Sun Salutations.
If you are preparing a schedule for beginner, it's best to have at least fifty classes of that style to cover. Some yoga studios do not distinguish between the levels because they believe you should be able to join any class. It's more helpful, though, to offer a well-conceived Level 1 class to beginners.
Level 2-3 schedule: Obviously this yoga schedule is not for beginners but for students who have at least practiced yoga for a year or so before jing your class. Here your class schedule should have asanas or yoga poses that are more understandable to students
Therefore as a yoga teacher, you have to be able to serve and take care of everyone in your yoga schedule. For the new students, you have to teach what yoga is in an accessible way. Your words need to be simple, clear and easy to follow. Also, you have to be able to offer a challenge and keep it interesting.
Yoga class schedule for beginners should have the following yoga sequence
Sukhasana
Adho Mukha Svanasana
Surya Namaskar
Vrksasana
Utthita Trikonasana
Utthita Parsvakonasana
Dandasana
Paschimottanasana
Baddha Konasana
Upavistha Konasana
Navasana
Salabhasana
Setu Bandha Sarvangasana
Viparita Karani
Reclining Twist
Savasana
Yoga class schedule for Advanced level should have the following yoga sequence
Virasana
Adho Mukha Svanasana
Surya Namaskar
Vrksasana
Utthita Trikonasana
Utthita Parsvakonasana
Ardha Chandrasana
Adho Mukha Vrksasana
Ardha Navasana
Bhujangasana
Salabhasana
Makrasana
Salamba Sarvangasana
Baddha Konasana
Janu Sirsasana
Paschimottanasana
Marichyasana III
Savasana
Remember as a well trained yoga teacher you can make adjustments to your yoga schedule and sequence according to your yoga student needs.
Once your student finds a class description and time that seem reasonable, he or she will click on the class and read more about it. Then before they click to sign for your class they can also click on the teacher bio, know more about him or her based on experience level and book your scheduled class.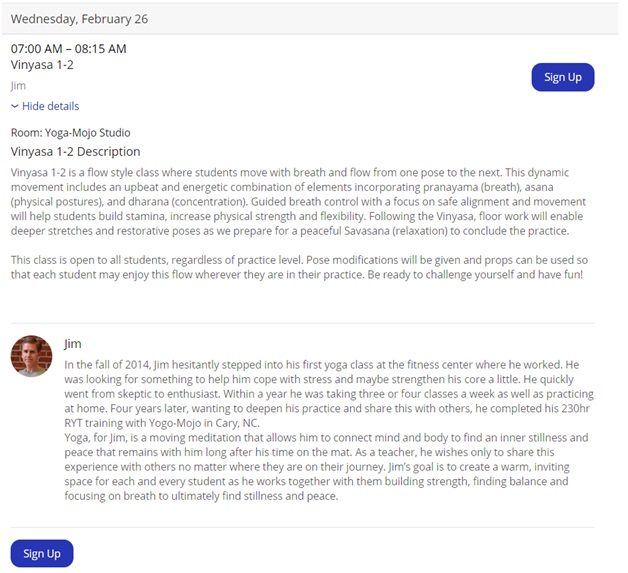 Your calendar at the booking system should provide a visual reminder to yoga practices, be it for Bikram yoga to Vinyasa yoga so that your student finds the best class for him or her that suits his level of yoga knowledge.
Finally, always update your yoga schedule as you need to put your time and get the progress report to manage your schedule and grow your yoga business.