Which Are The Nine Best Yoga Studio Management Software In Australia?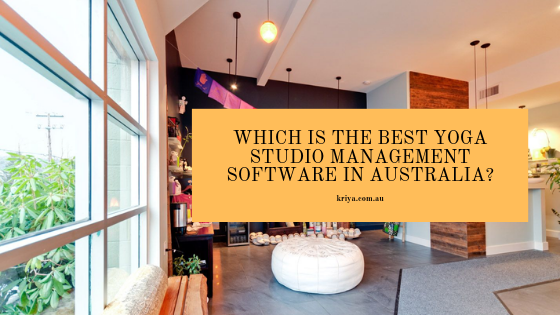 Being a yoga enthusiast and a social person I often visit many yoga studios in India and abroad. One of the small studios that I visited recently had such a wonderful set up of their business. They had a decorative studio as well as were running their yoga business so efficiently. The studio was well managed by an online booking system which helped the staff and teachers were quick and swift with their clients.
Three major benefits of using an online booking system
The yoga studios that are using online booking and management software have many benefits. Here are the three major benefits of using an online booking system
1. You are open to bookings 24.7
This means your studio business is open around the clock. Yoga students or clients. Customers who make a decision to book your class don't want to wait until you are in the studio — they want to lock in the activity on their own schedule. Using an online booking system means that your business is open 24 hours a day, seven days a week.
2. You can maximize timetable and classes
Clients who book yoga classes is more likely to show up, making no-shows a thing of the past.
If a yoga student does need to cancel, the class automatically opens online, giving another student the chance to book it. By maximizing your timetable and classes, you won't leave unused activity spots or classes on the timetable. It also means you won't get caught in a dreaded game of telephone tag.
Also, it's easy to manage your calendar. Online booking systems allow you to check your time table or events and availability wherever you are using any booking device be it mobile or PC. You always know the status of your business, and your schedule can be easily managed from a convenient location.
3. You are instantly paid and get your business insights
With an online booking system, you can require customers to prepay for all yoga classes or yoga activities. After all your business needs to grow with revenue. It also helps you to make sure that on the day of the event you don't have to worry about payment giving you and your customers more time to pay attention to fitness and yoga well being.
An online booking system provides you with a dashboard of analytics that helps you grow your business. You can quickly determine your most popular classes in demand or the most requested time slots, or even the most popular add-ons by using an online booking system with robust insights. Take advantage of knowing what your students want most thereby saving you time and money on offerings that don't help your business grow.
What should you as a studio owner look for in a yoga studio booking and management software?
As a studio owner you should look for the following in the best booking and management software:
1. Budget/Pricing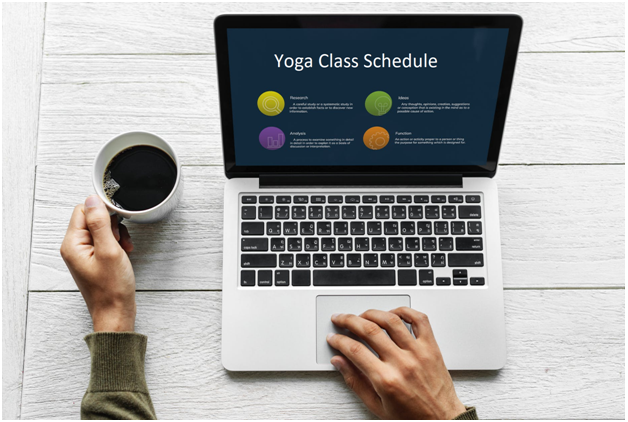 Obviously, as a new startup in your yoga business, you are more concerned about your budget. Therefore you prefer to go for prices that are not too high when you as a studio owner looking for a booking and management software. The online booking systems should also care for your studio and have a budgetable offer for you.
If best yoga studio management software offers you automatically to streamline your business as all operations in one place, it should also offer you affordable pricing with no contracts.
In fact, cost-effectiveness is one important factor when you start a yoga business and good management software should handle the pricing accordingly. The most cost-effective options in the market with plans starting from $25 are considered the best reasonable rates for any yoga management and booking software.
2. Easy to learn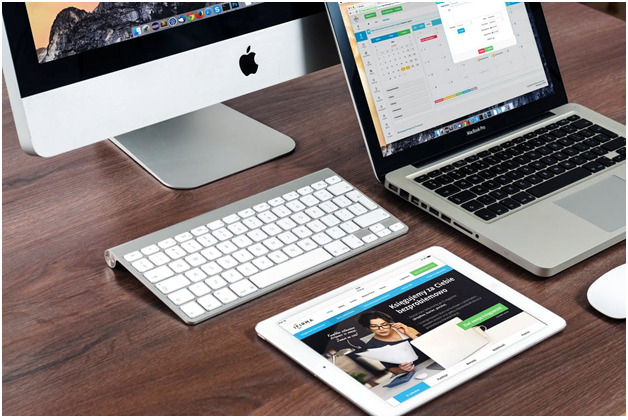 Online booking and management software should be easy to learn. This means the navigation process should be simple and not complex. Even any layman can learn how to use the online booking system is what makes it a better online management software.
Easy navigation is also an important feature to be found in best yoga studio management software, You don't want to waste your time fidgeting with the software and don't know which tab works for what. The navigation of the software should be simply providing a guide to learn how to use it. A video guide is also useful when it comes to a yoga studio owner who is a layman in technicality.
The same goes for yoga students who want to use this software for booking their classes and pay online. You came to use yoga management software to accomplish your marketing needs, manage client retention, analyze your data, rather than spending hours on how to do it. The software should make you aware of the features and options provided in the navigation of the tools in easy and simple language across all devices.
3. Easy to use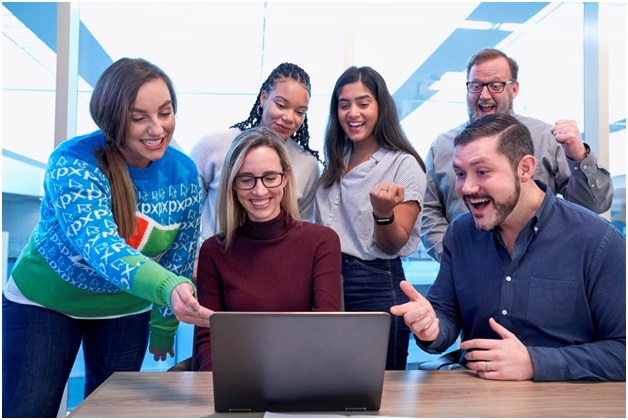 As said above, online booking and management software should also be easy to use. The dashboard of the software should have an easy and simple layout with all the tabs aligned in a systematic way to give you easy access to take your classes, customize your class timetable and calendar the way you want.
4. Processing fees easily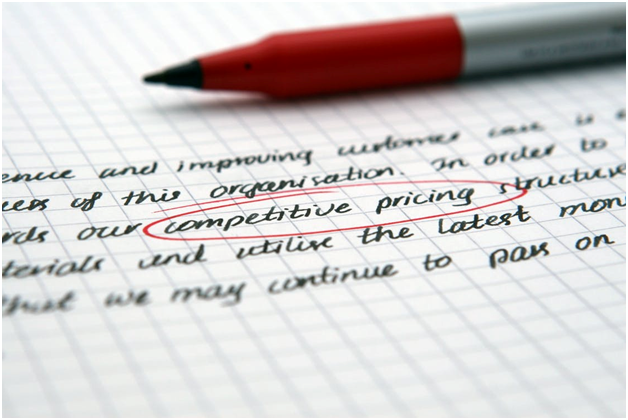 The online booking and management software should offer you friendly modes for processing fees, taking payments for your classes and more. The online transactions should be free from any technical glitches and should work all smooth for you and your students.
support.
5. Offer friendly support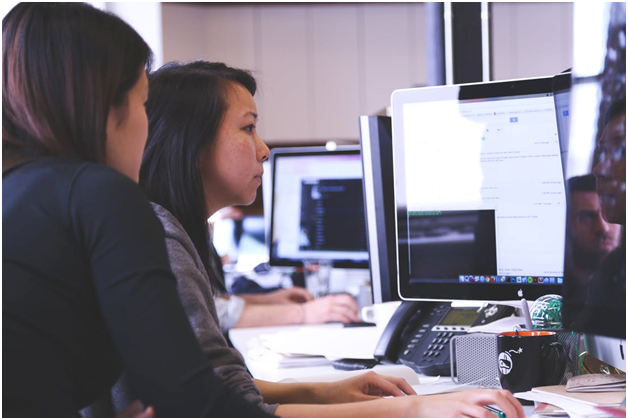 The good and best online booking and management software should offer friendly support 24/7. You have to get access to their email support, live chat or toll free number if possible. Also, the response time should be not too late. In fact, the normal response time for any booking software should be within 24 hours of your contact or within the same day.
Few other features of the best Yoga Studio Management Software
i – Manage Your Yoga Class Schedules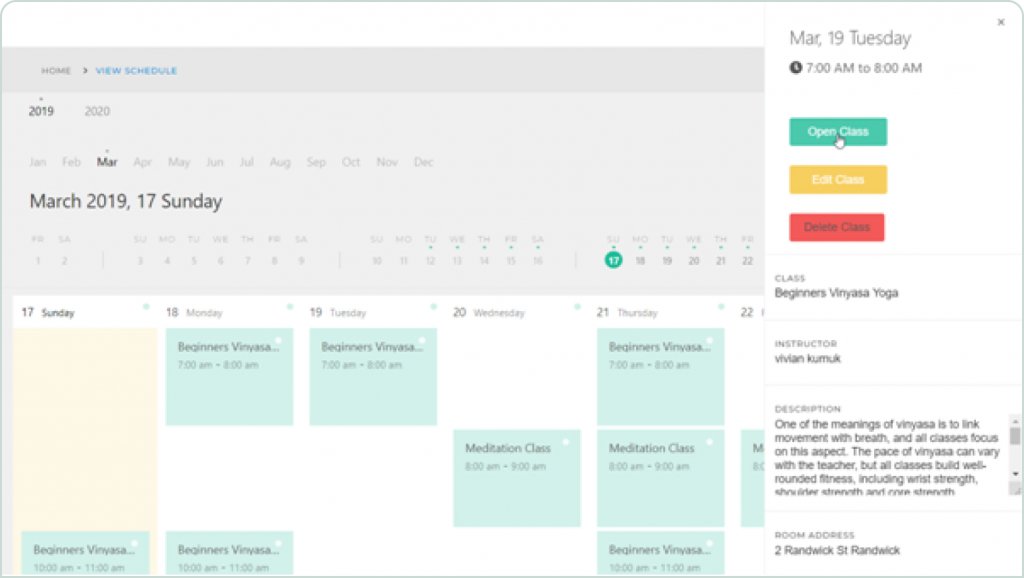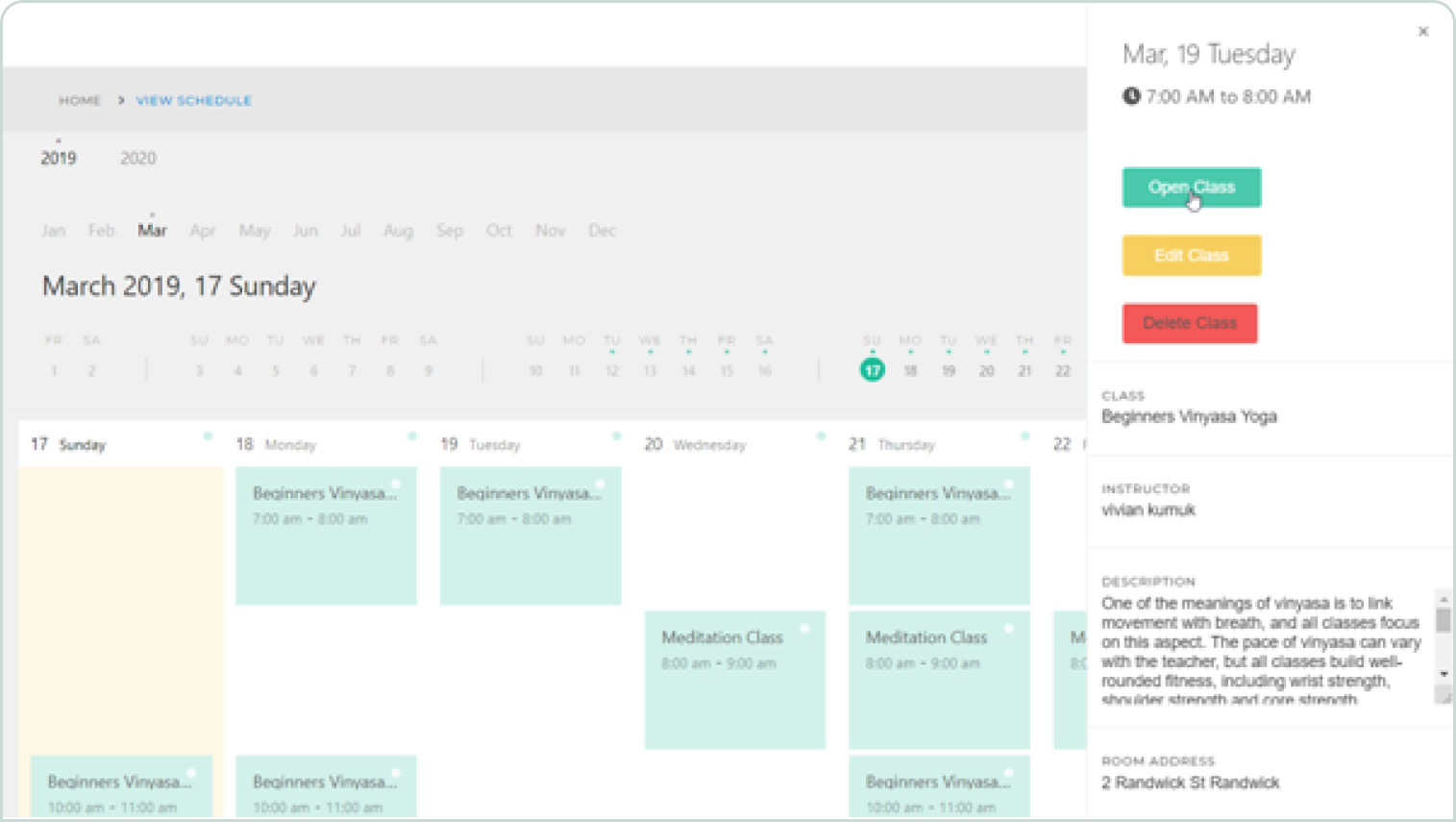 This is the foremost feature that every yoga studio management software should include in their program. You as a yoga studio owner should be able to manage your classes, schedule your yoga sessions according to your timetable, as well as get a safe and reliable payment system.
All these features should be accessible on all of the platforms like the mobile app, PC or Laptop so that this helps manage your business instantly with the click of few taps.
You can then easily schedule and cancel yoga classes, view students profiles and activity, and manage payments all in one place. When you do this with such tool all that information is automatically updated and synced across all of your accounts and devices, informing you at once of all the changes and updates that have been made.
Also such feature in a best yoga studio management software is even tailored specifically for students where they can manage their own profiles and book or cancel their yoga classes as well as pay accordingly.
ii – Get Automated Yoga Marketing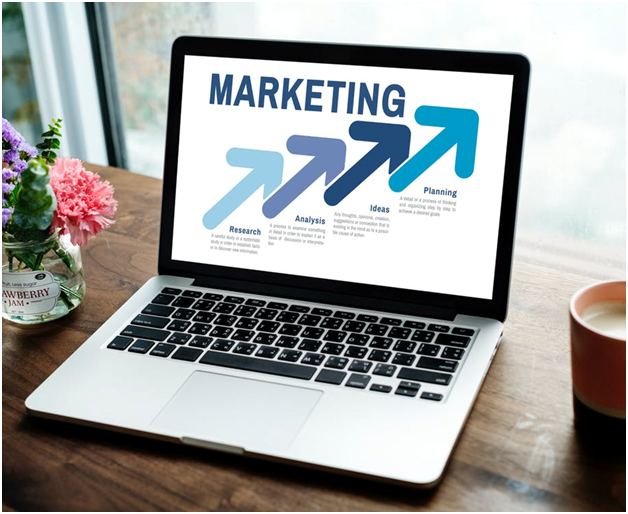 The next important feature in a best yoga studio management software is to get automated yoga marketing. Running a yoga studio is a business after all and you need to do marketing of your service to get more clients. The best yoga studio management software will ideally provide you with automated marketing services. This means you don't have to rush here and there on different platforms or media channels to spread your word but a simple program or software that helps you with marketing all at once place.
You will get to customize your own marketing campaign for your studio's needs with a variety of options. Many yoga studio management software and booking systems even offer custom email template so that you can easily write and send your marketing or sponsored emails to new and existing clients. You can even start an online campaign for yoga students and teachers so that they also give you valuable feedback to run your business with more confidence.
This way you can increase your client retention where automatically the yoga management software tool can send push notifications to students and offer them pass or membership choices so that they are motivated to join your studio. Such kind of automated yoga marketing can keep your students engage to your studio.
Some of the other features that make a yoga studio management software the best are online store options, integration with your websites, cloud computing and many more.
The Top Nine Best Yoga Studio Management Software In Australia
Here are the top nine best yoga studio management software in Australia to compare and then understand which of the Yoga management and booking system works best for you.
1. Acuity Scheduling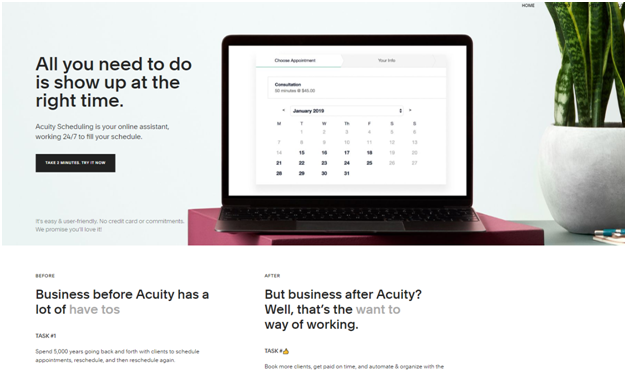 Advantages: Acuity scheduling is easy to use software that offers good interface and is available on a variety of platforms. Is user friendly where you can even sync with Multiple Calendars, Creating Multiple "Groups," & Email Reminders. It also has syncing Feature for Quick support service and offers unlimited customer intake form customization with customer support.
Disadvantages: The main disadvantage with this software is that it offers no weekend support. Also the free subscriber options are limited. You will have to pay to get the full service, but you cannot pay to add-on single aspects of a service.
2. Punch pass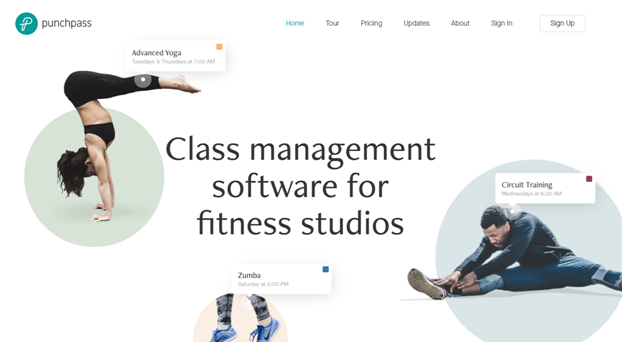 Advantages: This booking system is simple and straight forward to use. Useful more for students as gives totals of passes sold, so helps with the books. Client love that they get emails when they need to make another purchase.
Disadvantages: There are less of features like there is no reporting dashboard. Customer service is not friendly.
3. KRIYA Booking System
Advantages: KRIYA booking system blends with both Yoga teachers and Yoga Students and make it beneficial as a business and as a service. It offers the most advanced marketing tools at the lowest cost. Software and bookings are easy to navigate saving your time. Best to add special events, retreats and workshops and customize the way you want with full freedom. You can use a wide range of payment gateways like Stripe. Also very low cost where you pay only for what you use, when you use it. Moreover best for local and small yoga studios specifically for Australia yoga studios.
Disadvantages: Is new booking software and yet to build trust among yoga studios.
4. Mindbody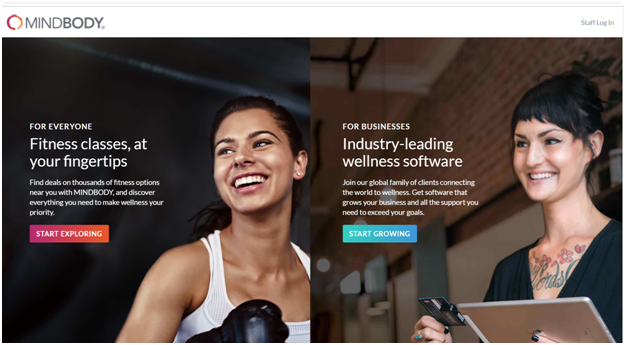 Advantages: Is reliable because of its popularity. Their app works well even with reports. Is dynamic in design and is quite adaptable. You can easily make appointments scheduling, email confirmations and get easy access.
Disadvantages: Is quite costly , over priced and not all effective to new and small yoga studios. On the app for students/clients, the "Explore" feature is less intuitive than it used to be. Processing times are never the same and even contact integration is not accurate. Customer service is worst. Inability to capture credit card info from the client at booking, integration with the website is clunky, high monthly cost, the app doesn't require the client to enter a phone number, SMS alerts to staff are only possible when the client has opted in to also receive SMS appointment notifications.
5. Nabooki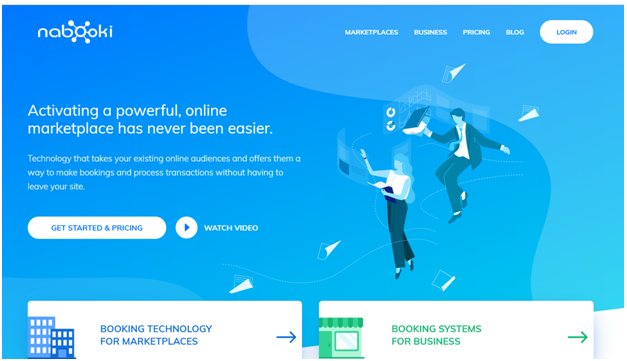 Advantages: Best for medium yoga studios and is easy to use. Also, post-sales customer service is the best also you can customize the booking the way you want.
Disadvantages: Not much time saving when using it with the phone. No display of calendar for customers to select from. Some features have few glitches.
6. Wellness living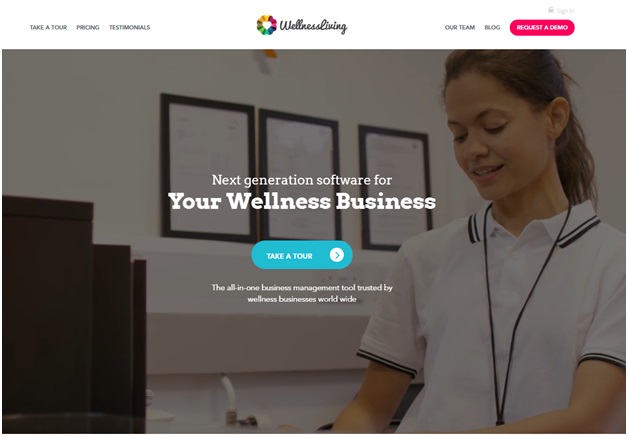 Advantages: This software has so many options, and caters to so many markets. The ability to set sales, share coupons, to do email campaigns is so useful. Navigation is easy and even working on mobile you are able to integrate a lot of the options and this is a great assist.
Disadvantages: The automation of marketing and design is a little short on customization compared to everything else on the site. There were options but there was an expectation or more. The software glitches occasionally making it difficult for yoga students and members to access the schedule which is a huge problem. The app also lacks some important features and override permissions.
7. Bookamat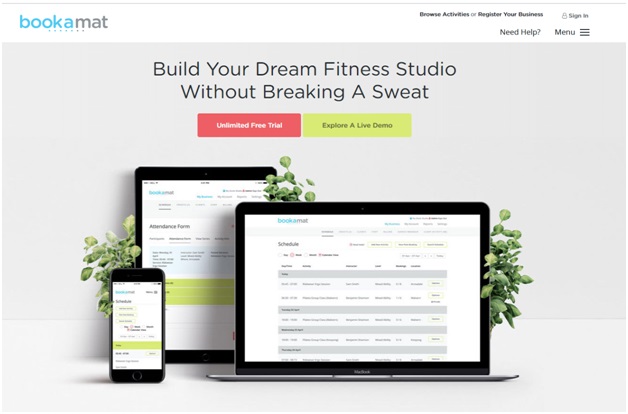 Advantages: Bookamat provides scheduling software for Pilates, Yoga and Fitness studios and freelance instructors. Clients can quickly take responsibility for their schedules and become more compliant. They like the fact that they can manage cancellations, waitlisting or re-scheduling of appointments when it suits them.
Disadvantages: The product is web-based and can use a lot of mobile data. It would be great if it could be offered as an App. The page times out if used over the whole day and requires periodic logging in. This can be a bit frustrating. New clients can find it a little difficult to navigate in the beginning, but soon get used to the format product does not offer much in terms of reporting and accounting functions – although these are apparently in the pipeline.
8. Studio Bookings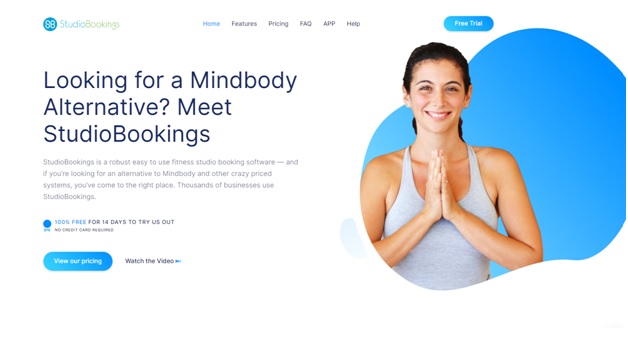 Advantages: The software is easy to use and is quite simple with the basic structure. The customer support is good and the booking software comes with a great and reasonable price.
Disadvantages: As the software offers a basic and simple format it doesn't have much flexibility and has lots of limitations. There is no waitlist in the booking schedule and no capability to track no shows or cancellations. The payment options are not so bad but Paypal options and automatic receipts for students are not working.
9. Momoyoga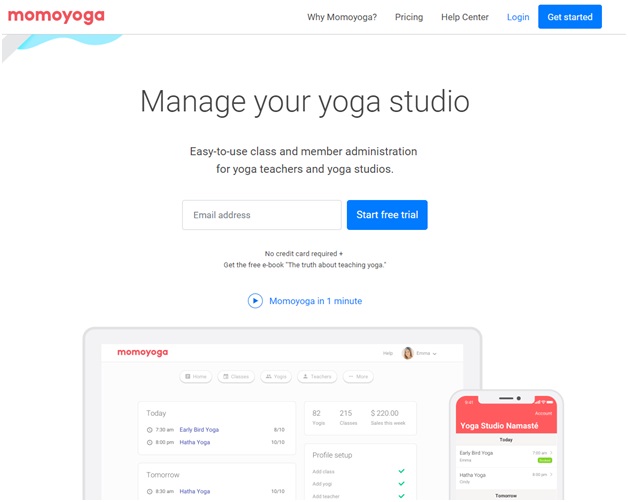 Advantages: This software provides all the functions which a yoga teacher requires without the hefty price tag in order to access the most essential functions.
Disadvantages: There is no administrator app to manage classes. It is awkward to constantly check in class and use a browser to welcome people, sign people up, and set up payments. It is really designed for desktop use and not mobile as students have to buy their class pass on the actual website.
Now after going through the above top booking software, you can decide the best yoga studio management software in Australia that you need for your Yoga studio. Remember that you need to think about your studio needs and then decide which is more effective for you.
Local and small yoga startups need cost-effective booking software and a large yoga studio obviously wants more features, 24. 7 help support and reasonable pricing.
Many yoga studio owners who have been in this business for a long time have switched to many new best yoga studio management software in Australia because they want to stick to their budget as well as have new features. If you still are in doubt then the best way is to get the feedback of the yoga studio owners in Australia who are using such software and they might guide you with the relevant information.