Booking System For New Yoga Teachers – A Guide To Start Your Yoga Business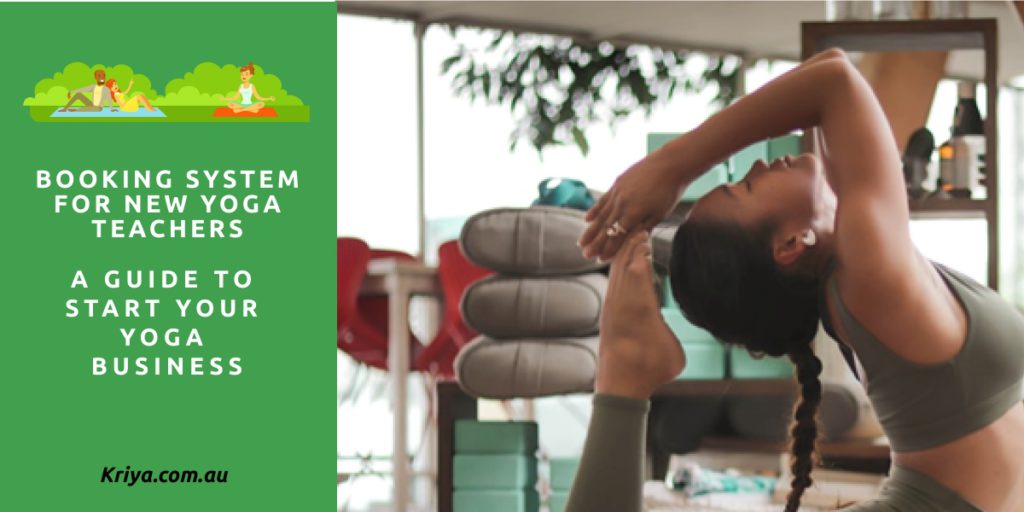 New yoga teachers are excited to start their own yoga business. I met a few new yoga teachers recently who are eager to take their yoga classes and looking for their own yoga space. Starting your yoga business is not a hefty task if you have confidence and trust in you. Also, you need to know the tools and techniques that you might require in growing your yoga business. Here for those new yoga teachers who want their dream project to come true will find a complete guide to start your yoga business.
1. Get Certified with a reputable Yoga Teacher Training (YTT)
Before you become a yoga teacher you need to be trained in this field. This is the first step for anyone who wants to become a yoga teacher.
To teach yoga in Australia first you will need to complete a 200/500 Hour Yoga Teacher Training from any RYS (registered yoga school). There are course options that are accredited with many yoga schools like Yoga Alliance and Yoga Australia, which will give you the certification to teach.
For those aspiring teachers who want to explore deep in yoga specially if they want to teach meditation or spiritual practices or even Hatha Yoga, Iyengar Yoga, Vinayasa Yoga also can take a step further to go to the roots of Yoga and venture to India to experience this greatest knowledge of the ancient times.
Here Are Best Recommendations For 500 YTT Or 200 YTT For New Teachers in Australia
2. Get Insurance
Now that you are trained in your subject and want to start your yoga business, the important concern is how you will protect yourself. Suppose any untoward incident happens while taking a yoga class or you incur a loss in business you need coverage and protection for yourself and your business. Even if you are taking an online yoga class or live streaming a yoga class, you need insurance.
What insurance you need?
You need a professional Indemnity Insurance. All Yoga professionals need to ensure they are protected against unfounded allegations as well as breaches of professional duty. A Professional Indemnity insurance policy safeguards you and your business by providing cover against such claims, including the cost of defending the action so you can conduct your business with the confidence that both your assets and your reputation are protected.
Infact a general liability insurance will also protect you against any third-party claims for injury or property damage, a professional liability insurance will protect you against any claims that your instruction or posture correction resulted in injury.
Find here what is covered in a professional indemnity insurance.
If you are teaching yoga online then you need a Social Media and Cyber Liability Insurance. Social Media Liability refers to claims for libel, slander, harassment, invasions of privacy, violations of intellectual property rights, and even improper employment practices resulting from the use of social media sites, including Facebook, Instagram, Twitter, YouTube, blogs, etc
Click here to find more about Social Media and Cyber Liability Insurance and how to get it.
3. First Aid Training Course Certificate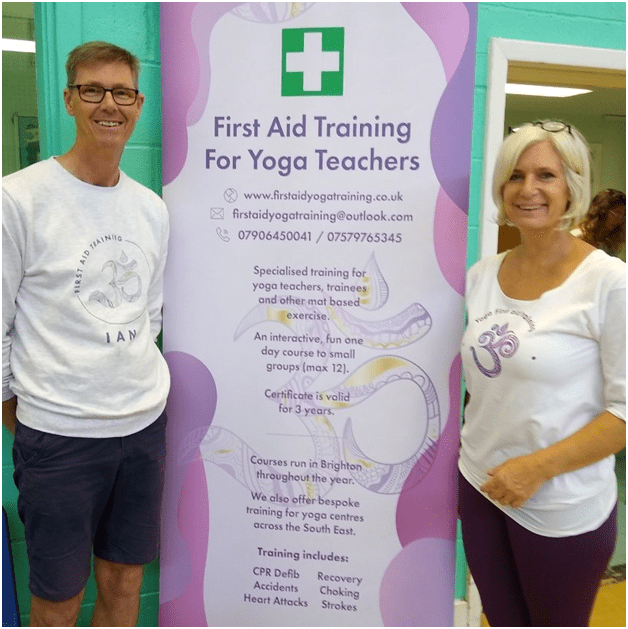 All well going till now, there is another important step as a new yoga teacher to follow before setting up a yoga business. That is First Aid Training Course Certificate.
First Aid training is an essential component for yoga teachers in Australia and a mandatory requirement for all yoga teachers. First Aid Course covers how to deal with accidents and emergencies that may be encountered in a low risk environment.
You need this course to protect your students as well as protect yourself. Training is available from basic CPR to emergency first aid, and first aid training programme that also includes the use of an AED unit, which will give you an introduction to how these lifesaving machines work.
The first aid training course covers Health and safety (first aid) regulations, Managing an incident, Treatment of an unresponsive casualty, Resuscitation (including the use of a defibrillator), Shock, Burns, Seizures, Stroke, Bleeding (including grazes, nose-bleeds and small wounds), Common Yoga Studio injuries and others.
Yoga Institute Australia runs this six hours course. Click here to enroll now.
Also you can book your seat at yoga Australia for this course.
4. Register With Professional Bodies Or Associations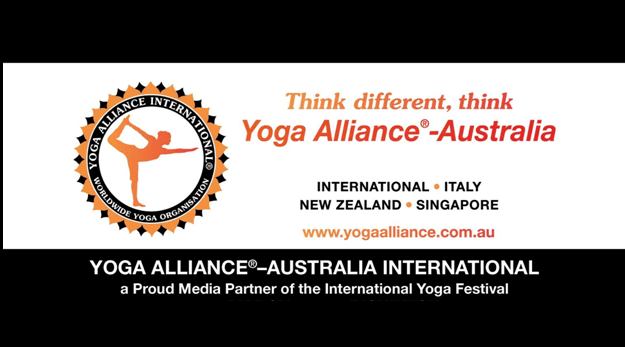 Among other things, you need to register with professional bodies or associations. To become a successful yoga teacher and to grow your business you need to become a member of an association or a group. Such associations are called professional associations that are groups or organizations acting as a peak body or umbrella for professionals working in the same or similar fields.
These associations can define the yoga profession and assist members to further the profession through ongoing learning, quality control and research. They also seek to maintain standards within a profession, provide ongoing professional development to members, and represent the interests of their members to the government and community.
In Australia there are three such famous organizations that you can join:
You can visit these associations online to learn more about an industry or occupation. Services offered to members vary, but they generally provide a forum for members working in the same or similar fields to interact with and learn from each other. Even you can find yoga teacher training modules, vacancies, information on professional registration requirements and other such yoga related needs.
5. Booking System For New Yoga Teachers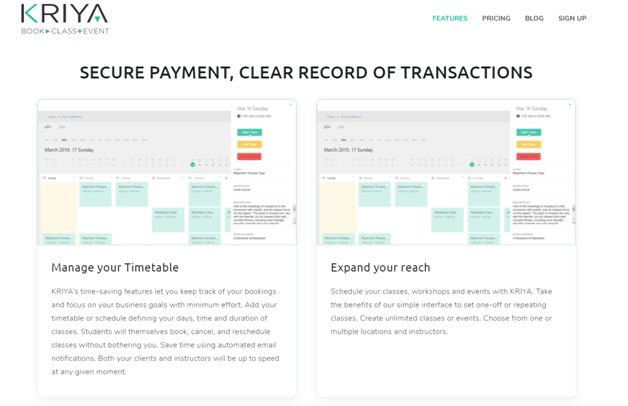 All set now to work as a professional Yoga teacher. Now its time to get students and teach yoga. Yoga classes can be taken at your yoga studio or online classes. The biggest worry about any new yoga business is how to get students to your yoga class or increase your yoga class attendance.
There are many wonderful booking system for new yoga teacher that cater to all your needs for booking students, class timetables, and even marketing your yoga classes or studios. Obviously, as a new yoga teacher, you are worried about your budget as well to start this new business. The best option to get an online booking system is to go for that booking software that is within your budget and offers you constant help and support to grow your yoga business.
The two best yoga booking system for classes at a studio and also online with zoom are KRIYA and Accuity.
KRIYA
Booking system for new yoga teacher is what you need when you're just getting started, it is best to go with the simple and inexpensive way and best is to join the local online booking and management software that is low cost and works in your currency like KRIYA that works best for new studios and new yoga teachers in Australia.
Any small to medium business who runs group classes. KRIYA is the best booking system for new yoga teacher. It is of special benefit to yoga, pilates and dancing studios, fitness and bootcampers and personal trainers.
KRIYA offers simple to use interface, user-friendly, straight-forward installation and menu. KRIYA can be used in combination of Zoom, Skype, Google Meet, YouTube Live or any live stream platform. The unique thing about KRIYA is that it offers awesome customer support. Also helps you to build your own website or landing page on Wix, Squarespace for your students to book classes and take payments all free.
Click here to know more about KRIYA
Accuity
Acuity scheduling is easy to use software that offers good interface and is available on a variety of platforms. Is user friendly where you can even sync with Multiple Calendars, Creating Multiple "Groups," & Email Reminders. It also has syncing Feature for Quick support service and offers unlimited customer intake form customization with customer support.
Click here to know more about Accuity
These booking system for new Yoga Teachers help you lot taking most of your burden in their own hands and make you free to think of expanding your yoga business working professionally.
Finally when you have all prepared to take your first yoga class as a new teacher, have the trust in yourself, be prepared with a yoga sequence, or what you are going to teach, remember to breathe and laugh. Remember that if you are happy with the work that you do, you are a great yoga teacher and a successful yoga businessman/woman.