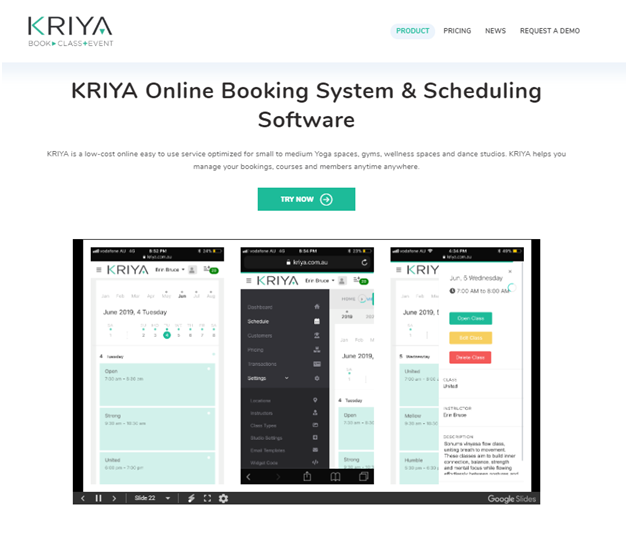 KRIYA Booking System caters to the needs of all types of yoga studios, be it small set up or a large Yoga class. Also our endeavour at KRIYA is that more Yoga teachers and Yoga students get benefit from this Low Cost and Effective booking software. As KRIYA software is tailor made for ambitious yoga business and yoga studios which increases your productivity, helps you save time, manages your studio even on the go, and adds value to your brand. You can find automated class appointments and get reminders via customize emails. Also your communication is made easy as you can send automated SMS Text or Whatsapp Notifications to your customers worldwide.
To see for yourself as how KRIYA works simply sign up for our free trial today.
What you are offered in the Free Trial?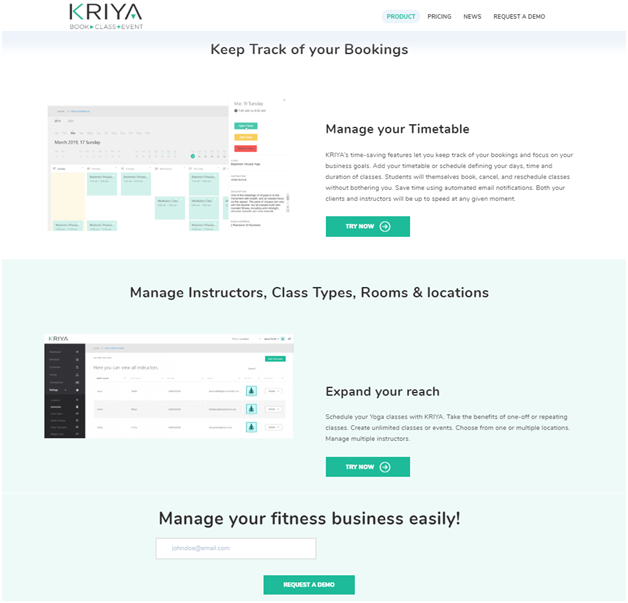 When you sign up with KRIYA Booking System for a Free Trial you get all the benefits and features to use as a premium member. You will be offered the following:
Offered 24/7 Australian local support in case you need any help
1 on 1 holding hands set up
Get access to Unlimited customers and prices
Have Secure online payments
Use Multiple currencies if you want
Your students can book online
Set your Room and classes capacity
You can even display your logo
Create Waiting list for classes or students
Schedule classes and courses
Get Automatic emails
Your studio integrates with Squarespace, Wix, Weebly and WordPress
Customer mobile app
Why to try KRIYA Free Trial?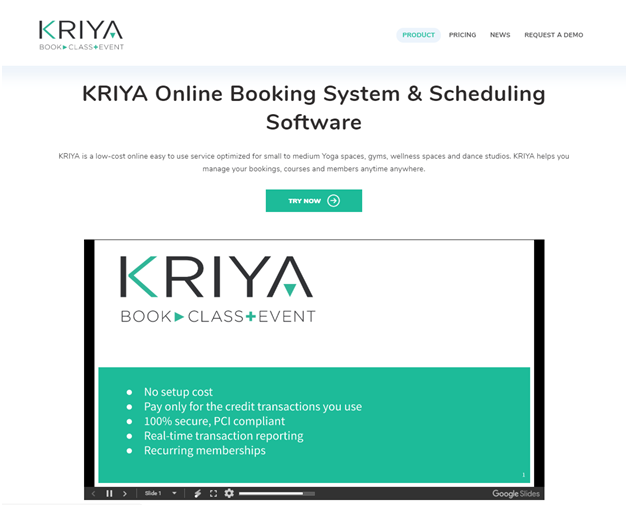 KRIYA Booking System can be used for 15 days in the free trial which is just awesome. Because other booking sites only allow you 14 day or 7 day free trial.
Besides you get more bookings for your yoga studio in the free trial as your students can easily book and pay for the 1-to-1 or group services that you offer. This gives you an instant professional image and lets students book from your available classes only. You don't need to now use your phone to call during a class or lose a new student because you were not reachable as KRIYA works 24/7 day and night with customize and automated features.
You can take bookings from anywhere on your booking page or even add "BOOK NOW" buttons to your website, newsletter or email signature.
Using KRIYA for free also means less of admin work and more time to prepare your yoga class. Because
KRIYA Booking System is a management software for your studio as well and can manage multiple staff members, appointments and even rooms from a single calendar, being able to sync with external calendars to stop double bookings. Also at the end of the day you can analyze the performance and growth of your studio to make better decisions on how and what to improve.
Finally remember that Free Trial is only for 15 days at KRIYA which means for a month you can use KRIYA absolutely free without even spending a penny.
How to go for a Free Trial at KRIYA Booking System?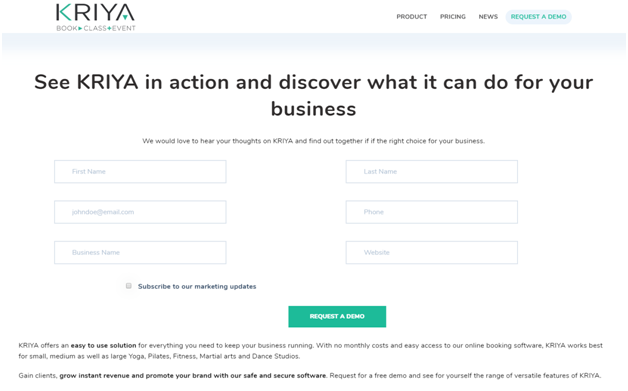 To go for a Free Trial at KRIYA Booking System, you don't have to do anything Simply click on Free Trial Page at KRIYA or click on Try Now here and register yourself one time to get started for a 15 days absolutely free trial at KRIYA.  Also you can click on request a demo to get the free experience.
What happens if your KRIYA Booking System Free Trial expires?
Well, if your Free Trial at KRIYA Booking System expires then you have many options according to your choice and experience at KRIYA:
You can switch to Lean Membership which only costs $5 per month and extend your stay at KRIYA. This works best if you are new yoga studio owner or are just a start up as this plan is for starting or small businesses generating less than $1000 a month in sales. You don't need to worry about any other details as you don't need a website to display your schedule and still set your own prices and membership terms and get real-time transaction report.
The other choice is that you can become a Starter member at $15 per month and avail all the business features of KRIYA for your studio
Then we have a premium membership for $30 per month and moving ahead to a pro plan of $49 per month which is unlimited access to all the KRIYA features and services.
There are various other best offers that will suit any kind of yoga class. You can click here if you want to grab now.
Finally if you don't wish to use KRIYA after your Free Trial Expires, you can opt to leave anytime and make up your mind for future contact with us.
You can contact us anytime from anywhere by email info@kriya.com.au or call +61 410710180.