Best Yoga And Meditation Retreats In NSW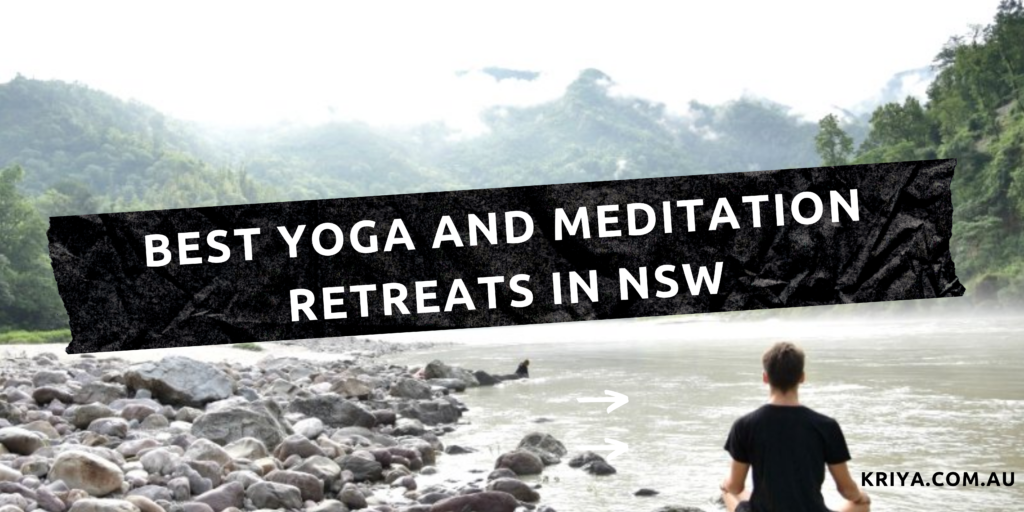 Best yoga and meditation retreats rejuvenate your mind and body. You might be enjoying yoga at your studio but travelling to a beautidul natural surrounding and doing yoga with other yoga fans is simply amazing. Yoga retreats not only takes you to visit new places and travel around but also relaxes your body, freshen ups your mind and uplift your soul. Just imagine how calm it would be to leave the busy city life for few days and mediate and do yoga connecting with nature and the creator.
Why Go For A Yoga Retreat?
To be close with nature
Experience the beauty
Do yoga in groups and make friends
Get positive vibes
To learn yoga and meditation
How Much Time Does Yoga Retreat Last?
Yoga retreats can be for a day or multiple days or only on weekends. Also these days yoga retreats are offered online due to COVID 19 restrictions.
Generally, yoga studios offer yoga retreats outside the yoga studio and that can be within the city limits or country limits or to some exotic yoga location like India, Bali, Japan or any other such place.
What Is The Cost Of A Yoga Retreat?
Yoga retreat cost range from $250 – $2000 or even more.
What To Do Before You Go For A Yoga Retreat?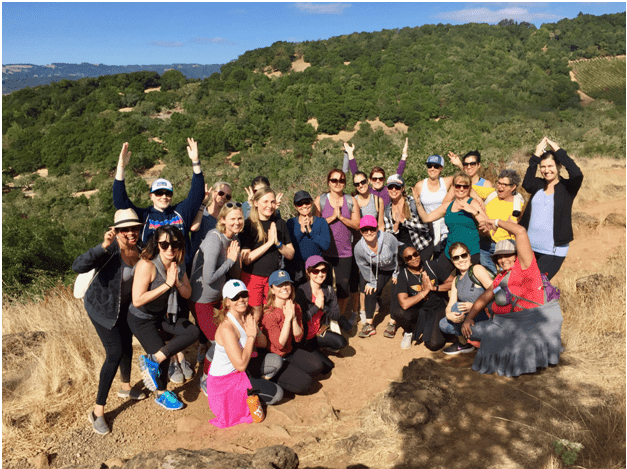 1. Prepare Mentally
Before going to a yoga retreat you need to prepare yourself mentally and understand that though yoga retreats are fun you have to maintain certain discipline. You need to cut off from your daily routine of your hectic life and give your body time to relax and meditate. You should minimize the use of tech gadgets like phones and laptops and be with nature to get the fullest benefit of the environment.
2, Book Yoga Retreat
Next for a yoga retreat you need to book a retreat. Booking yoga retreats can be done online with any affordable booking software like KRIYA. Also as a yoga coach you can use the booking system to book your yoga retreats and get student bookings.
Booking a yoga retreat means confirming accommodation for yourself.
Once your booking is done you need to check the list of things that you need to carry for the retreat like some essential clothing and bedding (if they are not provided).
3. Practice Yoga
If you haven't done yoga before then it is advised that first you to take a yoga class for a few days to familiarize yourself about what you will do in yoga retreat.
As you can expect that at yoga retreat you will do warm up yoga pranayama and various other yoga asanas.
Carry out for yourself comfort clothing as well as yoga mats. Besides doing yoga, you have will enjoy other fun and outdoor activities, yoga food and more.
How To Find The Right Yoga Retreat?
This is an important question and to find the answer you need to do a bit of research. Then ask yourself what you are looking for in a retreat. If you want to learn or do a particular type of yoga-like Kundalini, Hatha or Ashtanga then read the retreat description and details beforehand.
Ensure that the retreat is lead by certified yoga instructors who are prepared to work at your skill level. Some retreats offer yoga classes for all levels, from beginners through to advanced practitioners. When considering a particular retreat, You need to find out about the yoga instructors and their knowledge and experience on hand.
Best Yoga And Meditation Retreats In NSW
If you are looking for best yoga and meditation retreats in NSW then there are hundreds of them. You can find both online and physical venue retreats. These retreats are conducted by load yoga studios of Australia which means the best for Australians to relax and do yoga as well as have fun.
Following are the best yoga and meditation retreats in and around NSW Australia
1. Yoga Retreat Hunter Valley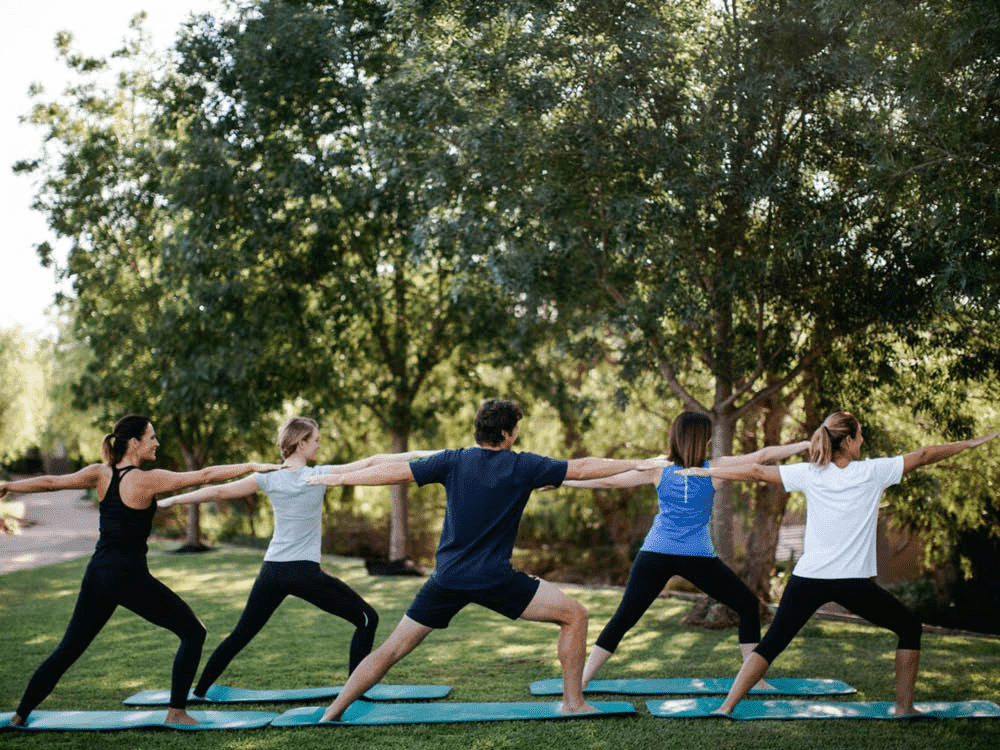 There are many Yoga studios that offer retreat in hunter valley.
The award-winning is Château Élan at The Vintage Hunter Valley and is Australia's finest luxury golf, spa, and conference resort. It is located in the heart of the Hunter Valley and offers luxury hotel-style accommodation, plus six conference and event venues, all in the heart of wine country. The retreat is hosted by Heidi Horne.
What will you find in this retreat:
Daily yoga instruction
Morning meditation class
Local excursions (hiking, running groups)
Daily chef prepared meals
Yoga styles and more
For more yoga retreats in huntervalley click here
2. Byron Bay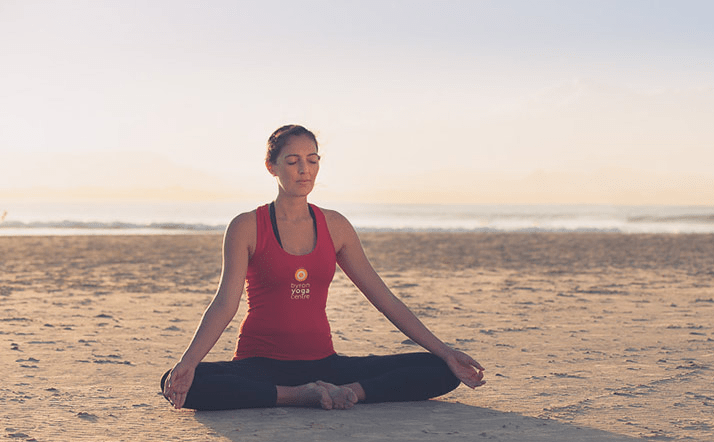 Byron Bay Yoga and Health Retreats are offered by Byron Bay yoga centre. The offer three day to seven day yoga retreat on the outskirts of Byron Bay in Northern NSW.
You will reap maximum benefits from participating in the complete week of retreat sessions and in a whole week of yoga, nourishing food and immersion in nature. All their retreat programs offer the option of up to three yoga classes each day but you can also choose to swim in the pool, walk on the beach or relax and unwind.
What will you find in this retreat:
Early morning flow yoga class suitable for all levels,
A walk to the iconic Byron Bay lighthouse
Yogic meals
Personal treatments plus pool or beach time.
Nnutrition and wellness program
Restorative or Yin Yoga class Their retreats are suitable for yogis of all levels of experience, beginners are welcome. For registered yoga teachers, this retreat can be used as CPD hours for your Yoga Alliance and Yoga Australia annual membership.
2. Otford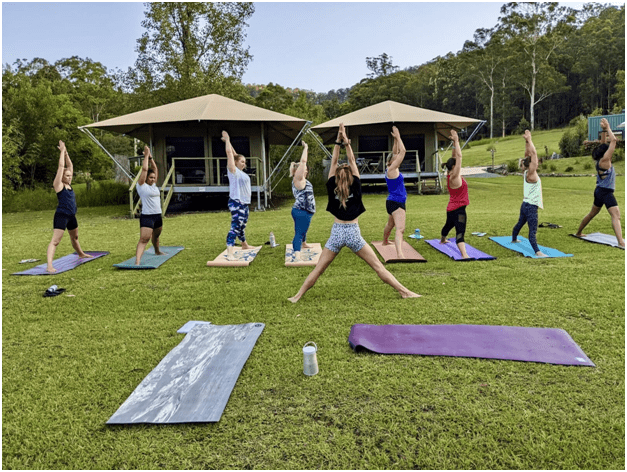 At Ortford you can find few yoga retreats. The popular ones are Heart and Soul Yoga retreat and Govinda Valley Yoga retreat.
What will you find at Heart and Soul Yoga Retreat:
Retreat is every day of the week
Three delicious vegan meals
Two yoga classes
A workshop
Explore the Royal National Park and surrounding beaches
What will you find at Govinda Valley Yoga Retreat:
Daily program of yoga
Inspiring workshops and kirtan
Three nutritious vegan meals per day.
3. Kenthurst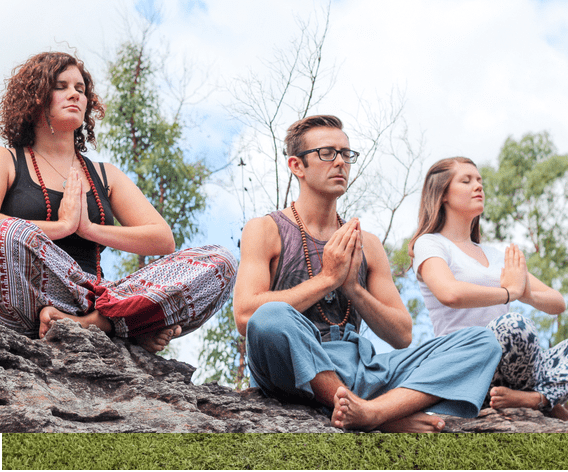 The best yoga retreat at Kenthurst are Swami's yoga retreat, Billabong Retreat and few others.
What will you find at Heart and Swami's Yoga Retreat:
3 daily yoga classes
Practice Therapeutic and Nidra yoga
Free time to enjoy the sauna and spa
Delicious vegetarian meals
3 nights accommodation
Daily herbal tea
What will you find at Billabong Yoga Retreat:
Daily workshops on yoga practices and philosophy
Twice daily general yoga classes and meditation.
4. Wentworth falls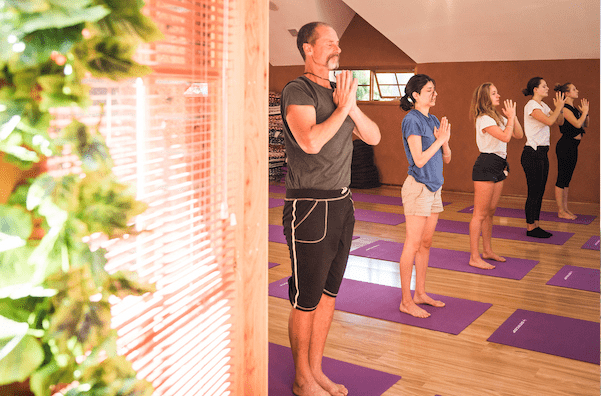 At Wentforth falls you will find popular yoga and meditation retreat called Happy Buddha Retreat.
Their signature retreat centre is located just 90-minutes from Sydney and nestled in the stunning Wentworth Falls landscape. Now offering Inner Joy in Byron every month, and a unique camp-style rhythmic meditation retreat near Newcastle!
What will you find at Happy Buddha Yoga Retreat:
5. Blue Mountains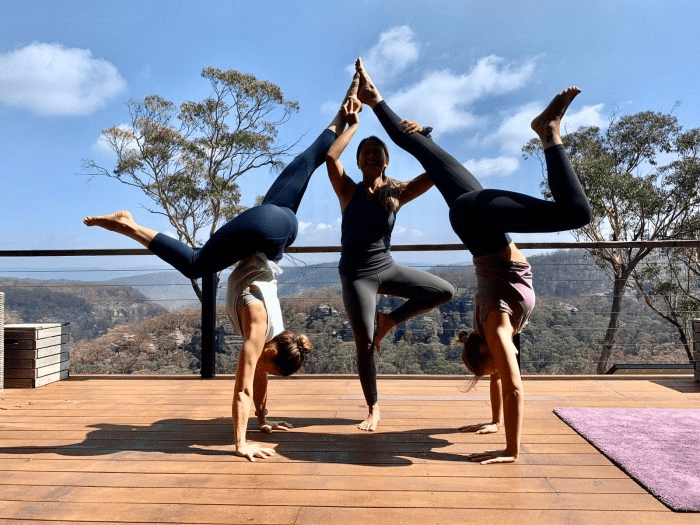 At Bluemountains the popular yoga retreats are Vanam retreat, The Brahm Kumaris, KatClayton and few others.
What will you find at Vanam Yoga Retreat:
Holistic practice of physical, mental, emotional and spiritual well-being.
Delicious and nutritious meals prepared with fresh seasonal produce from their own garden and orchard.
You can explore local trails with breathtaking vistas around Mount Victoria.
Local National Park trails for walks of all levels.
What will you find at Brahm Kumaris Yoga Retreat:
2 retreats every weekend, and a variety of retreats and programs are held.
Healthcare professionals benefit from Values in Healthcare retreats
The Meditative Gardener retreat
Raja Yoga Meditation courses and meditation sessions which are open to all.
What will you find at Kat Clayton Yoga Retreat:
Spend the weekend 4 days & 3 nights on retreat immersed in daily yoga, meditation, nature, bush-walking with delicious home cooked meals.
Daily yoga, breath-work, meditation and discussions
Workshops to deepen your practice & knowledge of yoga philosophy
Guided bush-walk (optional)
Fresh rain water pool & hot-tub
6. South Coast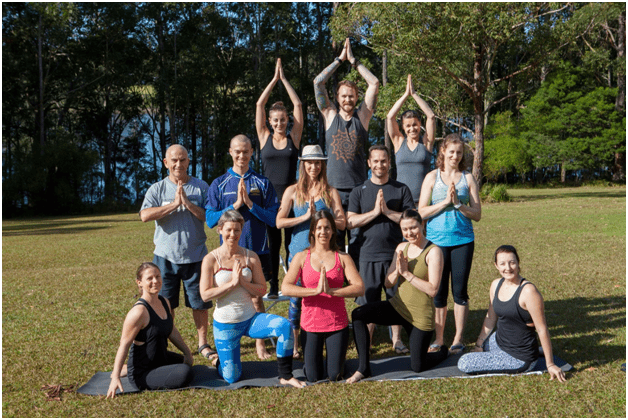 There are many popular yoga and meditation retreats in South Coast. Jamberoo Yoga Retreat, Bawley Bush Retreat, Lis White yoga retreat and others
What will you find at Jamberoo Yoga Retreat:
Jamberoo Yoga Retreat is held in a secluded sanctuary, in the hills of the south coast of New south wales, just footsteps away from the Minnamurra rainforest, and not far from Kiama beach. Jamberoo Yoga retreat is an opportunity to embrace getaway and escape every day life.
Spa & yoga, hotels, meditation and mindfulness classes each day
Wind down and relax with the use of a swimming pool, gym, sauna, in a peaceful nature-filled setting.
Four Yoga classes on offer per day.
You can join a two, three, or four day retreat
What will you find at Bawley Bush Retreat:
This is a popular South Coast venue for Yoga Retreats run by different yoga studios such as Power Yoga Canberra take part in cookig wholesome meals, walked along the pristine South Coast beaches, had a photo shoot and generally the best time ever on.
What will you find at Lis White yoga retreat:
Over 3 days and 3 nights enjoy a holistic program to promote wellness with a balance of pranayama, yoga asana, meditation, rest, nutritional seminars and nourishing food.
Located at the beautiful Seacliff House in Gerringong, NSW. This private sanctuary surrounded by dairy country and ocean views will create the perfect space to relax and spend some time focusing on you.
7. Central Coast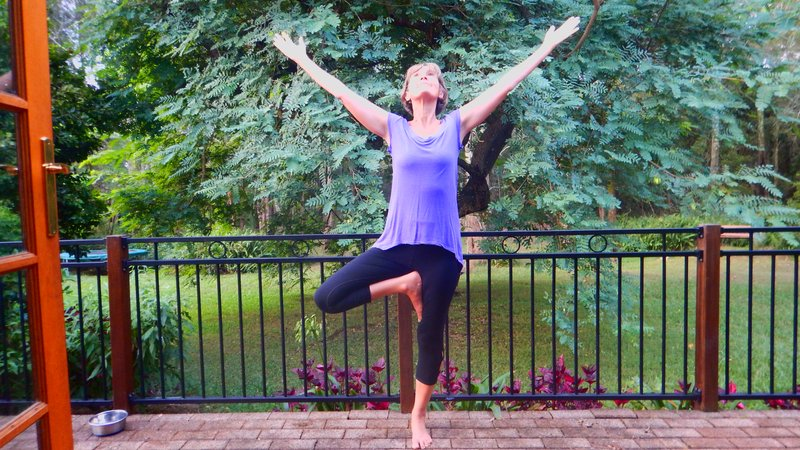 Happy Buddha retreat, Billabong retreat, Learning Circles are popular at Central Coast Australia.
What will you find in Learning Circles yoga retreat:
Yoga Classes
Nutirtious food
Wellness workshop
8. Wollongong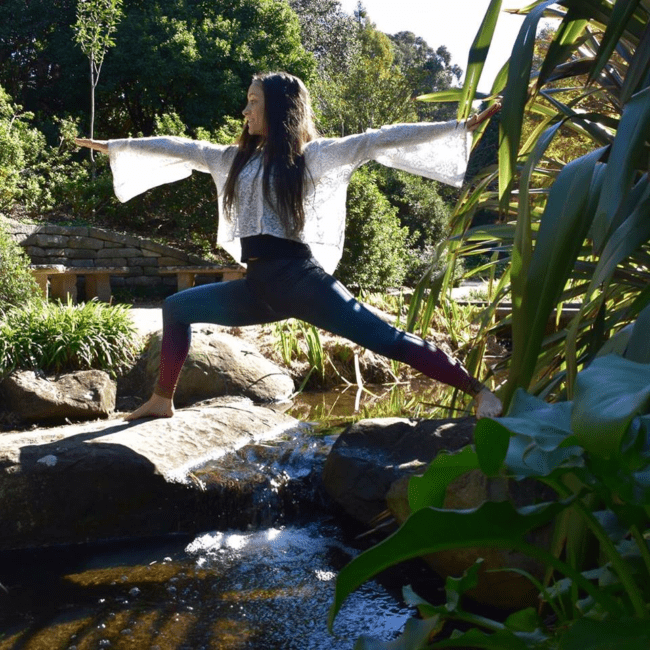 Easily accessible from Sydney International Airport, Wollongong is a mere hour-long train trip away. The popular yoga retreats are Kavah yoga, Vinyasa Yoga Ashtanga yoga and others.
What will you find in Kahvah yoga retreat:
Daily yoga sessions & talks
Kahvah Yoga is located in Keiraville, an inner-city suburb of Wollongong and within the confines of the Illawarra area. This small yoga space offers regular retreats for those who just cannot get enough of the mellow, calming rituals associated with this form of philosophy and physical activity.
What will you find in Ashtanga retreat:
Ashtanga Yoga Wollongong Weekend Retreat
Reconnect and recharge yourself in a relaxing weekend away.
You will enjoy this retreat in beautiful Govinda Valley Retreat, an ideal, peaceful place for retreat.
You will experience Govinda Valley's spiritual kitchen that will serve healthy and delicious vegetarian food, the whole of your stay.
Ashtanga yoga
Daily yoga classes
Asanas and pranayama
Chanting and meditation practices
2 nights' accommodation
Vegetarian meals
COVID 19 Restrictions
Due to ongoing Coronavirus pandemic, many yoga studios are not organizing yoga retreats at oudoors.
Remember due to COVID restrictions, yoga centres and studios will ask you to fill a form and certify that you do not have any Covid symptoms and you have not been in contact with anyone who has any symptoms.
Also that you have not been to any of the COVID-19 case locations on the day and time specified on the NSW Health website: https://www.nsw.gov.au/covid-19/latest-news-and-updates#monitor-for-symptoms-if-youve-been-to-these-locations.
Finally, remember that yoga and meditation retreats are great opportunities to learn something, get to the power of yoga, make new like minded friends and have fun!