KRIYA Mobile App – Search, Book and Pay for Classes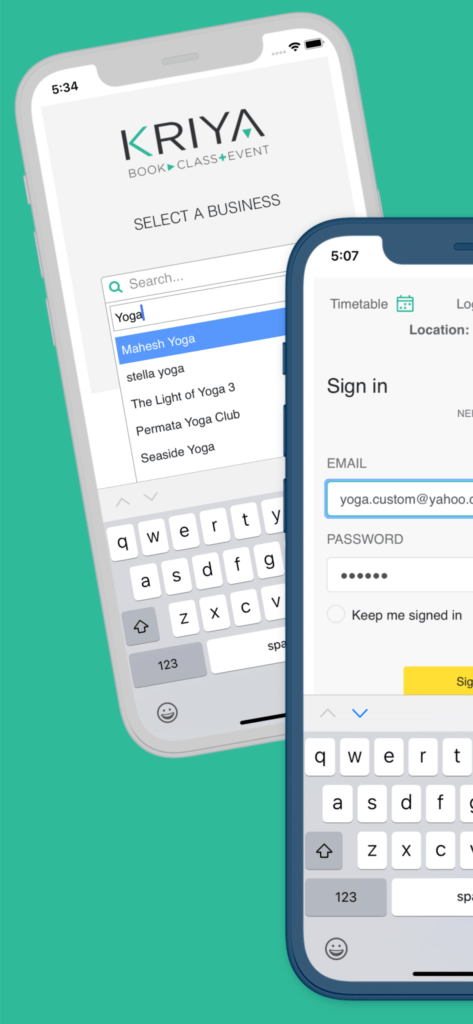 KRIYA Mobile App now is connecting with both yoga teachers and students to book their businesses and classes on the go.
KRIYA Mobile app comes from the KRIYA Online Booking and Scheduling Software, an Australian company that caters to local as well as international Yoga studios, Pilates and Fitness classes, Martial arts, Dance, and Painting classes.
KRIYA is an affordable online easy to use service optimized for small to medium Yoga spaces, gyms, wellness spaces, and dance studios.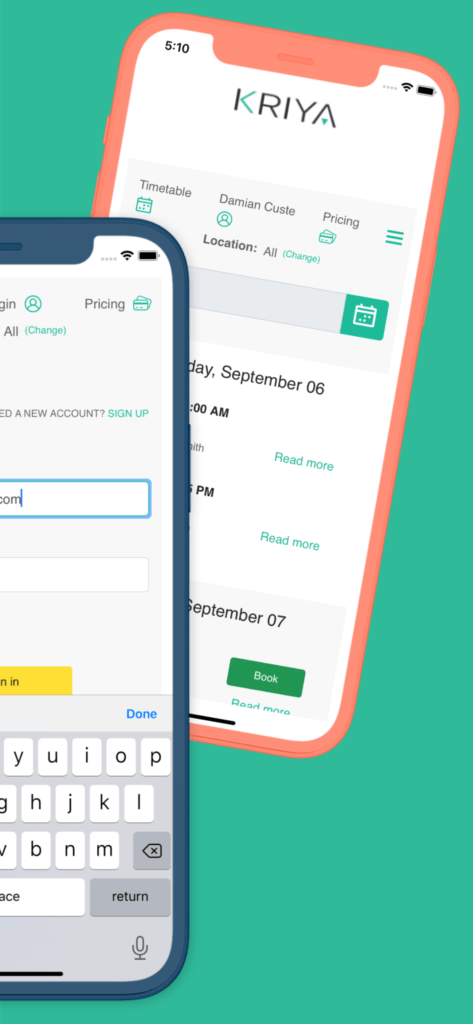 KRIYA is now a brand name among many of the yoga booking systems and is fast becoming popular among yoga teachers and students.
While providing the most easy-to-use customizable online booking services KRIYA has now launched its mobile app for iOS and Android that has been in talks for a long time now.
KRIYA wants to help small yoga and studio owners to grow their businesses and reach their everyday booking goals. Even whether you are a small studio owner or doing a part-time business you can use KRIYA with confidence. You only pay when you use for what you use. In fact, KRIYA helps in promoting small businesses.
With KRIYA mobile app it will be easier for teachers to successfully organize their studios, take bookings and payments with just a single tap on their mobile smartphones. This will save much of their time and help them manage their studio business more efficiently.
KRIYA values both teachers and students and makes the process of booking and payments simpler. The mobile app allows students and clients to find their studio, pay, and book classes. As well as cancel the bookings, check their history and update their personal and payment details.
KRIYA Mobile App Features
User friendly interface for both students and teachers with straight forward installation and menu
You can book the online classes or teach online as the software integrated many live streaming platforms.
You can get SMS Text or Whatsapp Notifications as well as reminders worldwide
Get Upfront Payments and have Real-time transaction report
Get the benefit of weekly fortnight or monthly recurring memberships
Have Real-time transaction report
All your class timetable and schedule is mobile optimized
Customize your own prices and membership terms
Get Partner discount benefits also
With KRIYA mobile app you can now be more approachable and feel relaxed at the end of the day. With no wastage of time, all you need is to download the KRIYA Mobile app and get set go.
Founder of KRIYA online booking and scheduling software Frank Pineiro, says,
After interviewing over 50 local studios in Sydney and working closely with 10 studio owners we built KRIYA with local Yogis in mind. We understand and feel how busy yoga studios and teachers are and how they face day-to-day challenges. We at KRIYA, therefore, want to help small and medium Yoga and Pilate owners to accomplish their goals and have a boost in their revenue.
When you use start using KRIYA you yourself feel the difference and you save your time and money. This is an affordable booking system created for fitness and creative people to do things they want in their own pace and way.
KRIYA also allows integration with your existing calendar if you already have one, so you never have to exit the app to stream through your commitments and appointments of the day.
You can make your bigger goals come true by connecting and handing over multitasking with KRIYA while you increase your productivity.
KRIYA Mobile app will send you to push notifications whenever you get a class booked and when you receive instant payment.
CTO of KRIYA Ashish Depak says,
"It is extremely exciting to launch the KRIYA Mobile app to our yoga teachers and student worldwide and help them make their goals become reality. The small businesses struggle to raise themselves and we provide that nitty gritty of the profession so that they get success in their endeavor. KRIYA mobile app will certainly now make the choice of many to reach out to their prospective clients in seconds of time. Also, KRIYA mobile app will be helpful to those students as well as the community worldwide to stay fit and healthy.
When you join the KRIYA Platform you develop a brand, build your studio, and grow a following. Web and social integrations plus lead management solutions take the pain out of getting leads into your studio and converting first-time users to active loyal members. This means KRIYA empowers you to go beyond just managing your studio to building a loyal yoga community. KRIYA online booking and scheduling software gives you an all-in-one place to manage membership and bundles, book classes and workshops, take payments, and make your tasks easy.
About KRIYA
KRIYA is the brain idea of two young tech guys, Frank and Ashish, who thought to build something extraordinary with low cost for local Yoga Studios or any other Fitness Studios in Sydney. The word KRIYA is a Sanskrit word that means 'to do' and KRIYA software transforms this vision that involves working with the body and the mind giving satisfaction to hundreds of yoga enthusiasts who care about their studio business and their clients. Though KRIYA is made in Sydney, Australia to help local startups KRIYA works for other countries as well. The prices to use KRIYA are set at low cost so that the start-up business have no money constraint.
KRIYA as a booking system offers some of the peculiar features that differentiate it from other studio management systems. KRIYA's few of the functions which shape your business needs into business value are Easy Customization, Affordable and Efficiency, Use of Multiple Currencies, and Constant Evolving. Their help docs are useful for everyone new and old who wish to open their account with KRIYA.
As of now, KRIYA is the fastest growing online booking and scheduling platform with many yoga studios joining daily across Australia and other countries.
Headquartered in Sydney Australia, KRIYA has been awesome customer stories that speak volumes of KRIYA online booking and scheduling software.