How Can I List My Yoga Business Online On Google And Facebook?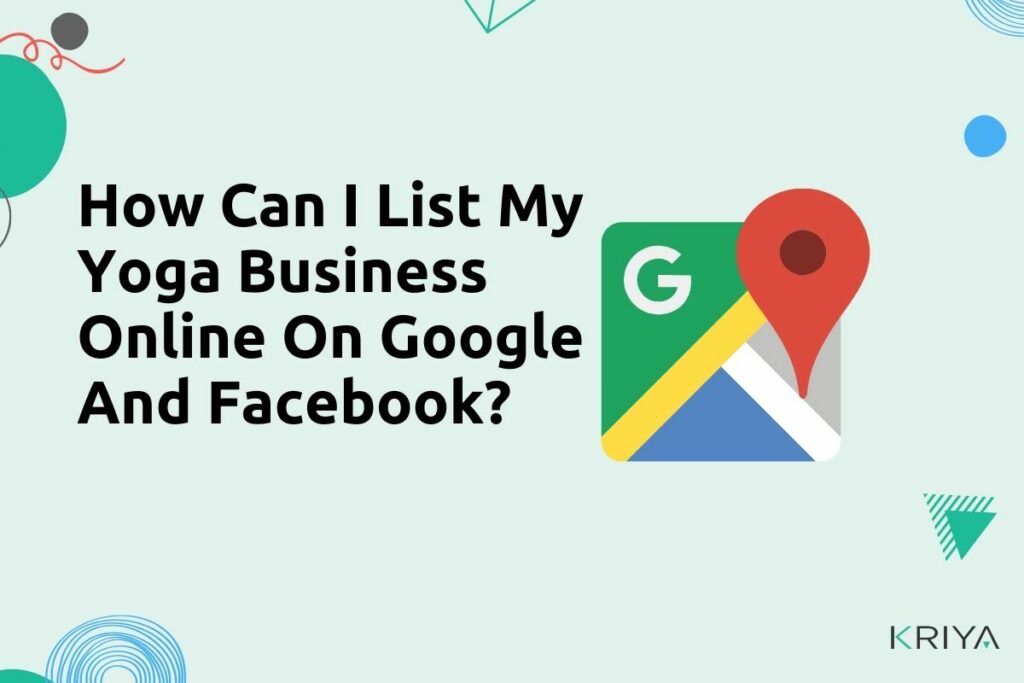 Yoga business needs to be listed online at certain platforms so that your students come to know you when they search on the web for a best yoga studio. Even if you do not own a studio, it's crucial to have your yoga business listing/listed on Google My Business, Facebook Business, Apple Maps, and other local directories online. Besides as you are a accredited and have a license to teach yoga and if you are a member of yoga organizations like Yoga Australia or Yoga Alliance you need to keep your yoga business listing up-to-date.
What is Business Listing?
Business listing is a profile of your yoga studio that is made public. If you remember how earlier people used to list their phone numbers in a telephone directory and now this is done in a digital format. People can easily find your business number, its location and address.
Local studio businesses need listings in order to be found, and students need listings to find yoga services they're looking for. If you want to rank well in local search, your business needs consistent NAP data (name, address, phone number), website, hours, and more across all major listing directories. In the online platform this is essential for search engines to validate them as a credible local business.
The more accurate and consistent data on your listing is about the business across the web, the more search engines will trust the validity of the business. Also the more the search engines trust the business, the higher they will rank in local SERPs (Search Engine Results Page).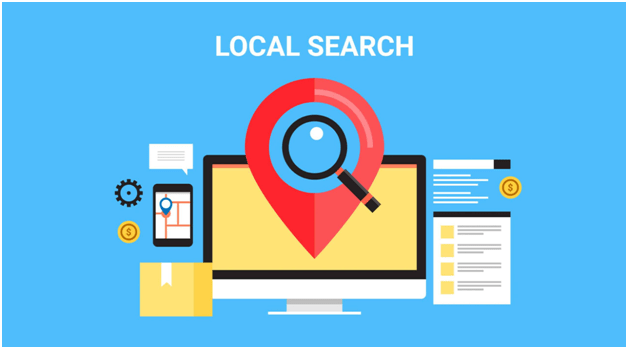 People can easily find your business number, its location and address. These days people also have business reviews listed to their business website or on certain sites where they get reviews. These reviews come from your customers which can be motivating as well help you improve your business if you get critic remarks.
According to Womply research "90% of consumers used the internet to find a local business in the last year, with 33% looking every day." This means, it's important to know what's being said about your business, and it's imperative to control what you can.
Now that you know what is Yoga business listing, you need to know that you have control this listing. So to control the information about your Yoga business listing, that exists online, is by claiming your Yoga business. Claiming your business is merely a process of letting a listing and/or review site know that you own a specific business.
How To Claim Your Yoga Business Listing?
If you have your yoga business listing online but it is not claimed as yours, anyone can enter information on that business. This can be good review or a critic review.
You will find there are thousands of listing and review sites online. So, how do you know which one is to claim your business on?
According to Womply you need to start with the top three to five sites because "businesses that claim their free listings on at least 3 review sites earn 36% more revenue than average [and those] that claim their free listing on at least 4 review sites earn 58% more revenue."
<<12 tips to start your yoga business>>
What Are The Best Yoga Business Listing Sites?
Google/Google Maps
Facebook
Local directories
Due to the amount of use and traffic, the above are the best yoga business listing sites that are a must when it comes to claiming your site.
1. Yoga Business Listing On Google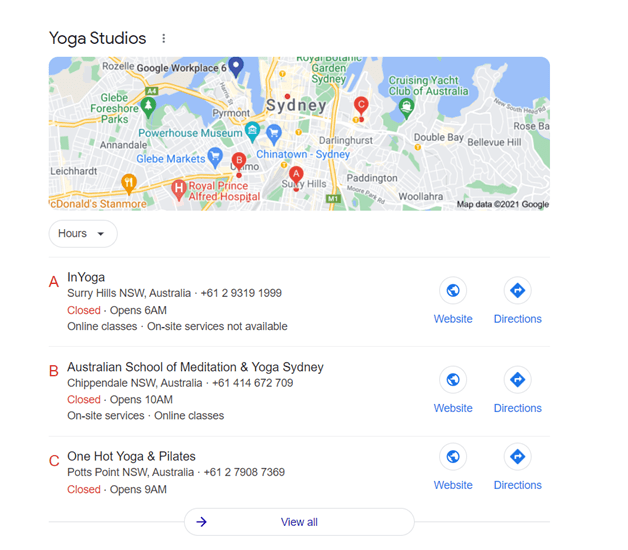 Google processes over 40,000 search queries every second. It is indisputably the most-used search engine in the world, with approximately 90% of the worldwide market. Thus when a potential customer searches for your business on Google, the results are instant. Google is free advertising on the largest search engine in the world.
Here is how to add your studio business on Google
2. Yoga Business Listing On Facebook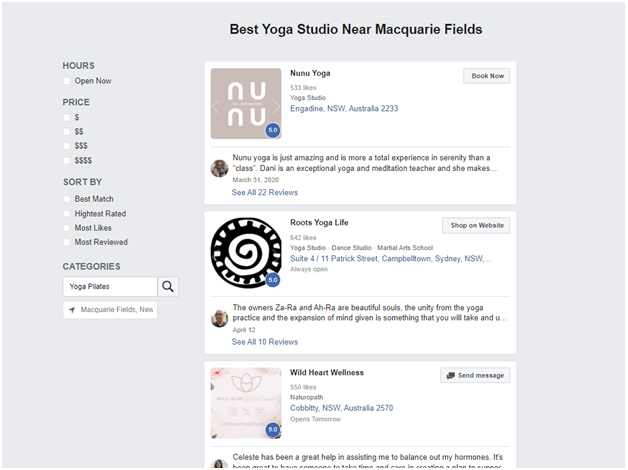 Facebook is the second most-used platform behind Google Business Profile, with approximately 85.57 million average monthly U.S. traffic.
While Facebook is usually thought of as mainly a social site, setting up a business page on Facebook has a lot of benefits. Besides providing a platform where you can connect with your customers, it's also a place where customers can rate your business. In addition to Facebook's review and rating capabilities, when searching for your business online, your Facebook business page always shows up second in the list.
Click here to find how to list your business on Facebook
3. Yoga Business Listing on local directories or global directories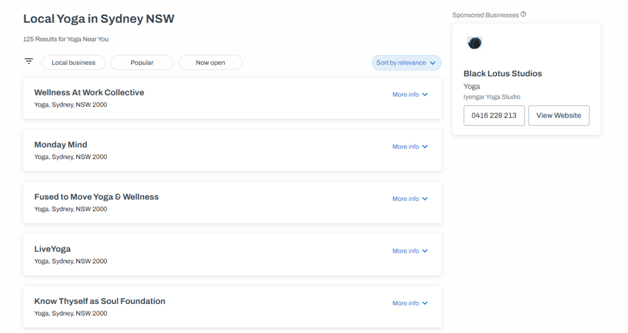 There are many local directories or global online sites to list your business. Some good example are Yelp, Gumtree and Yellow pages
Also you can list on Bing Places, TripAdvisor, Better Business Bureau, CitySearch, DexKnows or Yellowbook.
Click here to list your business on Yellow Page
How To Get Your Yoga Studio On Google Maps?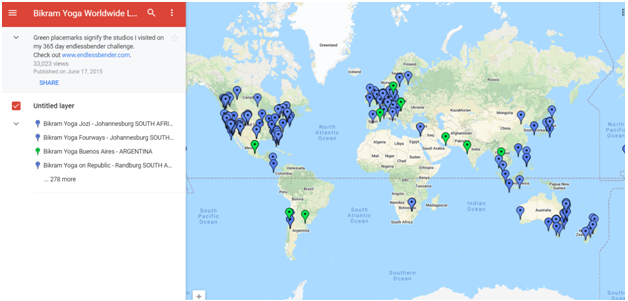 To get your yoga studio on Google maps and be shown at the top of the map results follow these simple steps:
First you need to create a Google account for your business on Gmail. Once you agree to the terms of service, your Google account for your yoga studio will be created and you are now ready to create the listing for your yoga Studio on Google maps.
Now using the business email, create a Google My Business page. To create your Google My Business listing for your yoga studio, head to https://www.google.com/business/, and sign in with the Gmail account credentials created in the previous step. Once you sign in with your account, you will be able to search for your yoga studio. Sometimes, your yoga studio may already have been listed and you just need to claim the listing.
When You first Log Into Google My Business you can find your listed yoga studio. In case you find that your yoga studio has not been listed, you can now create a new listing. Click on "Create a business with this name" and you will be able to start creating a listing for your yoga studio.
Next you need to verify your listing. This is the last step before your yoga studio is listed on Google maps and a business listing is created, is for you to verify your listing. Google will give you the option to receive a code by post. It roughly takes 3-4 weeks for the postcard to reach you. Once you receive the code via post you can go to google.com/verifymybusiness/ and enter the code that you have received. Once you do this your yoga studio will begin to show on google maps, and in other search results on Google.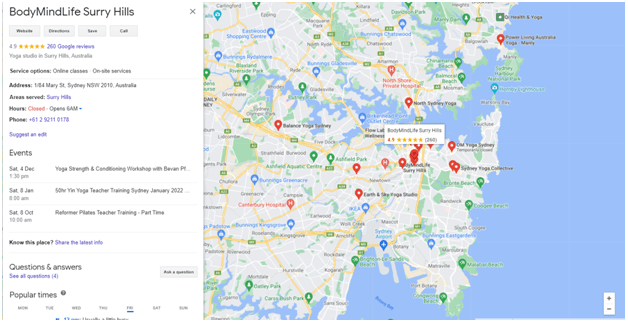 Now your business has been listed on Google and is in a position to show up on Google maps for search queries. You will need to optimize your listing to have it rank high. This you can do by first adding basic information such as opening and closing times. Also upload best of your yoga studio photos or a yoga class. Write a short story of your studio and upload in your Google My Business page.
Also for your yoga studio to rank high on Google maps listings you need to get real, authentic reviews from your members. Now that you have entered the basic information, make sure to update your listing regularly. If you receive reviews from members, you have to respond to the reviews publicly. Keep your opening and closing times updated during holidays and festivals. Update your photos regularly. In a short period of time you will see a significant increase in the number of yoga students to your yoga studio. As this way many new customers will find you easily.
Finally in any of your yoga business listing in Google or Facebook you need to include is studio hours of operation. Also, including your website link will get more traffic to your studio website, and could help improve your ranking on Google. Find here more information on how to list your business and why to list to get a deep insight of what all it is about.