Tula Yoga Software Review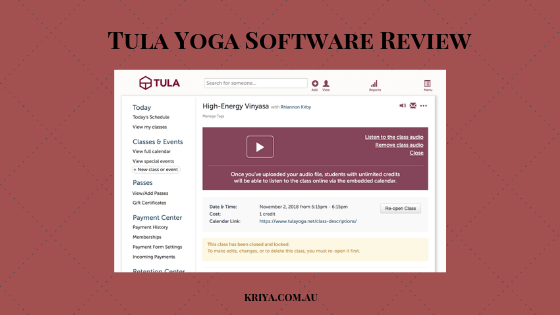 With so many of Yoga Software in the market, often one gets confused as which to select to manage yoga studio. About a decade back, most of the yoga studios talked about Mind Body software. Though Mind body serves about 35 million consumers located in over 130 countries and territories and provides business management software as well as online scheduling platforms for over 58,000 health and wellness businesses globally; but now after about 20 years since its inception, many yoga teachers prefer various other booking systems. The reason its high cost and also many complaints about bad customer service.
While enjoying coffee, this weekend at Café Sydney with few of my best friends who also are yoga teachers, told me about Tula Yoga Software. When I did a bit of research at Reddit, Tula was the best when compared to Mind Body. Digging more about Tula Yoga Software, what I found about this best yoga software is that it is designed specifically for the independent yoga studio owners and has lots of wonderful features.
Tula Yoga Software Review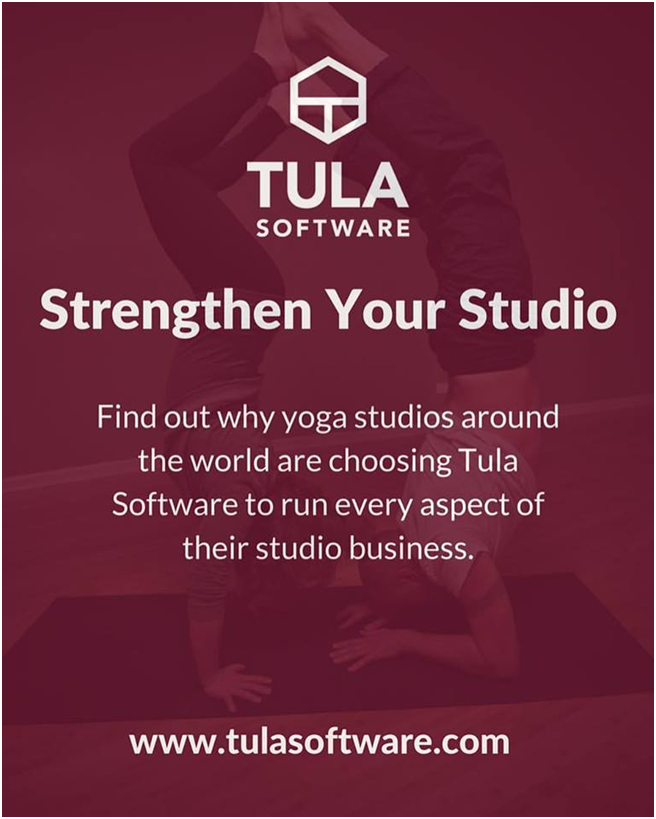 Tula Yoga Software company is based in Chicago in the United States. It was founded in the year 2011 by Andrew Wicklander. Like any other booking software, with Tula, a yoga studio owner can accept payments, manage memberships, share your calendar, handle registrations, track credits and record attendances. Tula has become one of the most trusted platforms in the industry, with over $150 Million in revenue, and over 6,000,000 student attendances, logged on to this platform.
What makes Tula Yoga Software unique are its awesome features: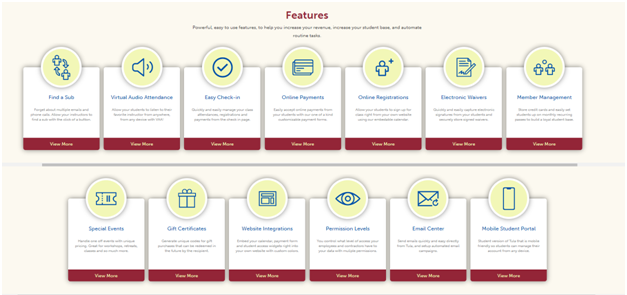 Though Tula yoga software offers common features like Unlimited Instructors, Unlimited Students, Member Management, Payments & Registrations, Workshops & Events, Gift Certificates, Website Widgets and mobile app for yoga studio booking and management, it also offers some unique features.
With Tula Yoga Software your yoga students can listen to their favorite instructor from anywhere, from any device with VAA!
You can quickly and easily capture electronic signatures from your students and securely store signed waivers.
Store credit cards and easily set students up on monthly recurring passes to build a loyal student base.
You control what level of access your Studio employees and contractors have to your data with multiple permissions.
Generate unique codes for gift purchases that can be redeemed in the future by the recipient.
Yoga Studio Owners, Yoga Teachers as well as Yoga Students can have Tula app right on their mobile be it Android or iOS as Tula Yoga Software has its own exclusive mobile app for every user. Each Tula account comes with a unique link that your students can use and save to their mobile device. This makes it easy for them to manage their account, view your studio schedule and purchase passes.
Remember with Tula Yoga Software you can find a sub (yoga teacher substitute) easily whenever you need.
Click here to find the top qualities that will make you a prefect cover yoga teacher.
Tula Yoga Software Pricing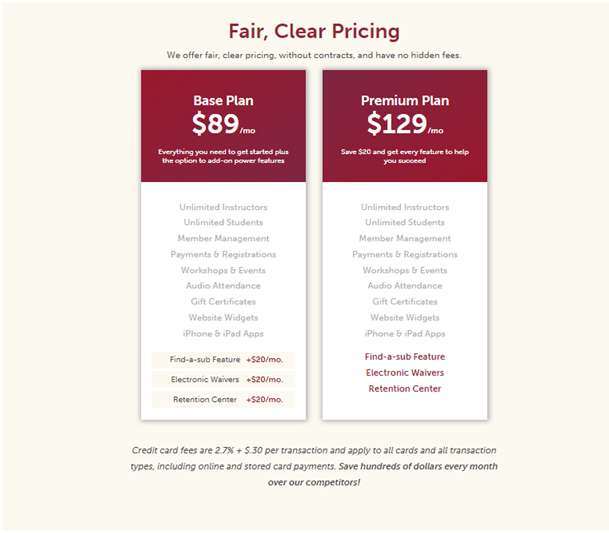 Tula Yoga Software offers fair pricing. There is one Base Plan and one is Premium Plan.
The Base Plan costs $89 per month and this plan offers you the following features
Unlimited Instructors
Unlimited Students
Member Management
Payments & Registrations
Workshops & Events
Audio Attendance
Gift Certificates
Website Widgets
iPhone & iPad Apps
To add more features you need to pay $20 more.
The Premium Plan costs $129 per month and this plan offers all the above features plus you can get sub features, electronic waivers and retention centre.
Credit card fees are 2.7% + $.30 per transaction and apply to all cards and all transaction types, including online and stored card payments and you can save hundreds of dollars every month.
Click here to download the Tula Yoga Software app for iPhone or iPad
Free Trial at Tula Yoga Software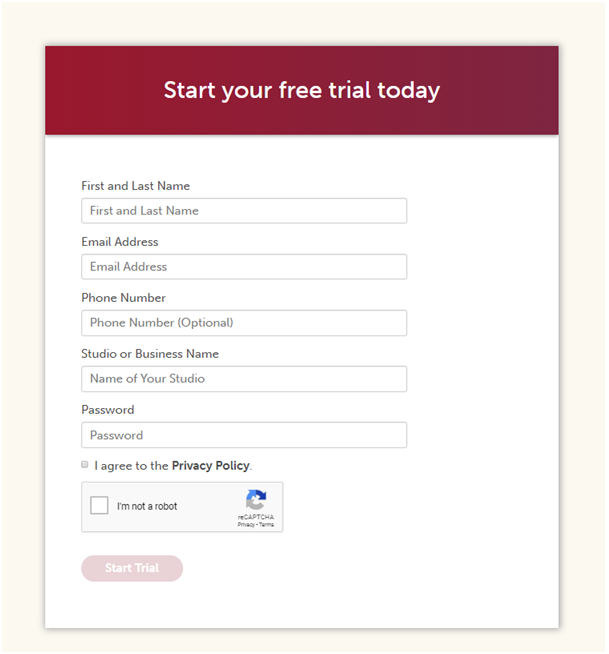 All you need is to type their website URL on your mobile or PC or Tablet and on home page you click on 'Start your Free Trial Today'. There will be a short form which you need to fill giving your First and Last Name, Email Address, Phone number Studio or Yoga Business Name, Set a Password and tick on I agree to the privacy policy and click on Start Trial.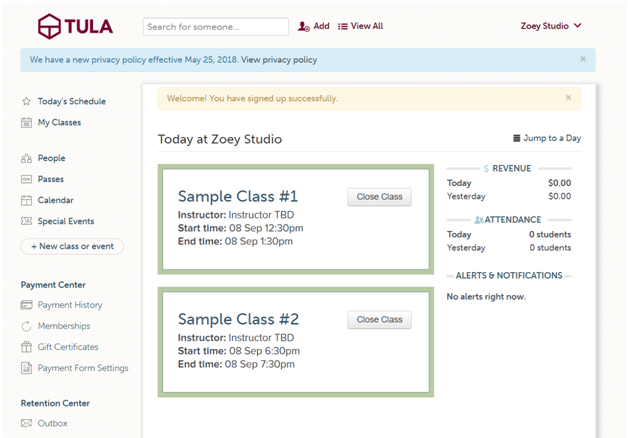 At once you will have your own dashboard to manage your class timetables and studio. You are ready to add your classes or events, optimize your class calendar the way you want. Embedding the calendar widget gives your students the power to view your events and register for any class.
You can set up your Stripe account for payments or sell passes on your website!
Remember that Tula Yoga Software offers only 14 days Free Trial as against KRIYA Booking System that offers 30 days free trial.
Tula has extensive help support documents which are easy to understand and help you use the Tula Yoga Software. Click here to read them here.
Also for more details you can contact Tula Yoga Software support at hello@tulasoftware.com
Tula Yoga Software Vs KRIYA Booking System
After going through Tula Yoga Software review and comparing it with KRIYA Booking System, I found that Tula Yoga Software is well established company and has a tiff competition with Mind Body. Infact according to Windows Report 7 best yoga software to use in 2019, refers Tula Yoga in second best yoga software after Mind Body.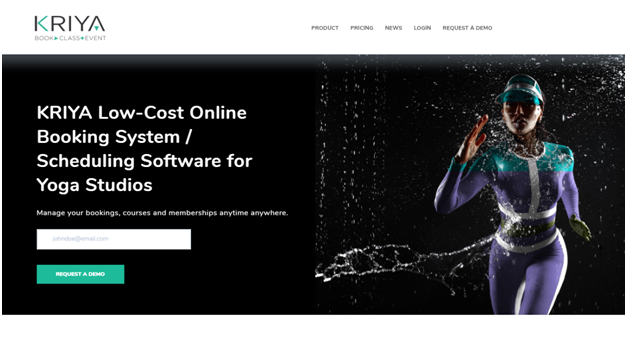 KRIYA on the other hand is a new Yoga Booking Software launched in 2019.
Tula Yoga Software
Tula offers support options like Documentation, Online Support, Phone Support, Video Tutorials
Has deployment in Cloud, SaaS, Web, Mobile-iOS Native.
Basically Caters to US and Canada clients
Offers 14 Days Free Trial
Caters to Independent Yoga studio business owners of all sizes.
KRIYA Booking System
KRIYA on the other hand is a new Booking System.
The goodness of KRIYA is that it is low cost yoga booking software
It offers 30 days free trial.
Basically caters to Australia and New Zealand but is open to any studio on the globe
Not only works for Yoga Studios but also accepts bookings from Pilates, Dance Classes, Fitness Classes, Martial Art and more.
Pricing is very fair and rates are affordable even for a small yoga studio. You can pay $5 per month.
Has deployment in Cloud, SaaS, Web, Mobile-iOS Native.
Click here to find out which is the best yoga studio management software in Australia
Which Yoga booking Software to use?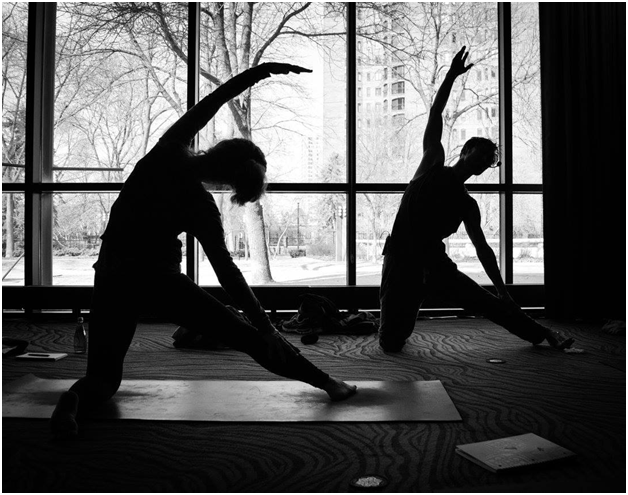 Well, what I believe is to use that yoga booking software that is in your budget, which offers loads of features, has good customer support and quick help service, is optimized the way you want and you can use it easily. You can find the best yoga management software to compare and then make a decision. For a new yoga studio business obviously money is a bit constraint so a yoga software on budget is a boon for new yoga business. Also better compare the features and go for trial before you opt to choose the best one. Good Luck!