Best Sound System For Yoga, Pilates and Fitness Studios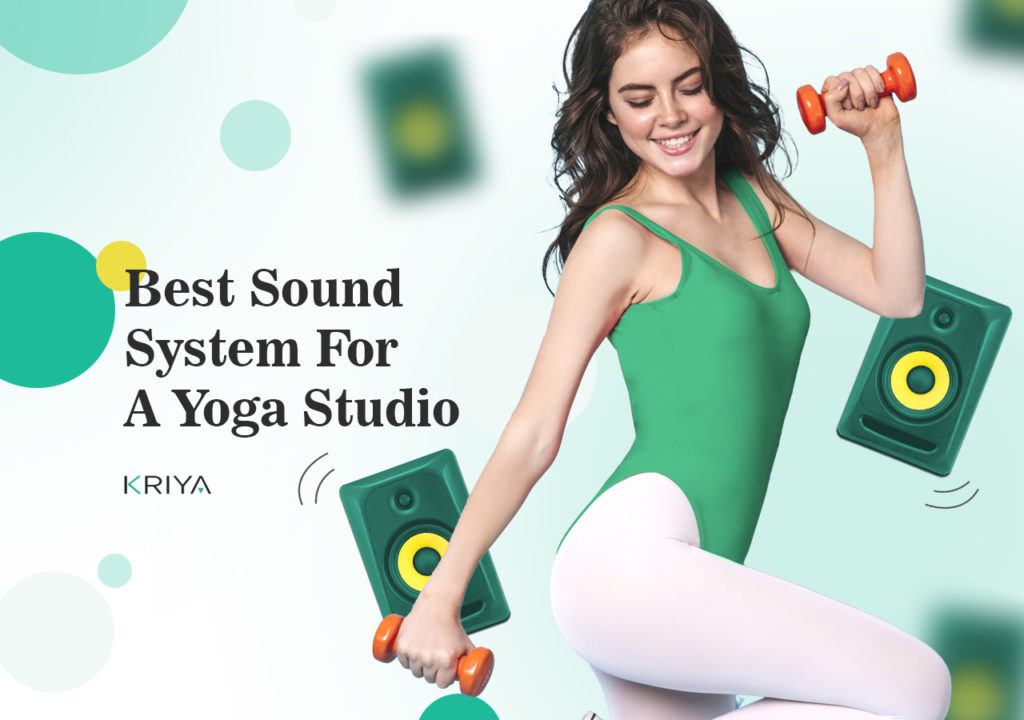 Music is one of the longest standing self prescribed therapy in history." – Erin Seibert, Music therapist
Sound system is the most powerful tool one can find at any best yoga studio. It's not only that sound system is used in yoga studios but even sound or music is an important part of many world religions.
In fact, singing musical notes at churches, temples and mosques has been there to get the best sound in the environment to energize the surroundings and vibrate the air with positive vibes.
This is because sound helps regulate the brain waves and brings about feelings of joy and peace.
Why Need A Sound System In A Yoga Class?
The sound system in a yoga class enhances the subconscious state of mind and aims to put the students in a state of relaxation. When your mind is in a state of rest your body and soul are calmed simultaneously. Many yoga teachers use the traditional methods of the sound system like singing bowls, harmoniums, gongs, string instruments, drums, bamboo flutes, conch shells, cymbals, and many more. All these musical instruments when used reduced your stress level down incredibly fast with long, overtone-rich tones and frequencies.
Om is the most powerful sound mantra chanted three times at the start and at the finish of any yoga session.
Portable Yoga Sound System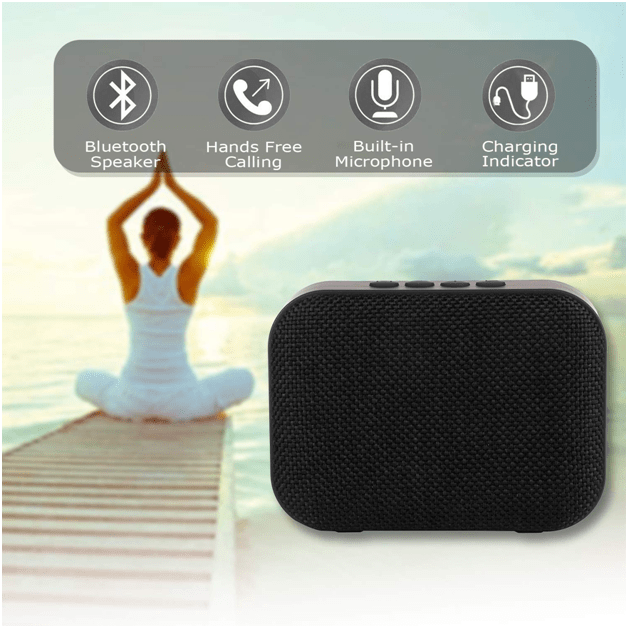 A portable yoga sound system is that where you have everything that you need to be built into the speakers. This means it is a battery-powered, all-in-one sound system with a built-in mixer and amplifier. This is easy to use and set up even for your outdoor yoga class. This means you never have to run countless feet of audio and power cables to power a system outdoors or have to worry about an external mixer and amplifier.
Many of these portable sound systems come with a microphone and a built-in CD or MP3 player or AIR wireless transmitter or receiver. You can buy portable yoga sound systems with or without a jack. Jack can be used to plug in a multitude of external devices, like a smartphone, iPod, laptop, or anything else you can plug headphones into. Portable yoga sound systems can be set up easily in minutes of time assemble or disassemble it making it easy for outdoor yoga classes.
Click here to find the best portable sound systems of 2021.
You can buy it online at Amazon and the price ranges $90 upwards.
Portable Group Fitness Sound System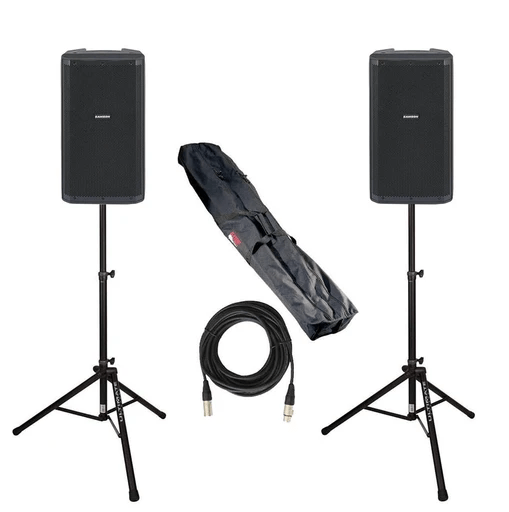 When you are taking a group fitness class or session you have a number of students who want to listen to your instructions clearly. There are many such portable group fitness sound systems designed for fitness professionals that are easy to use, highly portable, and very affordable. You can use a portable group fitness sound system at your online classes that you can stream from your home or use at your fitness club or studio.
A portable group fitness sound system can be purchased online and these are easy to carry and use. You can choose a battery-powered, rechargeable Bluetooth wireless or non-wireless one. Also, there are options to have built-in wireless microphone receivers and multiple inputs for any source of fitness training music sessions.
You can also have a portable group fitness sound system that provides sound levels ranging from the high-output intense gym, or for dance exercise music to light background music for yoga studios.
In many of such sound systems, you can integrate any audio source such as Spotify, Pandora, Fit Radio, Bluetooth devices, MP3, CD players, and TV sound. These systems are pre-configured for portable indoor outdoor and installed fitness facilities.
Also, there are the ones with heavy-duty fitness classes where you want your students to enjoy exceptional audio quality from simple plug-and-play portable workout sound systems to a more sophisticated installed multi-zone audio solution for your workout facility.
With a variety of robust fitness instructor wireless headset microphone systems, many of them are waterproof, sweat-proof with moisture-repellent cartridge headset microphones for the outdoor environments as well. These good suit the indoor, outdoor fitness centers, workout facilities, weight rooms, gyms, aerobics classes, indoor cycling spinning rooms, aqua-aerobics, and more.
You can customize these systems the way you want according to your specific need and budget. The price range starts as low as $30.
Click here to buy it online from Amazon
Surround Sound For Yoga Studio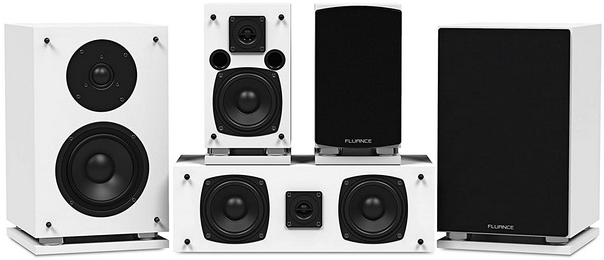 Many yoga studios prefer a surround sound system that enriches the fidelity and depth of sound reproduction by using multiple audio channels from speakers that surround the audience or listeners.
Such surround sound adds one or more channels from loudspeakers to the side or behind the listener that is able to create the sensation of sound coming from any horizontal direction at ground level around your audience.
Surround sound formats vary in reproduction and recording methods, along with the number and positioning of additional channels. The most common surround sound specification, the ITU's 5.1 (International Telcom Union) standard, calls for 6 speakers: Center (C), in front of the listener; Left (L) and Right (R), at angles of 60°; Left Surround (LS) and Right Surround (RS) at angles of 100–120°; and a subwoofer, whose position is not critical.
Surround sound typically has a listener location ) where the audio effects work best and present a fixed or forward perspective of the sound field to the listener at this location. The technique enhances the perception of sound spatialization by exploiting sound localization: a listener's ability to identify the location or origin of a detected sound in direction and distance. This is achieved by using multiple discrete audio channels routed to an array of loudspeakers.
You need to select the right set up of surround sound for your yoga studio or if you are taking classes at home. For that you need to first see the size of your yoga studio and whether you want something wired or wireless.
This type of surround system will surely make a huge difference in your yoga studip and acreates an amazing cinema-like experience.
Note that you will find difficult to get a completely wireless audio system because of the power required to get the best sound output, If you want to hide the wires then use soundbars that can sit underneath a television set or be mounted to the wall, hiding any wires, and accompanying subwoofers often connect wirelessly and that ultimately depends where you wish to place your speakers in your yoga studio or yoga class.
Click here to find affordable surround sound systems
Best Portable Speaker For Yoga Teachers
The best portable speaker for yoga teachers will play any kind of music, podcasts, or audiobooks louder and clearer than the one that comes with your phone or laptop. Here find a few of those best portable speakers for yoga teachers that you can buy online at Amazon.
1. Bose SoundLink Color II: Portable Bluetooth, Wireless Speaker with Microphone- Soft Black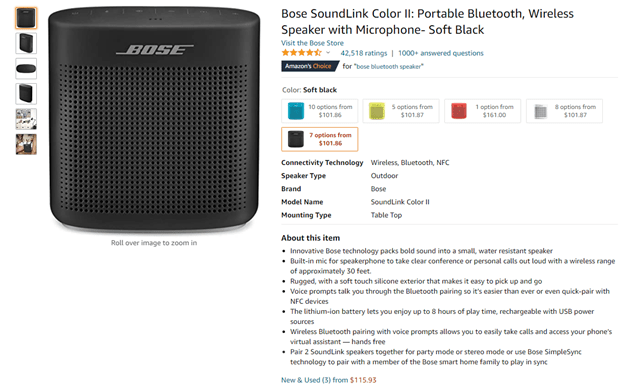 Bose portable speaker is waterproof and is best for perfect-sound-quality music. There is a built-in mic for speakerphone to take clear conference or personal calls out loud with a wireless range of approximately 30 feet. Rugged, with a soft touch silicone exterior that makes it easy to pick up and go Voice prompts talk you through the Bluetooth pairing so it's easier than ever or even quick-pair with NFC devices. The lithium-ion battery lets you enjoy up to 8 hours of play time, rechargeable with USB power sources. This device costs $100.
2. Anker SoundCore Mini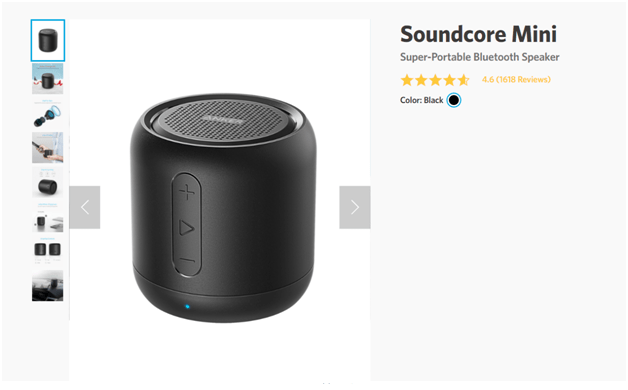 This portable speaker is best for an outdoor fitness class with few students. It's easy to carry wherever you want and the compact Bluetooth speaker delivers awesome sound. The product design is a superior, minimalist design with nothing flashing, but stays functional all around. It even has a rubber footing that helps to keep the speaker in one place. One of the nicest features of this product is that it has an auto-off of about five minutes and is wireless, and the charge lasts quite a few hours. It costs $25 at Amazon.
3. JBL Flip 4 Portable Bluetooth Speaker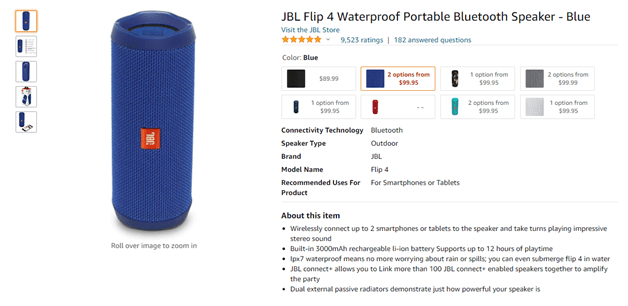 This portable sound speaker is best for indoor and outdoor yoga or fitness class. There's no distortion at high volume. The speaker can be paired with other Flip 4's to give yourself a wireless multiroom sound system. You can set the speakers in different rooms of the house and have music in every room and not have to worry about hearing it just from one speaker.
There are many variations in JBL portable speakers and you can choose according to your need and budget. You can wirelessly connect up to 2 smartphones or tablets to the speaker and take turns playing impressive stereo sound. The built-in 3000mAh rechargeable li-ion battery supports up to 12 hours of playtime. JBL connect+ allows you to Link more than 100 JBL connect+ enabled speakers together to amplify the party
4. OontZ Angle 3 Ultra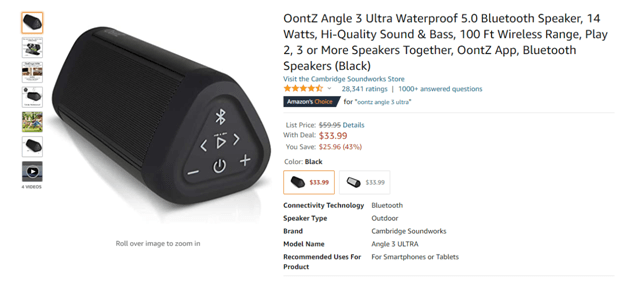 This is a compact, tough speaker that pumps out some high volume and doesn't lose clarity. The Bluetooth range works up to 100 feet.
If you want exceptionally loud music with rich full bass then this is for you. Set the speakers to play in full stereo and place them in two different areas. OontZ advanced antenna design with Bluetooth 4.2 provides a fast connection to your Bluetooth-enabled devices. With an incredible wireless Bluetooth range of up to 100 unobstructed feet – listen to your music, even when moving around the yoga studio. This portable speaker is compatible and will pair up with any phone, tablet, laptop, and desktop computer.
Features a built-in rechargeable battery with an excellent battery performance up to 20 hours of playtime when fully charged. For non-Bluetooth devices – connect to the OontZ Angle 3 ULTRA (4th Gen) AUX-IN jack using a 3.5mm audio cable (sold separately).
There are variations in these speakers and you can choose accordingly. Costs $34 at Amazon.
Here find more best portable systems for fitness and yoga studios in 20021