What You Should Know Before Buying A Yoga Studio For Sale In Australia?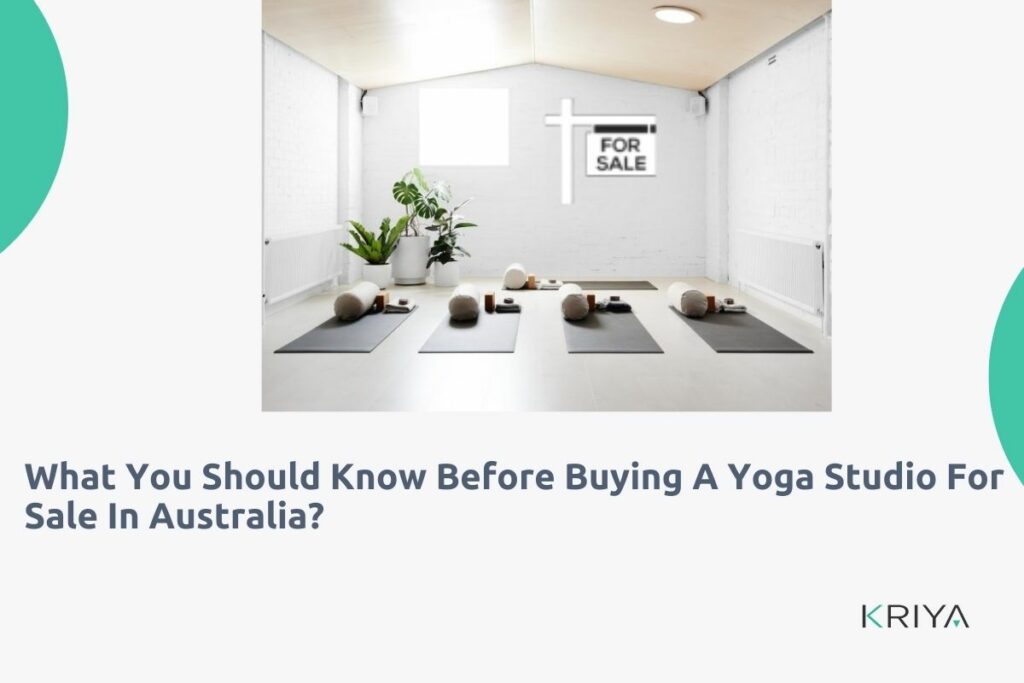 Two years back one of my friend in London UK had a beautiful yoga studio. She use to offer yoga teachers training as well as took yoga classes at her studio. As a young entrepreneur she faced many issues in running her business. Also as she was a single mom of two very young kids, she was not able to manage the studio 24.7. The profit in yoga business was not that high as she had expected because there was tough competition in the market. With so many yoga studios in and around, it was the biggest challenge she had to face in the yoga business. Soon she was frustrated and worried more of the business and took up a full time side job. In less than two years of time she took more interest in her job than running a yoga business and finally decided to sell off her yoga studio.
Click here to find which yoga studio management software is the best
Yoga being a spiritual and physical upliftment of body mind and soul, also demands cost to run a studio with efficiency. Also yoga teachers have to make a living too. Yoga business profits vary from country to country and from cities to cities. Way back in 1980, Yoga business was in its infancy to the Western world. There were not much of yoga studios and the yoga business was not quite lucrative. Yoga Alliance, a non profit organization was formed in US in the year 1999. In the same year Yoga Australia, a voluntary, not-for-profit association, was incorporated which was originally known as the Yoga Teachers Association.
Such organizations brought yoga teachers under one roof providing support and professional recognition to yoga in Australia and other parts of the world. Also these organizations now bring out 14,000 over "registered yoga teachers" a year with as little as 200 hours of training. Therefore Yoga studios are popping up everywhere which means owing a yoga studio or teaching yoga for a business is not that profitable and you need to do lots of hard work in setting a yoga businesses.
Click here to know the market research report on Pilates and Yoga Studios in Australia.
Yoga studio business for sale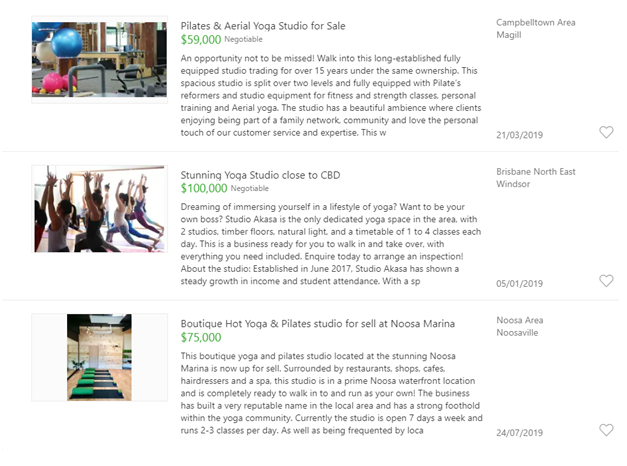 There are so many advertisements in print media like news papers and magazines, as well as online sites where you can find yoga studio business for sale. Here are the few online sites to visit if you are looking for yoga studio business for sale.
Also try to join the online social forums and ask if any already established yoga studio in the neighborhood is for sale or not. You can approach the owner to see if they are interested in selling. Many prefer business brokers to find a good well maintained and awesome running yoga studio for sale. These agents charge extra money and give you the peace of mind in going through the entire transaction between the buyer and seller.
How to value a yoga studio for sale?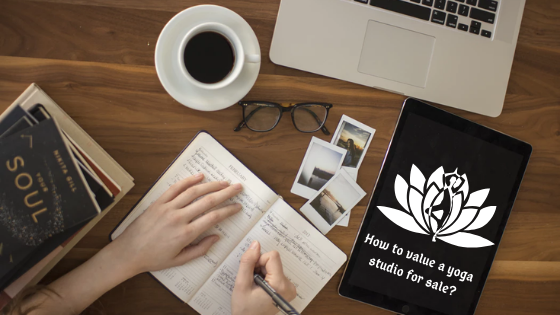 Now that you have found list of yoga studio for sale you need to understand how to value a yoga studio for sale. This means you need to see whether the yoga studio or yoga studio business for sale is worth buying or not. Here are the following points to look for before you opt to buy a yoga studio:
1. Should have paid their bills
This is the most important aspect of any yoga studio for sale. Yoga studios need to pay their utility bills, insurance, taxes and licensing fees. So ask the studio owners the relevant papers showing that they are clear from payments or bills that they had to pay before they sell the studio to you.
2. Should own liability insurance
Find out whether the yoga studios have their liability insurance or not. Yoga studios for sale should carry their own personal liability insurance, setting the bar high to protect the industry as a whole. Click here to find why professional indemnity insurance for yoga practices in Australia is needed.
3. Clear their employees payroll taxes
Yoga studios for sale need to clear their employees payroll taxes before they sell to it other owner. Many yoga businesses specially the small yoga studio owners couldn't afford to pay employee payroll taxes for instructors the first few years in business and therefore see that all the taxes are paid.
4. Have copyright to play music
Many yoga studios have playing music in the background while taking yoga class. But in countries like US and Australia. playing music in a place of business without express written consent from the recording artist is a violation of copyright laws. Yoga studios that allow instructors to play music in the background of class must first obtain licensing permission from the label(s). Here is more about copyright issues in Australia for businesses.
5. Must be at a good location
Yoga students searching for yoga studios always want to join yoga class that is near to them. You are buying yoga studio for business and to run business, location plays an important part. The studio for sale must be therefore located at a convenient location with easy access to transportation. Also if you are taking a Vinyasa yoga studio then it should be located away from traffic, noise and distraction.
6. Should be well maintained
Before you buy, you also need to see that the yoga studio for sale is well maintained and do not require any maintenance charges. Besides the infrastructure you should see that the yoga studio help desk, advertising, book-keeping, scheduling and even online presence is working properly or not. Make a list of things that need repair or maintenance and then value the yoga studio for sale.
How much do yoga studios make per year?
According to Studio Growth the average yoga studio owner makes $7,227 in gross monthly income, which is about $86,000/year. The average yoga studio produces $13,495/month in revenue. The income is the amount left after the owner deducts expenses such as rent (15% on average) and payroll for teachers (27% on average).
The revenue that a yoga studio earns depends on the location of the studio, class attendance, and various other factors. Find here how to calculate how much your yoga studio can make in a year.
How many square meters do you need for a yoga studio to succeed?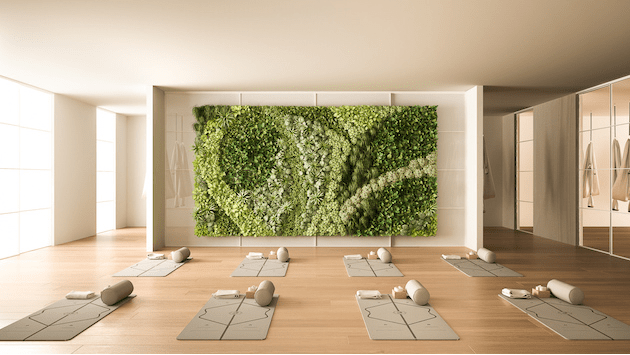 A typical yoga studio needs approximately 20 square feet or 1.85806 meters of studio space per person per visit. Therefore, a 500 square foot studio room space or approx 47 m (changing area, welcome area, restroom, office area – not included) can accommodate 25 students and a 1000 square feet yoga studio can accommodate 50 students. Click here to read more
Yoga studio app cost
There are yoga studio apps that cost less than your yoga studio. These yoga studio apps are easy to use and cheaper than any real yoga class. Also you can find variety in yoga classes and they also offer Pilates and other yoga exercises which you may use according to your need.
Here are the few best yoga studio apps that you can use if you want to achieve your mind body and soul fitness programs right at your home without any where to go. Many of these yoga studio apps are free to use and few cost few Australian dollars. These apps are easily available to download from iTunes for iPhone and from Google play for your Android smartphones.
1. Find What Feels Good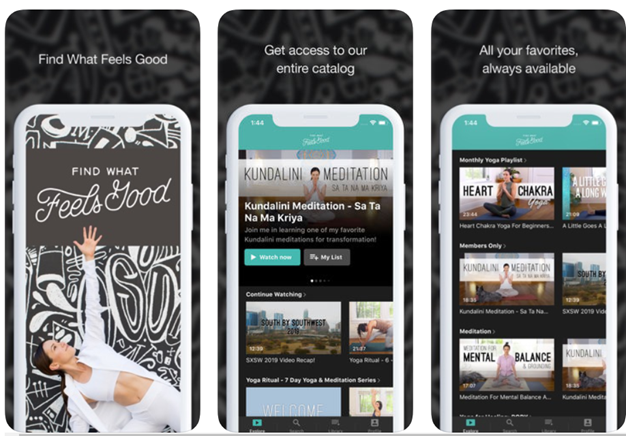 At our KRIYA Booking System Facebook Page you must have experienced the wonderful yoga videos by famous Adriene Mishler. What feels Good is her own app that is packed with yoga videos and classes which you can download and practice anytime anywhere according to your own convenience. Click here to download now for iPhone and Click here to download now for Android mobile.
Though the app is free but to access all features and content you can subscribe to Find What Feels Good yoga studio app costs monthly AU$16.49 or yearly basis with an auto-renewing subscription right inside the app.
2. Yoga Studio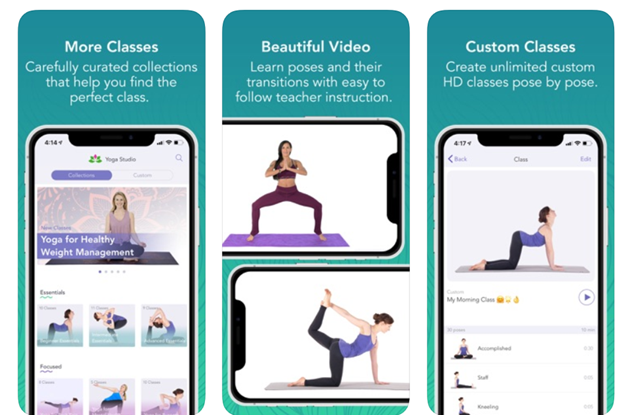 Yoga Studio is another app that offers you 15, 30 or 60-minute classes which are categorized according to beginner, intermediate, and advanced level. You can even use the app offline and download all 75 pre-structured classes on your mobile. This yoga studio app is best for prenatal yoga for expectant mothers. Click here to download Yoga Studio App at the App Store for iPhone and download from Google Play for android phones. The subscription of this app starts from AU$7.49
3. Asana Rebel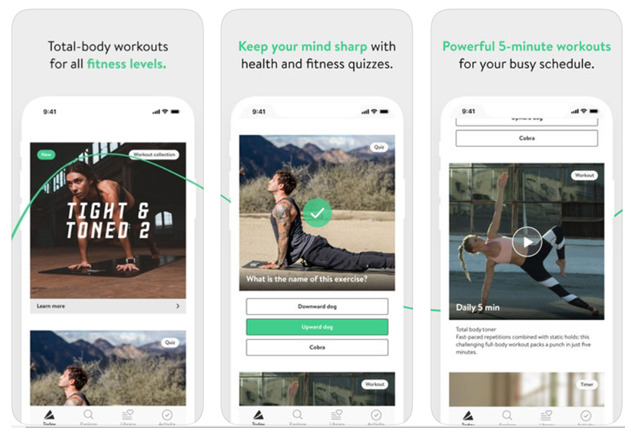 Asana rebel studio app is an intense yoga program that provides high-intensity interval training. Here you can select your own difficulty level, and focus areas include fat burn; strength; flexibility; balance and focus; and breathe and relax. . Click here to download the Asana Rebel app at the App Store for iPhone and download from Google Play for Android. The app is free but if you want to have premium features then subscribe at the cost of AU$47.99 for three months.
The other awesome yoga studio apps are Yoga Poses which is free; Daily Yoga studio app costs AU$12.99 per month; Yoga Down Dog Studio app costs AU$7.99 per month and various other apps that you can find at app stores.
These yoga studio apps are best for yoga students, yoga teachers and other fitness fans. For those who want to make their own yoga studio apps can either do so by themselves or hire a technical app developer and take his or her help.
How much does it cost to buy a yoga studio in Australia?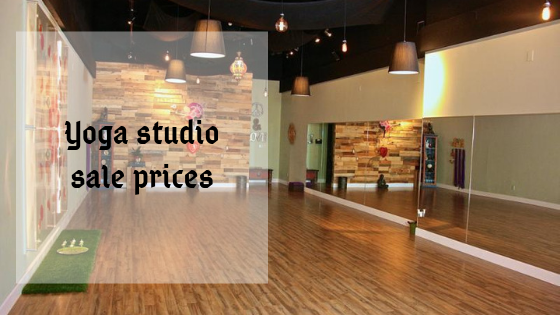 Yoga studio costs vary from place to place as well as cost depends on type of yoga studio you opt to buy. If a large yoga studio is equipped with awesome studio floor, sound system, DVD players, pianos, flat Screen TVs, computers, printers, projectors, furniture, telephones, filing cabinets, electronics, noticeboard and staff uniform and more things then the cost will certainly will be higher. The yoga equipment listed above is almost same everywhere.
The other cost include yoga teachers salary, local taxes, insurance policies and other promotion and brand costs that you may have to pay.
According to profitable venture experts standard size Yoga Studio in Australia costs also include the following:
The fees to register your business name with ASIC which include: $34 for 1 year and $80 for 3 years.
Legal expenses for obtaining licenses and permits like health department license and business license and permits like fire department permit, Air and water pollution control permit, and Sign permit et al as well as accounting services like CRM software, Payroll software, P.O.S machines and other software – $15,300.
Marketing promotion expenses for of $3,500 and as well as flyer printing as an example 2,000 flyers at $0.04 per copy for the total amount of $3,580.
The cost for insurance like the general liability, theft, workers' compensation and property casualty coverage at a total premium – $30,400.
The cost for remodeling the facility and construction of a standard yoga studio – $100,000.
Other start-up expenses including stationery that may cost $500, phone and utility like gas, sewer, water and electric and deposits- $6,500.
The operational cost for the first 3 months like salaries of employees, payments of bills et al – $60,000.
The cost for start-up inventory and yoga studio equipment – $200,000.
The cost for store equipment like cash register, security, ventilation, signage – $13,750.
The cost of purchase and installation of CCTVs: $5,000.
The cost for the purchase of furniture and gadgets – $25,000.
The cost for building and hosting a website – $600
The cost for an opening party – $8,000
Miscellaneous costs – $10,000
You will need an estimate of one million dollars (AUD$1 million) to successfully set up a medium scale but standard Yoga Studio in Australia. Also note that this amount includes the salaries of all the staff for the first three months of operation.
Starting a small scale but standard Yoga Studio that can only serve few yoga students and with fairly used yoga studio equipment in Australia will cost about AUD$250,000 to AUD$500,000 and this amount includes the salaries of all the staff for the first three months of operation.
If you are interested in taking up a yoga studio franchise in Australia then it may cost you AUD$120,000. The three popular yoga studio franchises in Australia are Elemental Hot Yoga, KX Group and Power Living Yoga Australia.
As said above obviously the Yoga studio sale prices vary from location to location, country to country and owner to owner.
Finally remember that you should spend time around finding the best yoga studio for sale in Australia and compare the costs, infrastructure, location, business plan, policies and then finalize a proper yoga studio for your yoga business. If you do find your choice of yoga studio but may lack some other features then remember that you can transform things according to your taste and requirement with a bit of creativity. Goodluck!
See also
How Much Should I Charge For An Online Yoga Class?
12 Tips To Start Your Yoga Business