To change the passes valid to book a class. You need to Edit the particular class or class series. You can edit the class series either from the schedule or the classes table.
How to Video Guide : https://www.loom.com/share/4b4aa684f598486d9a8f49ce908160eb
Navigation to Edit the Class #
1. From Schedule Class #
To reach the Class you want to edit, Click on Schedule in Left Main Menu.
Then Click on The Class you want to edit from the Classes in the schedule.
A pop-Up will appear , Click on Edit Class.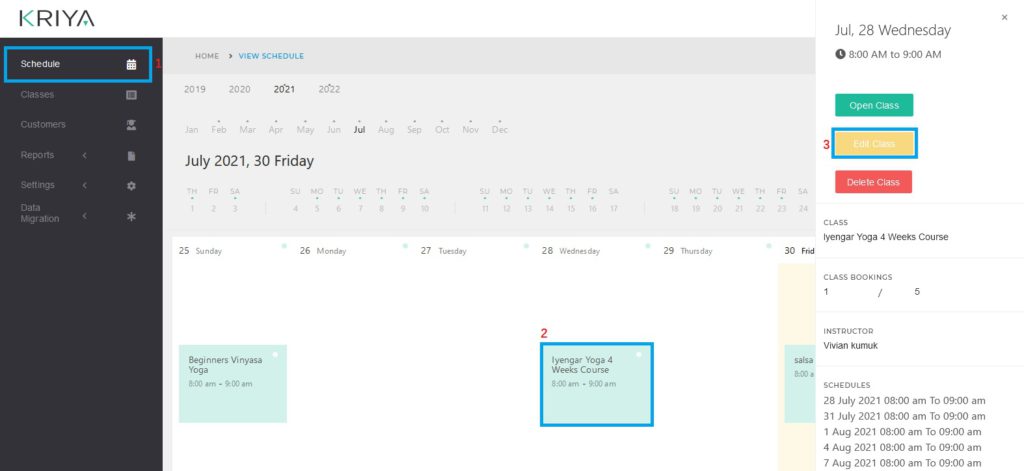 2. From Classes Table #
Click on Classes in Left Main Menu.
From the appeared Classes list, Click on Action button for the Class you want to edit.
Now Select Edit from the Action's List.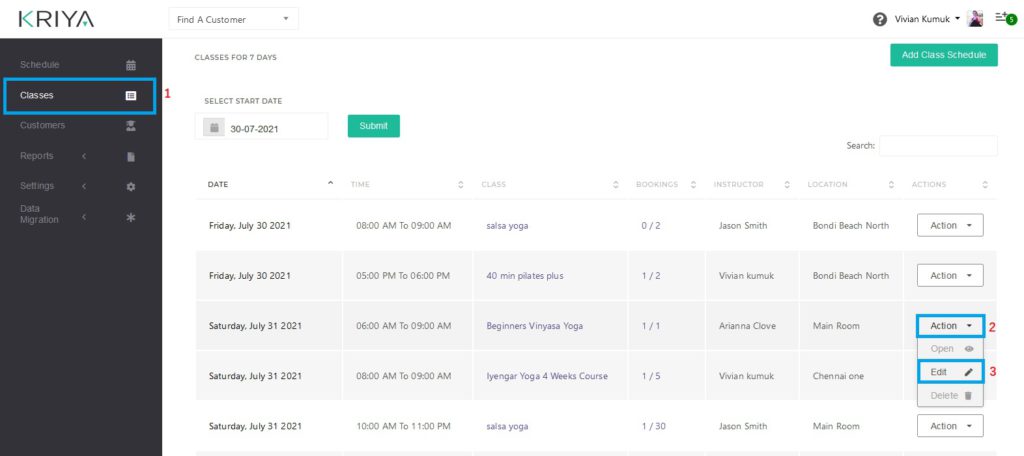 How to Edit The Pass Types Allowed to Book #
After Reaching the Edit Class Schedule Page. Look for Package allowed to book (Optional) Option.
Here you can Add and remove the Passes.
Click on the Text Box beside Package allowed to Book Option. List of Pass names will appear.
Click on Pass name to add it and click on the cross "x" beside the Pass name to remove it.

Click on Update button in the bottom of the page to save all the changes you have made. A pop-up will appear.
Click on Edit this class which will edit only this upcoming class.
Click on Edit all classes to apply changes to all previous and forthcoming classes.
Click on Edit all future classes to apply changes only to all forthcoming classes
See also..
https://software.kriya.com.au/docs/can-i-create-a-variety-of-options-for-passes-and-subscription-to-apply-only-to-specific-classes/