KRIYA Software has a feature to give the Studio Owner an option to make a pass which will give a free trial to their Clients/Students.
Firstly we would have to create such pass in KRIYA.
To Create a pass follow the steps in this link: https://software.kriya.com.au/docs/can-i-create-a-variety-of-options-for-passes-and-subscription-to-apply-only-to-specific-classes
If you have already created a pass or are creating a new for this purpose of free trial. Check and Edit the following options:
Select the Billing Cycle option as Non Recurring. As it is a single use pass.
Set the Price option to 0, as it is a free pass. And do not use any Currency symbol.
Set Max Class Credits option as 1 , as typically a class reduces a single number of credit from a pass. If you have a class which takes 2 credits per session, this pass with 1 credit cannot be used.
Set Bought Times option to 1, so that this pass can be bought by a single customer only once.
And Lastly the Not Available for Booking Online, Check this option so that it can only we booked in studio.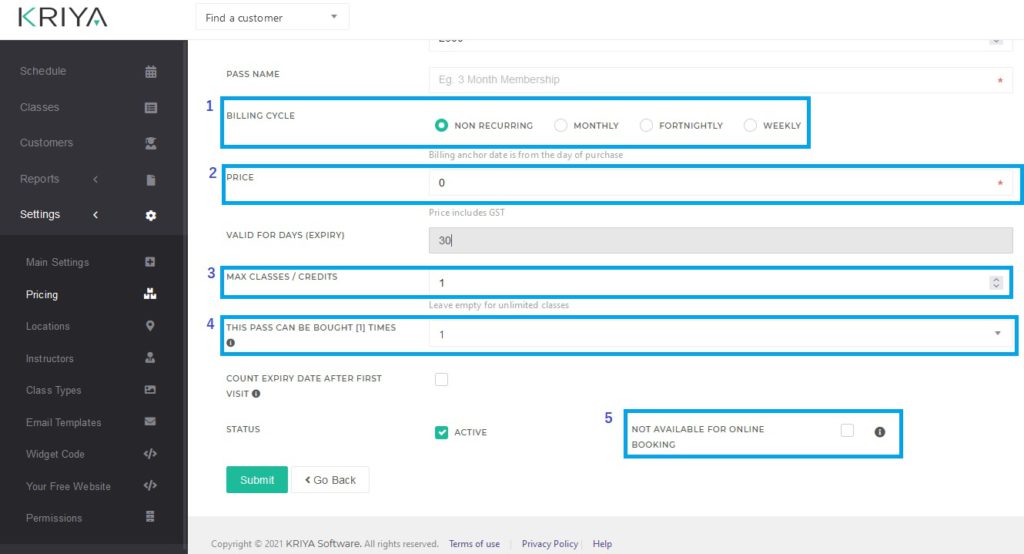 See also
Adding New Members Deals and Intro Passes in the Dashboard
Can my clients book into a class before buying a class pass? & What happens if I tick box the option to allow students to book now and pay later?
How to change the types of passes that are valid or allowed to book a particular class?