KRIYA has a Simple but Effective Account opening process. We have a Clean Website to let you understand what we do and what are the Core, Essential and Extra features we provide. We give utmost importance to each and every aspect from the On-boarding to Support.
Visit our KRIYA website here : https://software.kriya.com.au
Scroll down in the Website to understand The KRIYA System. Check all the Pages from top Left Menu stated below.
Click on Features Menu to see – What all features we offer.
Click on Pricing Menu to see – How cost efficient we are than the Industry Standard.
Check our Blog where we post Business Insights, Creative Tips & Interesting Articles. Because we give love and take care.
Requesting a Demo #
We provide a core understanding of to our New Clienteles through a Demo. You just Need to fill out basic details for us to create a specialized Demo process.
Fill out the Form Here : https://software.kriya.com.au/request-a-demo/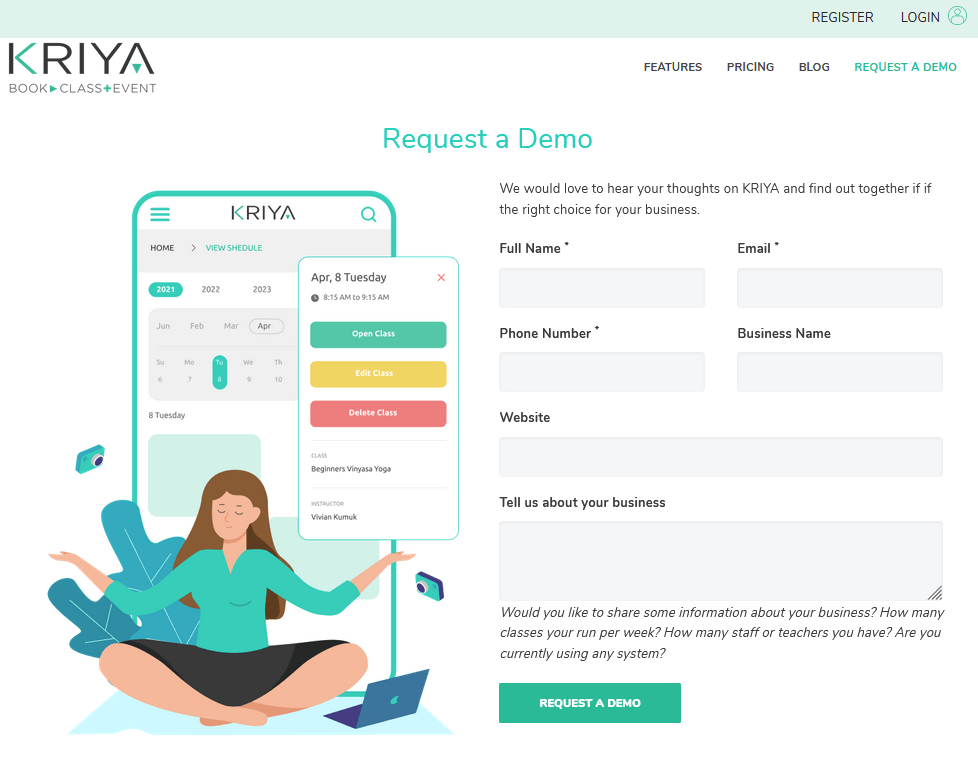 The Demo is totally Free of any Cost.
Expert from our On-boarding team will contact you, after you fill the form. An Account will be created on your behalf after understanding you and your business needs.
Free Trial Account will last 2 – 3 weeks.
We don't ask for any sort of Payment for the Initial Setup and On boarding Process, other than for Red-Carpet On-boarding Process.(is not a Trial Account)
In Red-Carpet On-boarding, we will do all the needed set up for you and a Fully Functional Account will be handed out to you.
Proper Guidance will be provided by one of our Experts during the handover.
See Also
1. Checklist to setup my KRIYA Account.
2. Setting up Stripe and Start Accepting Credit Cards.
3. How I can start using my KRIYA account for clients to be able to book classes?
4. Is There Any Way we Can do a Weekend Yoga Retreat or Workshop Through KRIYA?
If you find any difficulty in Requesting a Demo with KRIYA, please feel free to Contact us.