Welcome! Are you ready to experience an efficient and easy way to manage your Business? We have an Intuitive design and clean UI for clutter and lag free operations.
Users have learned the system's bare bones in minutes and the understand the whole system in a day. Enjoy your spare time, as the system works in the background for you.
Watch the Welcome Video below to get a hold of what are you getting into, narrated and guided by Founder of KRIYA – Frank Pineiro.
Welcome Video Link : https://www.loom.com/share/0aab52dde77a43a7aa886d13f5dd21b0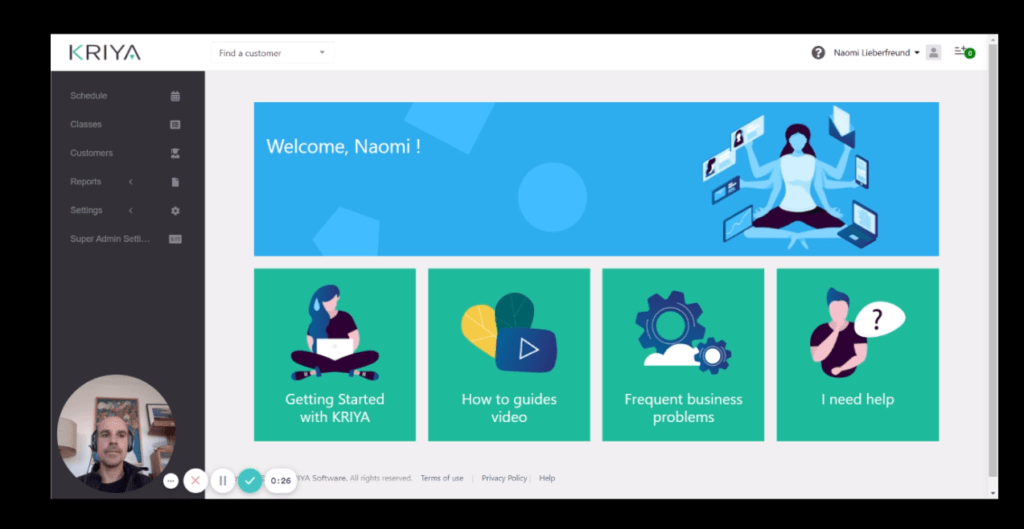 Understanding the Dashboard #
Everything starts when you login. You can see in the above video thumbnail, that is how the dashboard looks like.
We have the Main Menu in the left pane.
Your Name and Profile photo and notifications on the top right.
Guide, Video Guides, Articles link and help section in the center.
Every setting is named according to its function, which leads to easy learning and understanding.
Setup starts with the bare minimum settings which are needed to run a business. We need to head to Settings > Main Settings.
Main Settings #
In Main Settings Fill in all the required details, which takes a couple of minutes.
We have added Standard Waiver to all accounts. You can change that according to your rules and requirements.
Most Important Setting after Waiver is the Stripe connection. Connect to Stripe to allow your students pay online with Credit Cards and more. We totally recommend it, as it is Fast and Secure.
Learn more about it here: Connect to Stripe
Pricing #
Pricing is a sub-menu under the same Settings Menu. We have to add Pass/Subscription information here.
Head here and Click on Add a Pass and add any number of passes you need to run your Business. Enter all the details here required for the pass.
If you need more information, these Help Documents will help you:
a. Adding a Pass.
b. Creating a Recurring Pass.
Later you can Search, Edit & Delete them according to your needs.
Promo Codes #
Add Codes which can be used by your Customers to get a discount while purchasing a pass/Subscription. Head here and Add codes and fill all the other details like date limit – date till which it is valid, Usage limit.
Codes can give them a discount according to Percentage or Cost.
Locations #
Here you will enter all the details related to the different locations, where you conduct your Business sessions.
Add the Name, Addresses of locations with their Capacity. Capacity will determine the number of bookings available at that location. Add more, Edit and Delete locations anytime.
Instructors/Teachers #
Add any number of teachers available with you into the system. Add their details, like Medicare Provider Number, and other contact and emergency contact details.
Use the Check box to send your instructor a Welcome Email on the email Id you provided, as soon as you save their info into the system.
Class Types #
Types of Classes you offer will go here. Create, Edit and Delete Class Types. Enter the Class Name, like "Intro to Meditation", Add Description and Credit. Credit is the visit which will be used when a customer attends this class.
We recommend you to put Description now, if you put it after you create a schedule for it, it won't show in the Class and to the students.
Email Templates #
Templates are per-defined by us according to the standards. These include Customer welcome, Purchase, Booking Emails.
System Generates Emails when booking, purchase and Signup is done. Basic details then these templates are added to the bottom of those emails, because you may want to give more info and take care of your valued Clients.
We have now completed most of the Important settings and now lets head to creation of the schedules.
Schedule & Classes #
Schedule is a Graphic Time table, showing the Classes according to their times in a column for the coming 7 days. And the Classes will show the same data in a tabular form.
The Class Types you created will be added here as a Time Table, so it is important to do all the settings properly till we reach hear.
Head here and Click on Add Class Schedule. Enter the Class Type, Timing, Repeating/Recurring. Online Booking Availability, Passes which are allowed to use this Class type.
Recurring classes will be scheduled straight for 2 years automatically. You can Edit , Create more and Delete these schedules. Editing a Class Schedule can bring changes into a single class / to all the future classes / all the classes of that series.
Website / Widget #
Now we are in the Final Step to start accepting Bookings from your Clients. We Need to head to Settings > Main Settings > Widget Code.
Widget will be the Time-Table you have created in the Schedule and now you will find a link here to share the same with your clients. You can either create a link or include the widget code into your website.
Your clients/students will be able to Signup, Purchase , Book and edit their profile there.
Support #
We always need a helping hand in new waters, our Help Docs do that for you. Learn about our system in depth, to handle it like a pro.
If you still need a real human to understand your needs & queries, we have one of the best in the industry Support Team, which will help you through Emails and more.
Contact us at: support@kriya.com.au